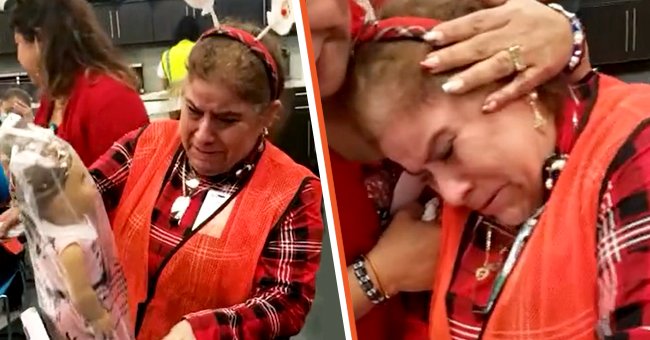 tiktok.com/lilianmejia06
Grandma Left in Tears after Receiving Her First Doll in Her Life from Co-workers for Christmas
A grandmother left many people in tears after opening her Christmas present this year. Her friends at work surprised her with an American Girl doll, and the woman was emotional.
In a TikTok video shared on Christmas day this year, a video of a woman's reaction to her gift went viral. She was recorded as she saw her new doll for the first time. To many, the gift might not have seemed age-appropriate.
However, the woman's tearful response made people realize that it was the perfect present for her. As soon as she laid eyes on the American Girl doll, she was overcome with emotion. The woman had never owned a doll in her life.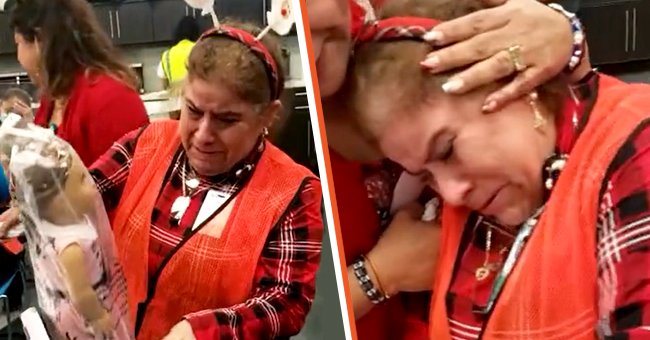 Woman gets an American Girl doll for Christmas [left] Woman is consoled as she cries because of her gift [right] | Photo: tiktok.com/lilianmejia06
THE VIDEO WENT VIRAL
With millions of views and thousands of comments, netizens were touched by the clip, which Lilian Mejia shared. One of the commenters, Gabriela Mejia, revealed that the woman in the video was her grandmother.
She stated that her granny was grateful for all of the love she received online. The woman also told users the doll was given to her by work colleagues. The memorable moment was reshared on Twitter, where it garnered further reactions.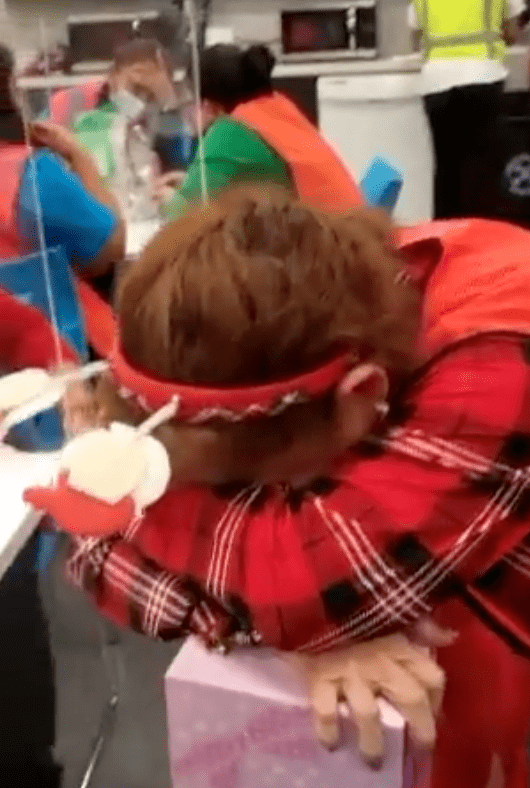 A woman covers her face and cries after seeing her Christmas gift | Photo: TikTok/lilianmejia06
DEFENDING THE WOMAN
One netizen was confused about why the woman had never purchased a doll for herself before. They said: "What's she been doing with her paychecks if she's not buying herself things she's always wanted."
Netizens quickly came to the woman's defense, and one commenter responded:
"Not everyone makes enough to cover all of their expenses including family AND have money left over. I don't know where you come from but a large portion of the population lives like this."
THE BEST GIFT IS GIVING
Others simply shared what the video meant to them. Someone expressed: "It be the little things man when you go through life without and finally get to experience something it's a special moment you never forget."
Users also shared their own experiences, and many shared how they have spoiled their parents, who didn't have much growing up. One commenter stated: "My mom used to play with a brick as a doll because it was heavy like a real baby."
AN UNFORGETTABLE CHRISTMAS
Netizens applauded the woman's co-workers for their care and concern. They had gotten to know the woman very well and knew exactly what she longed for. With a camera in hand, they also anticipated her moving reaction to receiving the doll.
As one user wrote: "It's the co-workers for me. That's love." The video showed users the power of taking some time and effort to spoil someone else. While it was a simple gift, it meant the world to the woman. It was a special gift and ensured this Christmas was one she would never forget.
Please fill in your e-mail so we can share with you our top stories!