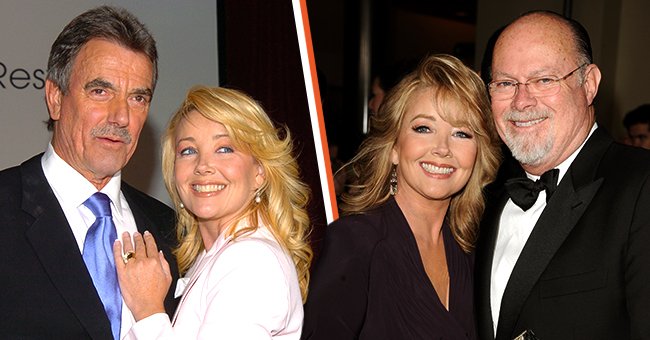 Getty Images
Melody Thomas Scott's Character Has Been Married 9 Times – She Renewed Vows with Real-Life Spouse of 36 Years
Melody Thomas Scott is one of the iconic stars on "The Young and the Restless," where she plays Nikki Newman, a woman with several failed marriages. However, in reality, she is enjoying a perfect romance with her spouse of nearly forty years.
Fans of the daytime classic "The Young and the Restless" are more than acquainted with the star of the show, Nikki Newman, a vibrant blonde with a history of ditching men but also pledging her loyalty to Victor Newman.
These roles played by Melody Scott and Eric Braeden, respectively, have earned the love of many as their relationship and characters have also advanced. Despite its longevity, the cast members retain their originality.
While many are familiar with Melody's intriguing character on TV, they are oblivious to just how incredible her real life is, especially her perfect marriage.
The actress, who has been married nine times in the show, is married to Edward Scott, a former producer of "The Young and the Restless" show. The couple share three kids, have a sweet love life that spans for more than three decades, and renewed their wedding vows.
MELODY THOMAS SCOTT'S EARLY YEARS
Melody Thomas Scott was raised by her grandmother, who recognized her acting skills on time, and edged her on. The older adult helped a 6-year-old get into the acting industry but in the strangest ways.
Melody's grandmother did not care how the youngster would attain fame, even if it meant going against any moral standing. Now 66, the actress confessed that she went through sexual harassment in the home and with some Hollywood players. The "The Young and the Restless" star said:
"All of the nonsense that I went through as a child, that happened not really with legitimate producers, legitimate drama coaches...And then my grandmother went beyond that and thought that anything was fair game..."
Although she met some bad eggs, eventually, as her acting career progressed, she became obsessed with working; rather than staying back home (her grandmother's irrational behavior made it challenging to feel loved, and it was a "hoarding household"), the young actress preferred to work.
This created an avenue to interact with other actors, and they treated her with affection. Back at home, the young lady was not allowed to enjoy the company of her friends.
Irrespective of her childhood traumas, the former child star broke the child star jinx by managing her success in showbiz until now. She has also shared her abuse story in the memoir "Always Young & Restless: My Life on and Off off America's #1 Daytime Drama," inspiring many across the country.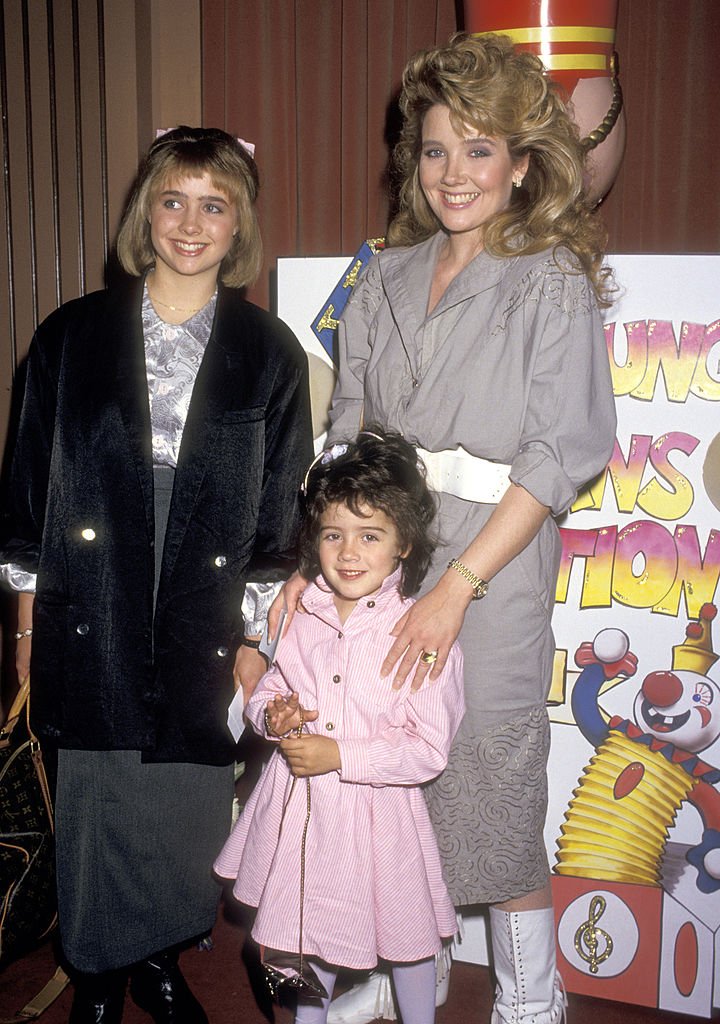 Actress Melody Thomas Scott and daughters Jennifer Scott and Alexandra Scott attend The Young Musicians Foundation's Sixth Annual Celebrity Mother/Daughter Fashion Show on March 26, 1987 | Photo: Getty Images
HOW SHE BAGGED THE ICONIC ROLE IN "THE YOUNG AND THE RESTLESS"
These days, it is easy for fans to "wow" at how tireless the actress has been on the daytime show, but this was not achieved through a carefree attitude, only through hard work and consistency.
In a moment to recap how she bagged the role more than forty years ago, the actress revealed that it was not a game of luck. She had to give the auditions her best shots, went through interviews, and lastly received a callback.
That was not all; Melody was also attentive to her agent, who advised that she sacrificed an NBC sitcom for the show. At the time, they envisaged that it would run for three years.
It has been forty-three years since the actress agreed to play Nikki, and she has solidly given fans of the hit series top-notch acting. The onscreen icon does not consider herself an alum anytime soon and even has hopes for Nikki's future. According to the actress:
"I've always said, as long as I'm happy there, that there is no reason to leave. So I hope that continues. I love being part of a company."
BEING A FIRST TIME MOM
The first time Melody discovered her pregnancy was in 1982 after a friend pointed it out, and a medical report confirmed the news. At the time, she was in a relationship with make-up artist Carlos Yeaggy.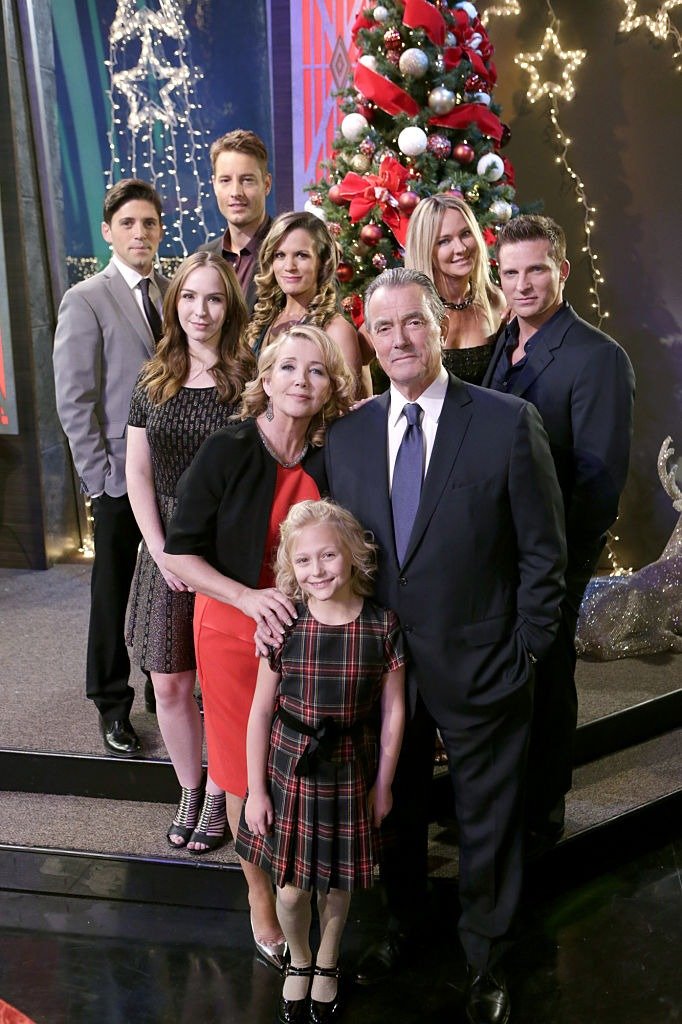 The The Young and the Restless cast, Robert Adamson (Noah Newman), Camryn Grimes (Mariah Copeland), Justin Hartley (Adam Newman), Melissa Claire Egan (Chelsea Newman) Shaon Case (Sharon Newman), Steve Burton (Dylan McAvoy) Eric Braeden (Victor Newman), Melody Thomas Scott (Nikki Newman) and Aly Lind (Faith Newman) | Photo: Getty Images
Melody was thrilled but unsure how people might interpret her situation since she was unmarried. Still, she decided to define her life and took control of the situation.
The actress told the producers of "The Young and the Restless." They ended up writing her pregnancy into the story. While many questions were asked offscreen and onscreen about the child's paternity, Melody was treated with kindness by colleagues and fans who wrote letters.
Yeaggy and Melody welcomed their daughter named Alexandra Danielle Yeaggy. Edward later adopted her after he married the actress. The duo ran a blended family with Jennifer, the producer's daughter from a former relationship.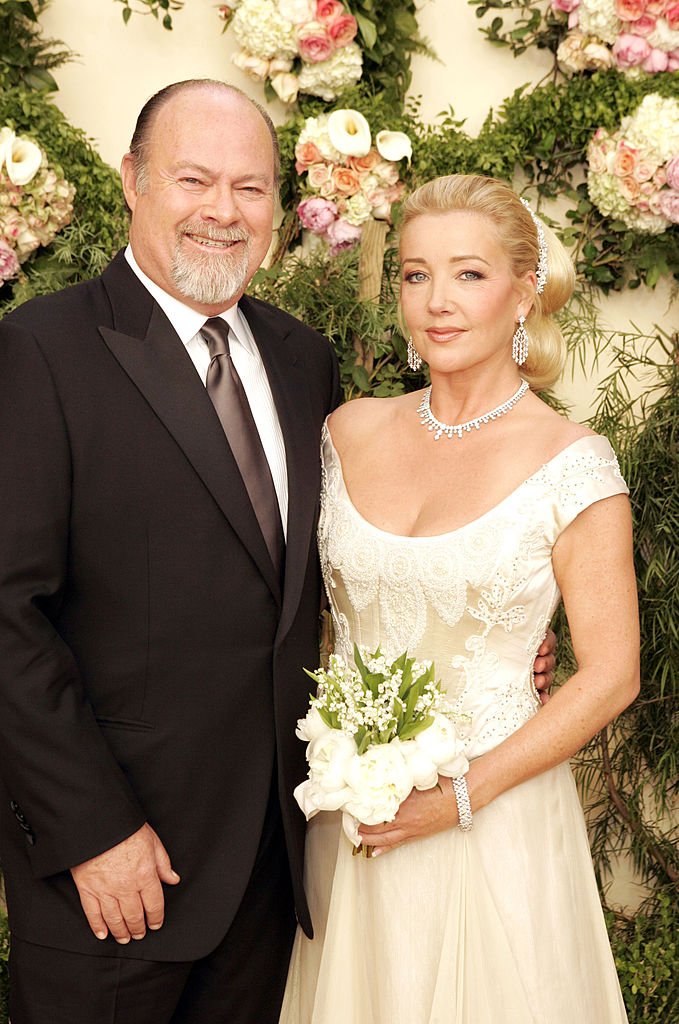 Edward Scott and Melody Thomas Scott during Thomas Scott Wedding - June 27, 2005 | Photo: Getty Images
THOMAS SCOTT'S HAPPY MARRIAGE
Edward and Melody developed a bond after their frequent meetings and dates. Although she had not expected the producer to be admirable, the actress fell head over heels for the man who became her husband after several meetings.
They married and continued working on the show. Melody, who had had two failed marriages, was thrilled to have Edward in her life. She added that there was no jealousy onset, despite her affiliations with the producer, and that people respect their bond.
Two decades later, the couple decided to renew their vows and invited ET to capture the stunning moment the gorgeous bride repledged her loyalty and love to her husband of many years.
THE JOYS OF MOTHERHOOD
Ten months after her third and only successful marriage, the actress conceived, and like the first, her pregnancy made its way into Nikki's story. It turned into a family affair onscreen, as Jennifer, her stepdaughter, was cast as a helpmate.
After welcoming two daughters, one would agree that parenthood is not new to Melody. The actress already has two grandkids, but she confessed that the responsibility of motherhood healed her following her traumatic childhood. She said:
"It gave me an opportunity to raise a child in a way that I was not raised...That became very important to me."
Melody is a happy 66-year-old woman with a successful family, including smart daughters with impeccable achievements to their names and two grandkids she loves to spoil. Amid enjoying the great family, she is an inspiring woman who uses her challenges to create a magical lifestyle.
Please fill in your e-mail so we can share with you our top stories!