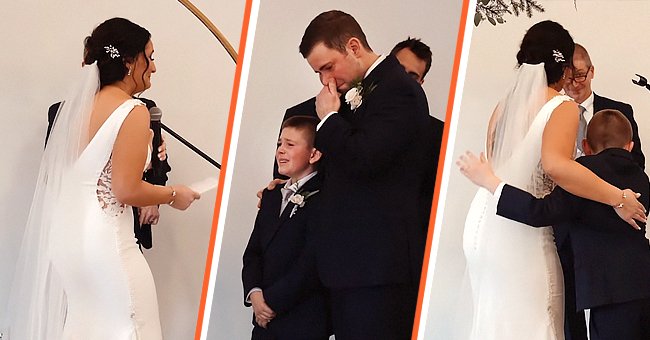 instagram.com/_yellowfilms
Bride Makes Guests Cry with Emotional Vows to New Stepson: 'Promise to Love You as If You Were My Own'
Standing in her white gown, one bride said her vows not only to the man who stole her heart but his son too, her voice trembling as she tried to hold back her tears.
Thirty-year-old Vanessa Lynch is a registered nurse and lives in Minneapolis, Minnesota, with her husband Craig Lynch and her 9-year-old stepson Henry.
The husband and wife first ran into each other while studying at Augsburg College, dating for many months before Craig introduced her to his son.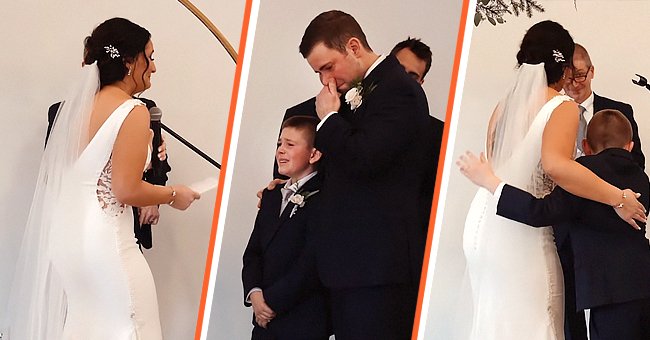 Vanessa Lynch dedicating part of her vows to Henry [left]; Henry and Craig Lynch crying [center]; Vanessa Lynch and Henry hugging [right]. │Source: instagram.com/_yellowfilms
However, eventually, Vanessa and Henry met. The relationship between the then-boyfriend and girlfriend became even more serious, with the two lovebirds officially getting engaged on 31 August 2019.
Vanessa said it stemmed from her experience as a stepchild herself.
The wedding was initially postponed due to COVID-19, but the couple eventually said their "I do's" in December 2021.
BEFORE THE LEAP
To make the day even more special, the stepmother-to-be chose to dedicate part of her wedding vows to Henry, although anxious about her choice to do so. The nurse recollected:
"I was nervous at first, just because I didn't know how Henry would react. I didn't want to put him on the spot in front of everyone."
It turns out that the up-and-coming wife had nothing to worry about, as her vows to her stepson went beautifully, leaving her, Henry, and all the attendees in tears of happiness.
A TEARJERKER
An Instagram video of the beautiful bride was shared, dedicating part of her vows to the 9-year-old. Vanessa spoke about how she had missed out on many milestones in his life. However, she gave her word that she would be there from now on, saying:
"I promise to love you as if you were my own and lastly I promise I will be the best wife for your dad and I promise to be the best step mum I can be for you."
She and her stepson were crying during the speech, along with the groom, groomsmen, and many guests. The little boy embraced his father and stepmother as soon as she was done.
NETIZENS IN NEED OF TISSUES
The Instagram clip has gone viral, pulling in a significant amount of remarks, many stating that the speech made them cry. One fellow user wrote:
"I can't stop watching this. I'm so very proud. You guys are going to be Great! I love you. 💞"
Crying and heart face emojis came streaming into the comment section, with the emotional video racking in just over 600 likes.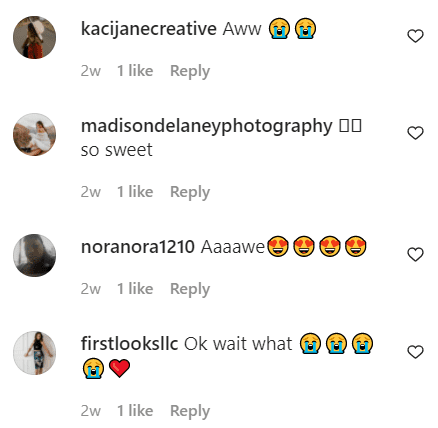 Individuals commenting on an Instagram post by WEDDING VIDEOGRAPHER. │Source: Instagram.com/_yellowfilms
THE INSPIRATION BEHIND THE GESTURE
Vanessa said she decided to include Henry in her vows stemmed from her experience as a stepchild herself. This helped her understand how stepparents should treat their stepkids. The nurse stated:
"Just because you don't share blood with someone, does not mean you cannot be a family."
Are you a stepchild or stepparent, and if you are, what do you think and feel about Vanessa's decision to include Henry in her vows?
You May Also Like: Mother-Of-Three Keeps Her Promise to Adopt Six Kids of Best Friend Who Passed Away from Cancer
Please fill in your e-mail so we can share with you our top stories!