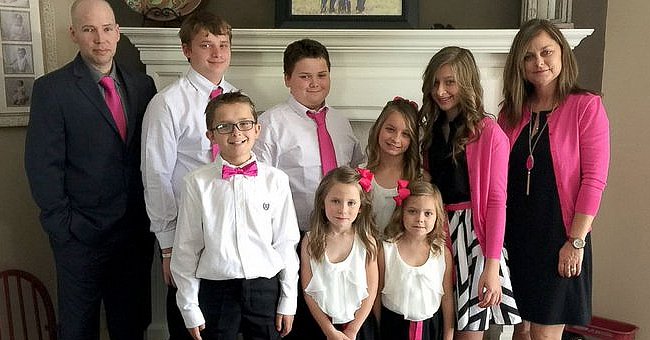 twitter.com/VDSS
Mother-Of-Three Keeps Her Promise to Adopt Six Kids of Best Friend Who Passed Away from Cancer
A mother of three's family tripled after she decided to adopt the six children of her friend, who died of breast cancer. Although it was a difficult decision, it eventually became worth the effort. Find out more.
In 2016, a Virginia mother of three, Stephanie Culley, expanded her family and became a mother of nine after she decided to honor her dying friend's wish to adopt her six children.
The thoughtful woman sat down with a CBS reporter to shed more light on her decision and the life of her friend. Culley revealed that she wanted her dead friend, Beth Laitkep, to live so much.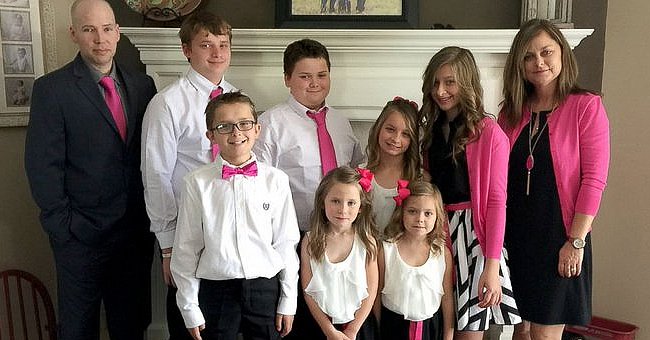 The Culley family stand together for a group photo. | Photo: twitter.com/VDSS
According to Culley, no mother deserves to live and raise Laitkep's children as much as she does. More than anything, the deceased's kids needed her to be alive.
Before her death, Laitkep was a single mother of six children. Apart from the struggles of raising six kids alone, the woman also had health challenges.
She was diagnosed with breast cancer, and in April 2016, she lost the battle. However, Laitkep asked Culley for one last favor before she died. The latter told CBS News:
"She was never worried about herself. She was never worried about anything but them. And she looked at me and said, 'Can you do this for me? Can you do this?'"
Touched by her friend's request, Culley asked her husband, pointing out that Laitkep had six children. Although the husband took a long pause to ponder the situation, he later decided to grant the dying woman's request.
In no distant time, Laitkep's children ranging from ages two to fifteen moved into Culley's family home. Although the mom of nine was scared to death initially, her mindset changed after she began the journey.
Culley was happy to see the kids interact and love one another. She kept Laitkep's memory alive by telling the six children stories about their mother.
Culley started a GoFundMe page to help with the children's needs. In addition, the kids received $90,000 for their college education, and the Culley family got new furniture for their home.
In a similar story, Missy Armstrong was tagged a hero after she promised her best friend, Sara Hankins, to adopt her four children when she passed away.
Hankins was diagnosed with ALS — a terrible neurodegenerative disease with no cure. Although the woman was sick, her concern was the well-being of her children.
So, Armstrong offered to adopt her friend's children — an act that Hankins remained grateful for. The former revealed that it was not an easy decision to take in her friend's four children, but she could not turn a blind eye.
The two friends, who met in hairdressing school, searched for a five-bedroom home where Armstrong would stay with the kids. To aid in the rent of the house, the women set up a GoFundMe page to raise $20,000.
Please fill in your e-mail so we can share with you our top stories!