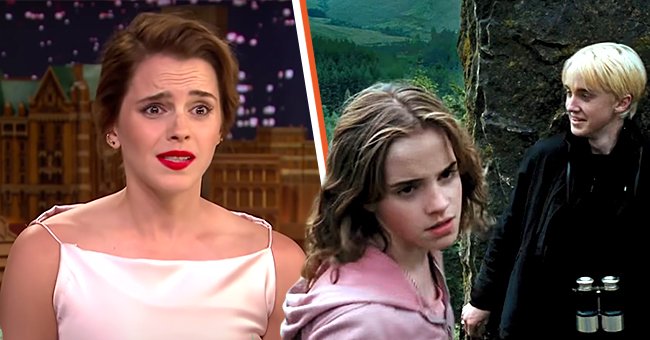 youtube.com/The Tonight Show Starring Jimmy Fallon | youtube.com/Wizarding World
Emma Watson Recalls How She Fell for Tom Felton Who Had a Crush on His Much-Older 'Harry Potter' Co-star
British actress Emma Watson confessed that she had a crush on co-star Tom Felton. The Draco Malfoy actor also revealed that he was well aware of her feelings for him.
Emma Watson recently revealed she could remember the moment she fell in love with her castmate Tom Felton while filming "Harry Potter" movies.
In a sneak peek at the "Harry Potter 20th Anniversary: Return to Hogwarts" special airing set for January 1, 2022, the activist remembered seeing Felton, 34, for the first time.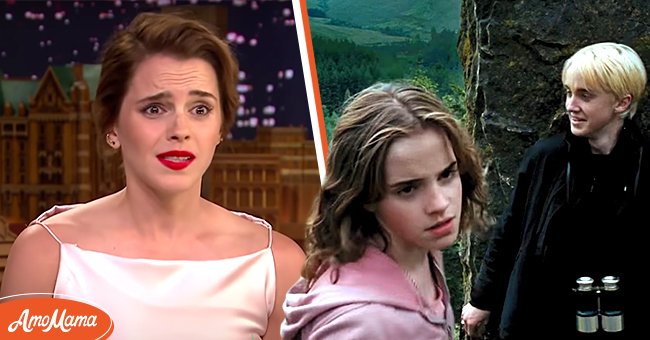 Pictured: (L) Actress Emma Watson during an appearance on "The Tonight Show Starring Jimmy Fallon." (R) Emma Watson as Hermione Granger and Tom Felton as Draco Malfoy on "Harry Potter" | Source: YouTube/@The Tonight Show Starring Jimmy Fallon and YouTube/@Wizarding World
FIRST TIME MEETING TOM FELTON
Watson, who plays Hermione Granger in the films – recalled her crush on Felton, who plays villain Draco Malfoy, and how she was smitten by him when she first met him after walking into a room where they had tutoring, saying:
"The assignment that had been given was to draw what you thought God looked like, and Tom had drawn a girl with a backward cap on a skateboard. I don't know how to say it – I just fell in love with him."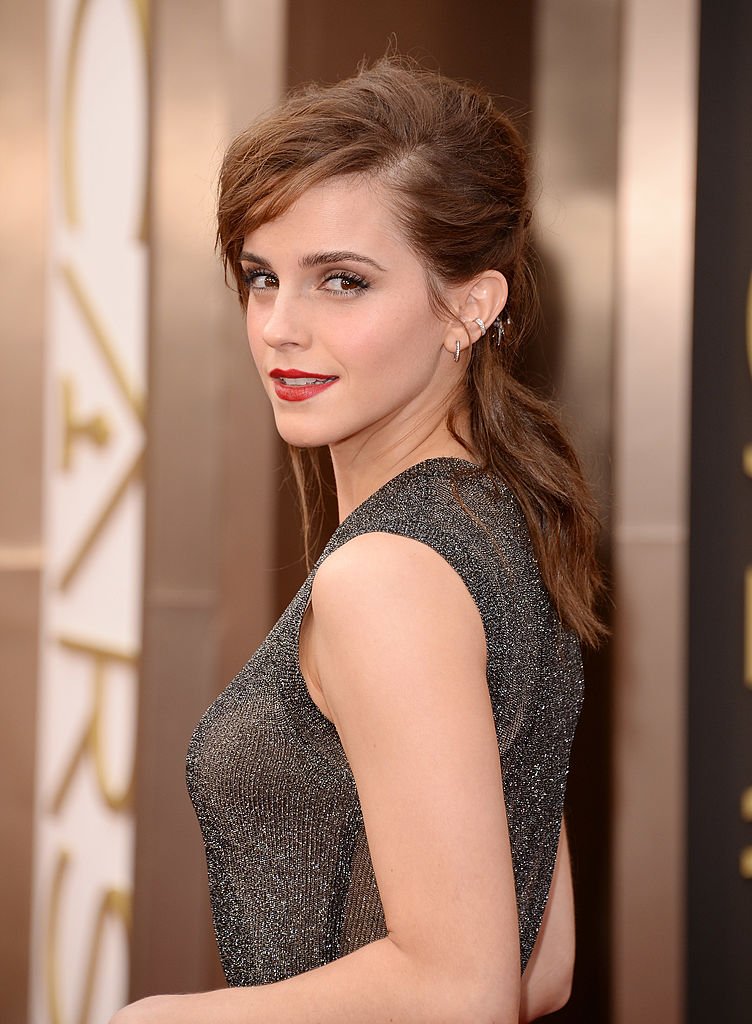 Actress Emma Watson attends the Oscars held at Hollywood & Highland Center on March 2, 2014 in Hollywood, California | Photo: Getty Images
HOW FELTON FOUND OUT
The 31-year-old added that she came in daily and looked for his number on the call sheet while vividly remembering it was number seven. Watson said if Felton's name was on the call sheet, "it was an extra exciting day" for her.
Felton being three years her senior, Watson was like a little sister to him. Moreover, he admitted to being fully aware of his secret admirer:
"I think I was in the hair and make-up chair, and someone said something along the lines of, 'Yeah, she had a crush on you.'"
HIS FRIENDSHIP WITH WATSON
From thereon, the English native said he became protective over Watson while admitting he had a soft spot for her and continues to this day.
Over the years, rumors brewed that the pair were secretly dating after Watson disclosed in various interviews that she had a childhood crush on the musician in the early years of their friendship.
Felton addressed the romance rumors between the two of them in June, telling Entertainment Tonight that their relationship with each other was merely platonic.
FELTON'S CRUSH
He also had a crush of his own as he confessed to being fascinated by Helena Bonham Carter, 55, who plays his aunt Bellatrix Lestrange in the films. Felton said Carter is extraordinary:
"An English rose with a crazy twist. She's very cheeky. Off-set it's all hugs and darlings; then, when the camera starts rolling, she turns into a complete psycho. It's amazing to watch."
While the on-screen duo play villains on the franchise, they are far from wickedness in their real lives. Carter shared in 2014 that her two kids, Billy and Nell, were enchanted with Diagon Alley, adding then-six-year-old Nell had started reading the first book.
Please fill in your e-mail so we can share with you our top stories!