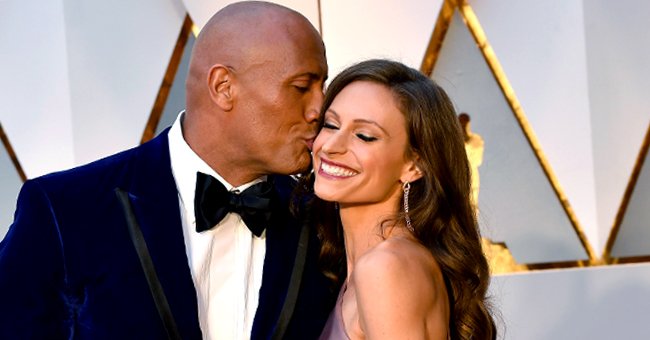 Getty Images | Instagram/laurenhashianofficial
ET: Dwayne Johnson Is a Father of 2 Beautiful Daughters with Wife He Was in No Rush to Marry for 12 Years
Dwayne "The Rock" Johnson and Lauren Hashian had their second child together before getting married. The delay in tying the knot came from the actor's side and had to do with his first marriage.
In June 2015, Dwayne "The Rock" Johnson was interviewed by Esquire, where he opened up about his longtime girlfriend, Lauren Hashian. While conversing over Skype from Los Angeles, the actor confessed that he lived with Hashian.
He shared that they'd been living together for eight or nine years at that point, and she worked as a singer-songwriter. The wrestler revealed that they spent time in Florida with his daughter from his first marriage, Simone Alexandra.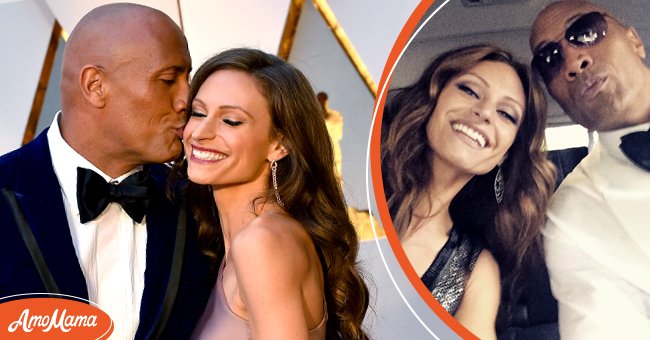 Dwayne Johnson and Lauren Hashian at the 89th Annual Academy Awards on February 26, 2017, in Hollywood, California, and the couple on the way to the Oscars on February 23, 2015 | Photos: Jeff Kravitz/FilmMagic/Getty Images and Instagram/laurenhashianofficial
The "San Andreas" actor noted how he would discuss business and success during interviews, but Hashian and his daughter were never mentioned. He said he was making sure to find a balance in his home life with his girlfriend and daughter.
HOW DWAYNE MET LAUREN
Johnson met Hashian in 2007 on a film set, and within the first 30 seconds, the actor noticed how stunning the singer was. At that point, the star was going through his breakup with ex-wife Dany Garcia, noting:
"Ironically, when you're not looking for something, the power of the universe kind of takes over."
WELCOMING THEIR FIRST CHILD
After being together for years, the star and Hashian announced in December 2015 that they'd welcomed their first child! Johnson made the exciting announcement on his personal Instagram account.
He celebrated that Christmas had come early for him and his girlfriend with the birth of their daughter. Along with a photo, the actor revealed little Jasmine Lia laid on his chest within minutes of being born!
INTRODUCING TIA GIA
The couple's second child together, daughter Tiana Gia, was welcomed in April 2018. She celebrated her second birthday in April 2020, with her parents taking to their Instagram accounts to honor her.
Hashian paid tribute to Tiana by sharing an adorable image of the smiling toddler holding a milk bottle. The singer called her daughter an angel and credited her with completing her family's picture.
WANTING TO GET MARRIED
During an April 2018 interview with The Rolling Stone, Hashian revealed that she and her famous boyfriend had intended on getting married in the spring in Hawaii. However, the pregnancy put a cog in their plans.
The musician explained that she didn't want to find herself taking wedding photos with a big pregnant stomach because she wanted to look good. Her parents didn't plan for Tiana; she just came along.
Hashian said she and Johnson talked about having another child when the pregnancy test came back positive. Johnson joked that he got his girlfriend pregnant just by looking at her.
DWAYNE NOT RUSHING INTO MARRIAGE
In July 2018, the "Jumanji" actor told Entertainment Tonight that he and Hashian hadn't gotten married in secret. He addressed rumors about the confusion because he called her his "wife," stating:
"I just refer to her as my wife all the time. So a lot of people are like, 'Oh, did you get married?'"
Johnson explained that he didn't want to be rushed to tie the knot with his longtime girlfriend. However, as much as he wasn't in a hurry, the star once explained why it took so long to marry.
WHY DWAYNE DELAYED MARRIAGE
Speaking to WSJ Magazine in December 2019, Johnson revealed that he waited for more than ten years to marry Hashian because of his divorce from Garcia. He said he wasn't afraid of getting married but was hesitant.
Johnson revealed that Hashian didn't feel the same way despite people questioning the delay. The "Skyscraper" star said the musician was very patient and told him no pressure.
She was just happy that she loved him and he loved her, plus they had a great life together. Luckily, Hashian's patience eventually paid off when the actor finally found the courage to do right by her.
JOHNSON'S MARRIAGE TO GARCIA
On May 19, 2008, Johnson and Garcia's divorce was finalized. The former couple was married for 11 years and had Simone before their relationship ended in separation for some unknown reasons.
Whatever caused their rift was gradually squashed, and the pair are now successful business partners. In August 2020, Johnson and Garcia bought the football league, The XFL, for $15 million, and they also co-founded the production group, Seven Bucks Companies.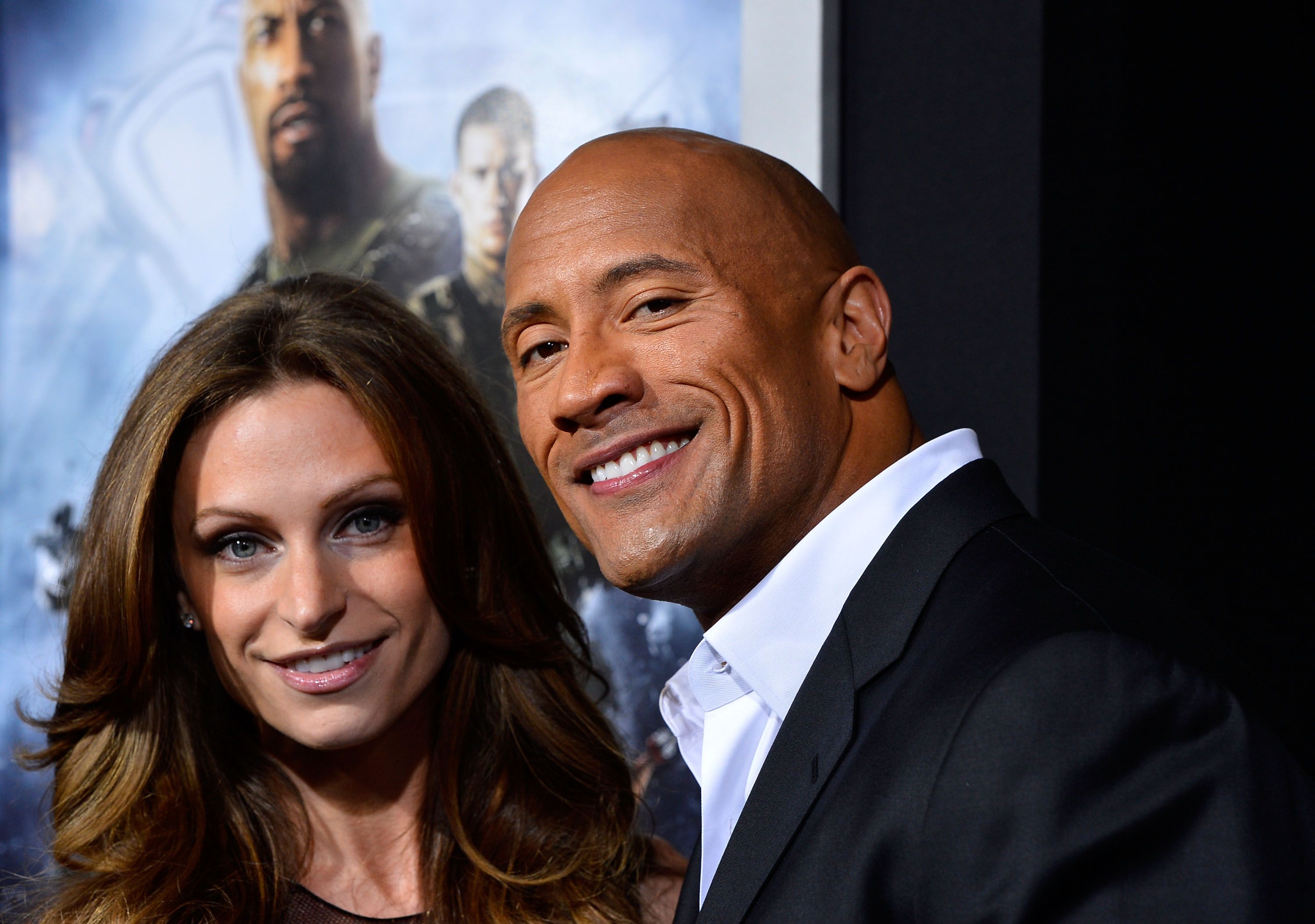 Lauren Hashian and Dwayne "The Rock" Johnson at the premiere of "G.I. Joe: Retaliation" on March 28, 2013, in Hollywood, California | Photo: Frazer Harrison/Getty Images
LAUREN & DWAYNE'S WEDDING
On August 18, 2019, Johnson married Hashian and told WSJ Magazine that he was surprised the press didn't catch wind of their plans. He and his bride had full security detail just in case the media used helicopters.
[Dwayne] Johnson revealed that he still got emotional when he heard the words in the song or saw the wedding footage.
The actor was pleased and grateful for the outcome because his life was generally noisy and loud. Johnson knew what he wanted and only proposed three days before the ceremony, and only nine adults were in attendance.
His wedding was a private and small one where he only had his mother, his close friend Hiram Garcia, and his two daughters. The WWE superstar announced his marriage via Instagram with a series of stunning photos.
SHOWING HIS WIFE LOVE
To celebrate their first wedding anniversary in August 2020, the "Ballers" star shared a gorgeous Instagram video tribute from his ceremony. The clip also showed how the actor proposed to his wife.
In the post's caption, Johnson wrote a touching message to honor Hashian. He also revealed that the song, "Step Into A Love Like This," played in the background of the video, was written by his talented wife.
The musician, who surprised the actor with the song, sang the track during her wedding ceremony. Johnson revealed that he still got emotional when he heard the words in the song or saw the wedding footage.
Please fill in your e-mail so we can share with you our top stories!