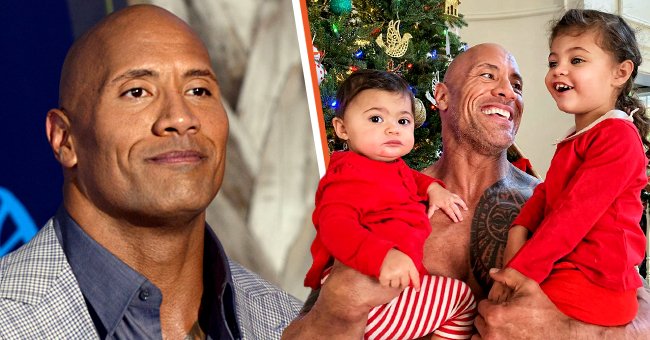 Instagram/therock | Getty Images
Dwayne Johnson Became a 'Different Kind of Dad' to Younger Daughters after Divorce from His 1st Wife
Dwayne Johnson's divorce from his first wife had a lasting effect on him. An aspect of the actor that has changed since then is his approach to fatherhood.
Dwayne Johnson has played many roles and worn many hats in his life, but according to him, his favorite is the one that identifies him as a father.
The famous actor is father to daughter Simone, 17, from his first marriage, and toddlers Tiana, 15 months, and Jasmine, 2, with his partner Lauren Hashian.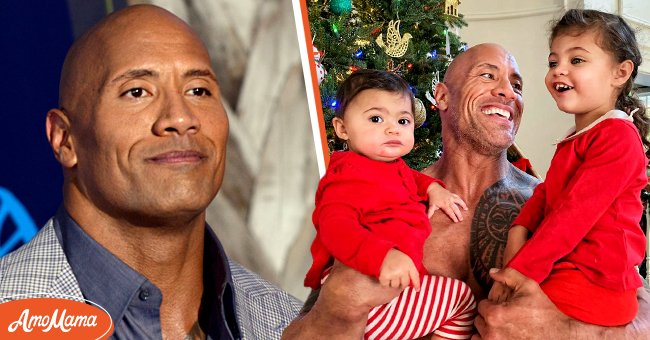 Picture of actor, Dwayne Johnson [left]. Picture of Dwayne Johnson and his kids [right] | Photo: instagram.com/therock || Getty Images
Dwayne's relationship with his children is very important to him, and he makes no secret about it. Here is everything you need to know about his bond with them.
HIS RELATIONSHIP WITH HIS FIRST WIFE
As earlier stated, Dwayne is the father to three girls, one of whom is a product of his marriage to his first wife, Dany Garcia, in May 1997.
Dwayne met the woman while they studied at the University of Miami, where he had a football scholarship. After the two got married in 1997, they had a daughter, Simone, but the union split a decade later.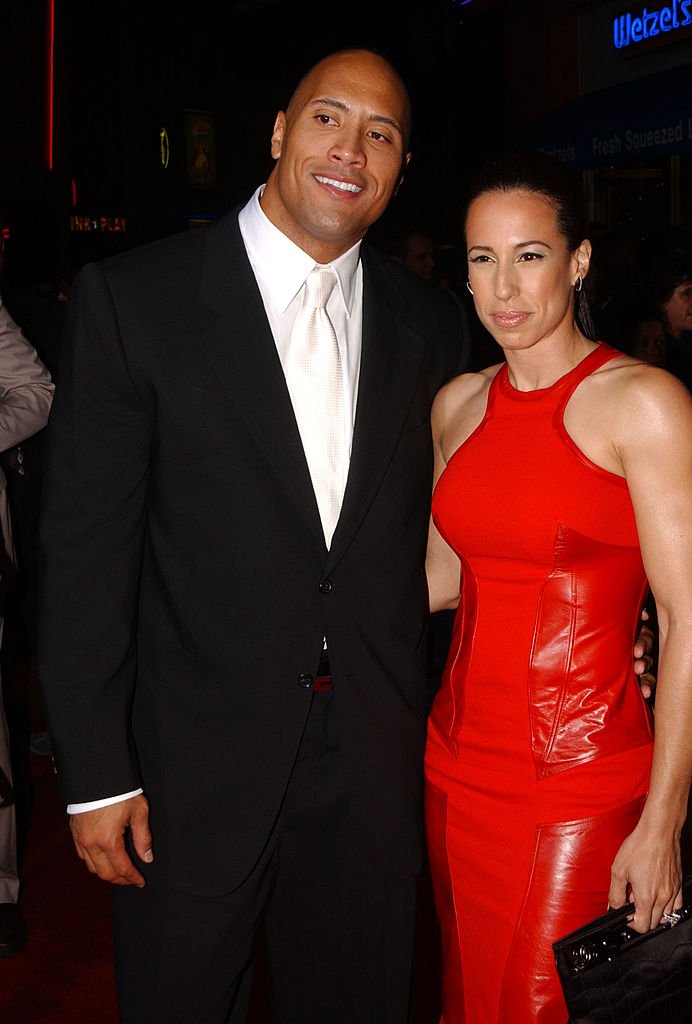 Dwayne 'The Rock' Johnson and Dany Garcia at the premiere of "The Rundown" in California | Photo: Getty Images
The most exciting thing about their relationship is that they seemed to have nothing but love and goodwill for each other even after it ended.
The same year the divorce was finalized, Dwayne begged Garcia to take over the management of his acting career. At the time, he was tired of slimming down to meet Hollywood standards.
They both knew that her accepting his offer meant putting an end to their relationship, and they were all for it. Garcia fit right in because she had already been deeply involved with his agents before he asked.
While she helped Dwayne scale up his portfolio, they maintained a strong family bond. It was a good idea because, in 2018, The Rock earned $124 million, the most any actor has earned since the magazine began its Celebrity 100 list two decades ago.
HIS BOND WITH THE KIDS
Fatherhood is a tricky subject, but Dwayne seems to have it all figured out. His social media pages are inundated with posts that express how much love he has for them.
He just really liked calling her wife even though they had not had the wedding.
His first daughter Simone graduated from high school in 2019 and moved to New York University. The proud father shared the achievement with his fans.
"Very proud of my first daughter graduating high school, [...] and is now NYU bound. I love you, and one day you'll stop pulling away from my beastly arms & kisses," he captioned a picture of himself and her.
Of course, parenting has not always been this easy for the big man. When he had his first child, he was younger and had not achieved the superstar status he now has.
It showed how he raised his child; however, things changed after his divorce. He decided to take everything he had learned from it into his next relationship and implement them.
Now, he enjoys a great relationship with all three of his kids, and in return, they ground him and help him avoid getting too caught up in the life of superstardom. "Through life and experience, I'm a different kind of dad," he once confessed in a 2019 interview.
HIS SECOND WIFE
Dwayne met his second wife, Laura Hashian, on the set of "The Game Plan" while he was still married to Garcia; however, the two did not start anything until after the actor and his ex-wife announced their divorce in 2007.
Since then, the two have been inseparable and busy confusing netizens on their relationship status. First, they acknowledged their relationship even before Dwayne's divorce was finalized, then they moved in with each other, and he started referring to her as his wife.
It made many suspect them of having had a secret marriage, but that was not the case; he just really liked calling her wife even though they had not had the wedding.
Indeed, he loved Laura, but Dwayne was not about to be rushed into another marriage, so they chose to take things slow. Next, the two welcomed their first child, Jasmine, in 2015, while their second Tiana Gia followed three years later.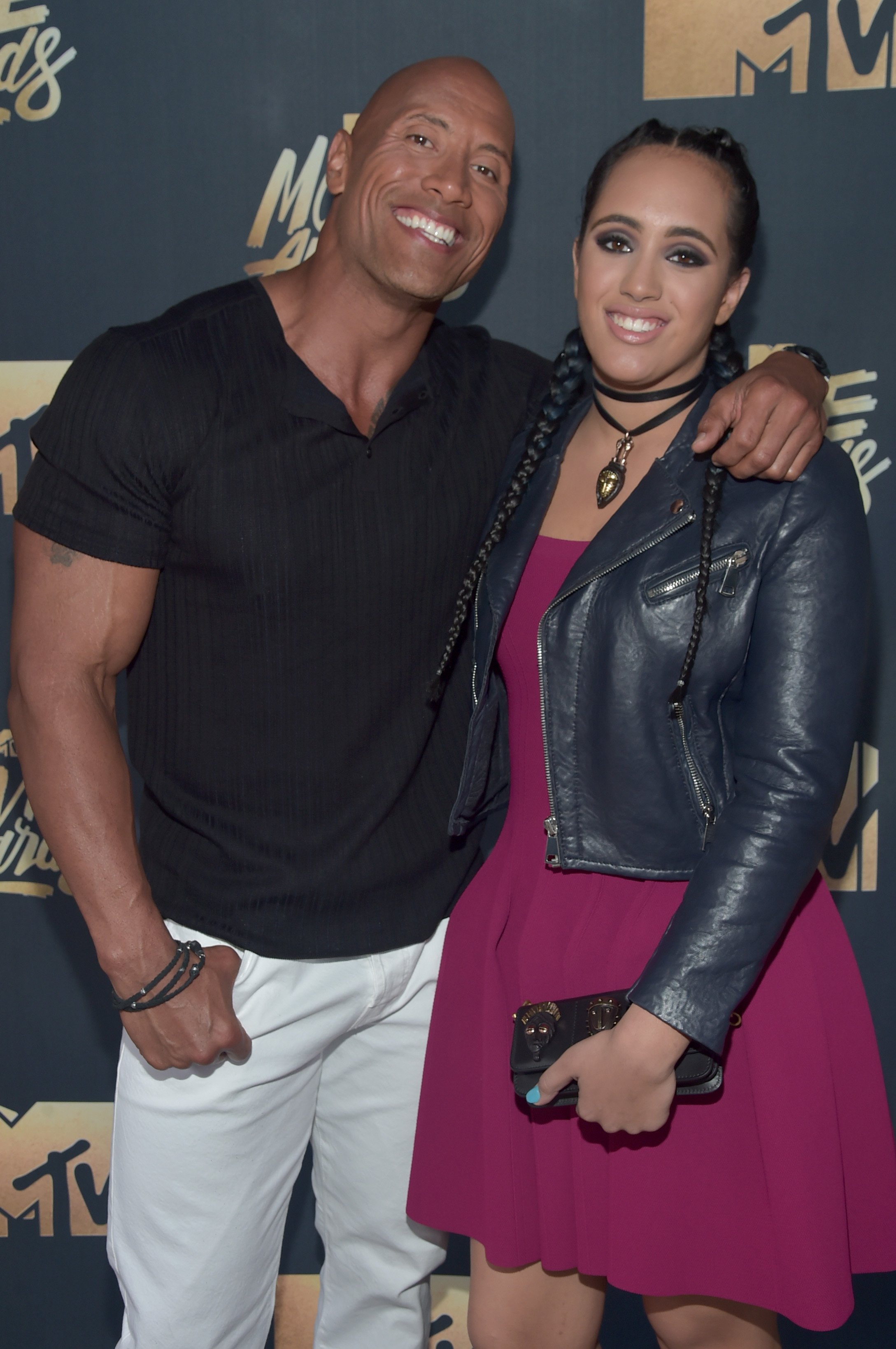 Dwayne Johnson and his daughter, Simone Alexandra Johnson attend the 2016 MTV Movie Awards at Warner Bros. Studios on April 9, 2016 in Burbank, California | Photo: Getty Images
Their marriage finally happened in 2019, and it was one of the most talked-about events in Hollywood because of how they pulled it off, and their relationship remains one of the Internet favorites.
Please fill in your e-mail so we can share with you our top stories!