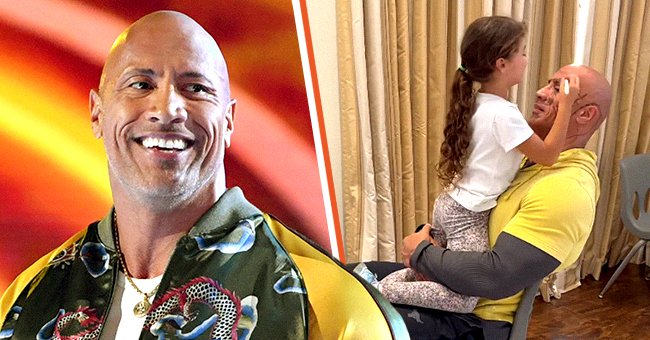 Getty Images | Instagram.com/therock
Dwayne Johnson Shares Tribute to His Blue-Eyed Daughter Jasmine with a Sweet Promise on Her 6th Birthday
On Thursday, 10-time WWE world champion Dwyane "The Rock" Johnson celebrated a milestone in his daughter, Jasmine's life. The little girl turned 6, and her dad could not be prouder.
Dwyane Johnson announced his daughter's big day with an Instagram post, promising his daughter that he'll always be by her side. He referred to her as strong, independent, confident, creative, and sweet.
But the most important qualities he noted about her were how kind and loving she was. The father of three then asked the little girl to always look up to her mother, Lauren Hashian, as she was the best role model.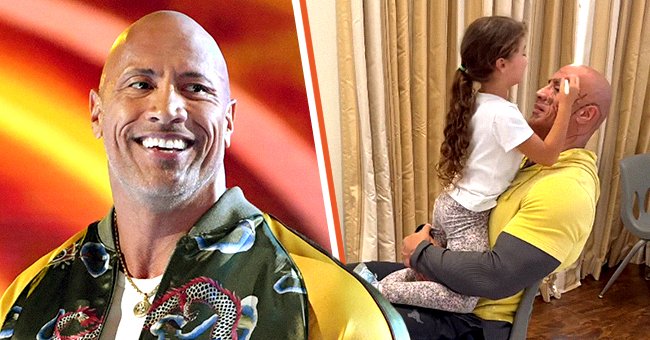 Left Actor Dwyane "The Rock" Johnson | Photo: Getty Images. Right: The Rock with his daughter Jasmine | Photo: Instagram/The Rock
"I'm proud of you, I got your back, and as your father, I'll always be here to help guide you through life with my heart and hands," Johnson wrote.
Accompanying the sweet post was a photo and a short clip of Johnson with his daughter. In the first, the duo is sitting facing the camera, while in the next, Jasmine is kneeling on her father's lap, drawing on his face.
GENTLE GIANT
A man known for his intimidating looks and stern demeanor is anything but when it comes to his daughters. Since becoming a father, the "Jumanji" star says that he has learned a thing or two about parenting daughters.
Opening up to People, he says his big takeaway about parenting is to "be there." He says he also learned to be tender and gentle and expanded his listening ability. That way, solving a crisis became a walk in the park.
The "Central Intelligence" referred to his youngest daughters as tornadoes, saying they are very passionate about their feelings. He is raising his girls in a culture and environment that does not limit them in any way whatsoever.
DOTING FATHER OF THREE
The "Hercules" actor is a father to three daughters. His eldest, Simone, who he shares with his first wife, Dany Garcia, is 20. Simone is already following in her dad's footsteps and is officially signed with the WWE. She also works as an IMG model.
Jasmine, 6, is the star's second daughter, whom he shares with his second wife, Hashian. Jasmine is yet to make her on-screen debut. She, however, appeared at her dad's Hollywood Walk of Fame red carpet induction ceremony.
She has also featured on her father's Instagram numerous times, as her little sister, Tianna, 3. Johnson says he's always wanted to be a great dad, and it seems he's doing a good job.
Please fill in your e-mail so we can share with you our top stories!