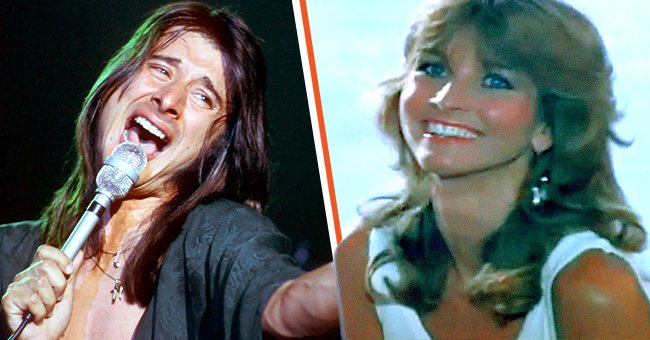 youtube.com/MusicTime Getty Images
Steve Perry Fell in Love with a Dying Woman: 'I Believed Love Could Cure Cancer'
American singer and songwriter Steve Perry left music for many years but returned after being inspired by a dying woman he fell in love with. Find out about the beautiful love story.
Steve Perry is famous for being the lead singer of the rock band Journey when they were most commercially successful from 1977 to 1987 and from 1995 to 1998.
Besides leading the band, he also enjoyed a successful solo career between the mid-1980s and mid-1990s. However, he quit music for a while before returning full-time in 2018.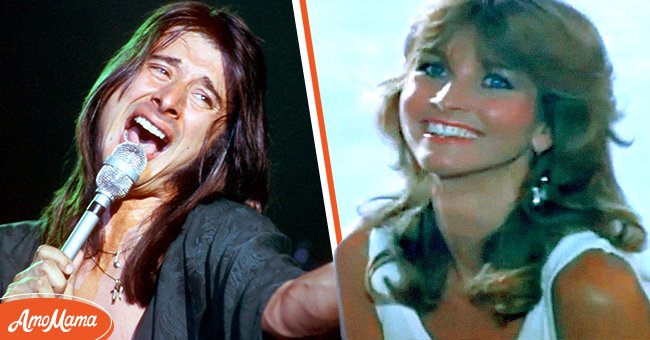 American singer Steve Perry during a performance. [Left] | Steve Perry's ex lover Sherrie Swafford smiling in a photo. [Right] | Photo: Getty Images
The Rock and Roll inductee has written and performed many hit songs, including "Oh Sherrie," which he wrote for his then-girlfriend.
Also, he returned to music after a long time because of a promise he made to a dying woman he fell in love with. Find out about Perry's love life and the stories behind it.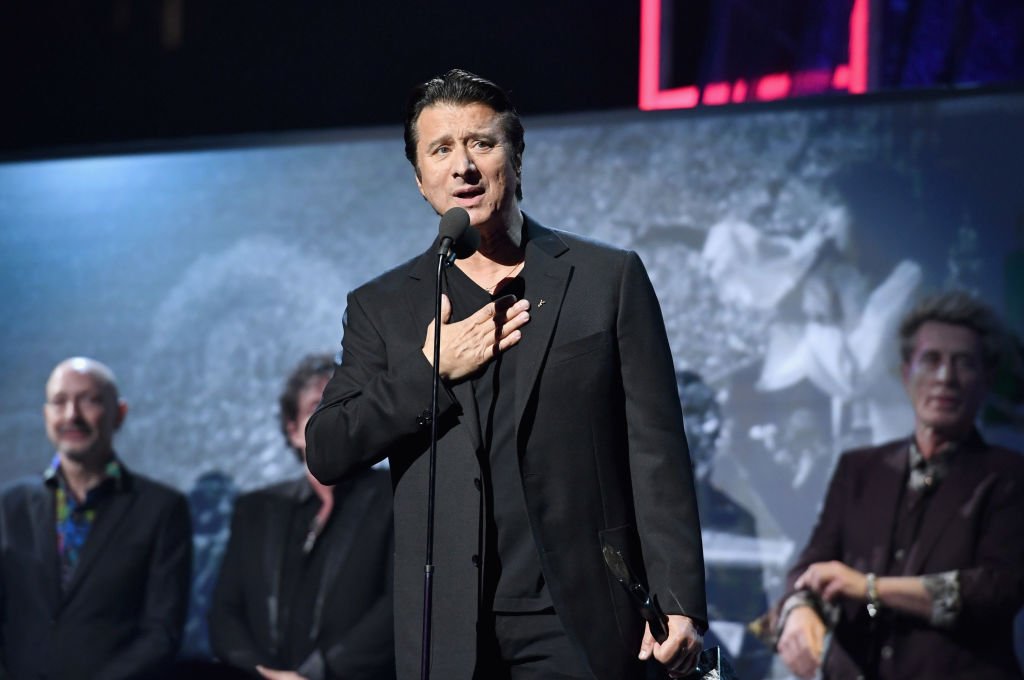 Inductee Steve Perry of Journey speaks onstage at the 32nd Annual Rock & Roll Hall Of Fame Induction Ceremony at Barclays Center on April 7, 2017. | Photo: Getty Images
PERRY'S RELATIONSHIP WITH SHERRIE SWAFFORD
In the 1980s, Perry and Sherrie Swafford were the Romeo and Juliet of the 1980s because of their love story. From the power ballad titled "Open Arms" to the megahit "Separate Ways" and other Journey hit songs, it was obvious Swafford and Perry were crazy in love with each other.
Their love was so evident that Swafford featured in the music video of Perry's song "Oh Sherrie," one of the hits in his first solo album "Street Talk," released in 1984.
For whom Perry wrote the song, Swafford serenaded him in the music video, which was then an MTV favorite. Many fans thought Perry and Swafford's relationship would go the long haul.
However, it did not turn out to be so, as their romance ended due to the pressures of touring. After their break up, nothing was heard of Swafford until blog author, Marc Tyler Nobleman, caught up with her in 2013 while researching.
She revealed she never married and had no children. Swafford also said she was an esthetician and yoga teacher, adding that she loved animals, planting flowers, and life.
Swafford also disclosed that she cherishes her friends, including her ex-boyfriend, Perry, and her privacy and added that there was nothing but love between them when they dated.
In a reported interview in 2011, Perry recalled his relationship with Swafford. He said they were crazy in love, but it was tough because his band (Journey) was peaking.
He further said it is difficult to navigate a relationship with someone in a band like Journey, especially when it is in the midst of a ride like Journey had then.
After Nash's death, Perry grieved for two years.
PERRY LOSES INTEREST IN MUSIC
Perry made multiple hits as a solo artist and a lead singer for Journey. One of the band's most famous hits was "Don't Stop Believin," in alto/countertenor, with which he burst into the song, remains recognizable to this day.
Perry's passion for music began when he was six years old. Then, he found music as a life-sustaining thing. Perry's parents were about to separate when he discovered Sam Cooke and 45rpm records. In a chat with BBC, he disclosed:
"I could turn what was happening around me off and live there. And it saved my life."
However, after venturing into music and enjoying success as a solo artist and Journey, Perry lost his passion and left the band. He explained his reason for quitting the band, saying:
"I was wrung out like a sponge. There was just no juice in my heart for music and it really scared the hell out of me."
Perry knew instinctively that if he continued with what he was doing, he would have a hole in his heart that would get bigger and bigger. He also knew he would fill the widening hole with bad behaviors. Hence, he had to stop.
In a chat with Glamour, Perry revealed he stopped the music to get away from it all. He admitted Journey was kind of big when he stopped and admitted being fortunate to have had an amazing career. However, he did not want to do it anymore.
A year before quitting music, Perry lost his mom. Also, family stuff was going on, and he did not want to miss life. He explained: "There's a whole thing called life, and it's not just about the entertainment industry. There's more to life than singing and touring."
Perry said the beautiful thing about music is that it is amazing if one is fortunate enough to get in it. However, he said it can become a choke chain if one does not know how to put the brakes on for themselves because it keeps rolling like crazy.
He disclosed that the management kept booking him and his bandmates, and he had to get time off eventually. After quitting the band, Perry went back to his hometown, an agricultural community in the San Joaquin Valley of California.
While he was there, he visited his mom and grandparents at the cemetery. He also bought himself a Harley-Davidson Softail custom, which he would jump on and drive out into the country roads he grew up on with the wind blowing on his face.
After leaving Journey, Perry never sang or wrote music again because he feared doing so would tempt him into running back to it again.
Perry also avoided singing in the shower. He only listened to ambient music, of which Liquid Mind was his favorite. The situation remained the same for several years before Perry finally listened to music again.
He revealed the breakthrough to doing so was Luther Vandross's album "Give Me The Reason." Perry said Vandross sang so beautifully in the album, and he listened to it with his headphones and went for walks.
LOVE BRINGS PERRY BACK
Many years after quitting music, things started to change as Perry eventually returned and recorded an album in 2018, his first since Journey's "Trial by Fire" in 1996.
However, it took a sad love story for the singer to return to music. After leaving Journey, Perry never married because he was too scared of marriage after witnessing what happened between his parents.
Also, many of his Journey bandmates went through several divorces during their time. Perry saw his bandmates lose half of their wealth following their divorces, and it did not encourage him to seek love.
Thus, the only serious relationship he had ever had was with Swafford. Even in that relationship, he was not completely swept away by love; that was a feeling that eluded him.
All that changed in 2011 when his friend Patty Jenkins, who directed "Wonder Woman," showed him a cut of her television film about breast cancer.
While watching the video, Perry saw a cancer survivor named Kellie Nash, a psychologist who had received treatment. Perry was smitten by the woman and asked Jenkins for her email.
Jenkins objected to giving Perry such information, but he explained that something about Nash's smile was killing him. He pleaded with Jenkins to send her an email telling her he wanted to have lunch with her.
Jenkins agreed to do so but informed Perry that Nash was in remission, but her cancer returned and entered her bones and lungs. Thus, she was battling for her life.
After hearing Jenkins' words, Perry wondered if he should forget about the idea. Eventually, he decided to go on with it.
Nash and Perry met for dinner and started dating. Perry went into the relationship knowing Nash was going to die. Yet he continued with it. When asked what he hoped to gain from his brief romance with Nash, he said:
"You want to know the truth? I've not said this to anybody yet: I believed our love would cure her cancer. I really did."
Before Nash died, she made Perry make a promise to her. Perry revealed she made him promise not to go back into isolation because she feared him doing so would make their relationship all for naught.
Perry promised Nash that he would not go back into isolation but lay in bed afterward thinking what he had just promised. He added:
"She was looking at the arc of her whole life and the possibility that she may not make it had to have some goddamn meaning. She was looking for purpose in all this."
After Nash's death, Perry grieved for two years. He described his grief as a whole new level of a broken heart. However, he worked through that and started writing music.
Eighteen months after Nash's demise, the singer returned to live performance when he joined the band Eels, of which he was a fan, on stage at the Fitzgerald Theatre in St. Paul, Minnesota.
Before Nash's death, Perry was already writing music again. However, following her death, he worked in earnest. He built a studio in his home and collaborated with co-writers and musicians despite not being signed to any record label or having management.
Eventually, he released his album "Traces" in 2018. It peaked at number 6 in the US charts and 40 in the UK charts. In 2021, he released another album titled "The Season."
Perry walked away from the Journey, but a promise eventually brought him back to music. That promise emanated from a tragic love story, but it is great it finally brought his love for music back to life.
Please fill in your e-mail so we can share with you our top stories!