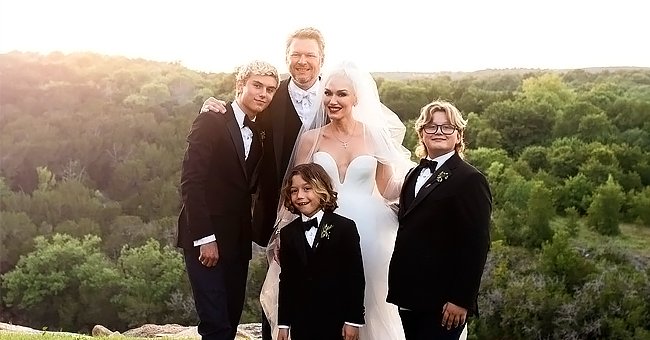 Instagram/gwenstefani
Blake Shelton & Gwen Stefani Celebrate Their First Christmas as Man and Wife in Their New $13.2 Million Home
Blake Shelton and Gwen Stefani celebrated the most romantic first Christmas as husband and wife. The newlyweds seemed dreamy as they made it clear the holidays are beautiful when shared with loved ones, especially in a $13 million home.
Since American country music star Blake Shelton and his "No Doubt" lead vocalist bride Gwen Stefani tied the knot, they stopped at nothing to show what a beautiful relationship they have.
Shelton and Stefani have become a sight to be envied, from purchasing their first million-dollar home together to celebrating Christmas in remarkable ways. There is no doubt the two are one couple who value doing things together, and here is a look at their beautiful marriage.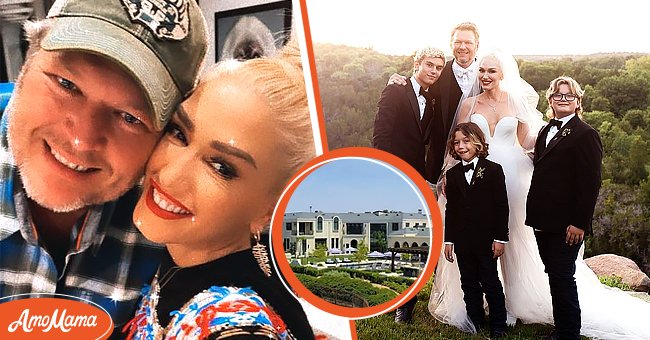 A picture of country singers and couple Gwen Stefani and Blake Shelton [left] Picture of Gwen Stefani and Blake Shelton with their kids [right] Picture of Gwen Stefani and Blake Shelton's house [bubble] | Photo: instagram.com/gwenstefani || youtube.com/Luxury Lane
INSIDE SHELTON AND STEFANI'S ROMANCE
Shelton and Stefani married in Oklahoma in June 2021, but their romance started way before then. It turned out their attraction must have sparked during an episode of the "Tonight Show" in 2015 where the two performed a duet of Drake's "Hotline Bling."
Stefani and the country music singer had been fresh out of divorces from their respective spouses at the time, and their October 27, 2015 performance left many wondering if they were more than just teammates.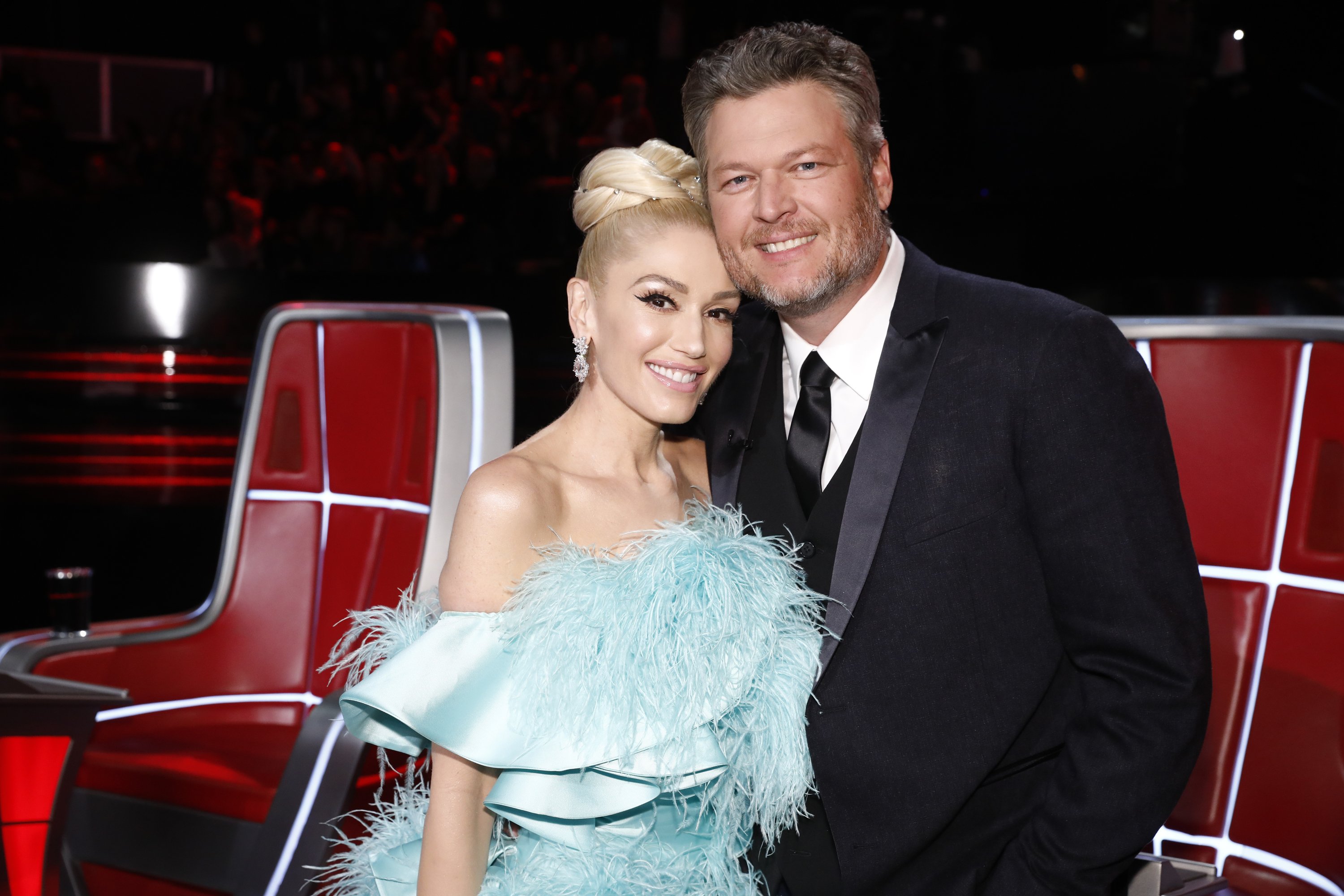 Gwen Stefani and Blake Shelton poses at "The Voice" studio on 17 December, 2019 | Photo: Getty Images
A tabloid also insinuated that the two music stars might be more than just friends. Although they failed to confirm this initially, the source released a series of exclusive photos which featured the pair's PDA at different events.
However, it was later confirmed that Shelton and Stefani were an item. The stars made their first red carpet debut as a couple during a Vanity-Fair Oscar after-party. And they made their first romantic duet, "Go Ahead and Break My Heart," on an episode of "The Voice."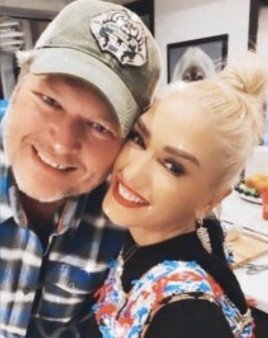 Picture of country singers Gwen Stefani and Blake Shelton | Photo: instagram.com/gwenstefani
The couple co-wrote the song, and it was later revealed that Shelton had specifically asked Stefani to help him finish the project. However, this wasn't the only time Stefani, 52, was a helping hand to the man she eventually married.
In June 2016, Shelton opened up about how Stefani "saved his life" after his divorce from Miranda Lambert. In the discussion, the TV personality, 45, talked about how Stefani's support helped him through his difficult days, saying:
"It went from checking in on each other once a week through email[...] Next thing I know, I wake up and she's all I care about and I'm wondering if she feels the same about me"
Lambert and Shelton divorced after a five-year marriage. After a long-term romance, the couple's split came as a shock to many fans. However, it was later reported that their long-distance relationship and rumors of infidelity ended their marriage.
However, the couple denied these claims, and they have notably moved on since their divorce. Lambert married Brendan McLoughlin in January 2019, and Shelton found love again with Stefani.
BUILDING A NEW HOME
After Shelton and Stefani said, "I do," they have achieved a lot together. While the couple was quarantining at Shelton's Oklahoma ranch with the "No Doubt" frontwoman's kids, they reportedly purchased their first home together.
News of the couple's 13.2 million home in Los Angeles' San Fernando Valley came less than a year after Stefani sold her Beverly Hills hilltop mansion, which she previously lived in with ex Gavin Rossdale. The new home consists of three floors and sits on a private 1.6-acre lot.
The 13,000 sq. ft residence also boasts a series of magnificent appliances, including a four-car garage, a sophisticated movie theatre, and a large outdoor pool and spa. It also has an outdoor kitchen and a wet bar.
However, purchasing a new home wasn't the only step Stefani and Shelton took in building a new home. Stefani's kids have notably spent a lot of incredible time with their stepdad, and Shelton once said he couldn't imagine his life without Stefani's sons Kingston, Zuma, and Apollo.
It's no secret the two stars have a lovely blended family, and Shelton once revealed that his ability to be an incredible bonus dad to his wife's kids was due to the excellent experience he has with his stepdad. However, the country music singer did say there was nothing easy about being a bonus dad.
He also opened up about his role as stepdad during a 2020 interview, where he revealed he was figuring out how to be both a role model and friend to the three boys. However, five years into their relationship Shelton says he enjoys every moment with the boys.
It is no secret Stefani and Shelton love spending lots of quality time with their family, and what better way to do that than the holidays. The couple is sure to be big on the holiday celebrations, and their first Christmas together was one of the most romantic sights ever.
BIG ON THE HOLIDAYS
Aside from the love for music, another thing Shelton, 45, and his wife Stefani, 52, have in common is their love for big Christmas celebrations. And celebrating the holidays in grand style has become a tradition in their five-year relationship.
For their first Christmas as man and wife, Stefani showed their life as a married couple in a series of videos she uploaded on social media. A video showed the couple trying out a timpani pasta dome which turned out perfect, unlike their failed attempts in 2020.
Another video showed a gingerbread house with a cute banner titled "Stefani-Shelton." The gingerbread home was surrounded by gingerbread figures which represented Shelton, Stefani, and their boys. There was even a gingerbread dog to represent their dog, Betty.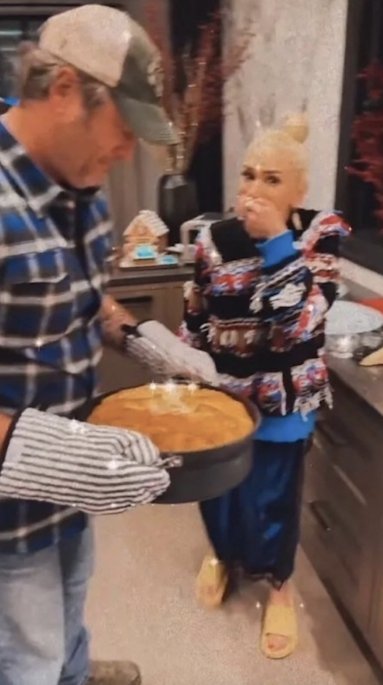 Picture of country singers Gwen Stefani and Blake Shelton trying out a timpani pasta dome | Photo: instagram.com/gwenstefani
STEFANI'S GRAND CHRISTMAS STYLE
Stefani knows how to bring up the spice when it comes to celebrating Christmas, and in a series of Tik Tok videos, the 52-year-old music star shows off some pretty fashionable Christmas outfits. Below is a full gallery of her innovative style.
Wearing a two-piece Christmas sweater, the mom of three jumped out of what seemed like a wrapped present in one Tik Tok video. She styled her blonde curls in a ponytail, and the red lipstick she had on only complimented her look.
A gingerbread house made by country singers and couple, Gwen Stefani and Blake Shelton | Photo: instagram.com/gwenstefani
She played "Santa baby" in a separate video as she vacuumed her home wearing a red and white shiny Christmas dress. The same video featured her working out, doing the dishes, and glancing through a magazine while sitting beside a heavily decorated Christmas tree.
She also tried out different Christmas-themed outfits in another video. The mom of three looked as radiant as ever, first as a Santa, then a snowman, and reindeer. She also turned out in a fancy mini Christmas dress with black thigh-high boots at the end of her video.
Stefani also shared a video that featured her making holiday snacks, but it turned out to be a failed attempt. She captioned the video #holidaycrafts alongside emojis that indicated her snack wasn't successful.
Please fill in your e-mail so we can share with you our top stories!