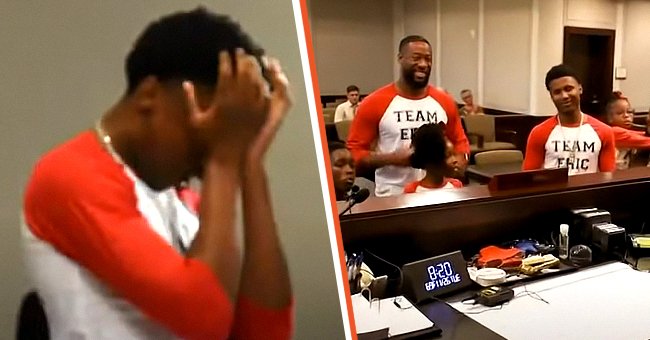 youtube.com/Wfaa8
Boy Aging Out of Foster Care in 6 Days Gets a Family and Forever Home
In 2019, a teenager finally joined his forever home after years of hoping to be adopted. The placement was made official just days before he would have aged out of the foster system.
A Fort Worth, Texas youngster experienced something special that made him feel like he was granted a second chance at life — he was adopted. Eric Franklin had almost given up hope when a family showed interest in him.
The soon-to-be-18-year-old knew his days of finding a home were numbered. Once his next birthday passed, he would officially be out of the foster care system. Fortunately, one family opened up their arms to him.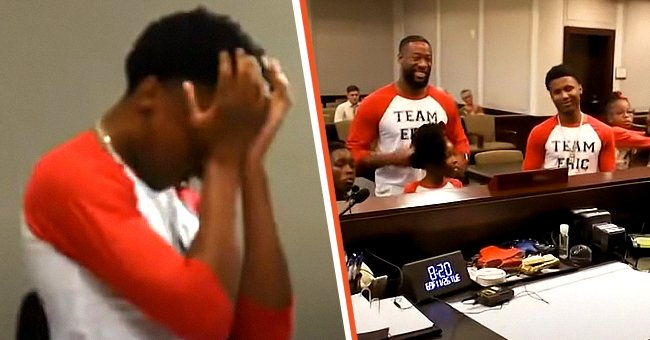 A boy is emotional as his adoption is made official [left] A youngster and his adoptive family in court [right] | Photo: youtube.com/Wfaa8
HE WAS "BORN AGAIN"
Six days before Eric's eighteenth birthday, the Franklin family watched as judge Jerome Hennigan hit the gavel and made the adoption official. Clad in matching "Team Eric" t-shirts, their day was memorable.
Eric expressed that the entire experience was like a dream, and he added: "I feel like I was born again." His new parents, Aaron and Eranisha, saw his story on television, and the ticking clock caught their attention.
THEY INQUIRED ABOUT HIM
The announcement showed them that there wasn't much time left before Eric would age out of the system. That's when the couple looked at each other and made a big decision. They were already parents to four adoptees but couldn't look away.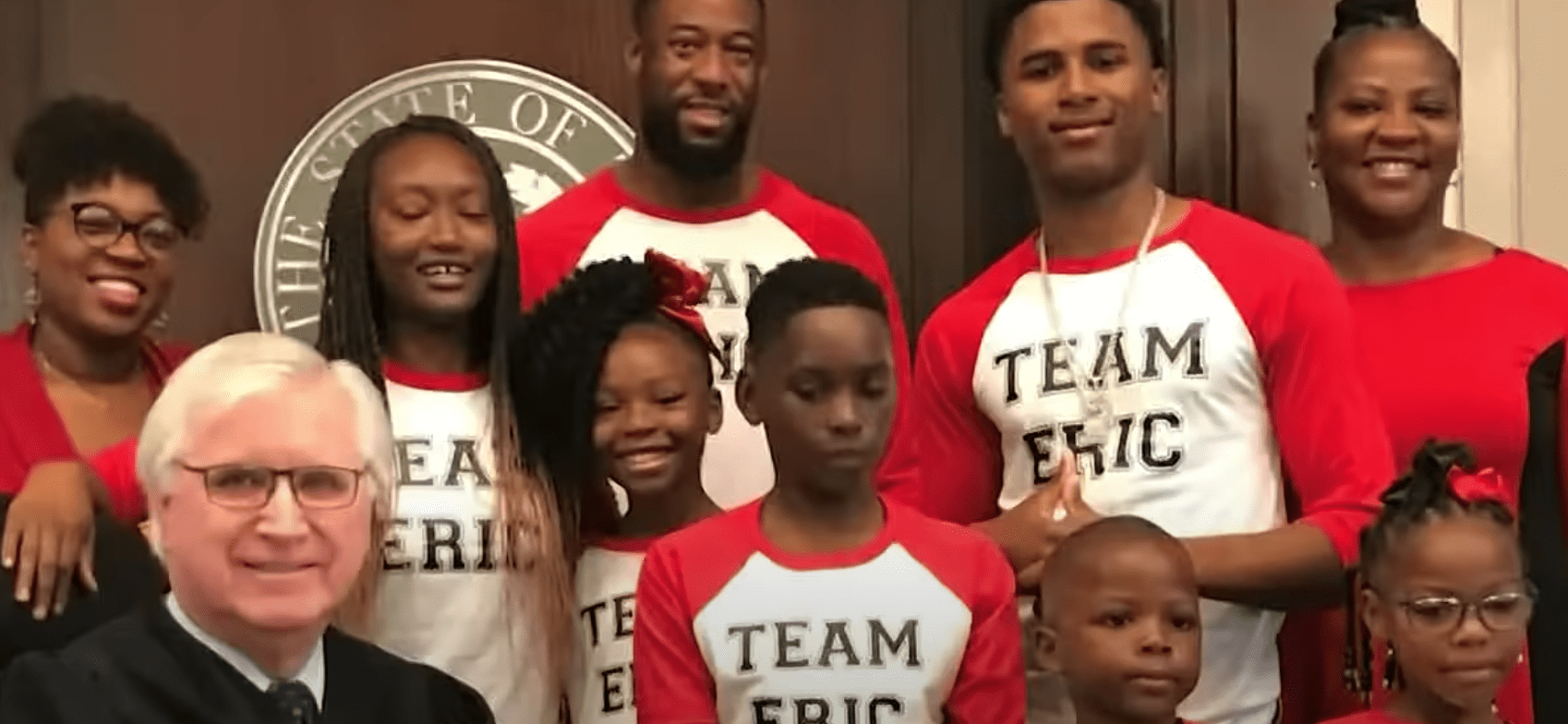 A judge and a family in court after they gained a new adoptive son | Photo: Youtube/WFAA
Aaron explained:
"This young man is about to be 18 and he actually ages out of the foster care system soon. I saw his story and I told my wife, 'inquire about this kid.'"
LOVED HIM FROM DAY ONE
When they met with Eric for the first time, an instant friendship developed. In no time, they felt like family, and the parents knew they wanted to make it more permanent. The proud father said: "We met him. We loved him from day one."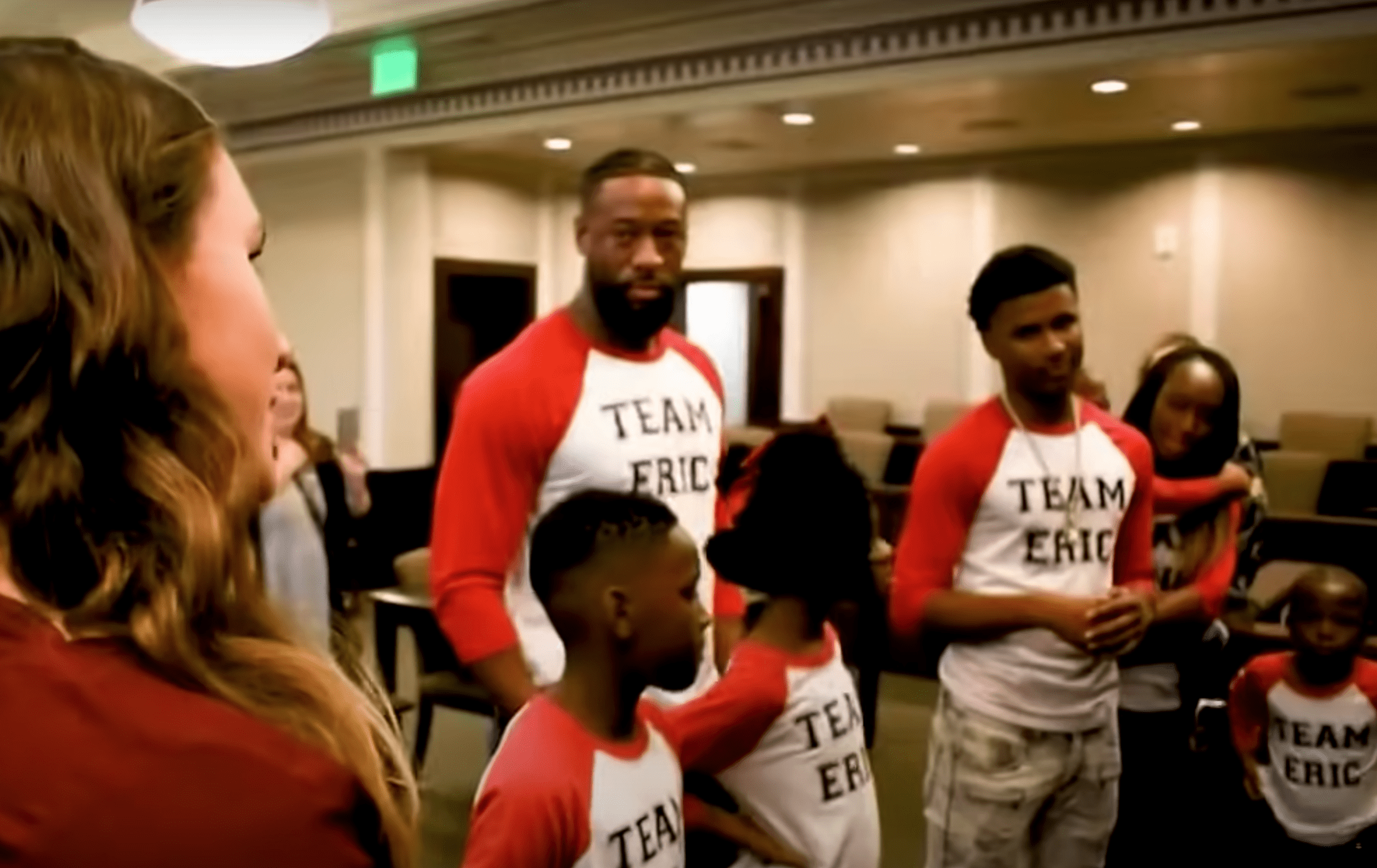 A family in court waiting to make the adoption of their new son official | Photo: Youtube/WFAA
The family was ready for their day in court, and each child had a number on the back of their t-shirt. Eranisha shared that the number represented when they entered the family.
THE SPECIAL MOMENT
Eric was nervous about the adoption proceedings. The moment was something he had longed for and dreamed about. Thankfully, his parents were right by his side, as were his new siblings.
The judge was honored to be a part of their adoption story. He said:
"It's a heartwarming feeling and it's a special feeling to be able to grant the adoption."
A family wears matching t-shirts with numbers on the back reflecting when they entered the family | Photo: Youtube/WFAA
THE ONLINE REACTION
Many netizens commended the Franklin family and others like them. One user said: "Seriously so important. Teens who age out of foster care make up roughly 40 percent of the homeless population in major cities."
Another wrote: "Yep, I remember Eric. It broke my heart. These people are absolute angels. I am so happy he was blessed with such incredible [family] to take him in and love him." Other adoptees also shared their stories.
HOPE FOR OTHERS
Someone expressed: My life would be so different if my mom never adopted me ... You don't need to birth a child to understand the meaning of loving a child. I'm so happy for him."
Eric was ecstatic about his adoption. His life was changed forever, and thanks to the Franklin family, he has people who will be there for him no matter what. His story also gives hope to the many others who are still waiting for their forever families.
Please fill in your e-mail so we can share with you our top stories!