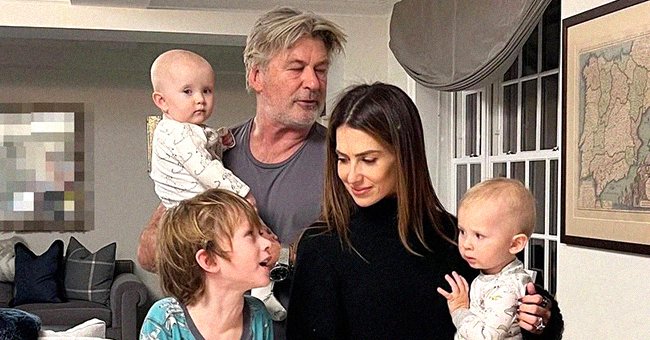 Instagram/hilariabaldwin
Alec Baldwin Wished He Had More Time with His Kids after Becoming a Father Again in His 60s
Alec Baldwin is a successful actor known for his comedic stints on television. Still, he takes the most pride in being a husband to his wife, Hilaria, and a father to his seven children.
Born on April 3, 1958, as Alexander Rae Baldwin III, the actor started his professional career in the entertainment industry at a young age. In 1963, he appeared on the television shows "The Doctors," followed by "Knots Landing," "Beetlejuice," "Married to the Mob," and "Talk Radio."
He made his way to the big screen, appearing in the box office hit "The Hunt for Red October," and other movies such as "The Getaway," "The Aviator," "Along Came Polly," and "The Cooler," where he received an Academy Award nomination. He is most known for the series "Saturday Night Live" and "30 Rock."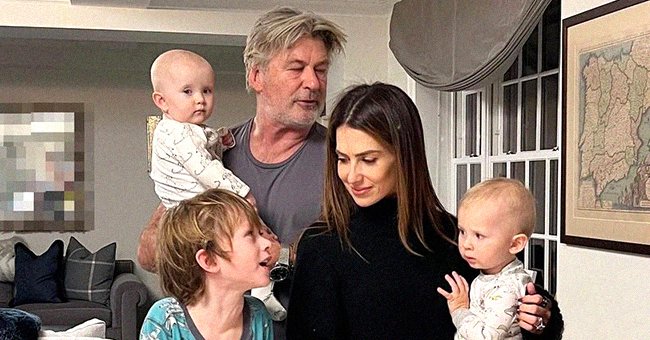 Hilaria Baldwin, her husband Alec Baldwin, and their children celebrate her birthday at home. | Source: Instagram/HilariaBaldwin
MARRYING HILARIA
In 2011, Alec met the love of his life, Hilaria, in a Manhattan restaurant. Hilaria was a New York University graduate, a yoga instructor, 26 years younger than the actor. Despite their age gap, the pair got along well and tied the knot a year after becoming romantically involved.
Hilaria previously opened up about their love story, detailing the early days of their relationship. At first, she did not know if Alec had romantic intentions as he would greet her with a handshake during their dinner dates. Hilaria said:
"He shook my hands for six weeks. [...] My girlfriends would call me and say, "Anything yet?' and I'd say, 'Nope, nope, nope.' Then they'd say, 'Maybe he just wants to be friends.'"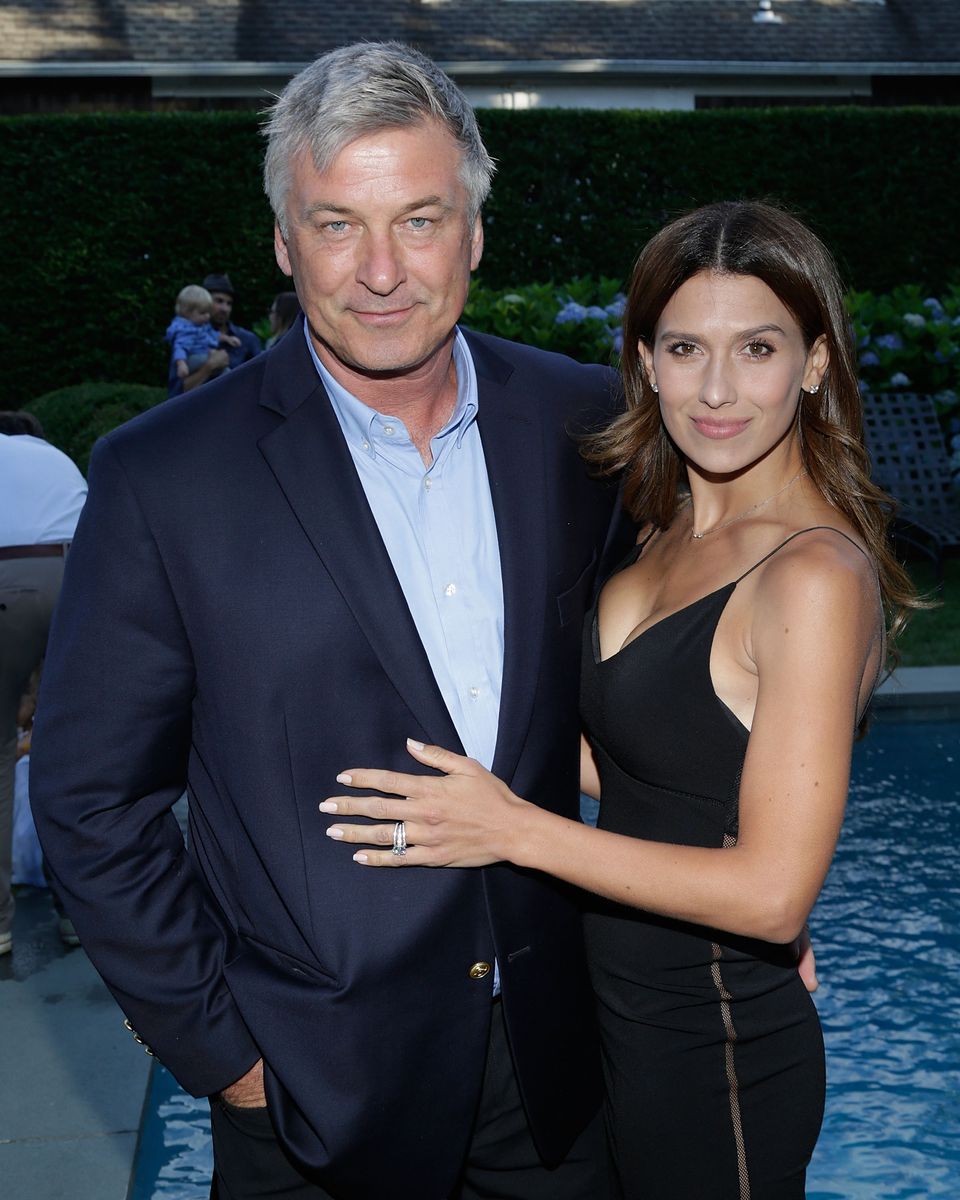 Alec Baldwin and Hilaria Baldwin at The Hamptons International Film Festival SummerDocs series screening of Trophy on July 29, 2017 in East Hampton, New York. | Source: Getty Images
Things may have been slow initially, but everything moved quickly once their feelings were established. Within five months of their relationship, the pair moved in together and planned for their future. On June 29, 2012, Alec and Hilaria tied the knot at St. Patrick's Old Cathedral.
The wedding had hints of a Spanish theme, and the readings were said in both English and Spanish. The bridal dress consisted of traditional Spanish lace called mantilla, worn above the shoulders and head. The couple has since been happily married and proud of the family they built. Previously, Alec told his wife:
"These are tough times. The world is choked with fumes of hate. But you have given me a reason to live. Our life with our family is all I care about. Nothing else. I owe that to you."
ALEC AND HILARIA'S CHILDREN
Alec and Hilaria are raising their six children, along with the actor's daughter from a previous marriage, Ireland. On August 24, 2013, the pair welcomed their firstborn daughter, Carmen, who is intelligent and creative.
Two years later, on June 17, 2015, the couple had Rafael Thomas, their first son. According to Hilaria's posts, Rafael loves to run and play with his other siblings. Their third child, Leonardo Angel, came on September 12, 2016, and two years after, the couple welcomed Romeo Alejandro on May 17, 2018.
Once, Alec lashed out on his daughter and called her a rude and thoughtless pig for refusing to answer his calls amidst his divorce from her mom.
Although they already had a lot of kids, Alec and Hilaria still wanted to add to their brood. On September 8, 2020, Eduardo Pau Lucas was born. Hilaria revealed that Edu fit right in and called him the perfect addition to their family.
Many were shocked to see Hilaria holding a newborn on an Instagram post the following year. She simply captioned the post "7," indicating the seventh child in their blended family. Their youngest daughter, Lucia, was born via Surrogate on March 1, 2021. She wrote in a post:
"We are so in love with our daughter, Lucia. Just like your brothers and sisters, you are a dream come true."
HILARIA'S MISCARRIAGE
Although Alec and Hilaria are blessed with many kids, their journey into parenthood did not come without challenges. Previously, the fitness enthusiast opened up about her heartbreaking miscarriage in 2019.
Hilaria was four months into her pregnancy when she learned that her baby died during a routine medical checkup in November. At that time, she revealed that she was shocked and heartbroken to hear the unexpected news.
Last year, she commemorated the tragic event with an Instagram tribute to her unborn child. "Today was your due date, and we wanted to meet you so much," she wrote. "I have been afraid of this day to come – but it is here, and I will be brave."
ALEC'S JOURNEY INTO FATHERHOOD
Despite the miscarriage they faced together, Alec and Hilaria stay strong in helping each other fill their family with love and care. According to Alec, fatherhood can be "very challenging because kids are obsessed with their mothers," he said while praising Hilaria.
Finding the balance between work and family also came as a challenge, given his hectic schedule. Nevertheless, he makes it work out and sees himself as a blessed person to make a living and support his big family. At his age, he can prioritize his children more. However, he does wish he had more time:
"There's [sic] drawbacks to my kids, me being this age. [...] I wish I had ten extra years! I wish I was 50. But, [you] know, life. There is no pause button. There is no reverse button."
Alec is still grateful for the benefits of being an older parent, such as the level of appreciation for his children and the time spent with them. "When I was younger, and when work was primary, I had to divide my time with that," he said in an interview, as told by Today.
He even joked that by the time his kids would have something unpleasant to say, he would be deaf and not hear it. However, that was not the case with his eldest daughter, Ireland. Once, Alec lashed out at his daughter and called her a rude and thoughtless "pig" for refusing to answer his calls amidst his divorce from her mom.
His harsh words ended up being used in court until a decision was made to ban him from seeing Ireland. He immediately issued an apology, but the damage had already been done. Fortunately, their relationship was restored through time as Baldwin made an effort to become a better dad.
Please fill in your e-mail so we can share with you our top stories!