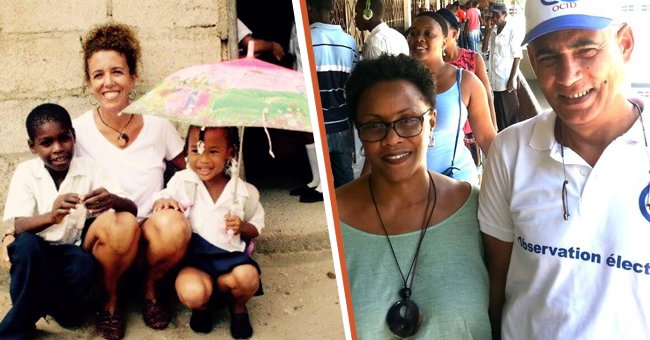 facebook.com/philippe.f.aime facebook.com/rhonda.lux
Woman of Color Raised as White by Adopted Family, Forced to Straighten Her Hair and Wear Sunscreen
When a woman was raised as a white citizen by her white adoptive family, she didn't question her heritage. However, shortly before she turned 50, she found out the truth about her biological family.
Before she became Rhonda Fils-Aimé, she was Rhonda Lux. She was told her background included German, French, and Indian descent and didn't have any reason to doubt her adoptive mom.
Born in San Antonio, Texas, she was dropped off at a shelter and adopted by the Lux family. Per Fils-Aimé, her experience growing up in a white household was unique, and she was treated differently from her siblings.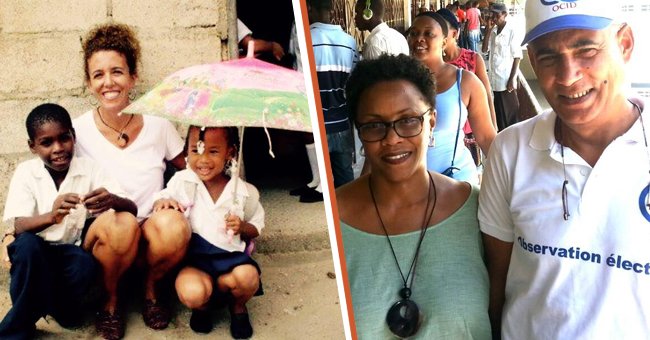 A woman who discovered she was part black sits next to two children [left] A man who discovered he had a child decades later stands next to his wife [right] | Photo: facebook.com/philippe.f.aime facebook.com/rhonda.lux
HER SKIN COLOR
Fils-Aimé was told to follow specific requirements. She explained: "I never understood why it was so important to keep my hair straight, to keep my sunscreen on me."
Life was made even more difficult because her mom's second husband was not fond of her. She wondered what she did wrong, but after he passed away, she was informed that he could never "get past" her skin color.
LOOKING FOR HER BIRTH PARENTS
Fils-Aimé started wondering about her roots after giving birth to her first child in 1990. She had a sudden urge to know more about her adoption and biological family. She managed to find her parents' names.
Fils-Aimé also discovered that her birth mother was a twin. However, her busy life and moving overseas prevented her from pursuing any leads. Finally, in 2017, she made a startling discovery and pursued her search further.
SHE USED A DNA KIT
She was 49 years old and had three kids, including twins, when one of her friends encouraged her to try a home DNA kit. The friend told her she needed to find out where she came from.
The DNA kit confirmed that Fils-Aimé was part black and set her on a journey of finding her biological family. She found her birth mom, who had passed away, and that side of the family, who were all white.
FINDING HER FATHER
Then she saw Philippe Fils-Aimé, a Haitian man. He was her biological father, and he had no idea she existed. He agreed to take a DNA test to confirm their connection, and the results proved they were father and daughter.
Her father was stunned and never knew he had a child born in Texas. Fils-Aimé was also emotional, and she expressed:
"I started crying and had to sit there for a while."
EXTENDING HER FAMILY TREE
He met Fils-Aimé's mother while exploring America, and they had a brief relationship. Fils-Aimé was thrilled to have made contact with her biological father and his family.
She has met up with various relatives on her dad's side and is excited to get to know them. Her family roots have become essential in her life, and she is happy she can tell her children about their extended family tree.
ANOTHER WOMAN DISCOVERED THE TRUTH
Like Fils-Aime, another woman knew what it felt like to discover the truth about her race. Georgina Lawton of London, England, was told she was white. However, her dark skin and curly hair indicated otherwise.
In 2017, she found out her father was not related to her biologically. A DNA company agreed to help Lawton find out more. While her race does not define her, she is curious and hopes to form a more nuanced understanding of her identity.
Both Lawton and Fils-Aimé grappled with their racial identity for many years before they learned the truth. Hopefully, by exploring their roots, these women can live better lives.
Please fill in your e-mail so we can share with you our top stories!