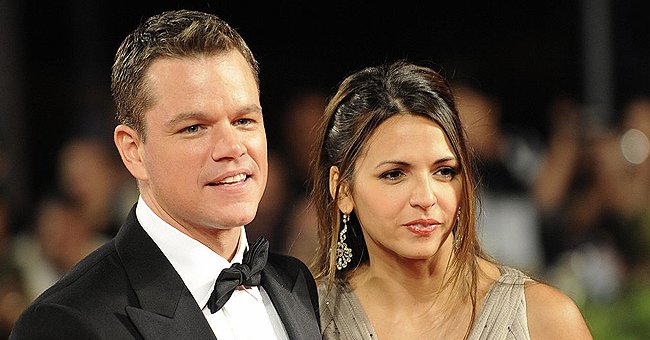 Matt Damon and Luciana Barroso | Source: Getty Images
Matt Damon 'Hit the Jackpot' When He Fell in Love with a Mom He Saw in a Crowded Bar
Matt Damon had not expected to find love when he did. All the actor wanted was to shoot a movie in a new town, and fortunately, he hit the jackpot after falling hard for a single mom who worked as a bartender.
Matt Damon has consolidated his legacy as one of Hollywood's most remarkable actors. The 52-year-old has starred in hit films like "Bourne Supremacy," "Bourne Identity," "The Grinch Who Stole Christmas," and "Stillwater."
However, the most significant role remains the one he plays every day. He is a proud father of four kids and an adorable husband who loves his wife, Luciana Barosso, aka Lucy Damon, unconditionally.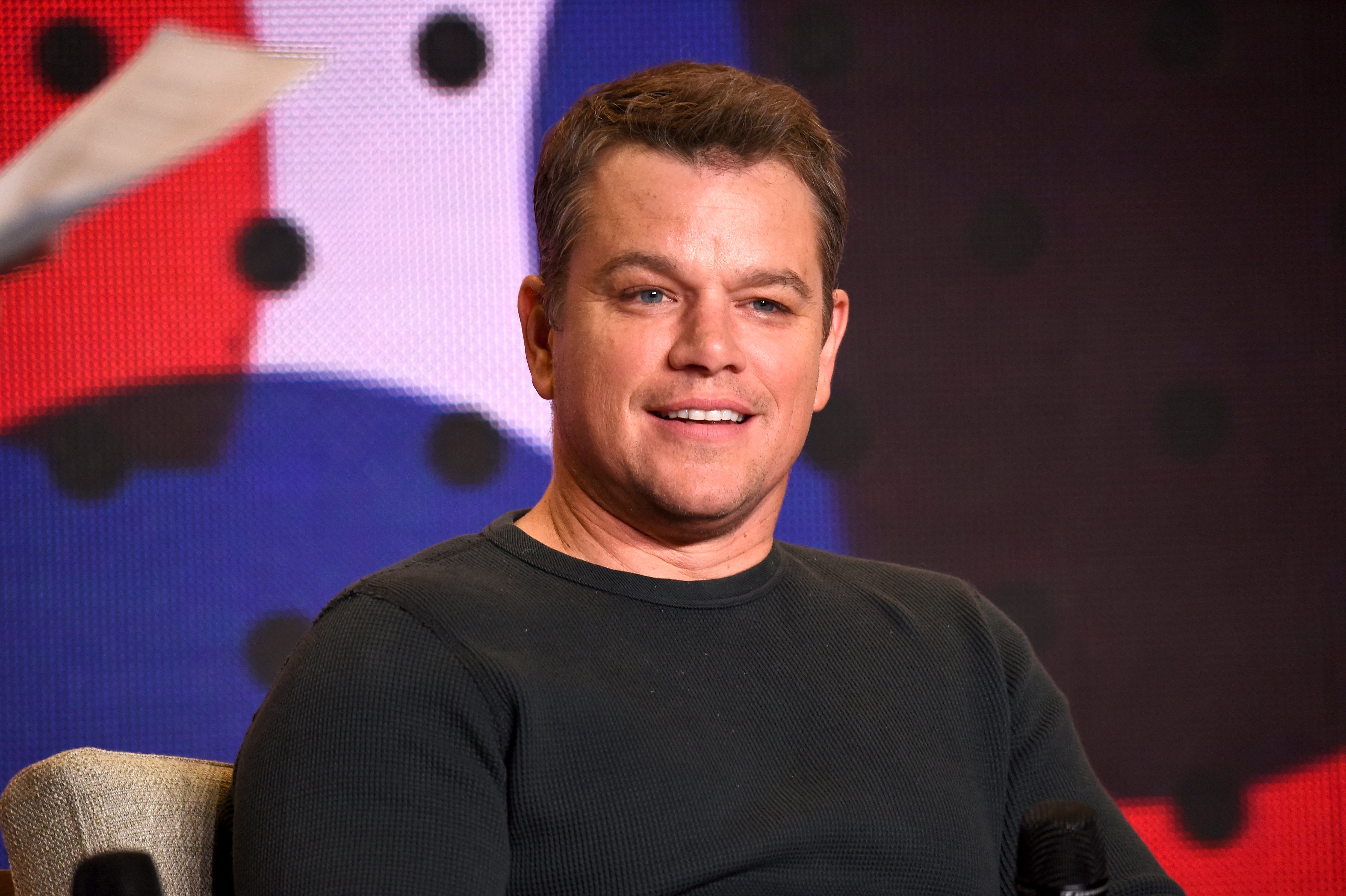 Matt Damon on September 10, 2017 in Toronto, Canada | Source: Getty Images
Damon was in his 30s when he thought that he would never get married. He said his brother found his soulmate young and was married by the time he was 26, and had been married for ten years before Damon even met his wife. He said:
"I looked at this really happy, wonderful marriage and kind of went, 'I guess that's not going to happen for me.' And then it did."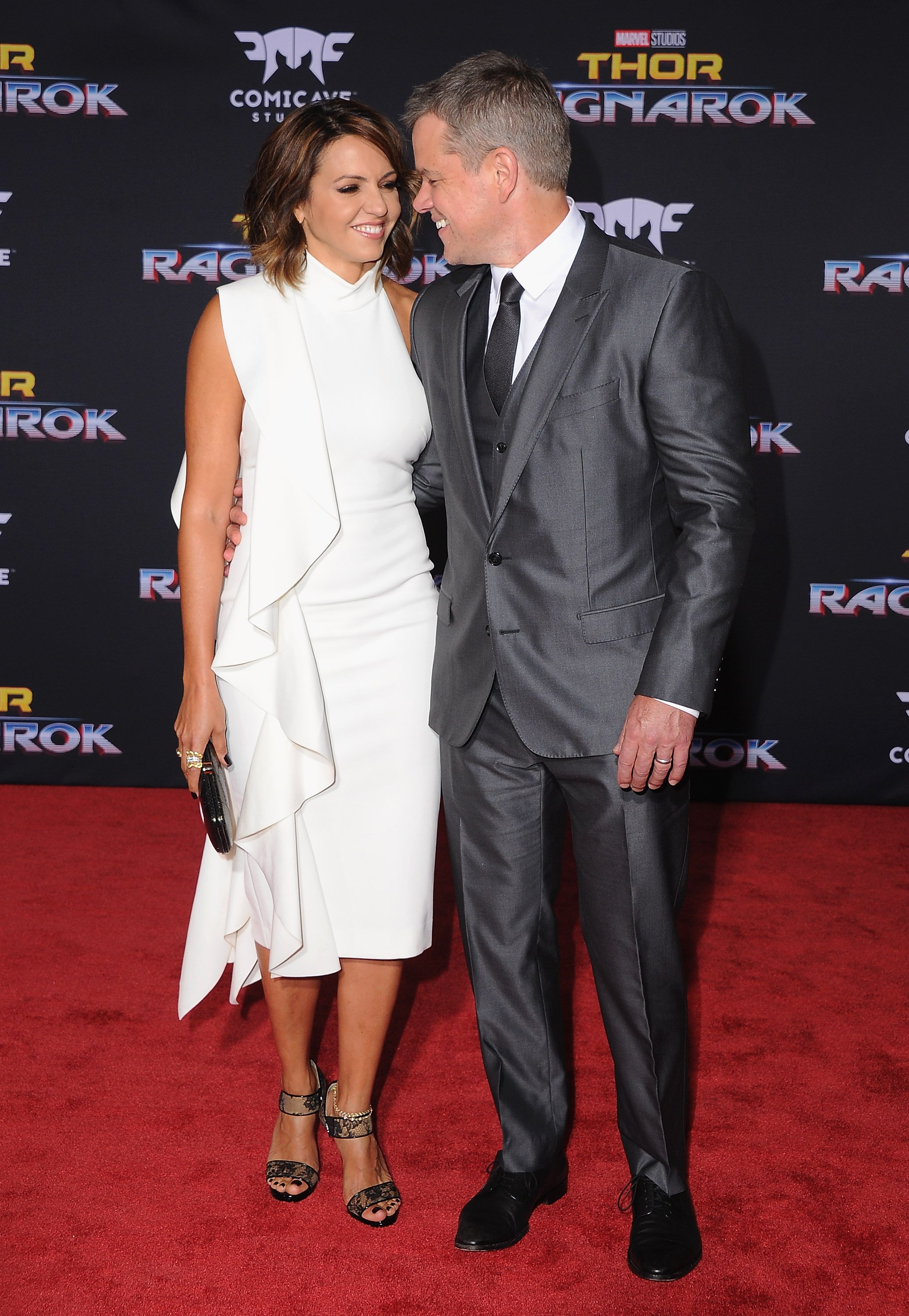 Matt Damon and wife Luciana Barroso arrive at the Los Angeles Premiere "Thor: Ragnarok" on October 10, 2017 in Hollywood, California | Source: Getty Images
Despite his pessimism, Damon met his wife, and together, they built a beautiful love story. They celebrate their 17th wedding anniversary on December 9, 2022. This article will reveal their beautiful love story.
How Matt Damon Met His Wife
Matt Damon lives a happy life. His relationship with his wife is the cynosure and for good reasons. The couple shares a bond that is hard to dismiss and evident for all to see.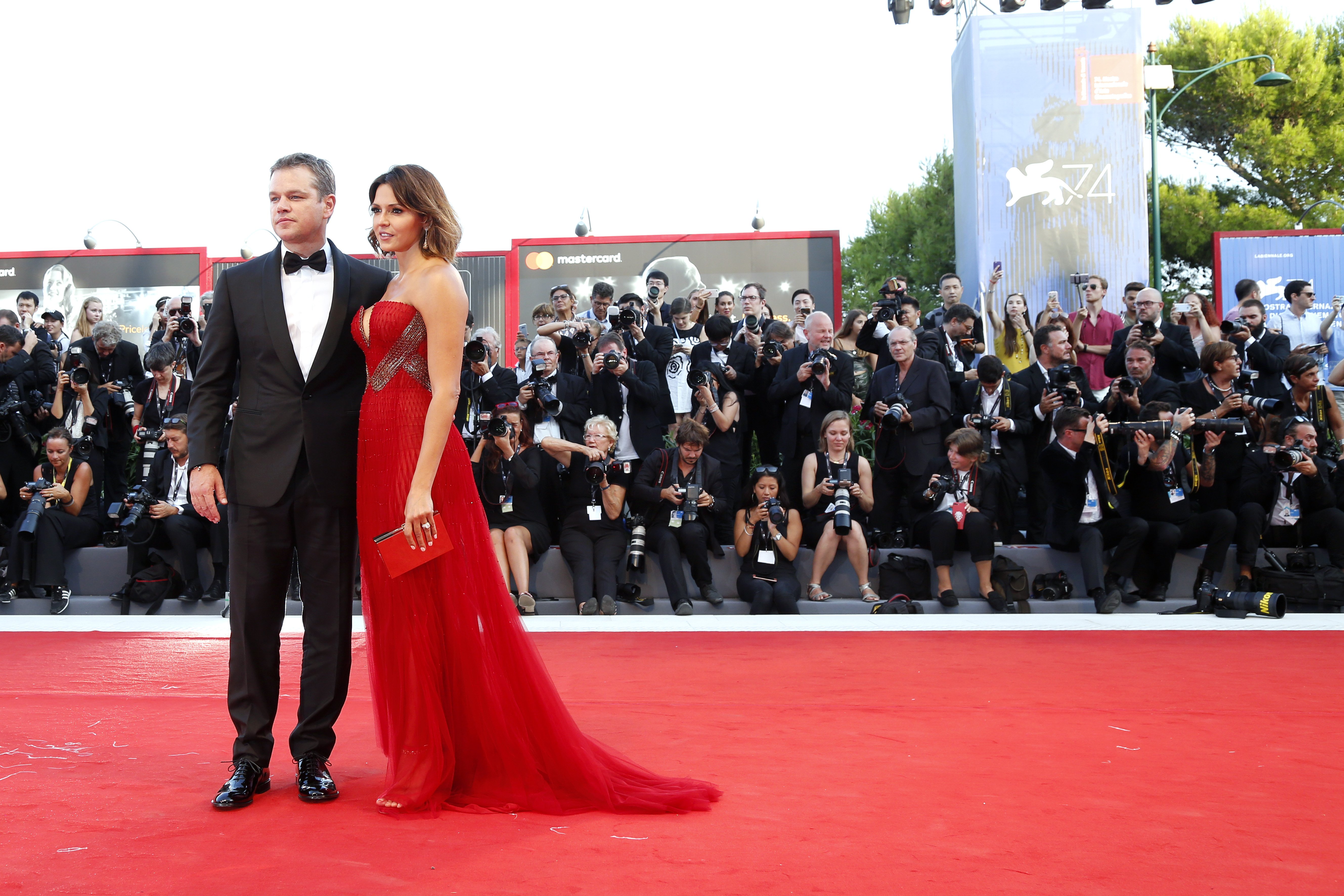 Matt Damon and wife Luciana Damon arrive at the 'Downsizing' premiere and Opening of the 74th Venice Film Festival at the Palazzo del Cinema on August 30, 2017 in Venice, Italy | Source: Getty Images
But above all, they are doing well in their private affairs. While speaking on the "Ellen DeGeneres" talk show, Matt confirmed that he loves his wife and that meeting her was the luck of a lifetime. According to the actor:
"I'm so happy now; I'm so lucky. I hit the jackpot with my wife."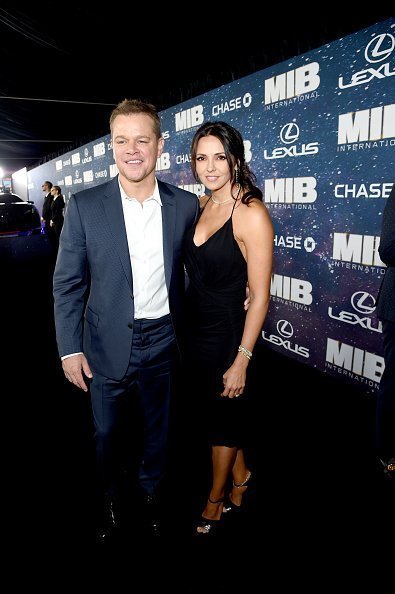 Matt Damon and Luciana Barroso on June 11, 2019 in New York City | Source: Getty Images
The "Bourne Identity" star also talked about the first time he met his wife. Damon explained that it all began in 2002 when he headed to Miami to shoot a film. Some guys had invited him to have a drink, and he grudgingly obliged.
At the bar they went to for drinks, Damon met his beloved partner, who worked as a bartender. But somehow, they connected, amid the crowd, after he noticed her, and they have been inseparable since.
While sharing her truth about their meeting in 2018, Lucy confirmed that they met at a South Miami bar. Damon, who only wanted to have fun, grew exhausted with the crowd as they sought autographs and photos.
So he went behind the bar and started a pleasant conversation with the young woman who was not in awe of the Hollywood celebrity. In her words: "So I put him to work with me! I said: 'you know; if you're going to be back here, you can't just be standing there!'" She continued:
"He started making drinks. And he made me a ton of money in tips that night... So it turned into a really fun night, and then 15 years later, here we are!"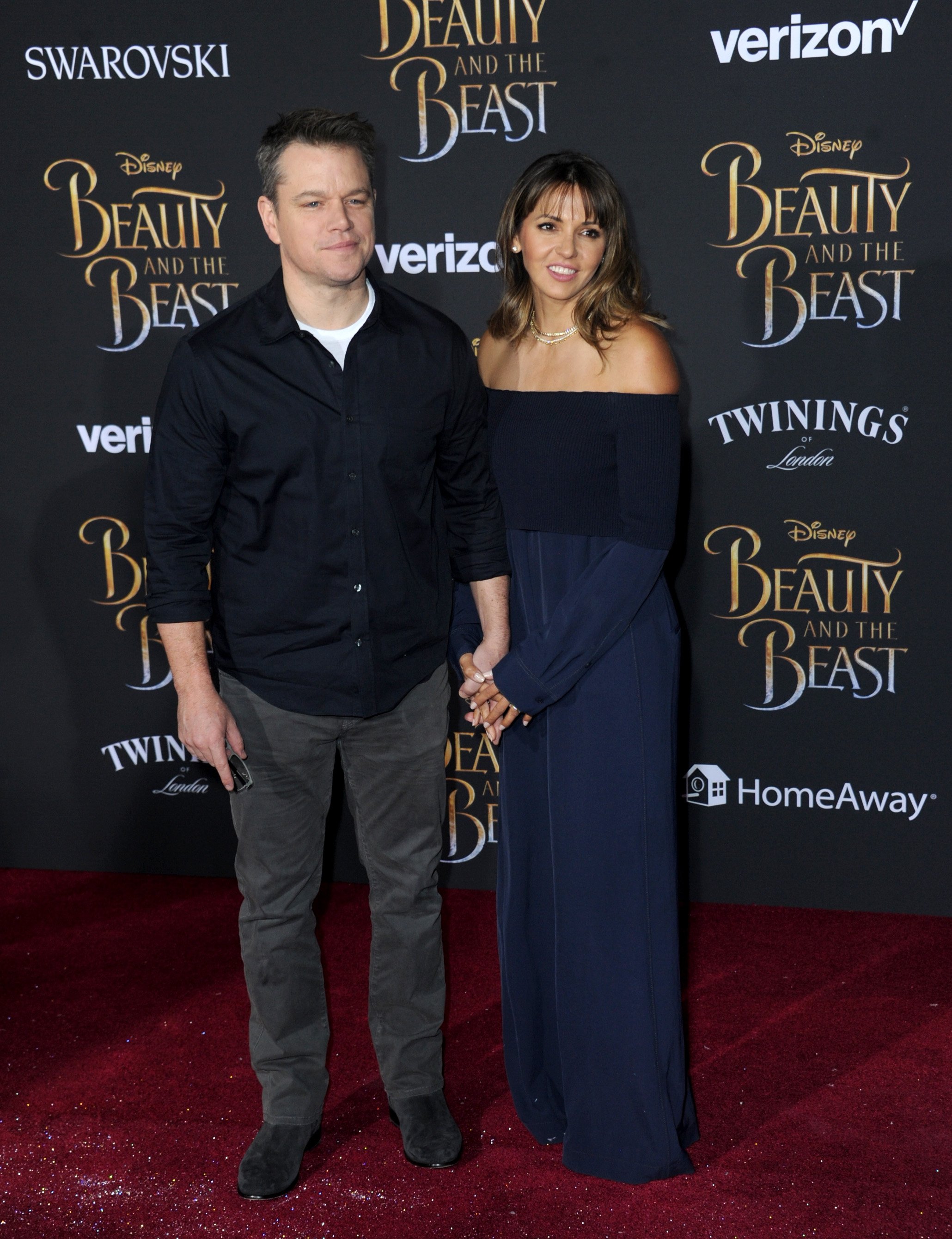 Matt Damon and wife Luciana Damon arrive for the Premiere Of Disney's "Beauty And The Beast" held at El Capitan Theatre on March 2, 2017 in Los Angeles, California | Source: Getty Images
Over the years, the couple has built a formidable family with their four kids. They enjoy life as teammates and have a close relationship as lovers and parents.
Damon's Reaction to Lucy Being A Mom
Whether their meeting stories differ, the couple wants fans to understand that it was love at first sight. Their chemistry was instantaneous, and Damon quickly asked the bartender for a date.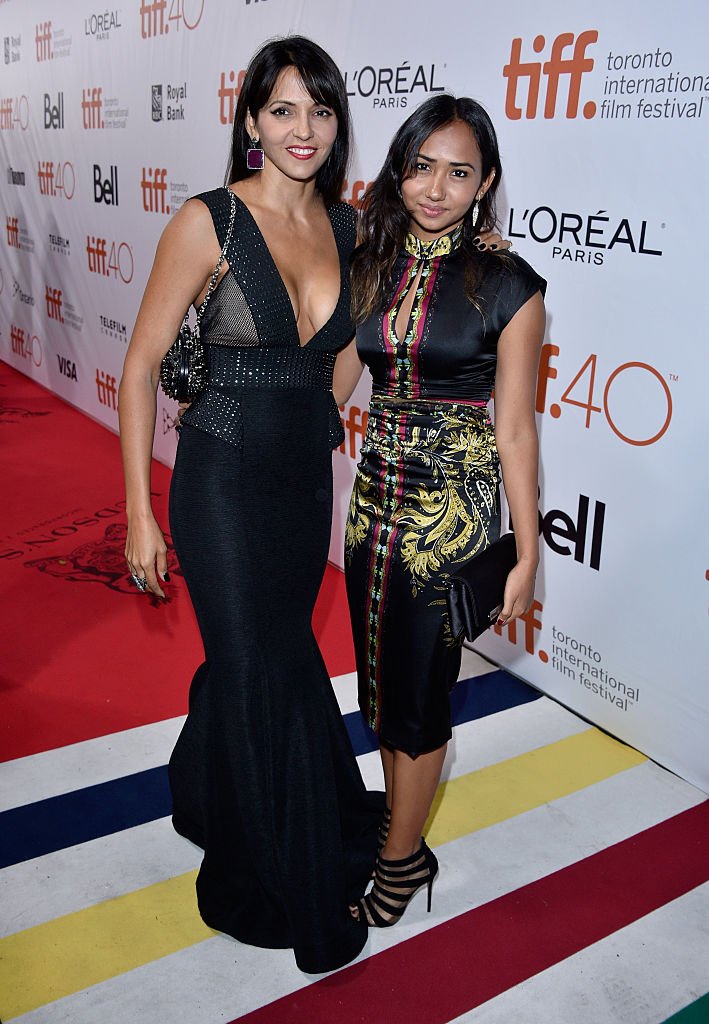 Luciana Damon and Alexia Barroso at "The Martian" press conference during the 2015 Toronto International Film Festival at TIFF Bell Lightbox on September 11, 2015 in Canada. | Source: Getty Images
Lucy declined because she was a single parent to her firstborn, Alexia, and had labeled the child as her number one priority. Still, this was a turn-on for the TV star, who admitted that he loved her motherly passion and how she prioritized Alexia.
Since the genesis of their romance, they have learned to appreciate and love each other irrespective of their status, such as being a mom or a popular figure. Their connection blurs the lines and makes everything perfect.
Who Is Matt Damon's Wife?
Lucy was born Luciana, and she currently lives in the US with her family. She is a native of Salta, Argentina, and was raised in an Italian home by her grandparents.
The mother of four is also as determined and dedicated as her husband. Although she is not in showbiz, Lucy has encountered success in her business ventures. She has worked in different fields, from bartending to being a flight attendant and interior decorating.
Apart from being a dynamic wife, she also exacts an incredible influence on her husband. In 2013, the former flight attendant persuaded her husband to a tattoo date, where they got matching body inks, described as their "creative little blessing."
Matt Damon's Family's Sweet Rule
The couple is in awe of each other and the unique love they share, and they feel the exact way about their family. Matt has tirelessly expressed his family's importance because he was from a broken home.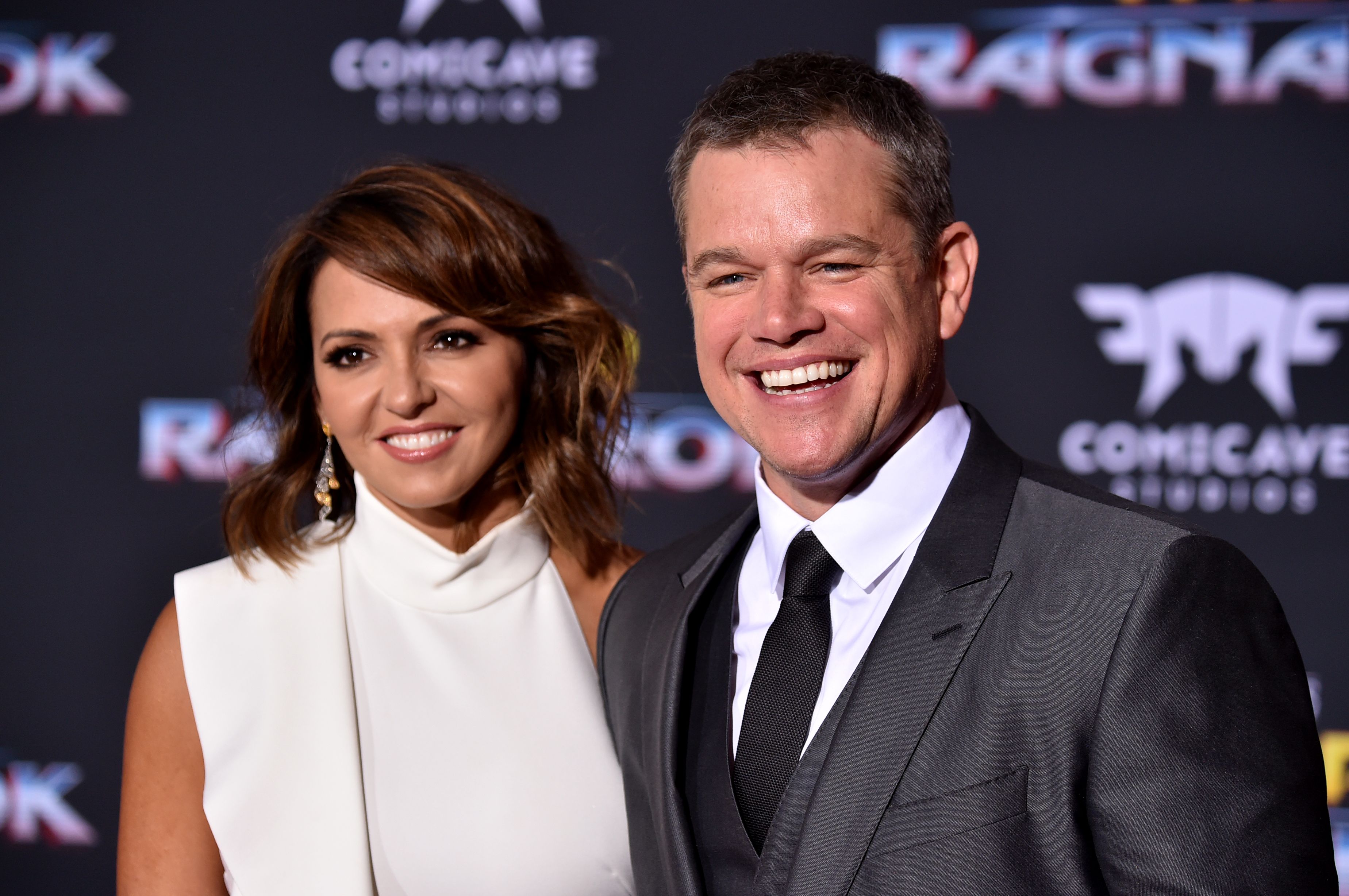 Matt Damon and Luciana Barroso at the Premiere Of Disney And Marvel's "Thor: Ragnarok" on October 10, 2017 | Source: Getty Images
He tries to uphold the duties of an excellent parent and works in sync with Lucy to bring out the best in their kids. The family of six has set rules that help them organize things. Damon explained that they had never stayed apart for more than two weeks. He said:
"We have a two-week rule – we can't be apart as a family for longer – and so far, we haven't gone beyond a week."
It does not matter the distance or the state; the father of four ensures to be with his family even when he works on set. Staying home on weekends is never up for a bargain as the kids always expect dad to be present.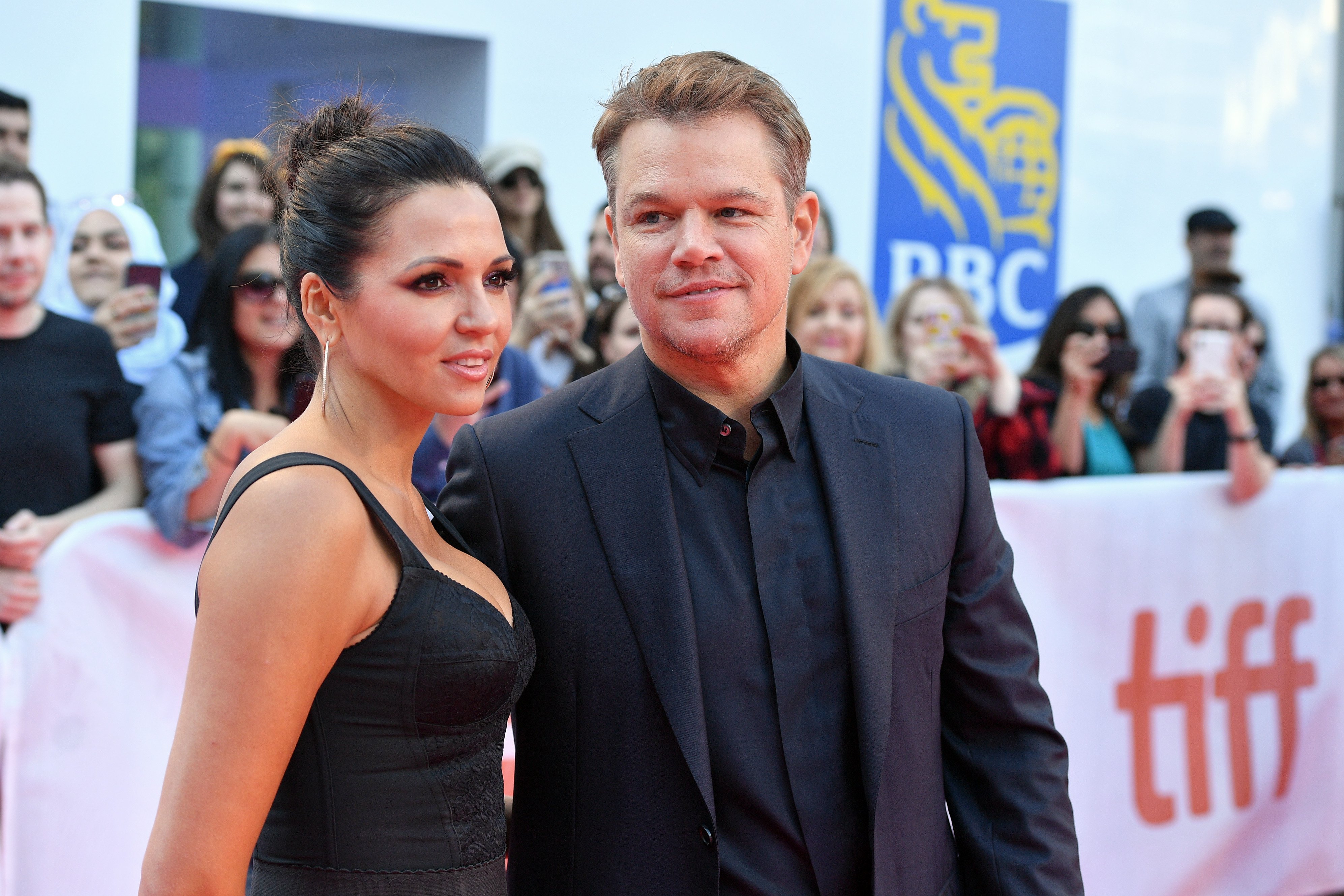 Luciana Barroso and Matt Damon attend the "Ford v Ferrari" premiere during the 2019 Toronto International Film Festival at Roy Thomson Hall on September 09, 2019 | Source: Getty Images
This rule has structured their family for years, making it challenging to be apart. In 2012, the "Bourne Identity" star recounted taking his daughter's middle school classmates to South Africa because of the "two-week" rule.
The funded trip made it easier for him to maintain proximity with his family as he was in the country for seven weeks, shooting Clint Eastwood's "Invictus."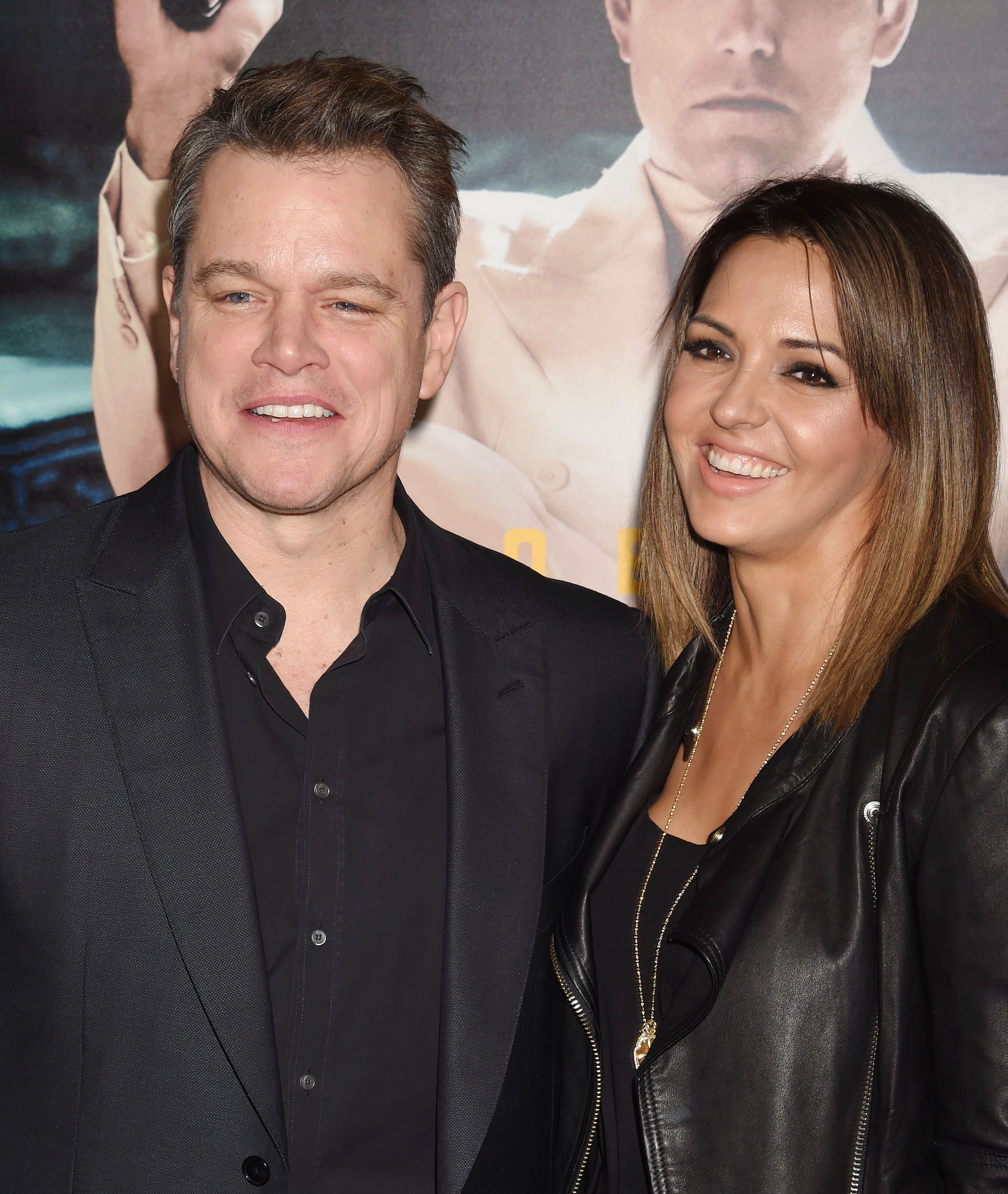 Matt Damon (L) and wife Luciana Damon arrive at the Premiere Of Warner Bros. Pictures' 'Live By Night' at TCL Chinese Theatre on January 9, 2017 in Hollywood, California | Source: Getty Images
Damon admitted that he broke it once and vowed never to do it again despite the sacred rule. It happened with the consent of his family. The actor wanted to make the "Stillwater" film with Tom McCarthy, and after talking to his family about it, he was permitted to leave home for more than two weeks.
The Couple's Four Kids
Alexia, born in 1999, is Lucy's first and only child from a previous marriage. After divorcing her first husband, the Argentinian native migrated with her child. Damon adopted Alexia and married Lucy in 2005.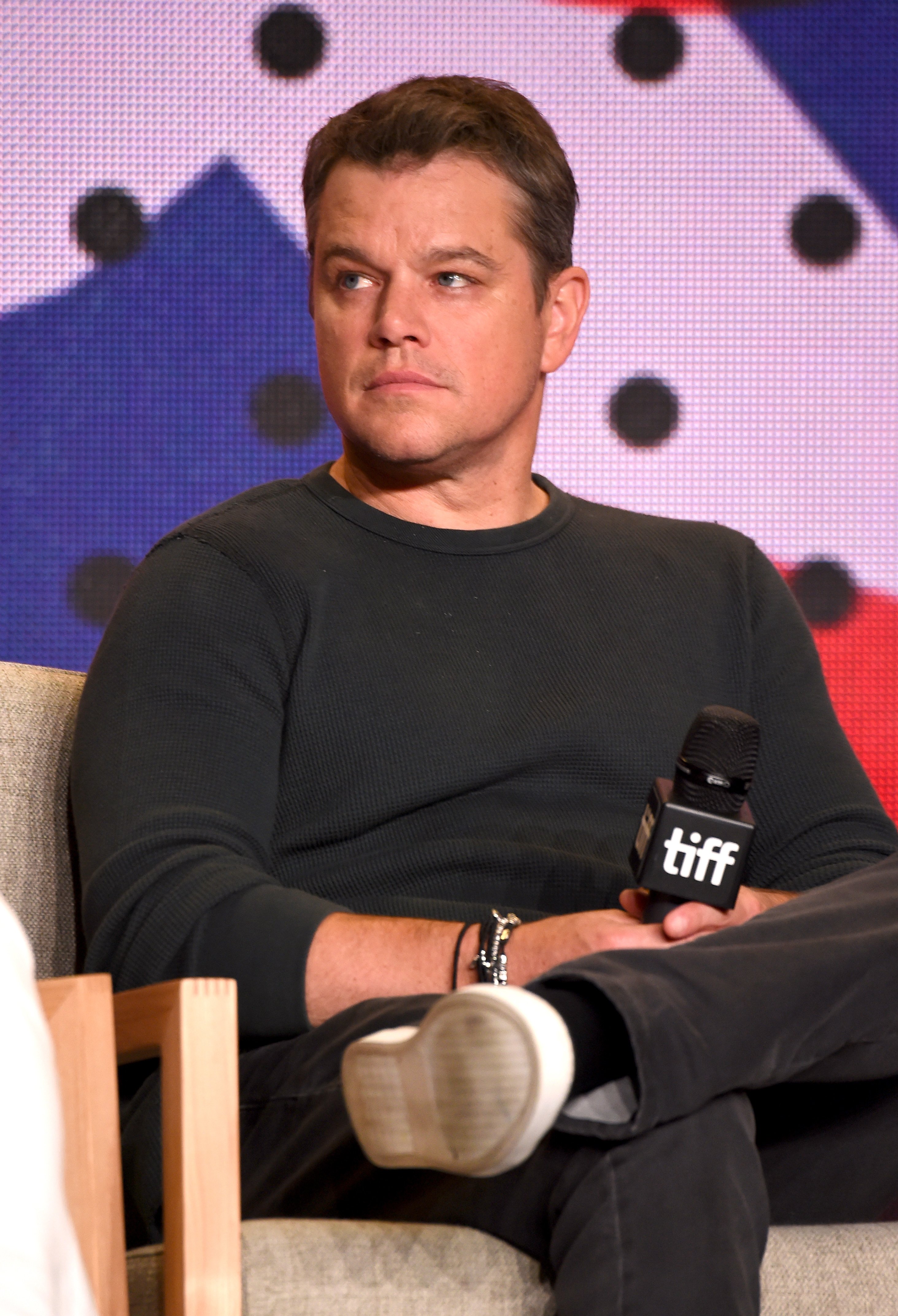 Matt Damon speaks onstage during the "Downsizing" press conference during the 2017 Toronto International Film Festival at TIFF Bell Lightbox on September 10, 2017 in Toronto, Canada | Source: Getty Images
Not much is known about the young adult, as her private life is shielded from the public. Still, it may seem that she is interested in Hollywood. Alexia has appeared alongside her dad in a film.
The couple's firstborn is Isabella, who came immediately after their marriage. She shares a strong friendship with her dad and is his best critic. In 2008, Damon welcomed another daughter, Gia, and in 2010, the couple became parents to Stella, who has her dad enchanted!
In all, Damon could not be prouder of his family, even though they criticize him and sometimes call out his excesses. He admitted that his girls are precious and nothing in the world compared to being a father surrounded by many women.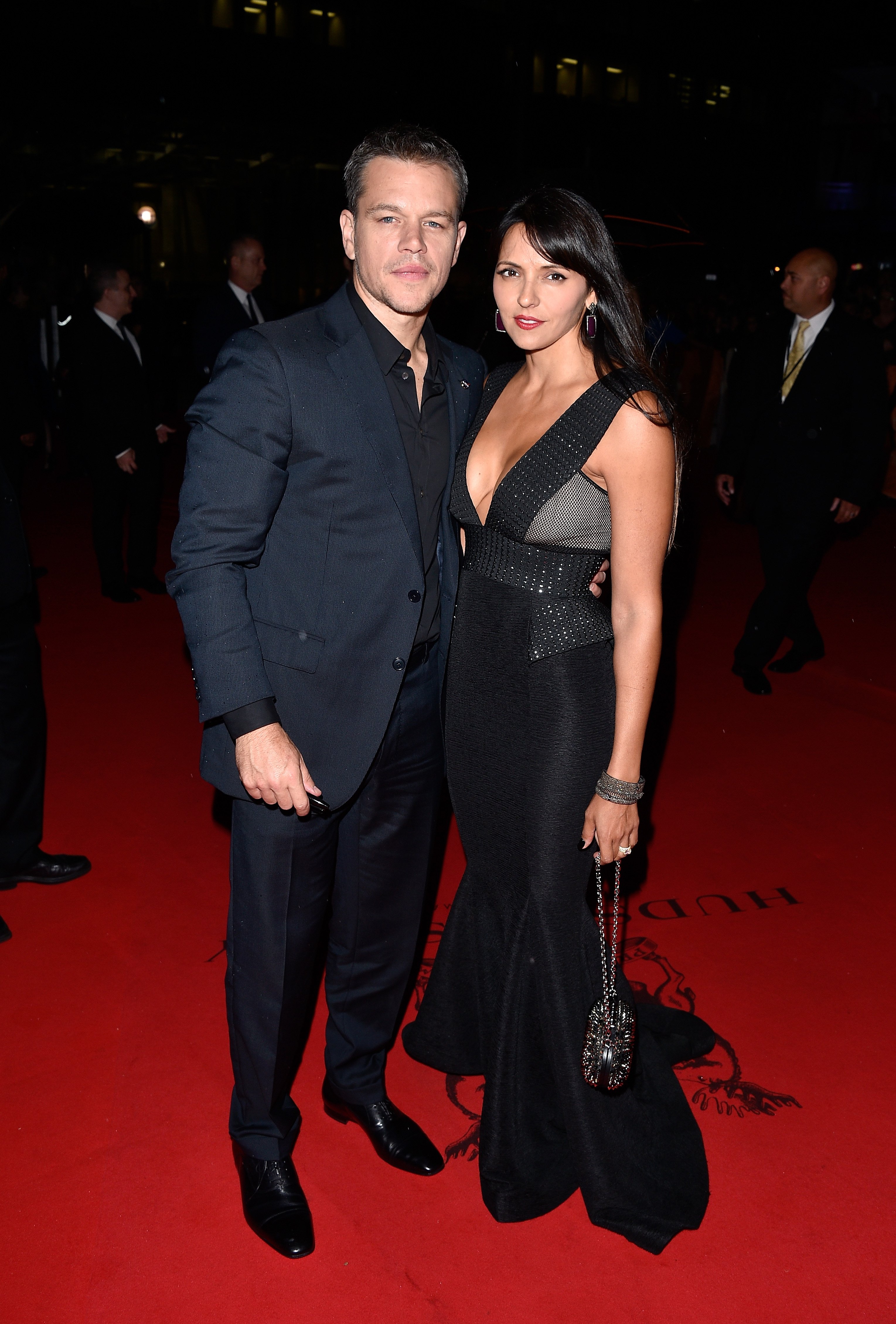 Matt Damon and his wife Luciana Damon attend "The Martian" press conference during the 2015 Toronto International Film Festival at TIFF Bell Lightbox on September 11, 2015 in Toronto, Canada | Source: Getty Images
Damon also said he realizes that now that he has a family, he is boring to the media. He said: "Everybody knows I'm married and a dad and relatively free of scandal; it's not worth their money to sit outside my house."
Please fill in your e-mail so we can share with you our top stories!