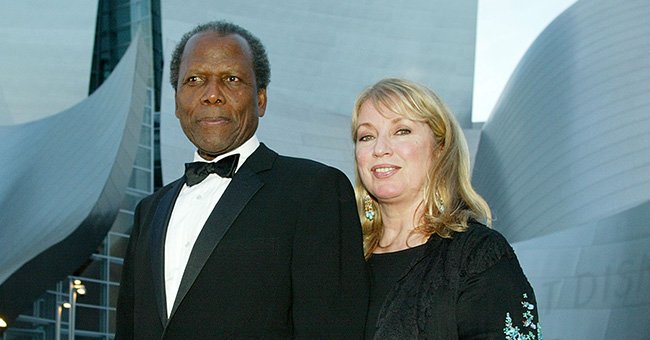 Getty Images
Sidney Poitier's Biracial Marriage of 46 Years Was Destined to Happen After Break up With Mistress
Actor Sidney Poitier was married to Joanna Shimkus for nearly five decades until his recent death. Find out about the birth of their love journey and her thoughts about him.
Bahamian-American actor Sidney Poitier, who died at 94 on January 6, would forever be remembered as a global icon thanks to his illustrious exploits in Hollywood.
For instance, he was the first African American and Bahamian to win the Academy Award for Best Actor. He also won multiple awards in his career.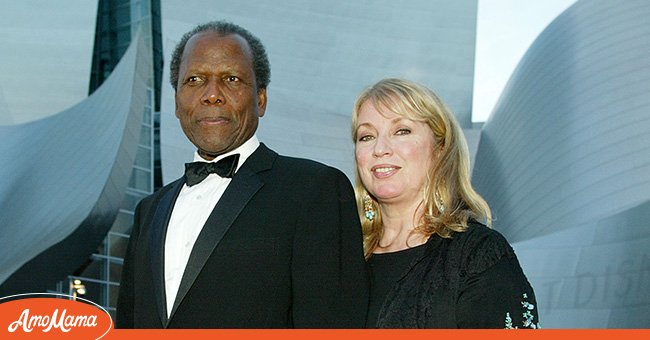 Photo of Sidney Poitier and his wife Joanna Shimkus | Photo: Getty Images
Thanks to his exploits and remarkable performances in films like "Porgy and Bess," "Lillies of the Field," "The Defiant Ones," and many more, he inspired a generation of African-American actors. He made them believe it was possible to achieve their dreams.
While Poitier's career success was undoubted, he also enjoyed success in his relationships; He was married happily married to Joanna Shimkus for 46 years, who supported him until his death.
However, she was Poitier's second wife, as he was previously married and involved in a lengthy affair before meeting her. Find out more about the late actor's beautiful love story.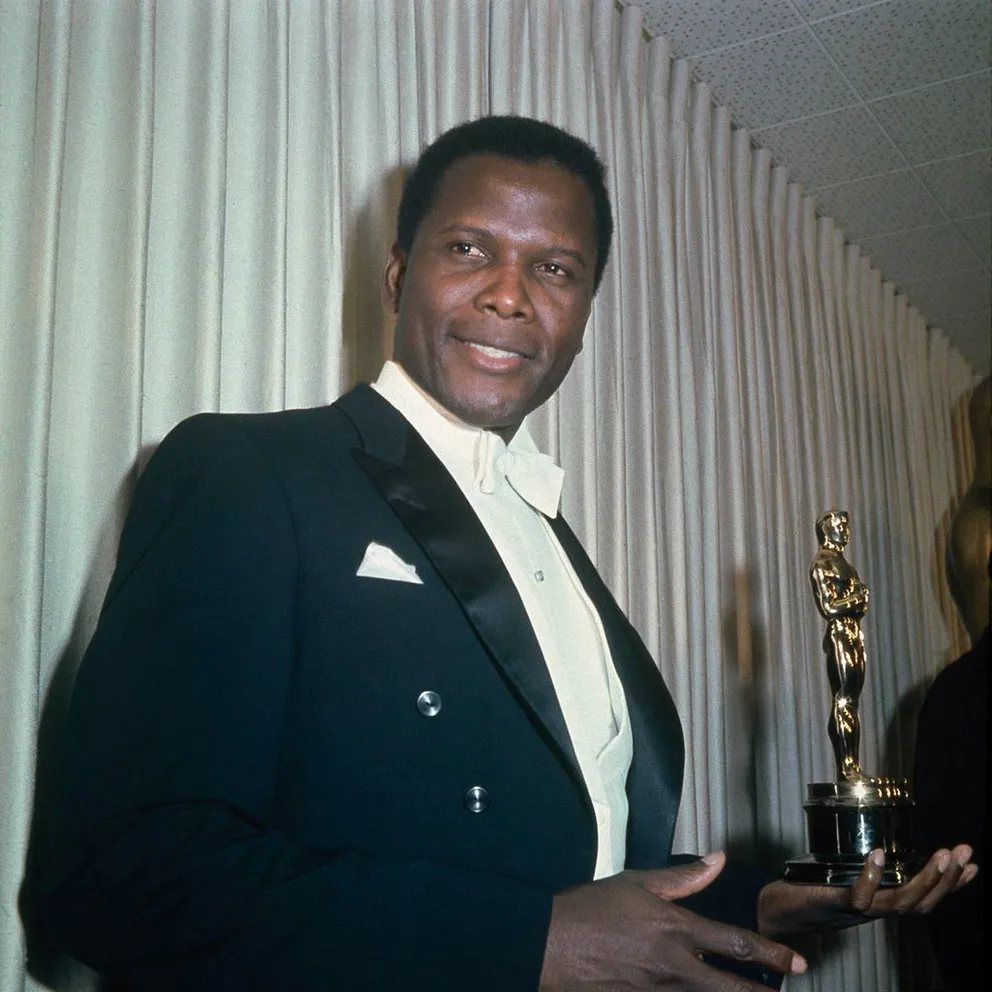 Sidney Poitier holding his Academy Award circa the 1960s | Source: Getty Images
POITIER'S FIRST MARRIAGE AND AFFAIR
Poitier's first marriage was to Juanita Hardy, the Maryland-based Tiger Management Consulting Group founder.
Hardy is also a Master's degree holder from George Washington University and a graduate of Livingstone College, where she studied mathematics. Poitier tied the knot with Hardy on April 29, 1950. Their marriage produced four daughters.
However, they divorced 15 years after marrying in 1965. The reason for their divorce was the actor's affair with actress Diahann Carroll, who starred alongside Poitier in "Porgy and Bess" and "Paris Blues."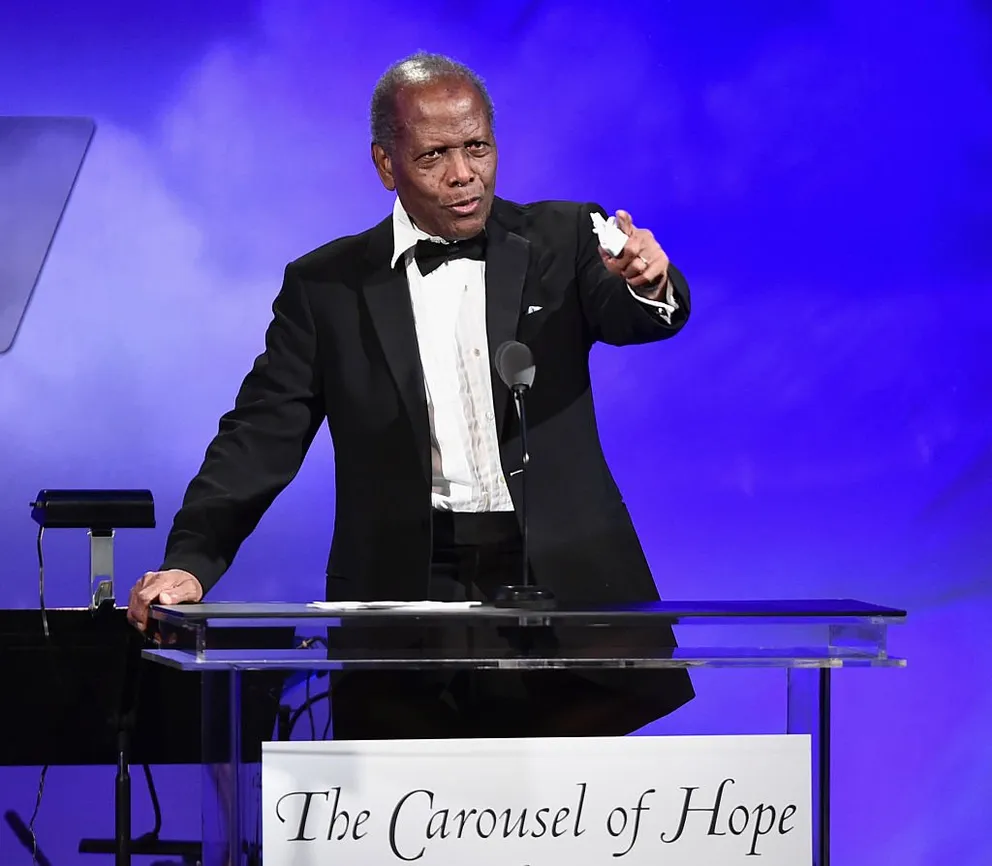 Sidney Poitier speaks onstage during the 2016 Carousel Of Hope Ball at The Beverly Hilton Hotel on October 8, 2016. | Photo: Getty Images
In 1980, Poitier spoke to People after releasing his memoir "This Life." He explained he wanted to itemize happenings in his life while he was still lucid.
Also, he felt it was important to leave an accurate account of himself different from what people associated with him through his movies.
During the interview, Poitier opened up about his affair with Carroll. He revealed they had only been on the "Porgy and Bess" set in 1959 for a few days when he realized she was unique.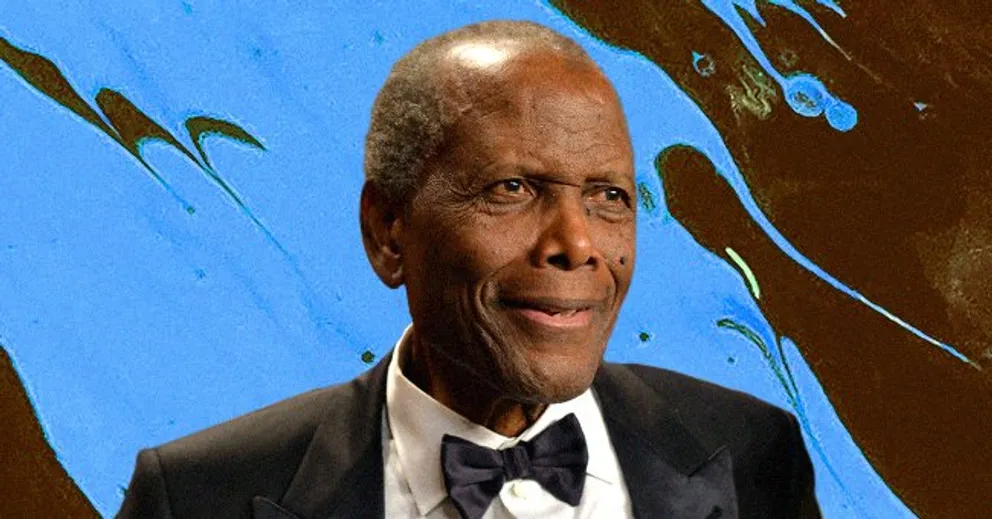 Portrait photo of Sidney Poitier. | Photo: Getty Images
Poitier further highlighted Carroll's beautiful qualities that added a rhythm that enticed him. He revealed:
"I invited her to dinner, telling her that since we were both married, we would talk about our absent loved ones. And we did."
Poitier said he acted like a gentleman for weeks, but he and Carroll fell in love halfway through the picture. As he got to know more about her, he realized she was one of the brightest women he had ever known.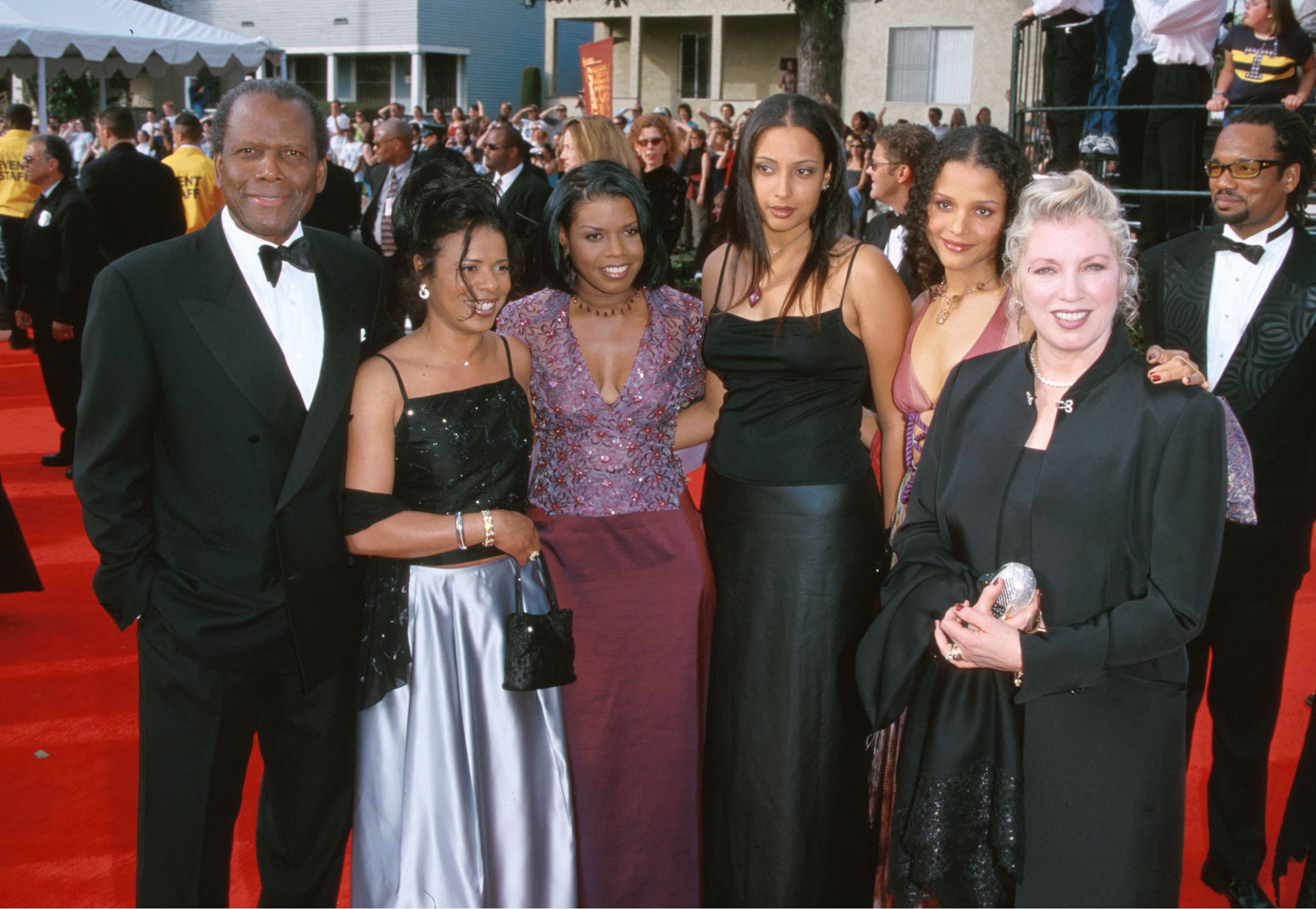 Sidney Poitier & Family during The 6th Annual Screen Actors Guild Awards at Shrine Auditorium in Los Angeles, California, United States. | Source: Getty Images
Poitier told Hardy about his affair with Carroll. However, it still took him six years to divorce her. When asked why it took that long, he replied:
"To a large degree, I felt trapped by my four daughters. They were young, and I loved them."
He added that his dad had thoroughly indoctrinated him when he was young that parents should take care of their kids no matter the circumstances.
Carroll and Poitier's romance continued even after she gave birth to her daughter and only child, Suzanne, in 1960. In her memoir titled "The Legs Are The Last To Go," Carroll claimed she had a nine-year affair with Poitier.
She also revealed he convinced her to divorce her then-husband Monte Kay and promised to leave his wife for her. Carroll kept her end of the bargain and separated from Kay.
After doing so, she got ready to move into a supposed 10-room apartment on River Drive that Poitier had paid for. However, things did not turn out as planned.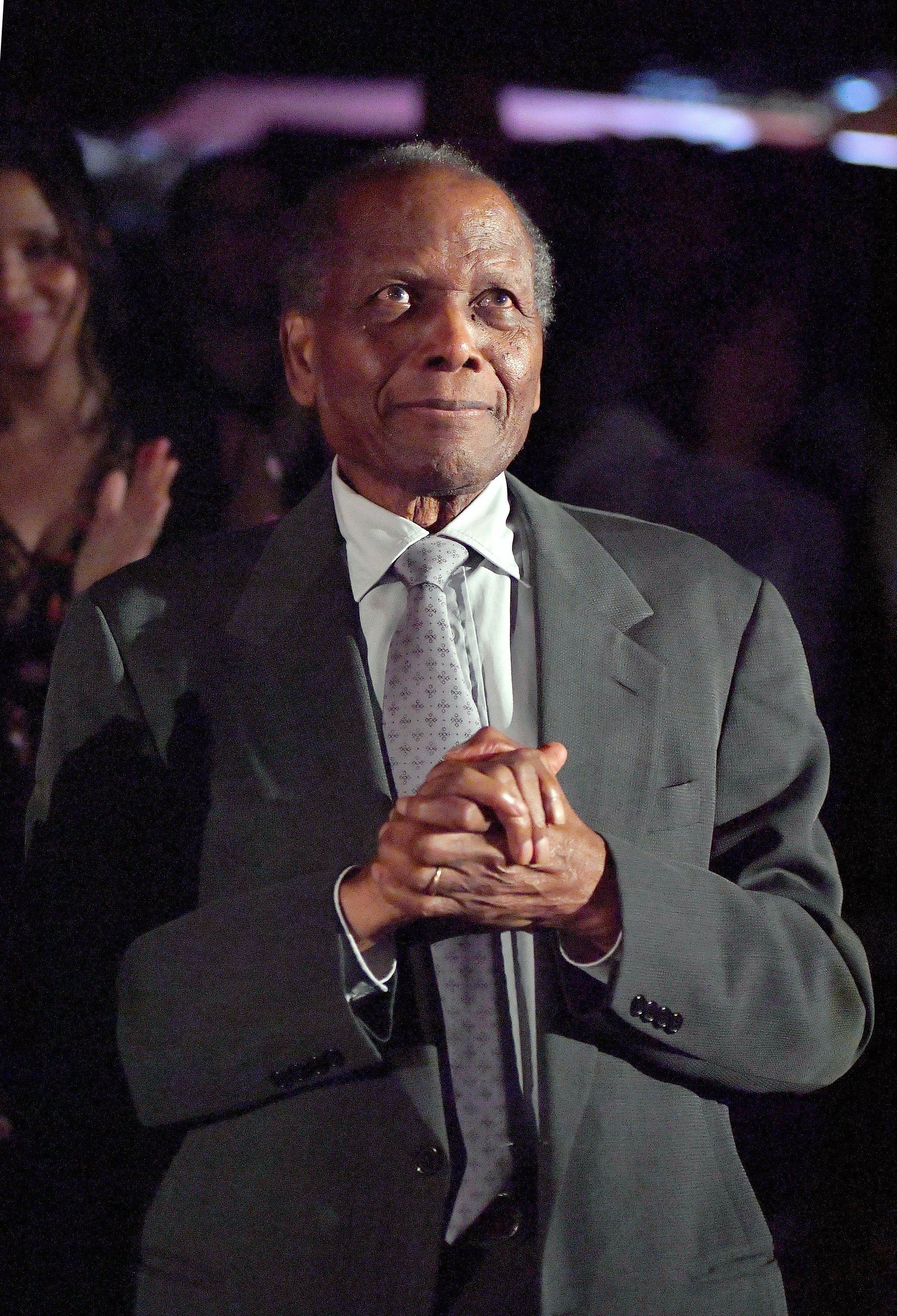 Sidney Poitier on April 6, 2017 in Los Angeles, California | Source: Getty Images
Carroll revealed Poitier changed the house's locks. Hence, she could not get into the apartment. Also, he made her write him a check to offset his purchase and decorating costs, which she did submissively and desperately.
However, he later phoned her to tell her he was rethinking their romance and would not leave his wife. Poitier eventually split from Hardy in 1965 but told Carroll he did not want to jump into another marriage.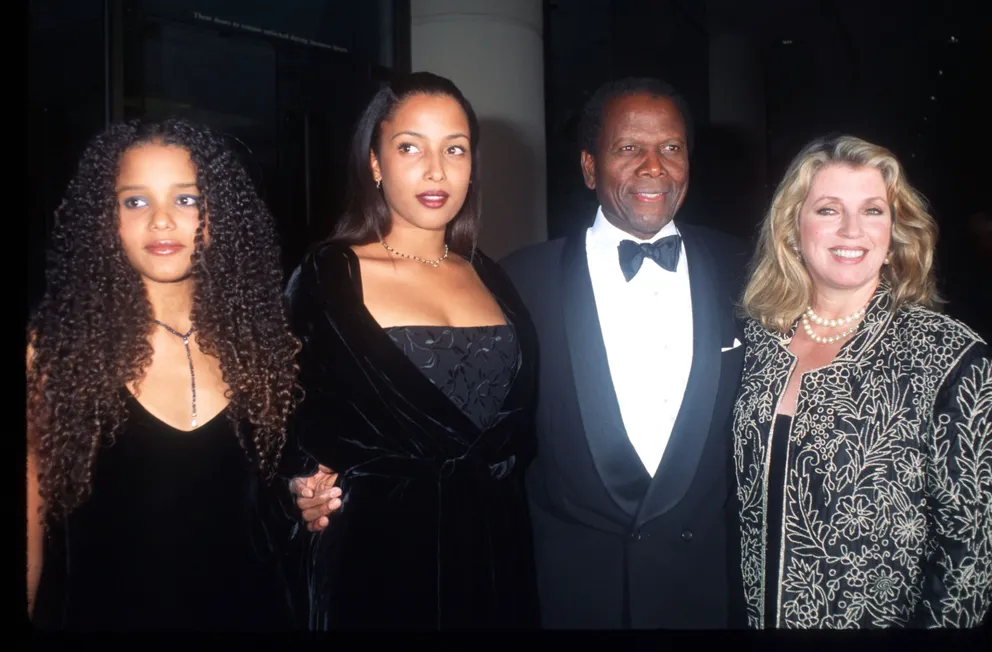 Sidney Poitier, his wife Joanna Shimkus, and their two children Anika and Sidney circa the 1990s | Source: Getty Images
In his 1980 chat with People, Poitier disclosed that he moved out of his home and divorced as Carroll wanted. He revealed:
"I made one request: to live together for six months while Diahann's parents looked after her daughter so I wouldn't be jumping from one marriage straight into another."
Carroll refused Poitier's request, and it was then their relationship started unraveling. She started dating other men, which Poitier did not like. So he called her and lashed out at her for sleeping with other men, adding that she belonged to him.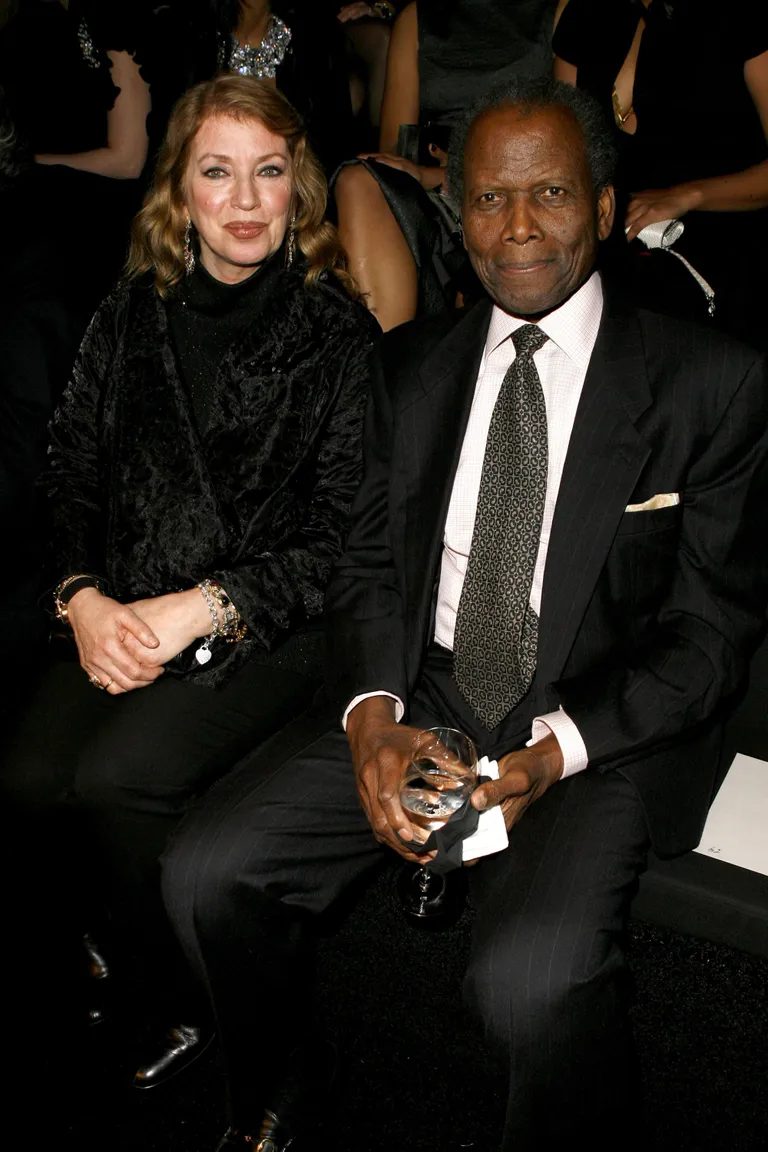 Sidney Poitier and Joanna Shimkus during Giorgio Armani Prive in Los Angeles | Source: Getty Images
Poitier and Carroll's relationship did not work out eventually. However, they became good friends decades later and appeared together at several public events.
Poitier's affair with Carroll ended in 1968. Three years later, he fell in love with Canadian actress Joanna Shimkus on the set of the film "The Lost Man."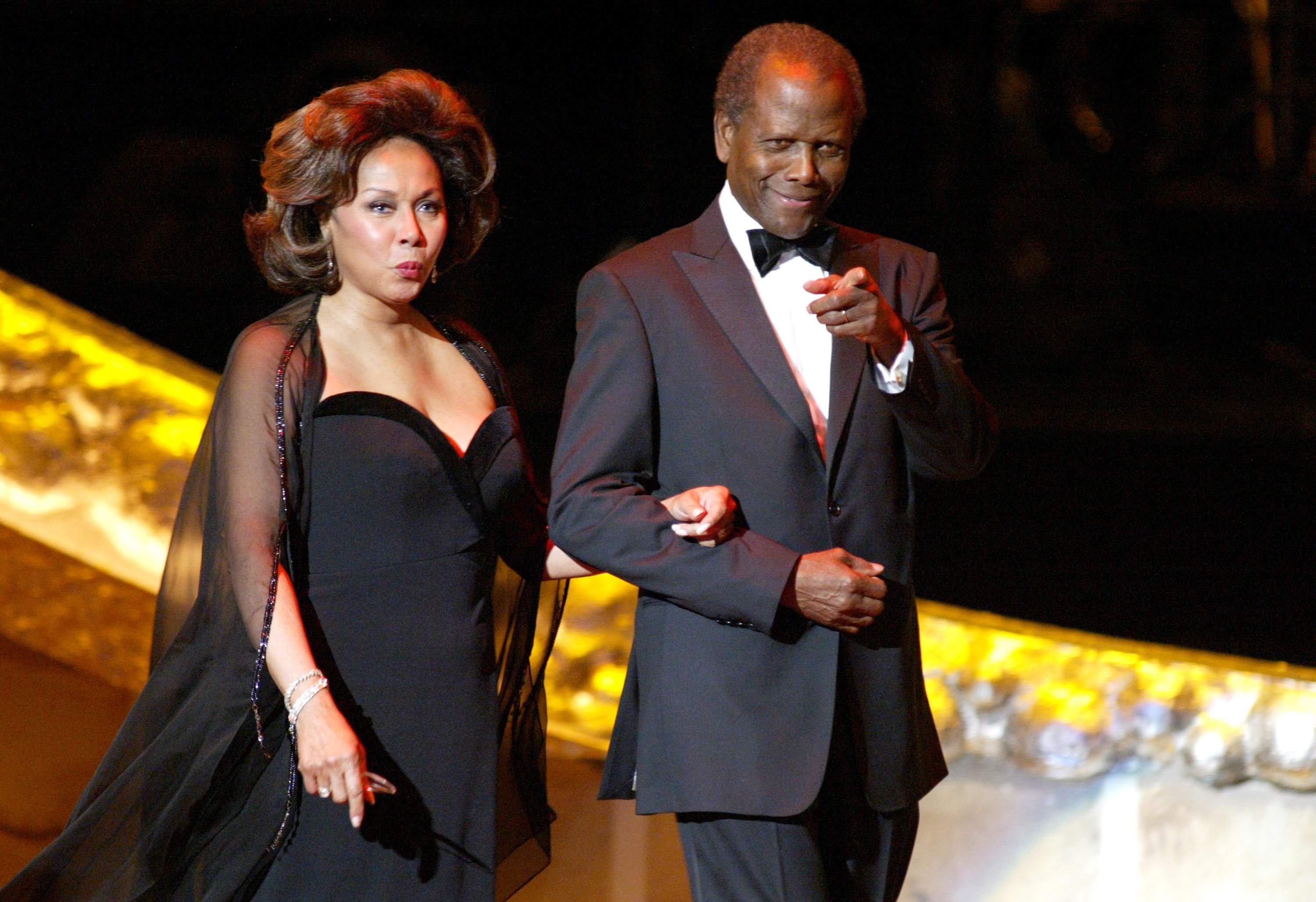 Diahann Carroll and Sidney Poitier at the 36th Annual NAACP Image Awards on March 19, 2005. | Photo: Getty Images
Shimkus revealed what attracted her to Poitier during an interview. She said his integrity, honesty, and loyalty to his family. She added that he was also a gorgeous man and very attractive.
Shimkus and Poitier tied the knot in 1976 and remained a couple for 46 years until his death earlier this month. The couple welcomed two daughters, Sydney and Anika, making Poitier a father of six daughters. The legendary actor considered family his greatest achievement.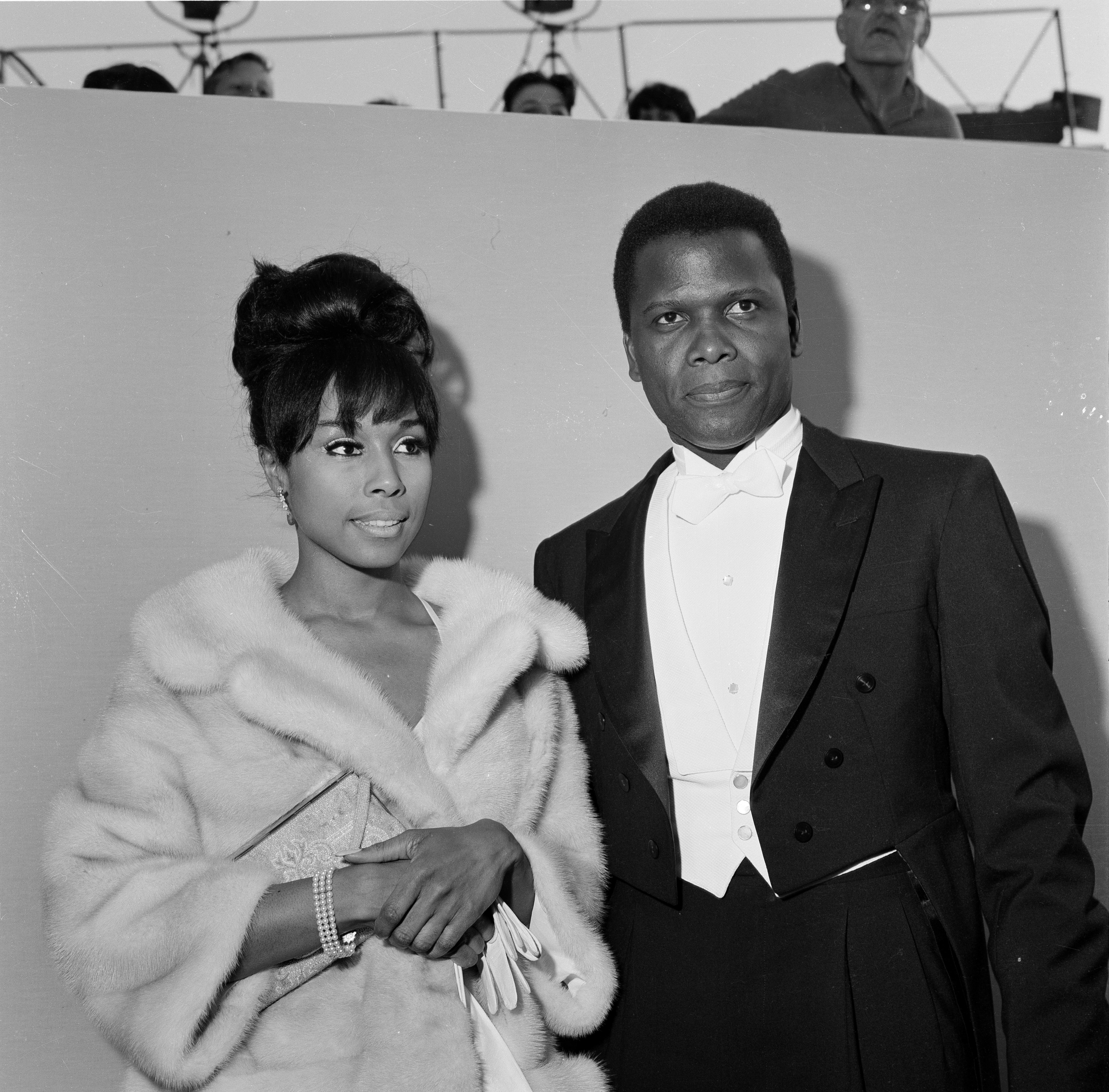 Sidney Poitier and Diahann Carroll at the 36th Academy Awards on April 13, 1964 in Santa Monica, California. | Photo: Getty Images
He once said he had invested a lot in the future of the world through the lives of his six talented and intelligent daughters, who he was his pride.
Not much was known about Poitier and Shimkus's wedding ceremony. However, some details have been shared over the years.
For instance, it has been revealed that the couple's two daughters were their flower girls while actor Harry Belafonte served as Poitier's best man.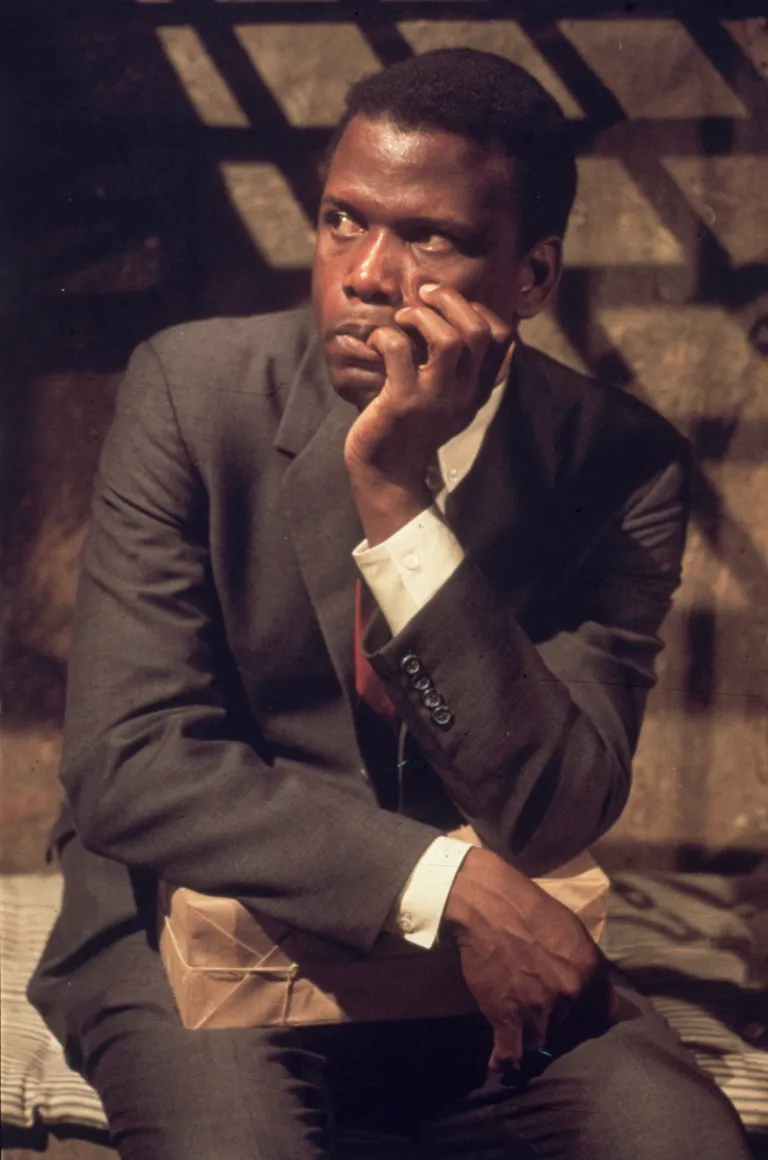 Sidney Poitier photographed while filming "In the Heat of the Night" in 1967. | Photo: Getty Images
It is impressive that Poitier and Shimkus's marriage lasted nearly five decades despite being an interracial relationship. In 2016, Shimkus credited the secret to their longevity to her ability to cook and take care of her husband. Also, in 1998, she said in a reported interview per People:
"I guess we were just destined to be [together]."
Shimkus said she grew up in Canada and never really had any prejudice. She added that she and Poitier had never had a problem and suggested that it could be because they lived a quiet life.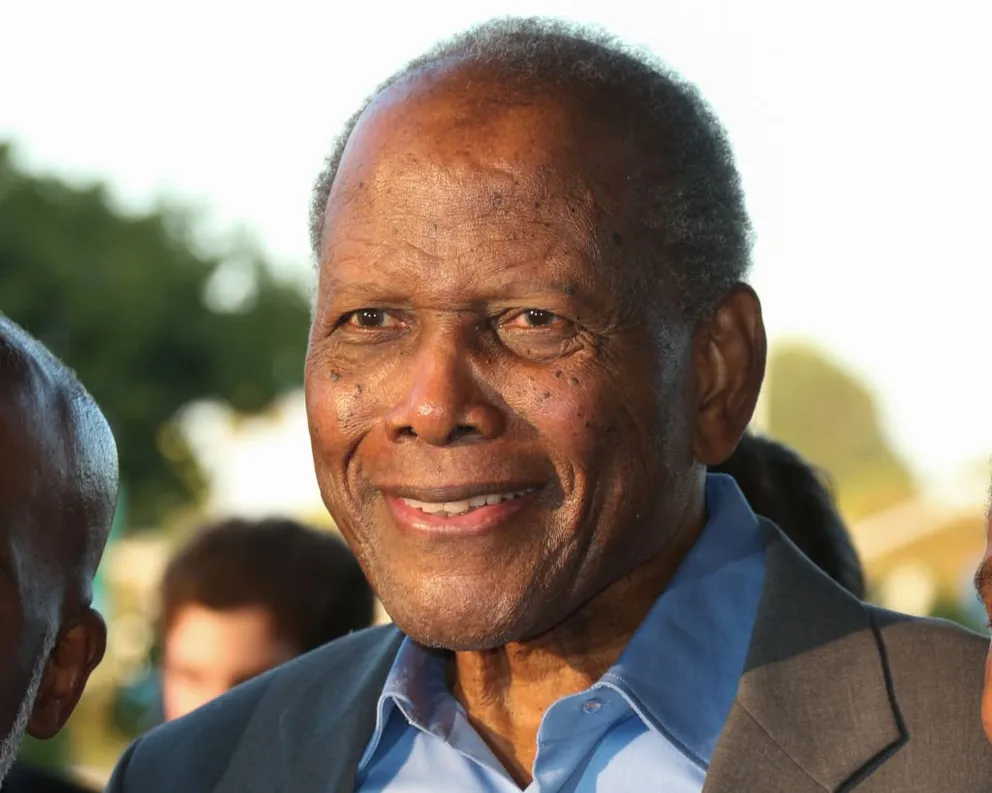 Actor Sidney Poitier attends the opening night of "Born For This" at The Broad Stage on July 20, 2017. | Photo: Getty Images
The actress further said she never really saw Poitier as a Black man. Instead, she saw him as a man. She described him as a wonderful person and an amazing human being.
Poitier and Shimkus maintained a quiet life until his death. They remained mum about their relationship and hardly revealed any news to the public. Before Poitier died, he disclosed that his wife and kids were his most significant achievements in life. He told People:
"My wife and my children mean the most to me."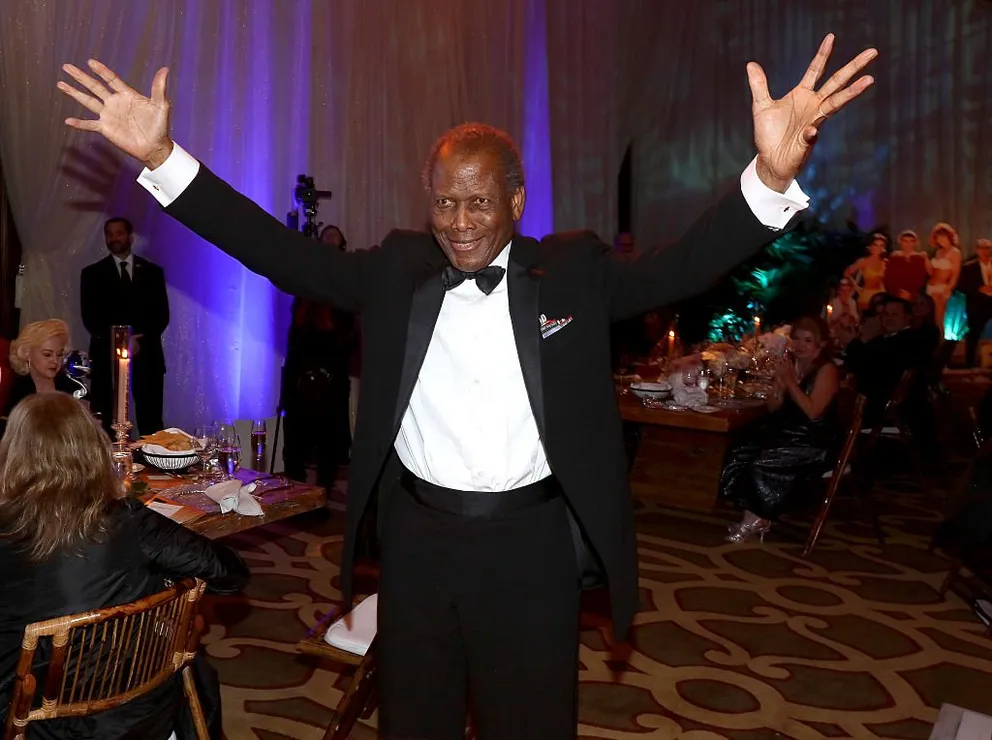 Actor Sidney Poitier attends the Brigitte and Bobby Sherman Children's Foundation's 6th Annual Christmas Gala and Fundraiser at Montage Beverly Hills on December 19, 2015. | Photo: Getty Images
Shimkus and Poitier tried to keep a healthy lifestyle and ate healthy food that included many vegetables, chicken, and fish.
Eating healthily and supporting each other kept Shimkus and Poitier together for many years. Although the iconic actor is dead now, there is no doubt his memory and legacy will live forever.
Please fill in your e-mail so we can share with you our top stories!