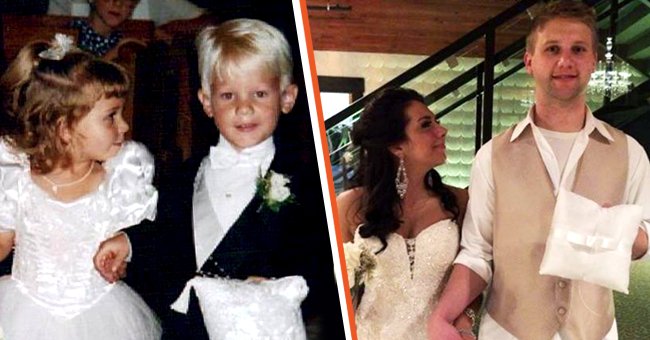 facebook.com/ktla5
Kids Meet at Wedding, Walk Down the Aisle at Their Own 2 Decades Later after a Chance Reunion
Love is an unusual and unexpected force, finding its way into our lives whenever it pleases. If anyone can vouch for this, it's Briggs Fussy and Brittney Husbyn, whose story will leave skeptics with tears in their eyes.
In 1995, these two were just toddlers when they met at a wedding in Minnesota. The little girl, Husbyn, wore a frilly white dress while the boy, Fussy, sported a tiny tuxedo -- similar ensembles to what they would be donning two decades later.
The boy's godmother was getting hitched and needed a flower girl. She asked her colleague, Husbyn's mom if her daughter could be the flower girl. She said yes, with Fussy working as a ringbearer.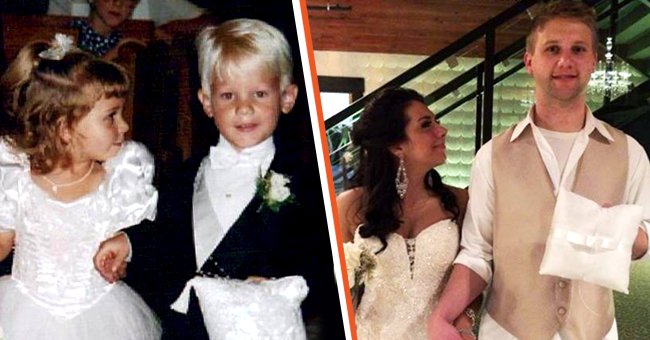 Briggs Fussy and Brittney Husbyn at Fussy's godmother's wedding when they were toddlers [left]; Briggs Fussy and Brittney Husbyn at their own wedding [right].┃Source: facebook.com/ktla5
AN UNLIKELY REUNION
They both kept a picture of them together at the ceremony but only ran into one another in 2007 on Husbyn's first day of High School. She couldn't help but feel as though she knew him. Fussy recollected:
"One day, she went home to ask her mom about me. I have a pretty unique name [Briggs], so that must of stuck out to her (sic)."
Approaching her childhood wedding buddy, he confirmed who she thought he was. Fussy also revealed that he had a copy of the same photo on his wall.
WHEN YOU KNOW, YOU KNOW
The duo became fast friends but only began dating after two years. Recalling the day she went to his house and met his mom, Husbyn stated that it was then that she knew he was the one. She expressed:
"In that very moment, I felt completely at home. I remember thinking to myself, 'This is the man I want to marry.'"
Her wish came true. On January 10, 2015, the then-22-year-olds walked down the aisle as bride and groom. In front of just over 300 of their loved ones, they promised to spend their lives together.
THE JOB BEGINS
However, the real work begins after the ceremony. These newlyweds faced their own challenges. This included learning how to live together as they had never done so before.
The couple also grappled with intimacy, as, in line with their faith, they only entered this territory after saying their "I do's."
You May Also Like: Man, 90, Comes Out as Gay Because He Couldn't Forget the Man He Fell for Almost 70 Years Ago
NOTHING CAN STOP US
Nevertheless, they found that these obstacles were all worth spending their lives together. The pair also conceived and gave birth to two beautiful children, with the mom saying:
"Raising a family together has been the most rewarding, difficult, and humbling experience...Every day, we become closer and closer."
You May Also Like: Bride Surprises Guests at the Wedding by Making Vows to Her Husband's Ex-girlfriend and Son
It is unclear whether their storybook romance happened by coincidence, chance, or due to Fussy's godmother, who claims it was because of her and her wedding. Whatever it may be, none of it truly matters except their deep love for one another.
A PAIR FOR THE AGES
Fussy and Husbyn's journey is truly a fairytale come to life -- something that many of us believe to be a rarity.
Elderly couple Joyce Kevorkian and Jim Bowman prove these "Notebook"-like stories are more common than many think.
The two initially met in high school and began dating, but went their separate ways after graduation and married different partners.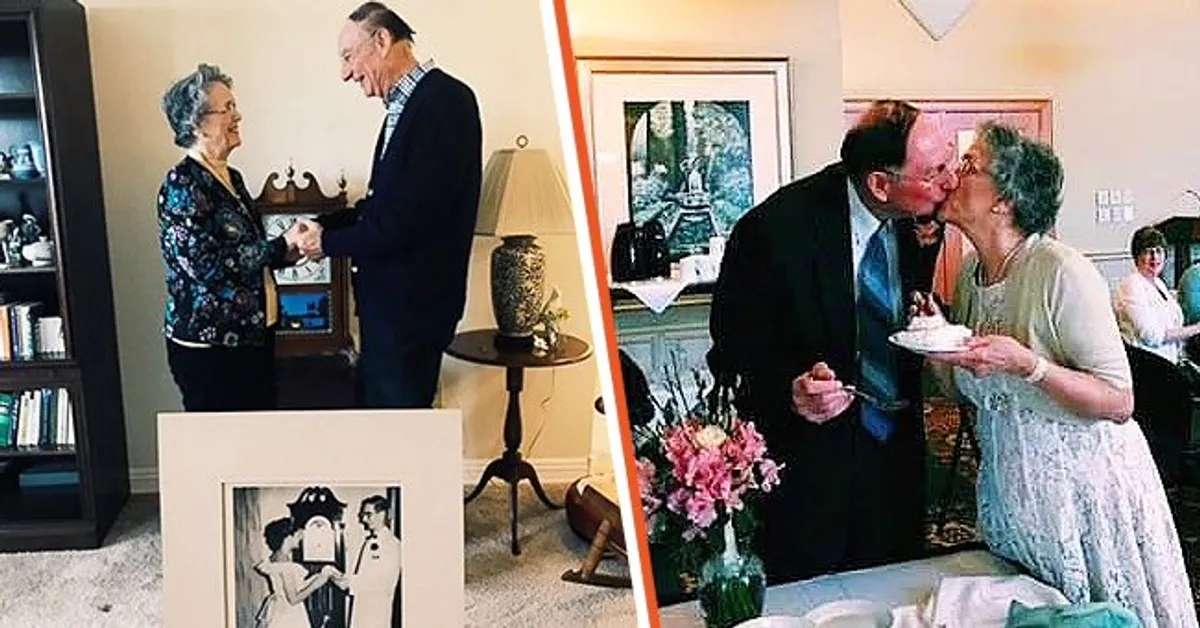 Kevorkian and Bowman holding hands [Left]. The couple holding hands at prom [Inset]. The couple share a kiss on their wedding day [Right]. | Photo: twitter.com/CBS8
However, after their spouses passed and six decades following their original love story, the star-crossed lovers met once more.
They didn't hesitate to walk down the aisle promptly. Soon after several emails and calls, as well as one in-person meeting, they decided to get married on April 1, 2017.
Time for both of these couples seems unimportant. Their affections for one another remained within their hearts for decades, confirming that our first loves are never truly gone or forgotten.
Please fill in your e-mail so we can share with you our top stories!