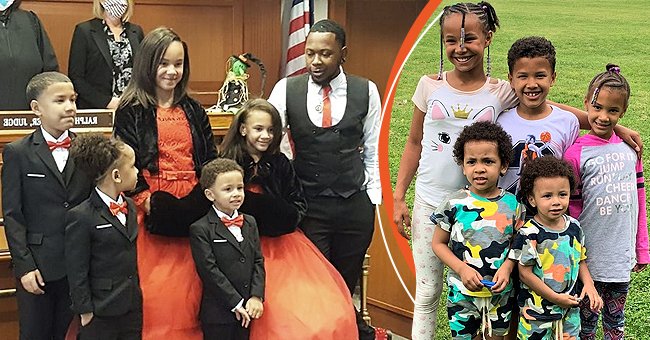 Robert Carter and his kids | The Carter's kids | Source: Twitter.com/KTVU | Twitter.com/FOX19
Dad Adopts 5 Siblings to Not Separate Them after Being a Foster Child Himself: 'Kids Need Parents'
A young boy was separated from his siblings and placed in foster care, partly due to his parents' alcoholism. At only 29, he decided to adopt five siblings between the ages of four and ten, giving them a chance to grow together.
Some people are born to be phenomenal parental figures, and Robert Carter from Cincinnati, Ohio, is one of them. Despite experiencing a painful childhood devoid of his parents' love, Carter grew up a kind, loving, and responsible man.
He was only 12 when he and his eight siblings were split and placed in different foster homes. Being separated from his brothers and sisters had taken an emotional toll on him, and he didn't want any child to experience the same trauma.
So when Carter became an adult, he decided to help other kids in foster care. At only 18, he took custody of one sibling, and at 21, he welcomed another one. Carter opened his heart and home to several children as a foster parent.
But every time a child returned to his biological family, Carter was heartbroken. It reminded him of when he and his siblings drifted apart, partly due to his parents' alcoholism.
When the emotional pain became unbearable, he decided to take some time off from fostering. One day, in December 2018, he received a call from a social worker about three little boys who needed a home. Without thinking, Carter said "yes."
While it was supposed to be a temporary arrangement, the boys still lived with Carter three months later. Soon, he developed a profound connection with them. Then, the oldest of the three, Robert Jr., opened up to his foster dad.
Carter's adoptive kids thrive and love indulging in extra-curricular activities and making lasting memories.
Robert talked about his two sisters with Carter. Soon afterward, Carter called the foster care agency and discovered that the boys did have two older sisters. He then made arrangements so the three boys could meet their elder sisters.
Finally, in June 2019, the five siblings had an emotional reunion, thanks to Carter. He saw as Robert, Giovanni, and Kiontae cried and couldn't stop hugging their sisters, Marionna and Makayla. Carter also expressed:
"That was the moment I said 'okay I'm going to take all five.' I know the pain of being separated too well and I could not let that happen to them."
Carter was a single, 29-year-old man then, and it took a little convincing to adopt all five siblings. The agency worried that Carter was too young to look after five kids.
On October 30, 2020, Carter officially became the adoptive father of the five siblings. After the adoption hearing, Carter sneaked into the courtroom bathroom and cried uncontrollably. He told TODAY:
"I was so nervous it would fall through at the last minute. But I get to be there for them for the rest of their life. They never have to worry about being neglected or alone ever again. We're a family forever."
Despite having a huge family, Carter had immense support from his loved ones, who even set up a GoFundMe account in 2020. On October 31, 2021, the doting dad shared a video on YouTube, unveiling his new house to mark their first adoption anniversary.
Carter's adoptive kids thrive and love indulging in extra-curricular activities and making lasting memories. Despite having such a large family, Carter shared he's never had trouble managing the kids. He also revealed:
"They're great kids. I'm shocked it's this easy to be a single parent to five, but it's all because of my kids. It's a breeze."
The single father initially worried about raising two daughters. However, he got help from his sisters and mastered nearly everything, including their hairstyling, as he owns a salon in Cincinnati.
Carter mentioned that his children had taught him a lot about fatherhood, and they helped him stay focused. Carter told Independent that he enjoys being a single parent and that "kids need parents whether it's two or one."
He also expressed he feels relieved to see the children bonding and enjoying life. He told People: "It's so beautiful to be able to see them grow together."
We hope Carter and his kids continue having an incredible time together! If this story touched your heart, you might like this one about another single dad who adopted three siblings in 2020 that had been in 16 foster homes for four years. Read the full story here.
Please fill in your e-mail so we can share with you our top stories!