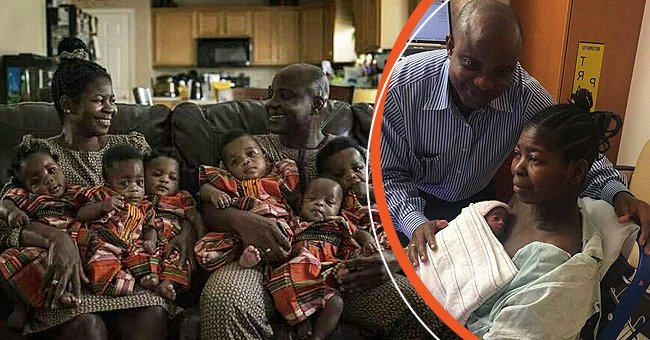 twitter.com/legitngnews
Couple That Couldn't Get Pregnant for 17 Years Welcomes Super Rare Sextuplets
In 2017, Ajibola and Adeboye Taiwo became the first parents to welcome a set of sextuplets at the VCU medical center. Finally, they received their bundles of joy after waiting for 17 years. Find out more about them.
After a long time, a Nigerian couple experienced the joy of parenthood following the birth of their sextuplets. At 8:26 a.m on May 11, 2017, the woman gave birth to six babies, three girls and three boys, at the VCU medical center, USA.
The proud mother of six delivered the children via C-section, with their weights ranging from one pound, ten ounces to two pounds, 15 ounces. Here is the whole story about the couple who had their wishes come to pass.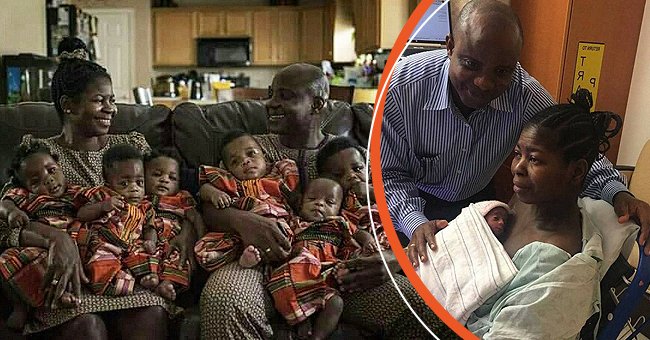 Ajibola and Adeboye Taiwo and their sextuplets [left] Ajibola and Adeboye Taiwo after the birth of their sextuplets [right] | Photo : twitter.com/legitngnews
THE COUPLE'S EMOTIONAL JOURNEY
For almost two decades, Ajibola and Adeboye were in a dilemma. They had tried to have a child, but all efforts were futile. However, in 2016, they received the best news – Ajibola was pregnant.
In November 2016, the happy couple went to their first ultrasound scan, where they heard four heartbeats. Then, two months later, they were stunned when the doctor revealed that they would have sextuplets.
Speaking about the revelation, Adeboye admitted that he was very excited. For the first time, he and his wife were parents. The couple continued their everyday check-up routines, and at 30 weeks and two days into Ajibola's pregnancy, she was set to give birth.
THE CHILDREN'S BIRTH/LIFE AFTER
The woman was admitted to the Virginia Commonwealth University Medical Center in Richmond. During the early hours of May 11, a team of 40 people, who practiced drills and resuscitation exercises, delivered the babies.
A few days after the birth, Ajibola was discharged while her six babies received treatment in the intensive care unit. The doctors were pleased to be a part of the Taiwo family's blessings.
Ronald Ramus, the director of the Division of Maternal-Fetal Medicines at the hospital, explained that giving birth to sextuplets was rare. According to the doctor, Ajibola ate, slept, and breathed for seven people, which was not an easy task.
So, the team gave the woman all the support and encouragement needed to make it as far as she did. On the other hand, Adeboye was grateful to the staff members at the hospital for the treatments they received.
The man said the medical team's knowledge in the hospital and medicine was top-notch. In addition, Adeboye confessed that although they were far from home, their team members were their family and helped them get far.
The couple's babies were the first sextuplets delivered at VCU Medical Center. The mom of six wants her children to return to the hospital and be taught to care for others by those who cared for her. She wants the smallest of her babies to grow up and share the story of their growth with the world.
ANOTHER MULTIPLE BIRTH CASE
Another family who got a bigger family than they bargained for was the Young family. After getting married in 2016, Maxine and Jacob Young wanted an ideal family. However, they got more than they expected. They had been foster parents to three siblings, and when they discovered that the trio had another sibling, they wanted to foster him too.
Soon, after IVF and a couple of miscarriages, the couple got what they had always wanted: a pregnancy. They found out Maxine was with child, and their foster kids were being scheduled to return to their biological parents.
However, they found out the parents had lost their rights to the kids after failure to honor scheduled visits. The couple then resolved to adopt all four siblings. Eventually, they had five kids after Maxine gave birth to their boy, Henry.
One would've thought that was enough kids for a young couple, but Maxine then found out she was pregnant with quadruplets. Even though the doctors reportedly told them it would be impossible to have four healthy babies, they still decided to have them all.
Now, the couple has nine healthy children who are all under eight years old. And even though it could be tedious having that many kids, Maxine and Jacob wouldn't have it any other way. Multiple births can be challenging, but it's usually worth it in the end.
Please fill in your e-mail so we can share with you our top stories!