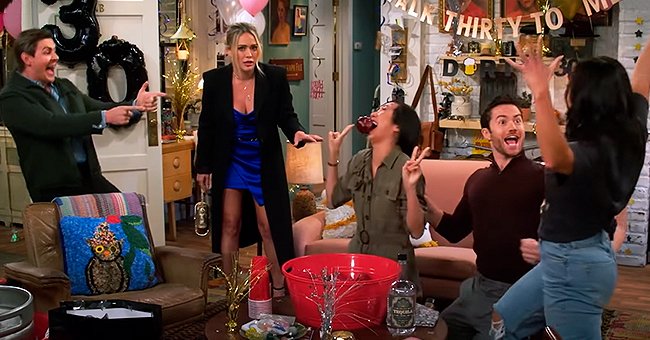 Instagram.com/hilaryduff | YouTube.com/Hulu
Meet the 'How I Met Your Father' Main Cast's Real-Life Partners & Their Families
Years after the popular sitcom "How I Met Your Mother" ended, its successor is finally here. "How I Met Your Father" premiered on January 18, introducing the new cast to fans worldwide.
"How I Met Your Mother" took viewers on a love searching journey through the eyes of an older Ted Mosby, who narrated to his children the life events that led him to meet their mother. "How I Met Your Father" follows a similar script.
The show is framed through the lead character, Sophie's point of view, as she tells her child the story of how she met their father. The plot switches between the present-day story and the narrative framing in 2050.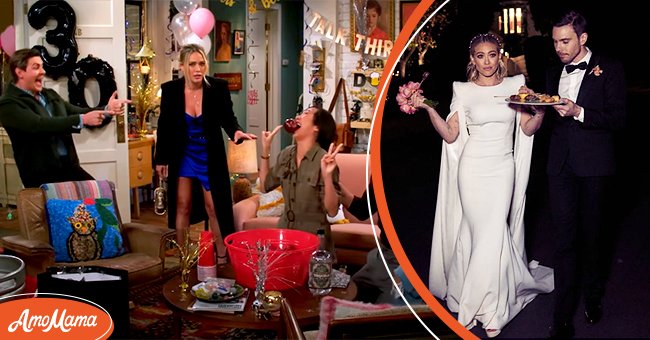 Left: Hillary Duff and Matthew Koma on their wedding day | Photo: Instagram.com/hilaryduff. Right: The "How I Met Your Father" cast. Photo: Youtube.com/Hulu
And while the original show revealed the mother Cristin Milioti in the eighth season, "How I Met Your Father" has already indicated that the father appears in the first episode, leaving fans curious about who it could be.
Fans have already warmed up to the show, preparing to go on the ride full of unexpected twists, laughter, and lessons. The new cast boasts of young talented actors, and viewers cannot wait to know more about them. Here's a closer peek into their lives.
Sophie is the show's main character and takes on the role that once belonged to Ted Mosby, played by Josh Radnor. She is searching for a life partner as she pursues a career in photography.
After several unsuccessful Tinder dates, Sophie is more than ready to find her perfect guy. But despite her character being unlucky in love, Duff is a wife and a mother of three in the real world.
She met singer-producer Matthew Koma in 2015, as she worked on her album "Breathe In. Breathe Out." They connected both romantically and musically but did not make their red carpet debut until 2017.
They welcomed their first child together, daughter Banks, in October 2018, and Mae in 2021. In 2019, they exchanged their vows in an intimate backyard wedding ceremony.
The lovebirds are also parents to son Luca Cruz Comrie from Duff's previous marriage to Mike Comrie. Besides appearing on "How I Met Your Father," Duff is also the title character of the television series, "Lizzie McGuire," and in the film, "The Lizzie McGuire Movie."
Her other movie credits include "A Cinderella Story," Raise Your Voice," and "The Perfect Man." Besides acting, Duff is also a singer with singles such as "All About You" and "Sparks" under her belt.
Cattrall plays the future Sophie on "How I Met Your Father." Unlike in the original show, which features the lead's children listening to their father as he narrates his life stories, Kim Cattrall's Sophie is visible, rather than her child.
In real life, the actress is in a relationship with Russell Thomas, who she introduced to fans in 2018. The actor disclosed that the two met at BBC, where Thomas previously worked. However, they only started talking after he messaged her on Twitter.
The "Sex and The City" actress gushed over her boyfriend, saying they are inseparable and even share a home routine. Nicki Swift reports her to have spoken to People, confessing how in love they were. She said:
"I love him. And he was worth waiting for."
Raisa plays Valentina on "How I Met Your Father." She's Sophie's roommate and best friend. She is supportive of her best friend's new mission even though she has little faith in it.
Raisa was involved with professional grip Christian Adkins between 2017 and 2019, but things seem to have gone South as she later deleted their photos together on social media.
As of 2020, the actress admitted to using a dating app. "The Cutting Edge: Chasing The Dream" actress has also reportedly started freezing her eggs. She spoke on Entertainment tonight, as written by Distractify:
"I'm turning 32 in July, and I think what I've learned from it is that I'm definitely in a place now where I'm sort of ready to settle down."
Lowell plays Jesse, the male lead on "How I Met Your Father." Jesse is an Uber driver. He appears to have given up on love after a video of his failed proposal went viral. However, the actor isn't so unlucky in real life. He's in a relationship with "Scrubs" actress Kerry Bishé.
The couple reportedly met in 2013 and has been going strong since. But unlike other celebrities, they prefer to keep a low profile regarding their personal lives. The "Veronica Mars" actor and his girlfriend are also parents to one.
Tom Ainsley plays Charlie in the show. He hails from a wealthy British family but finds himself penniless in New York City after getting involved with Valentina and being disinherited by his family.
Despite his resolve to fight for his love for Valentina, the "Safe Inside" actor appears to be single in real life. However, based on his Instagram, he is a doting uncle to his sister's baby, born in 2018.
Suraj Sharma plays Sid, Jesse's best friend on "How I Met Your Father." He owns the bar where the group hangs out and is preparing to propose to his girlfriend. However, the actor appears to be single in real life.
Despite his debut movie "Life Of Pi" garnering worldwide popularity, Sharma lives a pretty low-profile life. His other movie credits include "God Friended Me," the political thriller series "Homeland," and the sports biopic "Million Dollar Arm."
Taran portrays Jesse's sister, Ellen, who recently moved to Manhattan after divorcing her wife. Excited about entering the dating scene, Ellen loves the group's outings. The "Candyman" actress is single and openly gay in real life.
Her other works in film include playing Laura in the comedy TV series "Hot Date" and Jane Ji in the supernatural slasher film "Candyman." She has also starred in "Space Force" and "Work in Progress."
Please fill in your e-mail so we can share with you our top stories!