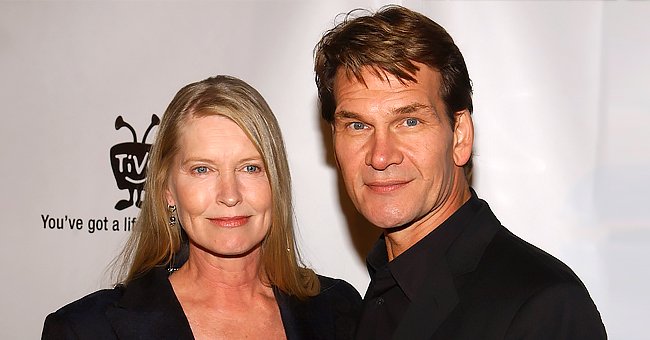 Getty Images
Inside Patrick Swayze & Widow Lisa Niemi's 7,261-Acre 'Dream Ranch' They Owned for 23 Years
Patrick Swayze, who started as a dancer before finding success in the film industry, was married to Lisa Niemi for decades. The couple lived out their enviable romance in a 7,261-acre "dream ranch" until Swayze's untimely death in 2008.
Patrick Swayze came from a household of entertainers. Born in Houston, his mom ran a dance hub, "Houston Jazz Ballet Company," and she introduced him to ballet before he became a teenager.
Despite being teased in school, Swayze remained loyal to his first love, dance, throughout grade school. However, it was not until high school that he decided to focus on gymnastics.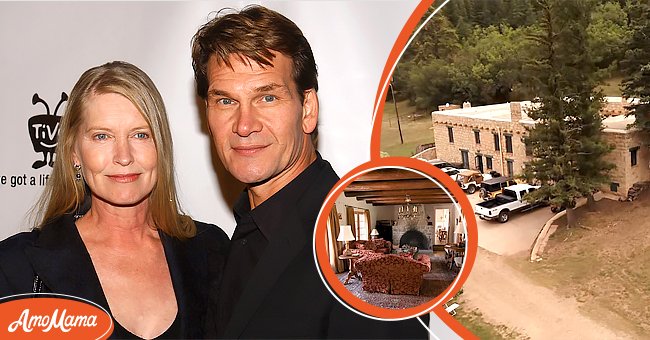 Patrick Swayze and his partner, Lisa Niemi at a red carpet event [left], A screenshot from the tour of Patrick Swayze and Lisa Niemi's ranch [middle], Another screenshot showing an aerial view of their ranch [right] | Photo: Getty Images youtube.com/Chas. S. Middleton & Son
After studying at San Jacinto College in Houston, he left for New York to establish a dance career. Swayze learned from prestigious dance companies, and luckily for him, he secured employment as the principal dancer of "Eliot Feld Ballet Company."
Following knee surgery, the dancer gave up the dream to pursue acting. Instead, he spent some years on Broadway until the late 1970s when he broke into TV with appearances on "M*A*S*H."
In 1987, Swayze featured in "Dirty Dancing," leading him to become one of Hollywood's most talked-about stars. The actor displayed his dancing skills in the blockbuster, playing a misunderstood dancer.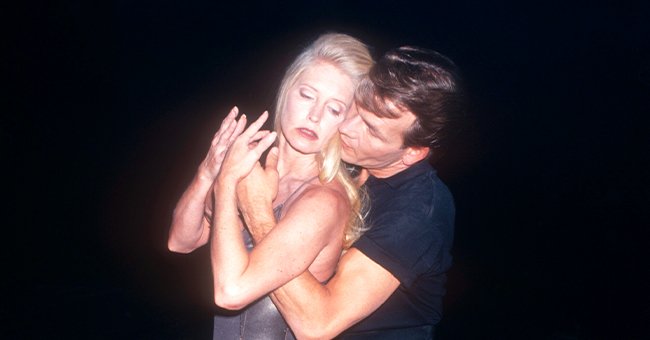 Patrick Swayze dances with Lisa Niemi during the 1994 World Music Awards on May 4, 1994 | Photo: Getty Images
This was merely the beginning of his stardom. The Houston native featured in "City of Joy," "Ghost," and "Road House." Simultaneously, he permeated the music industry, co-writing a song with his wife that made it to the Billboard charts.
Professionally, Swayze enjoyed his successes as much as he loved performing. He also had one of the best marriages with Lisa Niemi. Although the pair never had kids, they made each other happy.
The actor fell ill in 2008 but continued working. He battled stage IV pancreatic cancer until succumbing to the illness in 2009. Sadly, Swayze never won an award. Still, he remains a movie icon owing to his immense contributions to Hollywood.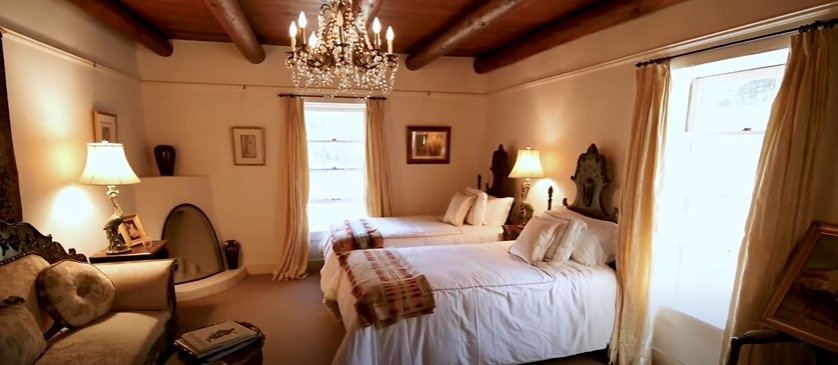 A tour of Patrick Swayze and Lisa Niemi's dream ranch | Photo: Youtube/Chas. S. Middleton & Sons
PATRICK SWAYZE'S ENDURING LOVE WITH WIDOW LISA NIEMI
Swayze found love while pursuing a dance career at his mom's ballet school. He was only 19, and Niemi, 15. Yet, he sensed that she was "the smartest chick" in the room.
The duo soon became lovers and exchanged vows in a simple wedding ceremony in 1975. Once they were married, people could see the synergy between the pair. Also, his love for Niemi motivated him to write a song.
They supported each other. The actor practiced his dance steps with his wife, and they also thrilled audiences with their onstage performance at 1994's World Music Awards.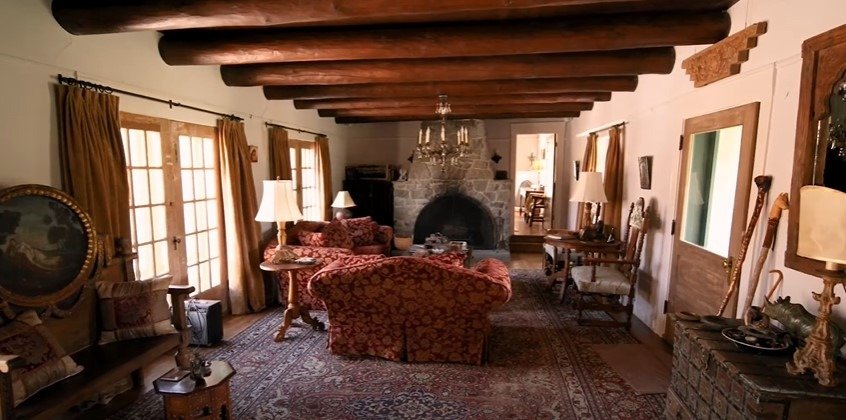 A tour of Patrick Swayze and Lisa Niemi's dream ranch | Photo: Youtube/Chas. S. Middleton & Sons
The long-term couple had difficulties conceiving, even though it was something they craved. In a 2019 documentary, the actor's widow confessed that she struggled with infertility and experienced a miscarriage.
Niemi was consistent with her appointments with acupuncturists, but age was not on her side. Finally, she gave up trying and suggested adoption, but Swayze wanted to have biological kids with her.
Other relatives and close friends were not oblivious to the actor's desire to become a father. A family member explained that he would have been a great parent, which was apparent in how he handled his uncle duties.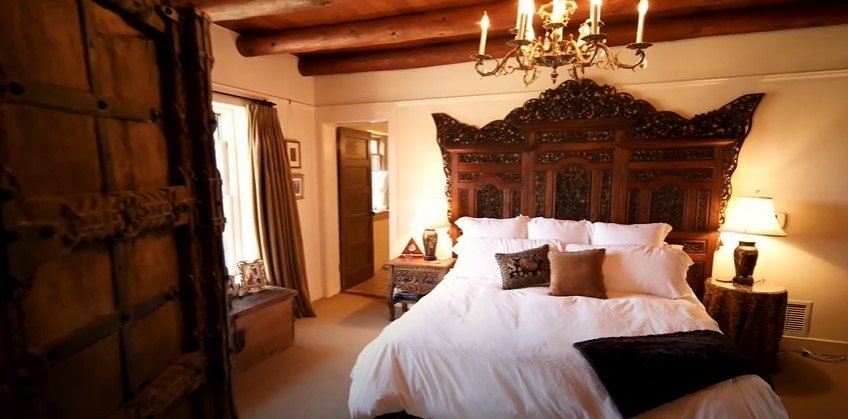 A tour of Patrick Swayze and Lisa Niemi's dream ranch | Photo: Youtube/Chas. S. Middleton & Sons
In the end, the couple focused on giving their love to animals. They had dogs and horses. These animals were blessed with their care and had a place to call home.
SEARCH FOR THE PERFECT HOME
The couple loved animals, and they wanted a unique home for themselves and their pets. They searched for a long time, and in 1997, they found their dream home, a ranch they got from Charles S. Middleton and Son.
Their perfect home possessed lots of rocky surfaces and a wealth of land where they could explore without losing interest in its beauty. In addition, it gave them the blessing of quietness, making it easier to read film scripts and set up an editing bay.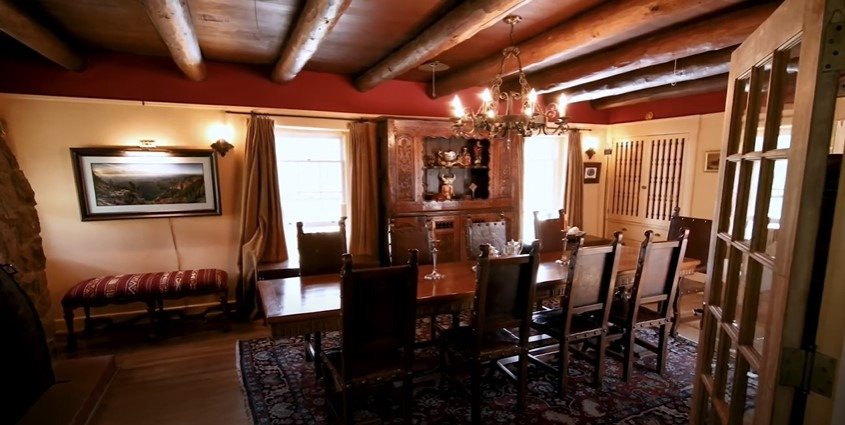 A tour of Patrick Swayze and Lisa Niemi's dream ranch | Photo: Youtube/Chas. S. Middleton & Sons
As soon as they walked into the property, the former owners told them the home's original name was "Rancho de Dias Alegres," which means "Ranch of the Happy Days." The actor and his wife spent more than two decades on the ranch and confirmed that they were fulfilled. According to Niemi:
"Both he and I would have been perfectly happy being there always."
INSIDE SWAYZE'S DREAM RANCH
Swayze's dream ranch was put on the market last year for $1795 per acre, and his widow confirmed that she would be parting with the place she called home for twenty-three years.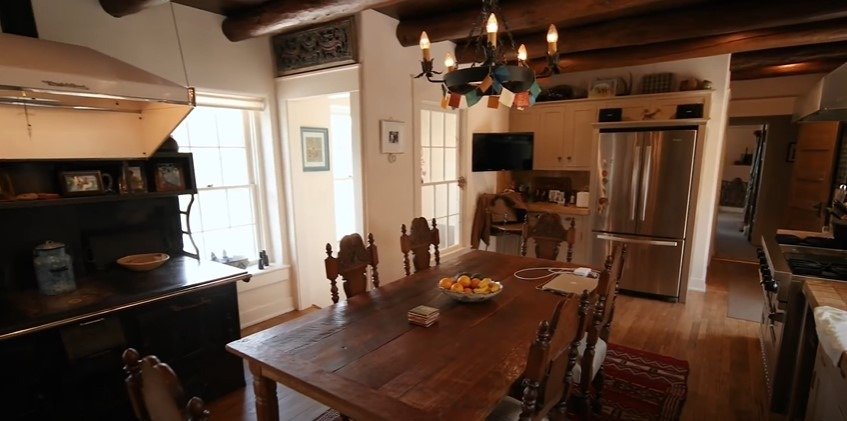 A tour of Patrick Swayze and Lisa Niemi's dream ranch | Photo: Youtube/Chas. S. Middleton & Sons
The 7,261 acres in the pristine Gallinas River Drainage of the Sangre de Cristo Mountains offer a refined view of the lakes and mountains. Its architectural structures and layouts are uniquely constructed, as it retains the Northern New Mexico historical nature of the early 20th century.
The classic home was suitable to host folks who wanted a life away from the hustle and bustle of the city, with a kitchen consisting of a two-door metallic colored refrigerator, smoke extractor, expansive windows, a set of fine dining in the center with a bowl of fruits on the table.
Its dining area is laced with an antique rug, a huge chandelier, and large windows gracing the owners with perfect illumination. In the living room, guests are treated to cushion chairs retained from the former owners, lamps set on corners of the room, wooden ceilings, a fireplace and chandelier, and wall hangings.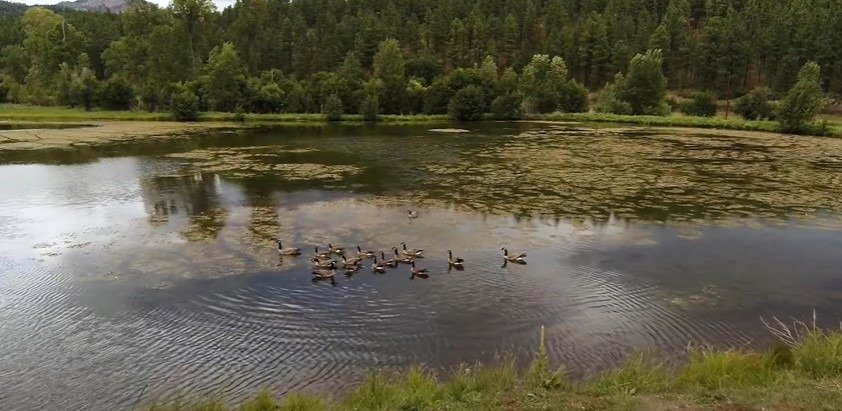 A tour of Patrick Swayze and Lisa Niemi's dream ranch | Photo: Youtube/Chas. S. Middleton & Sons
The ranch is a stone's throw from downtown Las Vegas, New Mexico, cupping a few minutes in the distance and more than an hour from Santa Fe and Taos.
BRAVE FIGHT WITH CANCER AND EARLY DEATH
Swayze's cancer diagnosis was enough to keep him grounded. But while he worked, the actor held on to some of his unhealthy habits like smoking. He had grown addicted to smoking, and pancreatic cancer could not hold him back.
His doctor was optimistic that he would survive because the skilled dancer responded well to treatment. Still, it crushed his mother, seeing her son in so much pain.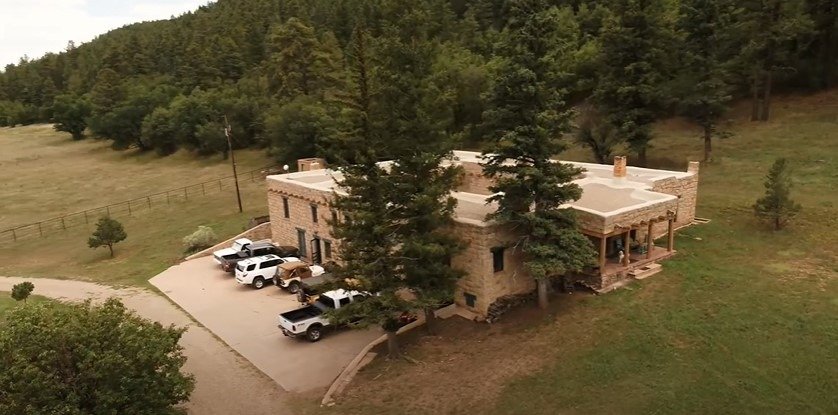 A tour of Patrick Swayze and Lisa Niemi's dream ranch | Photo: Youtube/Chas. S. Middleton & Sons
During the critical moment of his life, the one person he trusted most was his wife. Niemi proved to be his teammate by sticking with him while keeping tabs on his medications and flying him for chemotherapies. Although it was difficult, with the right partner, Swayze remained positive. According to a relative:
"He looks into her eyes and he sees nothing except, 'Everything is going to be okay."
Sadly, after a year-long battle, the actor surrendered to pancreatic cancer. His publicist explained that Swayze died a peaceful death in the company of his family.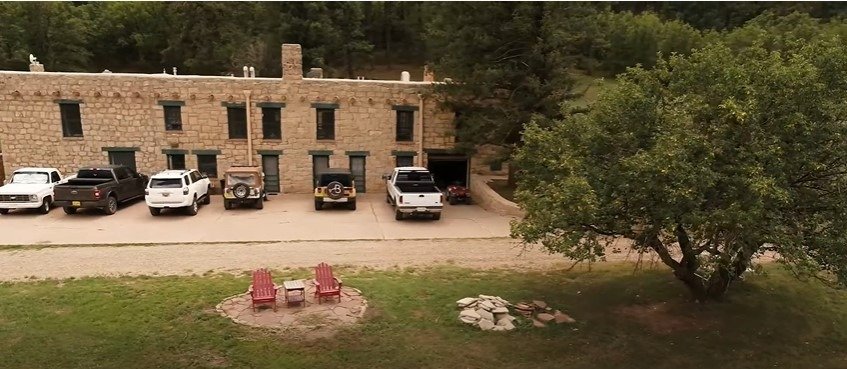 A tour of Patrick Swayze and Lisa Niemi's dream ranch | Photo: Youtube/Chas. S. Middleton & Sons
The family decided to cremate the deceased, and Niemi was handed his death certificate that stated that she had his remains. Following his death, residents from North Carolina, where his trailblazing movie "Dirty Dancing" was filmed, hosted a memorial.
Some people from Lake Lure also donated to the Pancreatic Cancer Network. During the memorial, everyone wanted to contribute a thing or two.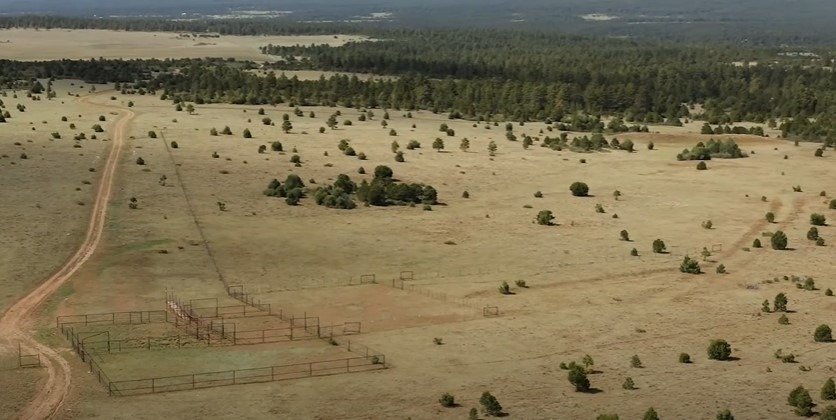 A tour of Patrick Swayze and Lisa Niemi's dream ranch | Photo: Youtube/Chas. S. Middleton & Sons
LISA NIEMI'S LIFE AFTER SWAYZE'S PASSING
Swayze's widow remained single for four years. Then, in 2013, she became engaged to Albert DePrisco, a jeweler she met at a birthday party through a mutual friend.
The following year, they got married, and according to Niemi, she took a "leap of faith." Although she loved her new beau, it was not until he proposed that it dawned on her that it was a new chapter.
Niemi confessed that she still loves the actor, and DePrisco realized that but remained conscious of their love story. This made her doubts slowly disappear.
Despite losing Swayze, she found some distinct qualities of her dream guy in her new husband, including his generosity, personal strength, and humor. These contributed to the second-time bride saying yes!
Swayze may be gone but is ingrained in the hearts of his widow, friends, family, and movie lovers who were blessed with his spirited performances—acting, dance moves, and singing.
Please fill in your e-mail so we can share with you our top stories!