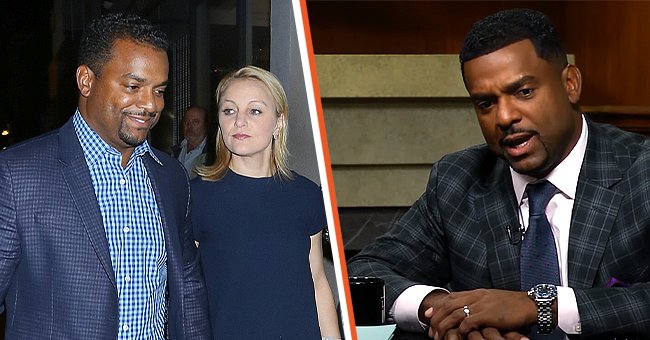 Getty Images | youtube.com/Larry King
Alfonso Ribeiro Is Happily Married for 10 Years Despite Feeling Ousted for Marrying a White Woman
TV personality and Actor Alfonso Ribeiro believes that love conquers all and blurs race lines. The entertainer feels blacklisted for marrying a white woman, yet, he is content and has enjoyed a love-filled marriage for ten years.
Alfonso Ribeiro is a Trinidad and Tobago native who ventured into the entertainment industry at a young age. His first TV appearance was on the PBS show "Oye Ollie."
Ribeiro's acting credits include starring in a Pepsi commercial with Michael Jackson, the 1982 series "Silver Spoons," and the hit show "The Fresh Prince of Bel-Air."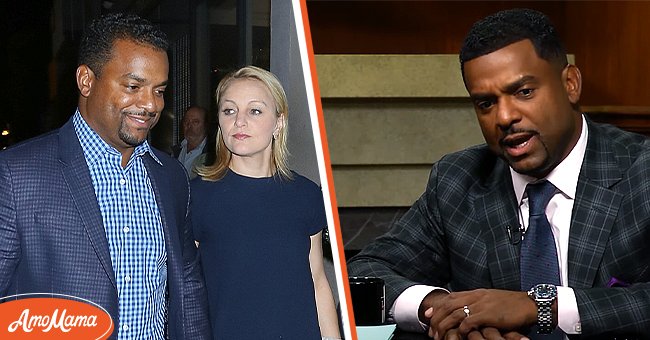 Alfonso Ribeiro and Angela Unkrich are seen on October 13, 2016 [left], Alfonso Ribeiro in an interview [right] | Photo: Getty Images youtube.com/Larry King
Before becoming a prominent actor, he toyed around with music, releasing tracks like "Sneak Away With Me," "Time Bomb," "Dance Baby," and "Not Too Young To Fall In Love."
The musician-turned-actor was conscious about bagging a degree, so after his main feature on "Silver Spoons," he studied at California State University, Los Angeles. Ribeiro's acting took the back burner in later years, but he still appears as a host on "America's Funniest Videos."
As far as his romances, the on-screen personality is a divorcé who was married to his actress partner Robin Stapler for four years. The pair met while working on the series "In the House."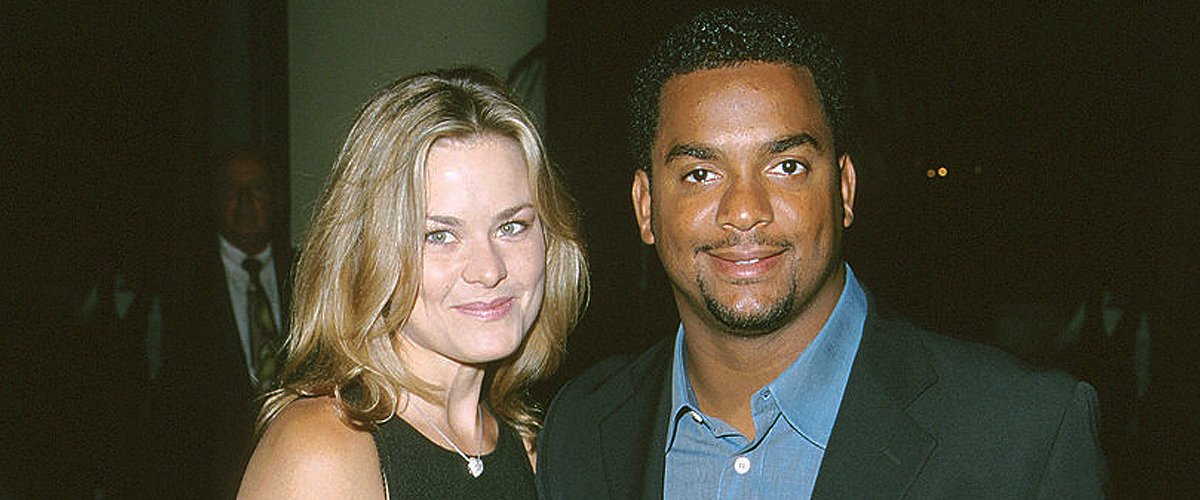 A picture of Alfonso Ribeiro and his wife, Robin Stapler. | Photo: Getty Images
The attraction was instantaneous for Ribeiro, and he asked the young actress on a date. Unfortunately, in 2006, he slammed Stapler with divorce papers, citing irreconcilable differences.
Despite their separation, they continue to care for their daughter, Sienna, who was a toddler when they divorced. Beyond reasonable doubt, the "Silver Spoons" star has been involved in his daughter's life.
Sienna is also close with her dad and has already caught the acting bug. Ribeiro is confident his daughter will be successful but wants her to find her way while he drops by with tidbits of advice.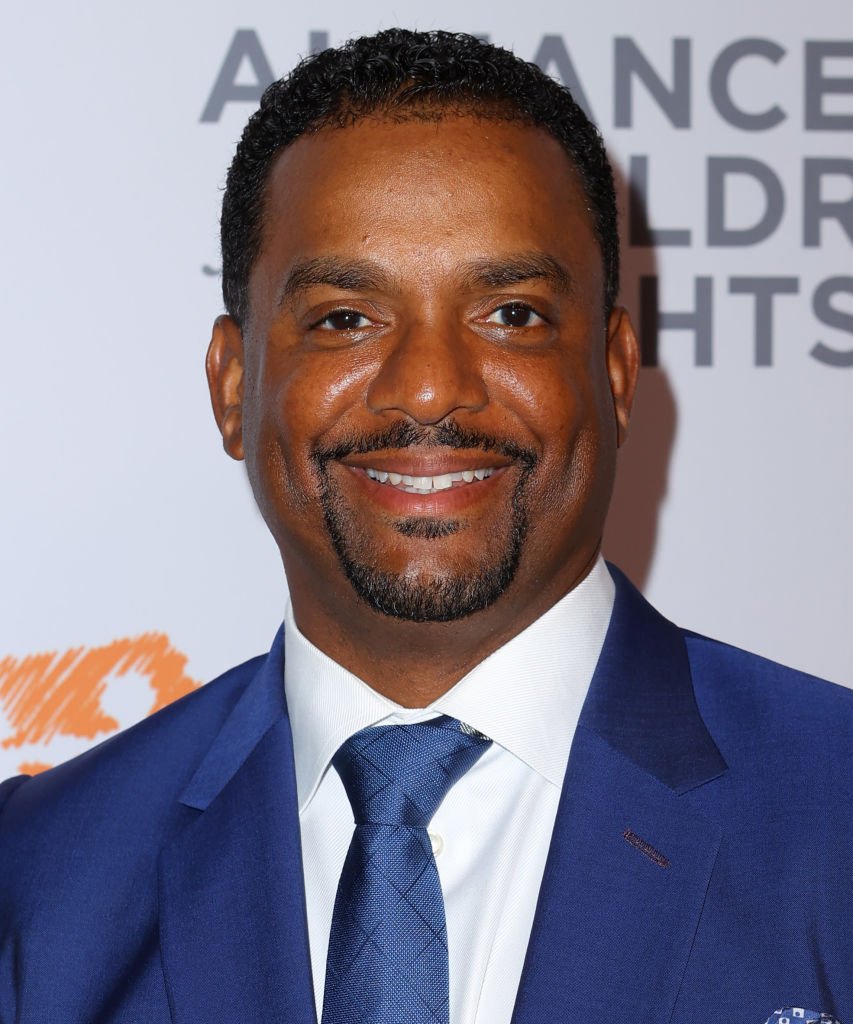 Alfonso Ribeiro at The Beverly Hilton Hotel on March 05, 2020. | Photo: Getty Images
Stapler and Ribeiro, who divorced more than a decade ago, are excellent at co-parenting, and they have moved on with other partners.
LOVE AT FIRST SIGHT FOR RIBEIRO AND HIS SECOND BRIDE?
Ribeiro was intrigued when he met Angela Unkrich at a Beverly Hills hotel, and as he did with his first wife, the series star wasted no time pursuing his dream girl.
However, she did not seem impressed, and it took more than two attempts before she agreed to a date. Unkrich considered him a stalker without knowing his history in the entertainment industry.
After Ribeiro introduced himself as an actor, she still was not smitten because she was uninterested in dating a Hollywood entertainer. While recounting the story, she said:
"And I was very much in the 'I don't want to date anyone in entertainment.'"
Somehow, the "The Fresh Prince of Bel-Air," alum worked his magic during a restaurant date, convincing Unkrich he was not as bad as she thought. However, there was one more thing he could not change.
Ribeiro was convinced that the girl across the table stirred butterflies in his stomach, but he was uncertain about how she would take his failed marriage.
Unkrich admitted that being a divorcè was a turnoff; still, she took the risk and has never regretted it. The pair got engaged in a luxury boat ride in Lake Tahoe and have created the most pleasant memories.
Getting his desired woman to say yes was the most exhilarating feeling, and it resonated with both lovers. A few hours after their wedding in 2012, the proud groom referred to his newly-wed as an "incredible woman," while Unkrich admitted to feeling "happy and blessed."
It did not take long before the couple began to expand their family. The following year, they welcomed a son, Alfonso Jr., then came Anders in 2015, and their daughter, Ava, in 2019.
As the pack increased, so did the largeness of Ribeiro's heart. He loves all his kids equally and is obsessed with being present for them all the time.
The hands-on dad's parenting style is unique. He believes that his children will not get the ultimate education in a classroom, so he subscribed to globetrotting with them. According to the father of four:
"Yes, you can read about things in books, but nothing lands and sticks with you throughout your life than personal experience."
The family even has an RV, and they have toured a host of places, including Mesa Verde National Park, Zion, Grand Canyon, Yellowstone, and Bryce Canyon. They could not move around following the lockdown, so they bonded as one big, happy bunch!
Thankfully, the big sis, Sienna, is in awe of her younger siblings, and they have managed to blend just fine. The young adult is passionate about family, as well as her craft.
The up-and-coming actress is in college and focused on her dream to make a statement in the industry. Sienna intends to carve a niche for herself and not as Ribeiro's kid.
Unkrich's firstborn, Alfonso Jr., finds sports appealing. He is already playing in the baseball league for his age and practices his golf strides like his dad. Anders also has a knack for sports and is generous with his pleasant smiles—often seen on daddy's Instagram.
Baby Ava is everyone's favorite person, and apart from featuring on her father's social media platforms, she receives the best pampering. When Ava turned 2, the family threw a pig-themed extravagant birthday bash.
BEING THE BLACK SHEEP FOR MARRYING A WHITE WOMAN
Having an amazing set of kids, an incredible wife, and a smooth sailing career is enough to make Ribeiro the happiest man with the perfect family on earth. While he is all that, the actor confessed to feeling like an outcast because of his wife's race.
He told an interviewer that he gets constant stares because of his interracial marriage, adding that it has been challenging since he does not feel at home with either race. In his words:
"I'm never going to be white, and I'm never going to be fully supported in the Black house. So I'm in my own little world with support from almost no one, to be in love with someone I've fallen in love with."
Irrespective of what anyone thinks, Ribiero considers himself blessed to have his partner's support in their marriage. They have held it down for years and are waxing strong.
The family has also had the support of the Ribeiro matriarch. A few months ago, he shared a tribute featuring Unkrich, the kids, and his mother's photo and added a caption celebrating the women in his life. It read:
"Happy Mother's Day...you are the true rock of our family. Our kids are so lucky you're their mom. Also, I couldn't be anywhere without the love, support, and strength if not for my mom."
The "America's Funniest Videos" host is in awe of his wife of ten years, and with their hands full nurturing three young ones, the couple still finds time to celebrate their love by going on pleasant dates and holding hands on the beach while basking in the warm sun.
Please fill in your e-mail so we can share with you our top stories!