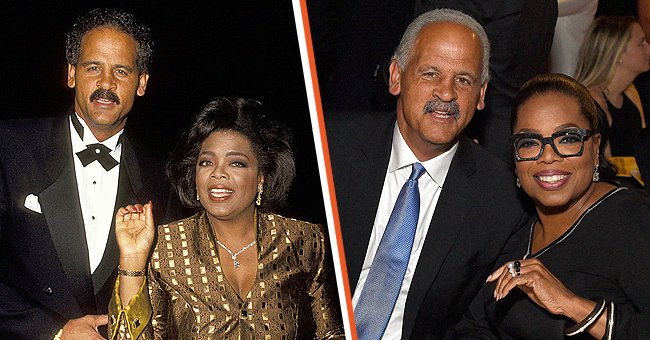 Getty Images
Oprah & Stedman Enjoy Their Unconventional Relationship 30 Years after His Proposal That Never Led to Marriage
Media mogul Oprah Winfrey has stayed in the limelight for more than four decades. However, the legendary presenter has been in an unconventional romance that never made it to the alter.
Oprah Winfrey's name and legacy remain intact for both the older generation and the millennials. In addition, the iconic show host is a huge part of the black culture and legacy that defined the last century.
Winfrey made her name as a young, strong, black woman who defied all odds, including a horrible past, to become one of the greatest show hosts and producers of her generation.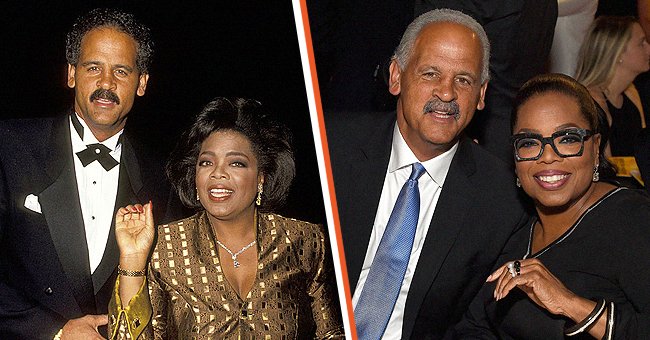 Photo of media mogul Oprah Winfrey and Stedman Graham at a red carpet event [left]. Photo of media mogul Oprah Winfrey and Stedman Graham [right] | Photo: Getty Images
Winfrey's show debuted in 1986, the same year that one of the longest relationships of her life began: her romance with Stedman Graham. The couple is one of Hollywood's longest-standing couples.
Despite the longevity of their relationship, Winfrey and Graham have never walked down the aisle. There have been plans to tie the knot, but the lovebirds seem comfortable with their unconventional romance.
HOW OPRAH AND STEDMAN MET
Despite being famous and influential, Winfrey chooses to keep her love life private. For over 30 years, Graham has been a critical support system for the show host. Their commitment and loyalty speak volumes. But, how did it all begin?
A young-looking Winfrey met Graham at a Chicago charity event in 1986. The TV host once said she noticed the entrepreneur moving around town with his girlfriend, but they found themselves single at a friend's house one day.
The duo decided to step out and have a chat. Winfrey once reflected on their first interaction, noting she was not overly impressed at first, although she found him handsome, too handsome to be interested in her.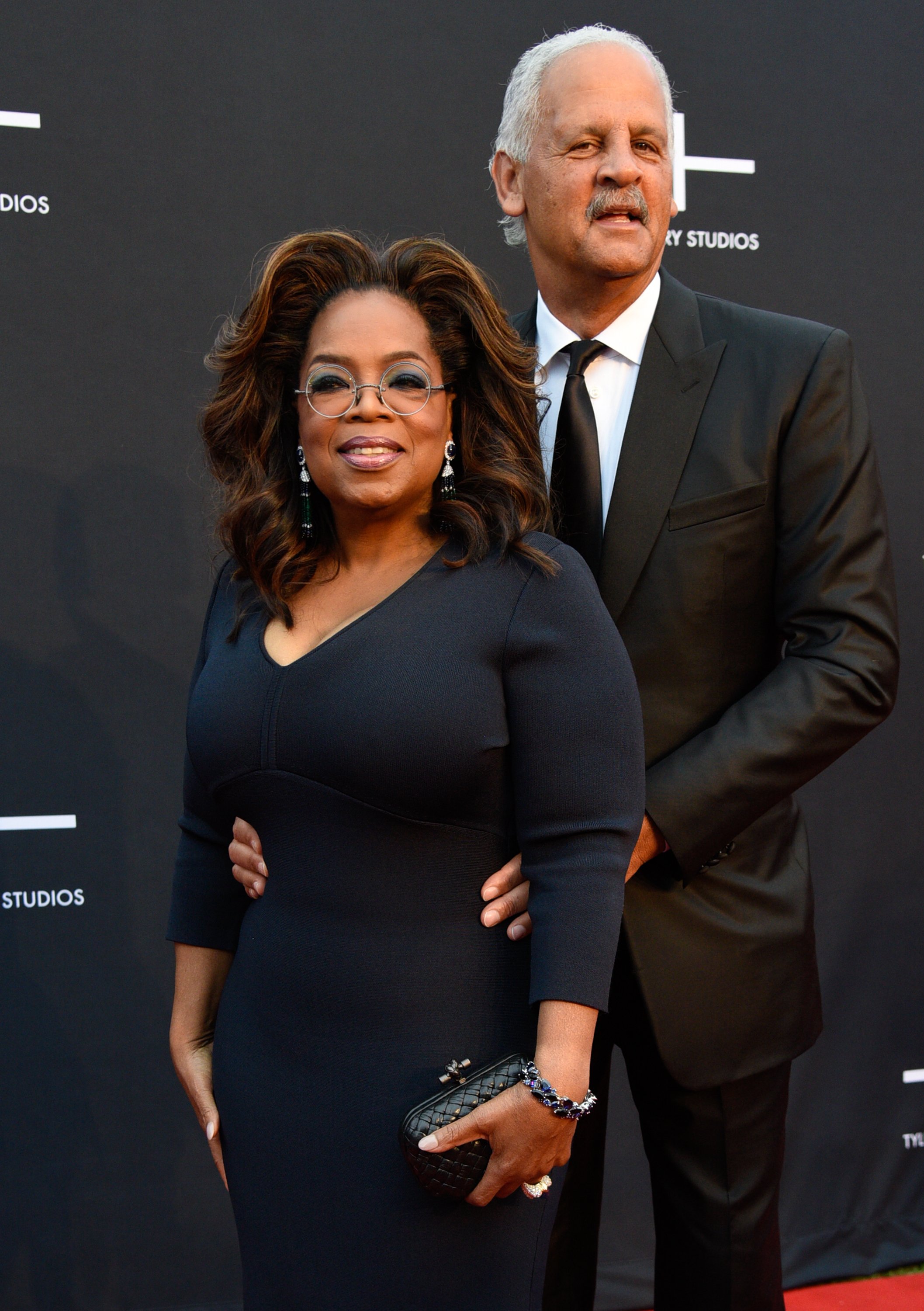 Oprah Winfrey and Stedman Graham attend Tyler Perry Studios grand opening gala on October 05, 2019 | Photo: Getty Images
Recalling the moment, Winfrey said, "We left together, and I asked if he wanted to get a beer. (Yes, I drank a lot of beer then and wore cowboy boots every day.) He said he didn't drink. (Still doesn't—not one sip of nothin' alcoholic since I've known him)."
The media mogul continued," I thought he was nice enough, but I wasn't that impressed. He was polite, yes, and kind. The sort of guy who sits with an ailing friend. Tall and handsome, for sure. But actually too handsome, I thought, to be interested in me."
Before meeting Winfrey, Graham was married to Glenda, with whom he had a daughter, Wendy, in 1974. However, the "Oprah Winfrey Network" producer said to People magazine that her producers were wary of the former athlete and sportswear model. They thought he was a fraud.
IT TOOK SIX YEARS BEFORE STEDMAN STARTED KEEPING "A TOOTHBRUSH AT [HER] APARTMENT"
At first, Winfrey said she did not jump into a relationship with Graham. Her friends advised her to keep things simple with him until she was sure he was single and genuine.
The duo only began dating after Winfrey was sure she had made the right choice. However, gaining the trust of one of the most influential black women in the world isn't an ordinary feat. It took months for Graham to prove his loyalty and support.
Winfrey later remarked that Graham was not one of those who wanted to ride in a limo, but instead, he was willing to "run and catch the bus" with her.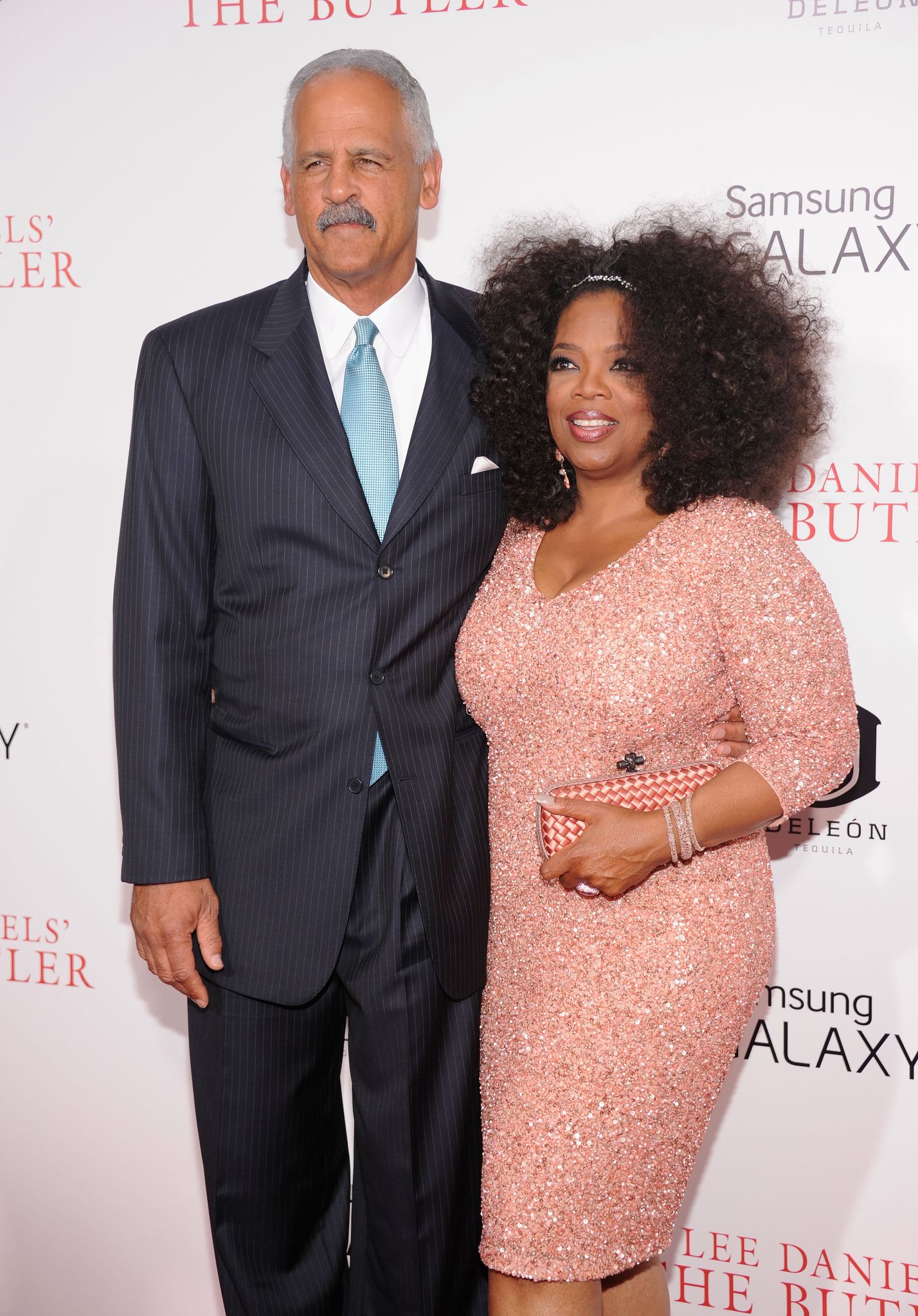 Stedman Graham and Oprah Winfrey arrive on the red carpet for the premiere of "The Butler" on August 5, 2013 | Photo: Getty Images
During the early months of their relationship, Graham traveled on weekends from his humble High Point apartment to her luxurious condo on Chicago's Gold Coast.
Winfrey was headlining her show, "The Oprah Winfrey Show," at the time. Graham began spending more time in Chicago, working with the non-profit Athletes Against Drugs, which he founded.
Things progressed sweetly between the lovers, but they made sure to safeguard their relationship from the prying eyes of the media. However, Graham sometimes made unannounced appearances on her show.
Graham made a surprise appearance on Winfrey's show during a viewer Q&A. He dialed in to see whether Winfrey would spill the beans on what she told her close buddy Gayle King about their relationship.
Winfrey and Graham's romance has been a sweet journey, but one with its fair share of controversies. First, the couple had to deal with media storms, including a false allegation that Graham was having an affair with Winfrey's hairdresser, which a Chicago columnist spread.
The columnist, Ann Gerber, swiftly issued a retraction and apologized to Winfrey. The lovebirds have had several milestone moments in their relationship. One such moment came in 1991 when Winfrey finally allowed Graham to keep a toothbrush in her house after six years of dating.
Their 1992 proposal was another big moment in their lives. For years, Winfrey had been quizzed on her marriage plans. However, she gave no affirmative response until their engagement in 1992.
The former athlete proposed to Winfrey in style. Winfrey was waiting for Graham to arrive from Chicago and was hanging out in her kitchen with Gayle King. She stepped outside to meet Graham and was stunned when he proposed to her.
Their conversation seemed too casual for a proposal. The pair kept their engagement a secret for a few weeks until Winfrey revealed it during a November guest appearance on King's TV show.
WHY OPRAH WILL NEVER MARRY STEDMAN
In her 2020 piece about her romance with Graham, Winfrey recalled the instant joy of being proposed to and then realized she loved her relationship with him as it was.
The media mogul realized she had doubts about being married. In addition, the 68-year-old said she did not want to make the sacrifices of being married. For Winfrey, her show was her priority.
Despite pressure from her famous friends like Tina Turner, Winfrey believes marriage is not for her. However, after attending Turner's wedding in Germany, the show host considered marrying Graham but had a change of heart.
Winfrey admits that she and Graham would not have lasted if they had married. But, according to the media star, her relationship with the former model is so odd that it wouldn't have fit inside the boundaries of marriage.
Winfrey said of her decision to stay unmarried, "If you ever interviewed him, he would tell you that had we married, we would not be together today. Because he's a traditional man, and this is a very untraditional relationship." The show host believes she does not fit in with the demands of a "wife."
UNCONVENTIONAL RELATIONSHIP
Although they never got married, Winfrey and Graham enjoy a supportive relationship. According to the longtime presenter, her boyfriend respects her fame and never tries to compete.
Speaking of their relationship, Winfrey said, "I happen to be with a man who has always appreciated the fact that I was...considered a powerful person. [He's] not trying to crowd in on it, not competing with it. He knows how to hold his own."
Although she struggled with her physical appearance, Winfrey said Graham was supportive and helped build her confidence. The TV legend remarkably shed some weight but claimed it was not done for her boyfriend.
Winfrey said she did it for herself, even though she loves Graham. She said, "I love Stedman very much. And he cares about me and has been very supportive of me, fat and thin."
Winfrey believes weight loss should be self-motivated. But, she added, "I did not do this for Stedman...You know you cannot do it [lose weight] for anybody but yourself."
The couple is now grandparents to Wendy's child, and the experience has been a lovely one for Winfrey. The media mogul loves her world just the way it is.
Please fill in your e-mail so we can share with you our top stories!