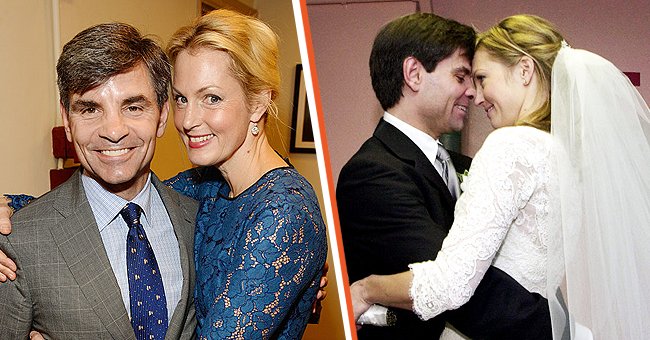 Getty Images
George Stephanopoulos Proposed to Wife in 2 Weeks - He Is 'Always Wrong' & She Has a 'Boyfriend'
Despite getting engaged two weeks after their first meeting, George Stephanopoulos and Ali Wentworth have been married for two decades and are still going strong. Meet the beautiful couple.
American television host George Stephanopoulos is married to actress and comedian Ali Wentworth. The chief anchor and political correspondent for ABC News met the "Office Space" star during unique circumstances.
Stephanopoulos and Wentworth have been married for 20 years and remain a closely-knit couple. Find out details of their crazy love story.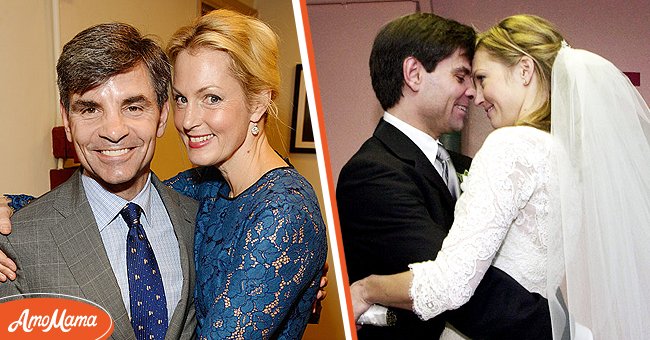 Photo of couple George Stephanopoulos and his wife Ali Wentworth at an event. [Left] | Photo of couple George Stephanopoulos and his wife Ali Wentworth on their wedding day. [Right] | Photo: Getty Images
Wentworth discussed her relationship with Stephanopoulos during an appearance on "Live with Kelly and Ryan" in 2020. During the interview, Wentworth revealed she lived in Los Angeles when she met Stephanopoulos.
Then, she had a crush on Hugh Grant and desired to date him despite never meeting him. Also, she wanted to date a dentist or someone other than an actor or agent in L.A. However, that did not happen.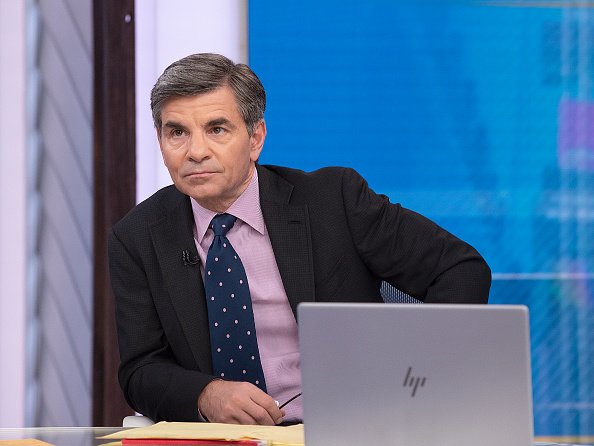 George Stephanopolous on "Good Morning America" on March 3, 2020. | Photo: Getty Images
Instead, someone wanted to set her up for a date with Stephanopoulos, but she rejected the idea immediately. When asked why she refused the chance to go on a date with Stephanopoulos, Wentworth said:
"Because I grew up in D.C. in politics and I couldn't get out of there fast enough and you know here like Matthew Perry lives a block away and they're offering me up George Stephanopoulos, the press secretary from the White House."
Wentworth further revealed that she and Stephanopoulos's first date was a blind date set up by his old girlfriend, who did not think things would work out between them.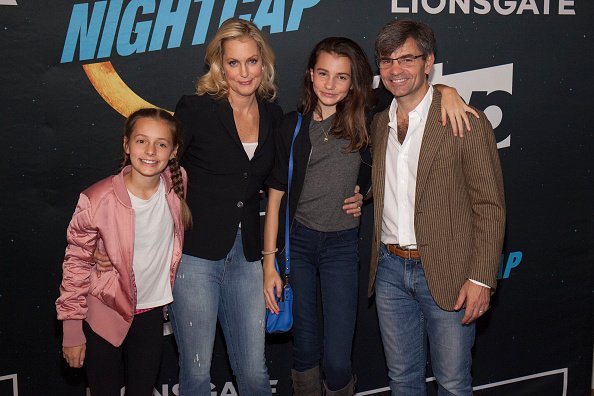 Ali Wentworth, George Stephanopolous, daughters Harper and Elliott Stephanopolous at Crosby Street Hotel on November 15, 2016 in New York City. | Photo: Getty Images
Stephanopoulos lived in New York, which complicated their chances further because Wentworth lived in L.A. However, he called her, and she told him she was coming to New York in a couple of months.
She suggested they have coffee, but he said dinner instead, which she felt was too much commitment and rejected. Eventually, she came to New York, and they decided on lunch.
They met at Barneys, and both ordered crab salad. Instantly, they asked each other what antidepressants they were on and found out they used the same.
At the end of their date, Stephanopoulos shook her hand and said, "It was really nice to meet you." Initially, she thought his gesture meant that he did not like her, but she learned later that it was his way of showing his emotions.
Later that night, he called her, and she did not play hard to get. He asked if she would love to have dinner the following night, and she agreed. They went out again, after which she went out with her mom and sister. She talked to him on the phone that whole weekend.
Stephanopoulos gave his view of his first date with Wentworth during a chat with The New York Times. His friend, Ms. Peterson, set them up on a blind date.
He revealed that he forgot to eat his lunch once he and Wentworth started talking. Also, he said he knew within 24 hours that he would not ever dare risk losing her. He confessed:
"You know how when you go on a date and the first 15 minutes are on automatic pilot? About 15 minutes in, she just leaned in and said something, and we were suddenly in another place, in another universe, immediately. We went from strangers to friends to being in love in days."
Stephanopoulos proposed to Wentworth two weeks after meeting her. They got married in the same year, in November 2001, in a ceremony performed by Wentworth's father.
THE COUPLE'S MARRIAGE AND ALI'S BOYFRIEND
Since tying the knot in 2001, Stephanopoulos and Wentworth have stayed together and continue going strong in their marriage.
Being together for two decades in Hollywood is easier said than done, but they have done so almost perfectly. Hence, it is not surprising that many wish to know the secret to their happy marriage.
Wentworth and Stephanopoulos shared the secret to their long-term marriage when she appeared on ABC's "Good Morning America" to discuss her book "Go Ask Ali" while he co-anchored.
"Good Morning America" co-host Michael Strahan asked the couple the secret to their marriage, and Wentworth, in her natural comical self, replied: "What is the secret… I'm always right and he's always wrong."
Wentworth joked that she thinks it is hard for her husband in some ways because she is a lingerie model and all about being sexy. She added that Stephanopoulos is very smart sometimes. She also said:
"I think humor. I think we are hot for each other. I think that helps."
In "Go Ask Ali," Wentworth revealed she had a boyfriend and was asked about it during the interview. The boyfriend she referred to is her dog. So she replied:
"Let's be honest that's a secret to a great marriage. I think that Petco should have a perimenopause adoption day."
Wentworth continued, "I don't know why women after years of marriage go out and have an affair or do rejuvenation. Get a dog!" The best-selling author also revealed that her husband calls the dog her boyfriend, saying: "It's unconditional love that George calls my boyfriend."
In a reported interview, Wentworth described Stephanopoulos as her straight guy. She said,
"He's not funny per se, but I can make fun of him and he can laugh at that. If I had a husband that was like, 'stop it,' I wouldn't have married him. No. George can fall off the bed laughing at something that's amusing."
MEET GEORGE AND ALI'S KIDS
Stephanopoulos and Wentworth are parents to two daughters. They welcomed their oldest daughter Elliot Anastasia in September 2002, while their second daughter Harper Andrea was born in June 2005.
The beautiful couple has often gushed over their daughters in public. Also, Wentworth shares pictures of some of their special moments on social media. Wentworth once described their daughters, saying per HollywoodLife:
"The older one who looks like George, she's more serious, but she likes to laugh. The younger one, unfortunately, is turning into me. The thing is, it's instinctual. You can't teach anybody to be funny. She kinda has it, which is great."
Wentworth once described their daughters, saying Elliot looks like George and is more serious but likes to laugh. She added that Harper is turning into her, looks like her, and is very funny.
In June 2021, Wentworth celebrated her oldest daughter's prom by sharing a picture of Elliot and Stephanopoulos. Elliot wore an elegant black gown in the snapshot and smiled as she posed beside her father. Wentworth captioned the post:
"Prom night! That is not her date...."
Earlier, Wentworth opened up to Ryan Seacrest about the struggle she went through to pick out Elliot's dress and joked that she basically reminded the teenager that it was not the Met Ball or her wedding.
Wentworth and Stephanopoulos have busy schedules because of their careers, but it does not stop the couple from keeping to some rituals.
One of their rituals is going to bed simultaneously every day to feel more connected. Wentworth revealed she consciously decided to go to bed with her husband when he got his job.
She did that because he wakes up at 2:30 in the morning while she wakes up with the kids at 6 AM. Wentworth said she felt like if she did not get to bed with her husband or wake up with him, then he was just her roommate.
Also, Wentworth has revealed her husband's special ritual of kissing her and their daughters before leaving for work early in the morning.
However, she complained that the ritual was too complicated, especially because it woke her up early due to him not finding her in their darkroom.
On January 12, 2022, Wentworth celebrated her 57th birthday with her husband. She shared a picture of them posing with her delicious-looking birthday cake. She captioned the post:
"That's a wrap on this year's birthday. Now back to cleaning up dog poop, taking rapid tests, laundry and endless Zooms…. Do better 2022!"
Stephanopoulos and Wentworth are still very much in love, and it is so impressive to see. One only hopes the couple and their adorable daughters will have more beautiful moments to share.
Please fill in your e-mail so we can share with you our top stories!