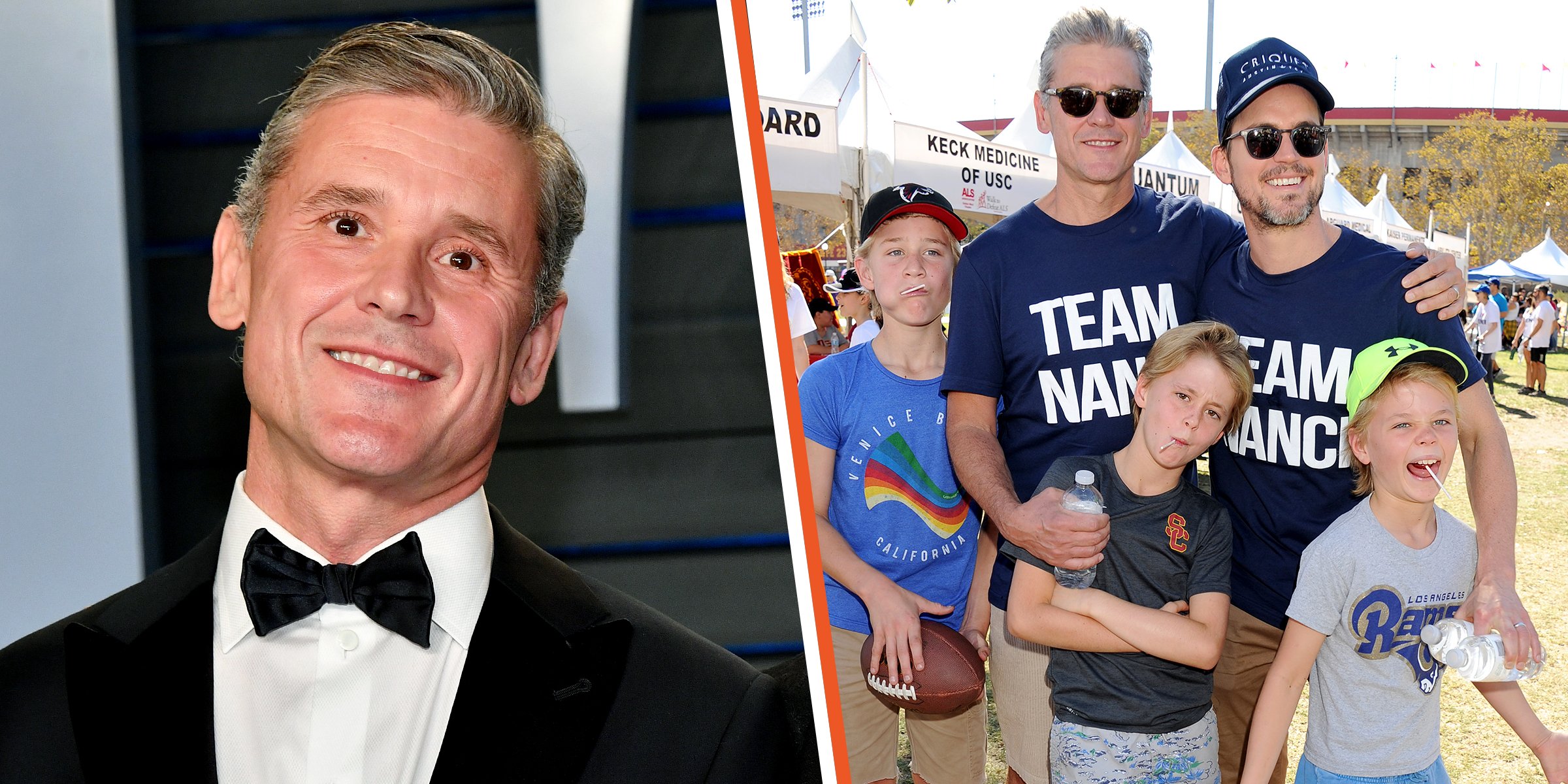 Getty Images
Simon Halls Is a Major Hollywood Publicist and Matt Bomer's Husband - Meet the Father of Three

Simon Hall may be the husband of actor Matt Bomer, but he chooses to live a private life. Although known in the entertainment business, Hall does not work with his husband.
Many have known Simon Halls as Matt Bomber's husband since 2011, but there's more to him than meets the eye. Halls is well known in the entertainment industry but remains very private.
He rarely steps into the spotlight and isn't active on social media. His wedding to the actor was kept a secret for a few years. Nevertheless, there are some known facts about him.
SIMON HALLS IS A SUCCESSFUL PUBLICIST
Born on January 12, 1964, Halls hails from Toronto, Canada but relocated to Los Angeles to receive his education at the University of Southern California.
After graduating, he started his career at Warner Brothers and then worked as a public manager in Russia for their pioneer McDonald's branch.
When he returned to the US in 1995, Halls founded Huvane Baum Halls, a Hollywood agency he would later sell to the Interpublic Group. The industry's PMK later merged with Huvane, making its CEO, Halls, the captain behind the ship.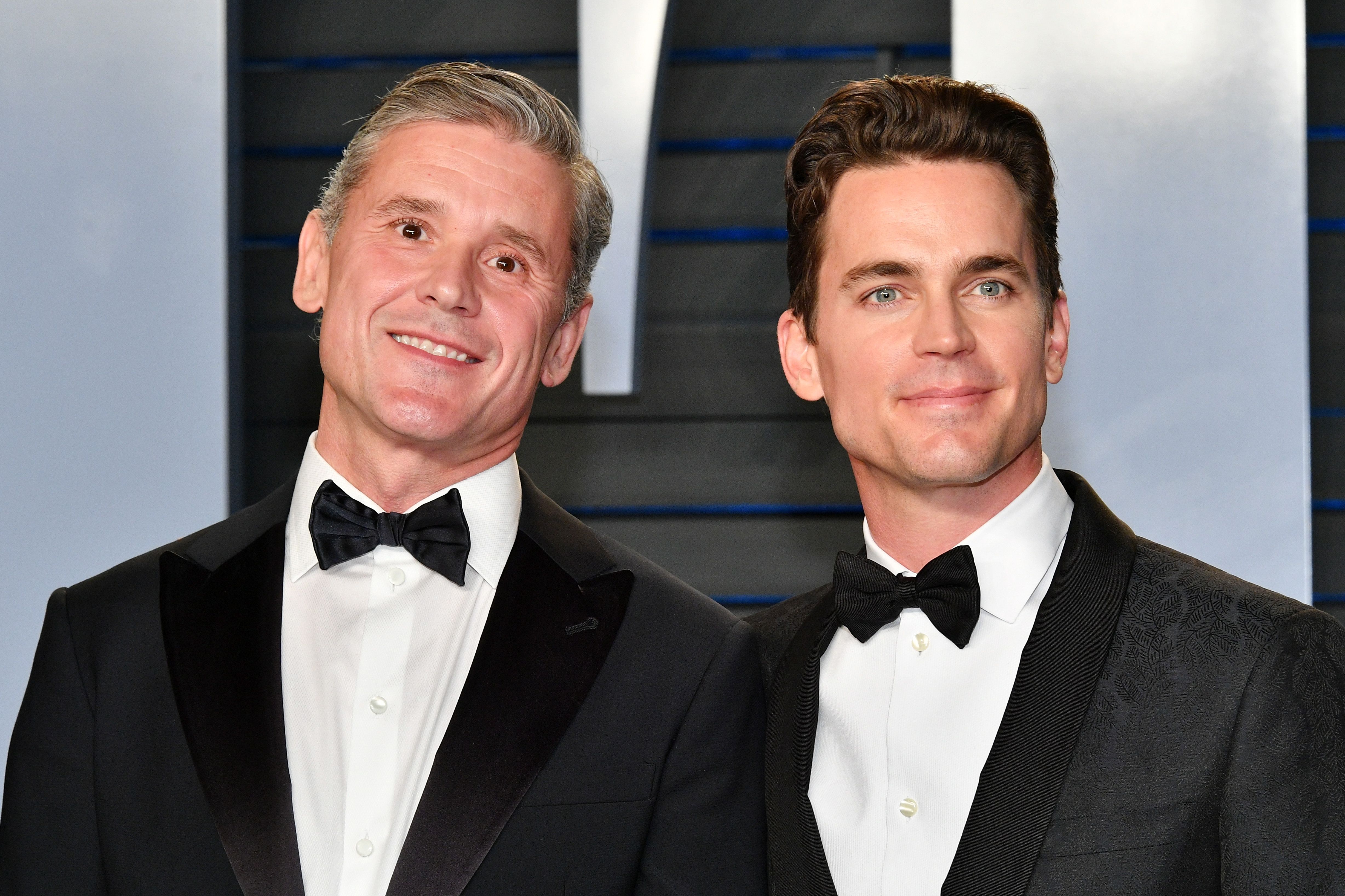 Simon Halls and Matt Bomer during the 2018 Vanity Fair Oscar Party hosted by Radhika Jones at Wallis Annenberg Center for the Performing Arts on March 4, 2018, in Beverly Hills, California. | Source: Getty Images
During his time as CEO, Halls oversaw the Oscar campaigns for several award-winning movies, including Gladiator and Brokeback Mountain.
His prolific career brought him much recognition, especially for his "American Beauty" and "Crouching Tiger, Hidden Dragon" campaigns. With a business mind, he founded another company, Slate PR, in New York and Los Angeles.
He is an influential publicist and concerns himself with managing media campaigns for Neil Patrick Harris and Jude Law. Halls stays away from his partner's business and does not represent Bomer despite his knowledge of the media and entertainment business.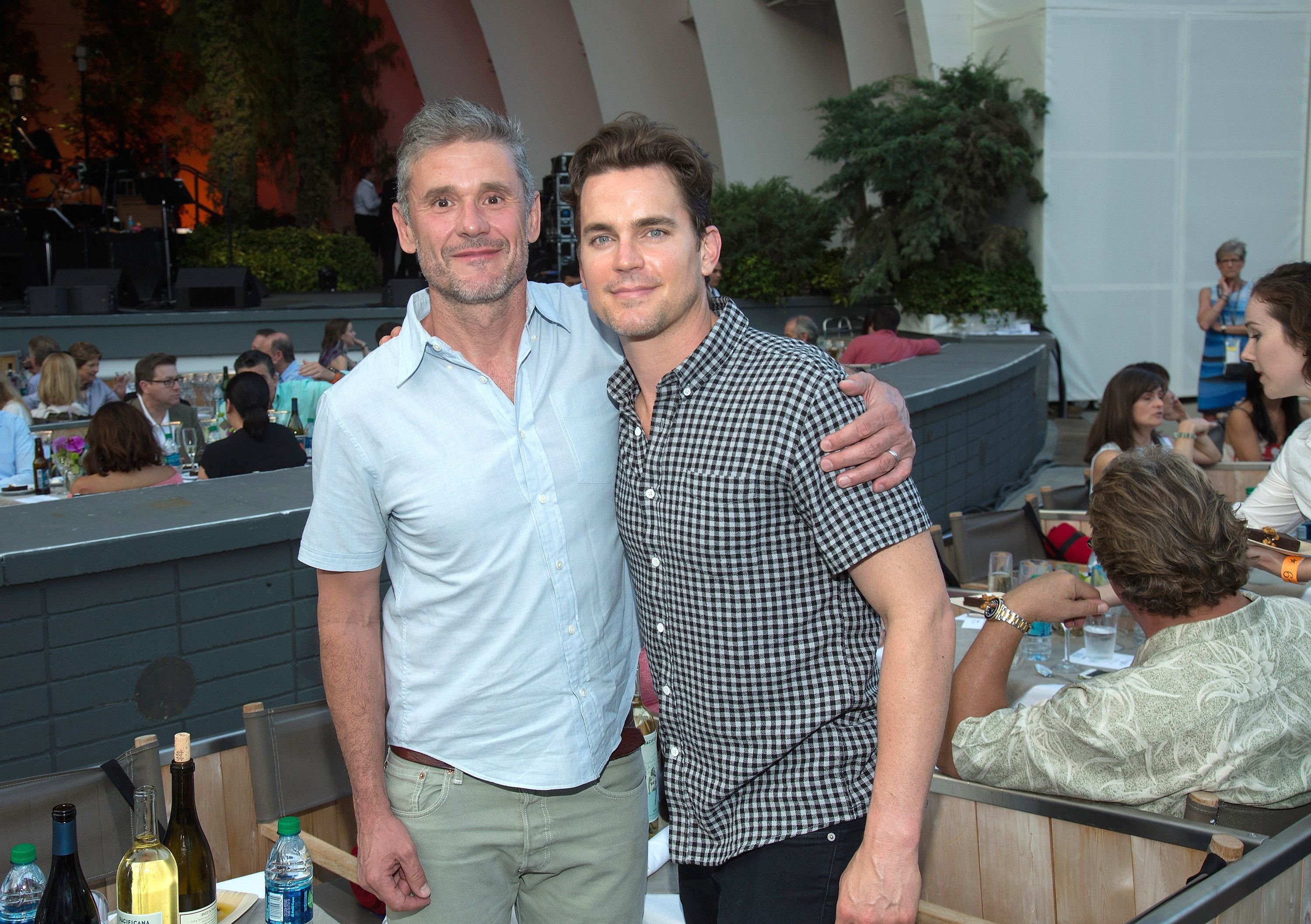 Simon Halls and Matt Bomer during the Hollywood Bowl opening night at the Hollywood Bowl on June 18, 2016, in Hollywood, California. | Source: Getty Images
Although he seeks counsel from his intelligent partner, the actor explained that they limit the amount of work stuff discussed in their home because they prefer to focus on engaging in events that directly concern their kids and family.
Halls' abundance of success in life allowed him to carry out philanthropic deeds. He was awarded the Ambassador of Children title at the Norma Jean Gala. Bomer, who also received the recognition, said in a joint statement with Halls:
"We are so honored to be recognized by Uplift Family Services at Holly grove in this way and are in awe of the work that they do to support children and families in need."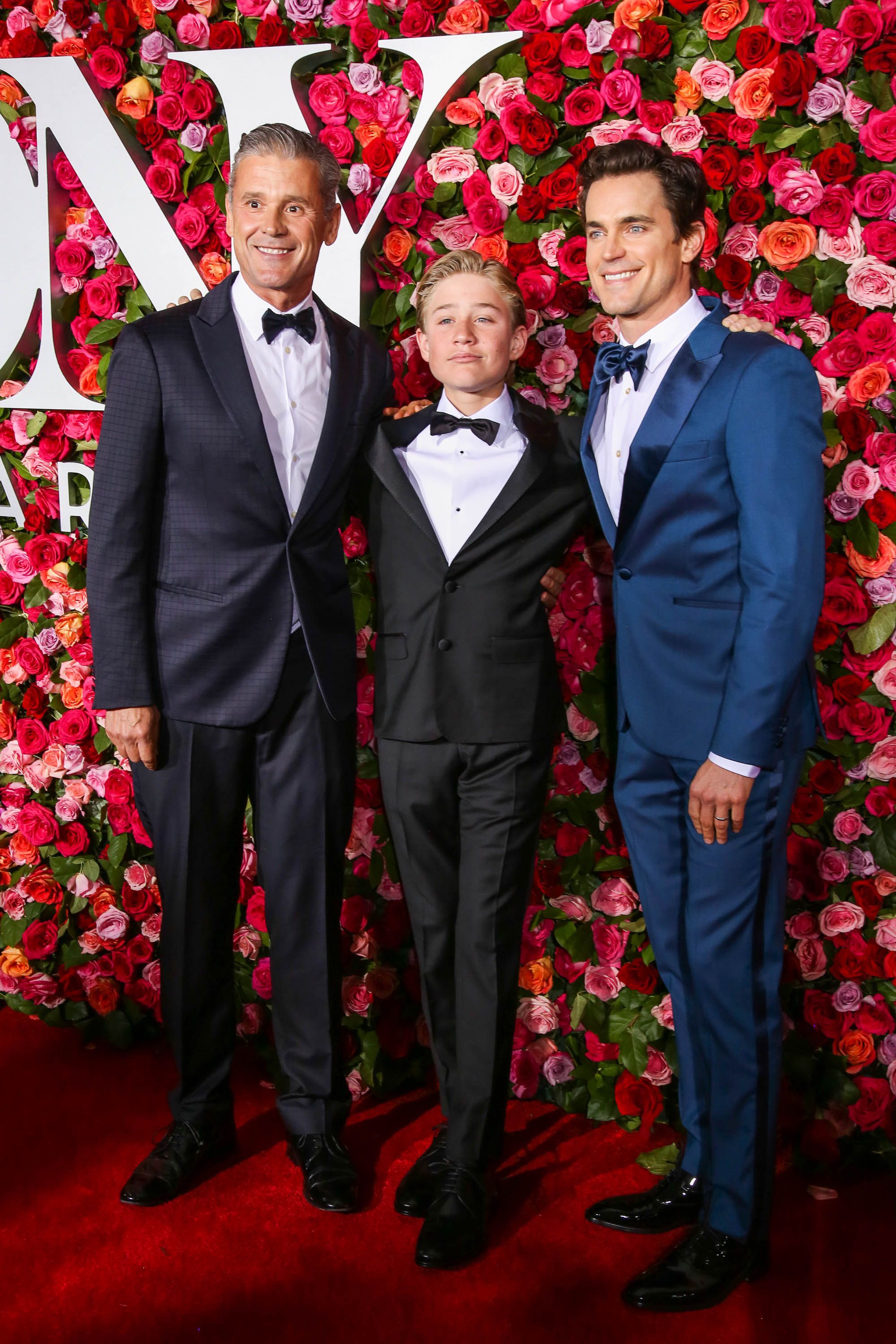 Simon Halls, Kit Halls and Matt Bomer during the 72nd Annual Tony Awards at Radio City Music Hall on June 10, 2018, in New York City. | Source: Getty Images
Other charitable organizations Halls supports include the Project ALS of Los Angeles, a cause close to his heart after his mentor and friend, Nanci Ryder, was diagnosed and died of the disease.
SIMON HALLS AND MATT BOMER MARRIED IN 2011
Halls met the love of his life through work when Bomer hired Halls as a publicist. They immediately hit it off and dated shortly after. The "White Collar" actor eventually had to find a new publicist, but he gained something even better – a life partner.
In 2011, news of Matt Bomer's sexuality was made public; he married the love of his life. Their wedding was an intimate affair held in New York and is described as a very chill event by the actor, who gushed about the big day with only their "nearest and dearest" present.
"There's a security, validity of knowing that it's legal," Bomer said. "It's hard to put into words. It's just a feeling; I guess – something about saying vows in front of the people around you who love and support you."
He revealed that it was a blissful experience exchanging vows in front of an audience that supports and loves them unconditionally, which was suitable for their family. It wasn't until 2014 that they shared their wedding with the public.
As his fame increased, many poked into his personal life and background, and rumors that he is gay made the rounds. In 2010, Bomer addressed it in an interview; he maintained that the news did not bother him.
At this time, he was already in a fairy tale romance with Simon Halls, and they shared three adorable boys. He was also increasingly vocal about marriage equality and was actively pushing for AIDs advocacy.
SIMON HALL AND MATT BOMER ARE PARENTS OF THREE BOYS
The couple shares three children, all born through a surrogate mother. In 2005, they welcomed Kit Halls, their eldest son, a sports fan, cheering for the San Francisco 49ers.
Three years later, they welcomed twin boys, Henry and Walker, who stay away from the spotlight. However, Henry walked the 2019 Tony Awards red carpet with his father.
In 2008, Halls expressed that parenthood was fun and that many people, including the parents at his first son's school, were receptive when they noticed that the couple would add twin boys to the family via surrogacy.
A few years later, Bomer explained that he would champion his kids to have a normal childhood, similar to his, despite their backgrounds.
The father of three added that he was excited to be born at a time like this when the world is more willing to accept people irrespective of their backgrounds, sexualities, and genders.
He is also grateful to be a father because, since experiencing parenthood, he has been able to restructure his schedule and life patterns.
Now, rather than worry about work stuff or what the media projects more often, he is concerned with giving his kids optimum attention and fulfilling fatherly duties, which involves spending time with the boys.
Some of these moments are documented and shared online. Although it does not happen very often, it proves that Bomer does not mind sharing his happiness with the world despite the commitment to staying under the radar.
SIMON HALLS AND MATT BOMER'S SECRET TO A HAPPY MARRIAGE
Even in their bid to hide essential details concerning their marriage, Bomer is proud and confidently publicly talks about his happy family life.
In 2012, during one of his activist movements, at an AIDS Project event in Palm Springs, he poured out a heart of gratitude to his beautiful family and mentioned his partner and their three kids, Kit, Walker, and Henry.
At the event, Halls was thrilled that his husband appreciated their family, which made him proud to be associated with Bomer.
Thankfully, Halls has nothing to worry about as his lover is conscious about making their marriage work and preserving it forever. The "The Normal Heart" alum explained that he learned the concept of their successful union from his grandparents.
Bomer was curious to know the source of their joy, so he urged his grandparents to let out the secret to their happy marriage, and they revealed that it was all about taking it one day at a time.
It has been the leading formula to his binding love with Halls. They also prioritize their family's happiness and safety, which makes them a couple worthy of emulating.
MATT BOMER GOT INTO ACTING AT 17
Matt Bomer's father was a successful sports player who worked with the Dallas Cowboys. His son, also skilled in football, took a liking to act at a young age.
Bomer's childhood was full of love, and he was raised by church-going parents who made sure to provide a sane and healthy space for their children.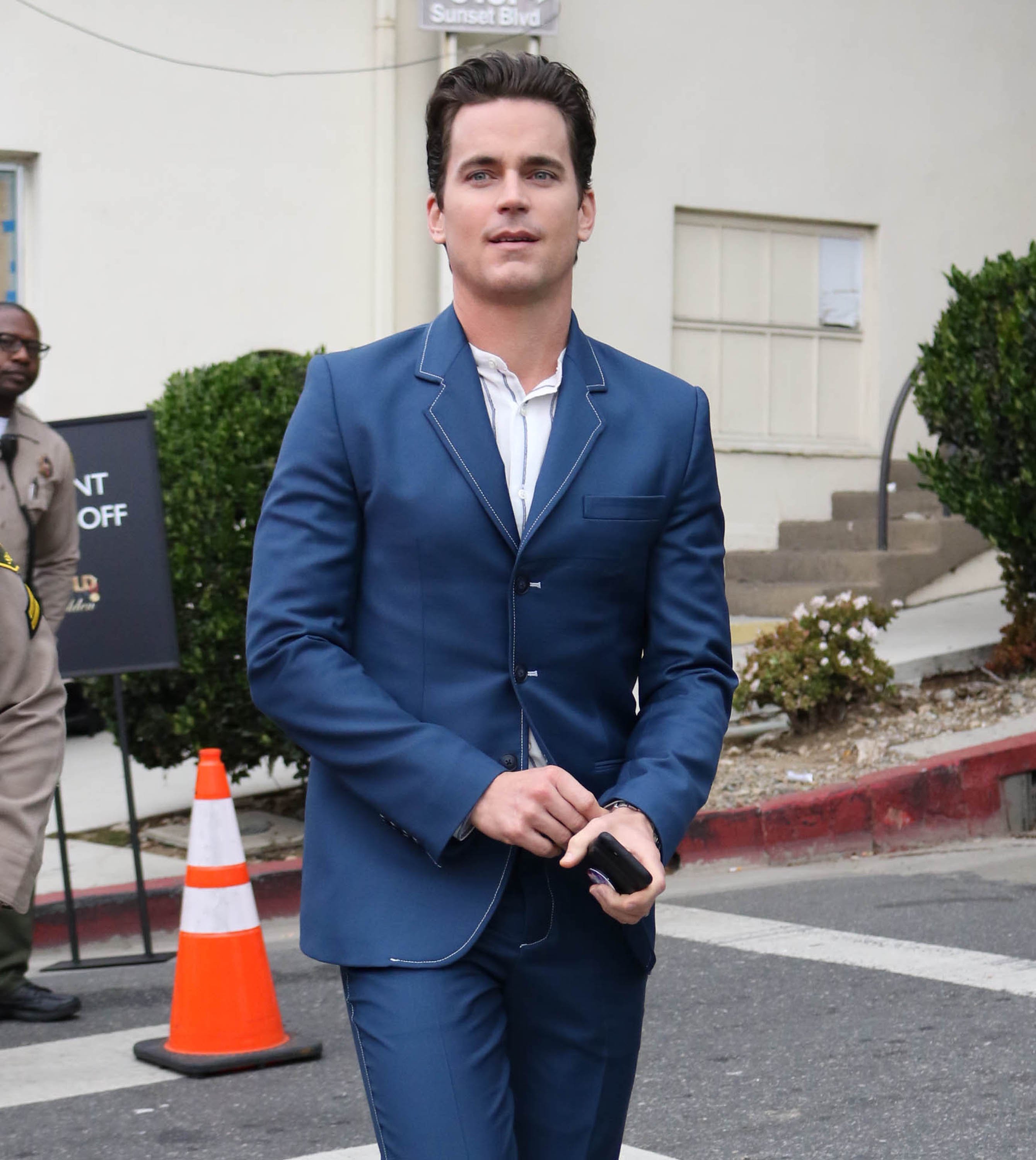 Matt Bomer is seen on January 5, 2019, in Los Angeles, CA | Source: Getty Images
Bomer grew up unaware of health crisis challenges such as AIDS because he lived a somewhat sheltered life; he was also unaware of his true sexuality until he immersed himself in Larry Kramer's "The Normal Heart."
After reading the book, a text focused on the struggles of two gay lovers (an activist and a New York Times reporter), the injustice against men who loved each other, and their seemingly inconsequential deaths, a new man was born.
Bomer got familiar with the struggles of homophobic men but also became acquainted with acting. At 17, he left his school's football team to act in the Alley Theatre.
The determined teenager later left his hometown in Texas to pursue a career in acting. Still, he first studied at the renowned Carnegie Mellon theater in Pittsburgh, after which he started to pad his resume.
While Bomer acquired a new set of classical acting skills, he also reinvented himself, accepted his sexuality, and was proud to be associated as a man who was interested in men.
His friends accepted him and became a part of his movement—to be widely accepted. Likewise, according to the actor, his family took longer for his religious family to choose love over their faith. Still, they accepted his choices.
Bomer has also featured in TV series and other onscreen productions, including "Guiding Light," "True Calling, "Chuck," "Traveler," "White Collar," and he starred in Ryan Murphy's "The Normal Heart" based on the book.
Please fill in your e-mail so we can share with you our top stories!