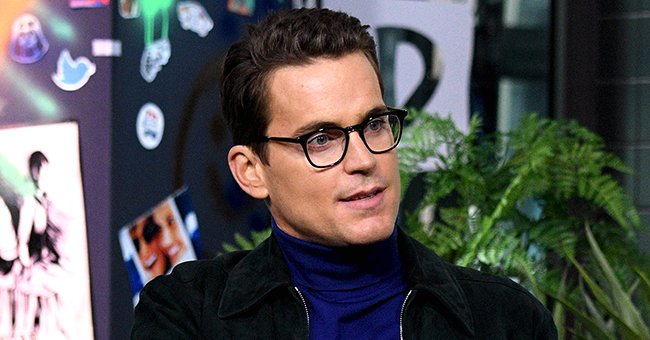 Getty Images
Matt Bomer Became Estranged From Religious Parents after Coming Out as Gay: 'It's a Struggle'
Matt Bomer has won the hearts of many with his charm and square face and with daring roles in projects such as "White Collar," "Magic Mike," and "American Horror Story."
After Matt Bomer shocked the world with his coming out in February 2012, he wrote a letter to his parents, and they didn't speak to him for six months.
He knew coming out wasn't going to be easy for everyone around him to digest, and so, rather than cut people off, he has been empathetic with them.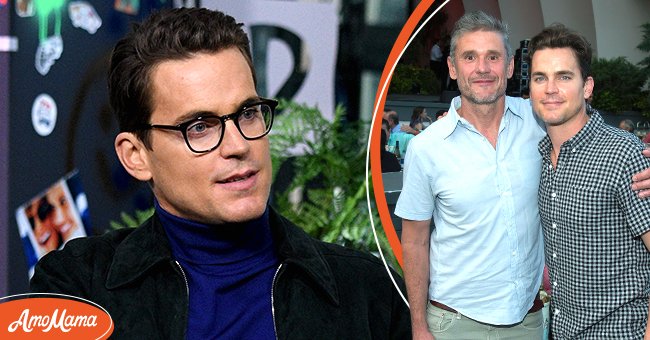 Matt Bomer at the Build series to discuss the USA Network Series "The Sinner" Season 3 on January 28, 2020, in New York (left), Simon Halls and Matt Bomer at the Hollywood Bowl opening night on June 18, 2016, in Hollywood (right) | Photo: Getty Images
Matthew Staton Bomer, popularly known as Matt Bomer, was born on October 11, 1977, to Elizabeth Macy and John O'Neill Bomer IV, a Dallas Cowboys draft pick.
Bomer, who always had an active imagination as a child, attended Klein High School. He followed in his father's footsteps by playing wide receiver and defensive back for his school's football team before concentrating on acting.
At 17, he made his professional stage in "A Streetcar Named Desire," staged by the Alley Theatre. He then attended Carnegie Mellon University and graduated with a Bachelor of Fine Arts degree in 2001.
Shortly after graduation, he moved to New York, worked in theater, and got his first T.V. role in "All My Children." He got a contract in the soap opera "Guiding Light" and left the show in 2003.
The first role that made him known to the world came in 2003 when he played the role of Luc Johnson in the T.V. series "Tru Calling." He made his screen debut with the mystery thriller "Flightplan" in 2005.
In 2007, he played his first leading role in the series "Traveler" before playing the lead in "White Collar," which aired from 2009 to 2014.
As for his private life, Bomer publicly announced his sexual orientation on February 11, 2012, when he received the New Generation Arts and Activism Award at the Steve Chase Humanitarian Awards.
Simon Halls is a Hollywood publicist that was born on January 12, 1964. In 1986, Halls graduated from the University of Southern California.
He started his career with Warner Bros and was the publicist for the first McDonald's in Russia before moving back to L.A. He has managed Oscar campaigns for movies such as "American Beauty," "Gladiator," and others.
Besides managing Oscar campaigns, he boasts of A-list clients such as Sarah Jessica Parker, Jude Law, and Coen Brothers. During the 2016 presidential election, he worked for Hillary Clinton.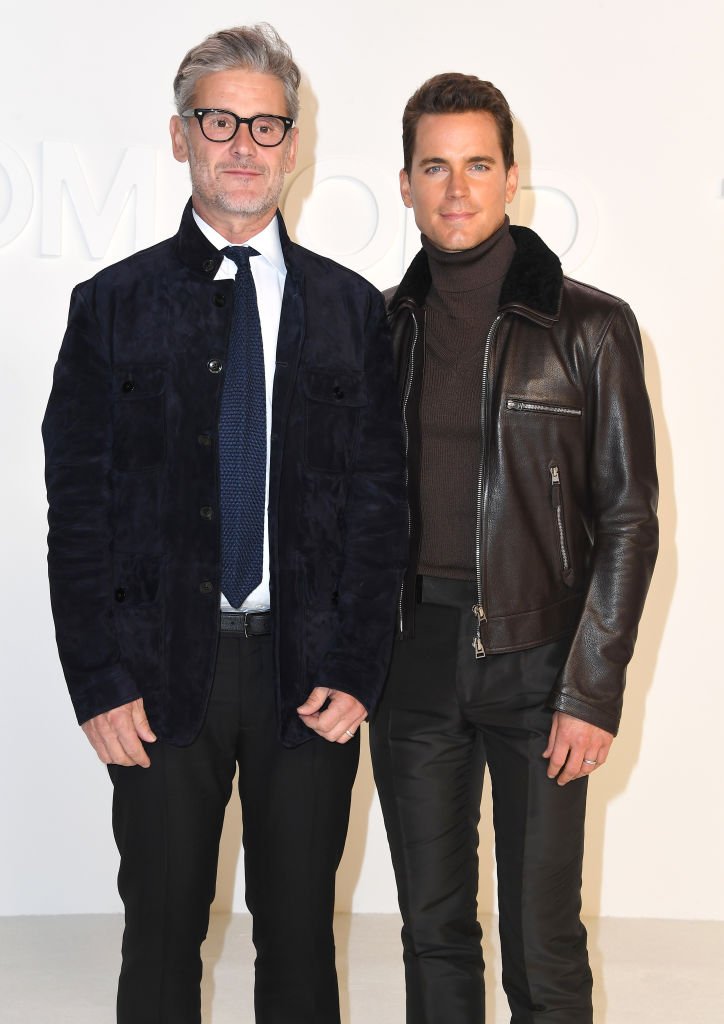 Simon Halls and Matt Bomer at the Tom Ford AW20 Show on February 07, 2020, in Hollywood | Photo: Getty Images
HALLS AND BOMER'S RELATIONSHIP
Bomer and Halls first met in 2008 when Halls was hired as Bomer's publicist. They had an instant connection and began dating. When they first met, Bomer already had a 3-year-old son, Kit.
It's no secret that Bomer prefers to keep his family life as private as possible. The two secretly got married in 2011, and in 2012, Bomer revealed his sexuality to the public.
Bomer acknowledged his romantic relationship with Halls when he thanked Halls and their kids during his acceptance speech at the 2012 Steve Chase Humanitarian Awards ceremony.
It was a courageous and liberating gesture for Bomer. Bomer had hoped to live with Halls as a couple from that moment on without having to hide anymore.
The couple had gotten married in a "very chill," modest, small, private ceremony attended by their nearest and dearest. Bomer revealed that marriage gives the security and validity that their union is legal.
DIFFICULTIES BOMER FACED AFTER COMING OUT
Bomer was raised in a conservative Christian household and was not allowed to watch anything deemed "secular" on T.V. When he came out to his parents, they struggled with his truth.
Before coming out to his parents, he first came out to himself. He saw a hair and makeup artist at Utah Shakespeare Festival who was living their truth, and it inspired him.
After he had graduated from high school and before he left for college, he wrote a letter to his parents as he couldn't have an in-person discussion with them.
Bomer revealed that he would have lost his sense of direction if he had tried to discuss it with them in person. He also waited until he was about to go to college so he could have an exit strategy.
As he left for college, his parents didn't speak to him for six months, and when he went back home, they had the blowup he had always feared would happen.
Once that was over, they started figuring out how to love each other. It was initially a struggle, but within a few years, they began to figure it out.
Bomer grew up in the 1980s and 1990s and is struck by the generational difference in attitudes today as children don't bat an eyelid as their boys have two dads.
Bomer and Matt are proud fathers of three sons who were conceived through surrogacy. Kit Halls was born in 2005, and then twin brothers Walker and Henry Halls were born in 2008.
Bomer knows the vast responsibility that comes with parenting and knows that balancing the acts is vital. He wants to shape the souls of his children without changing how they came into the world.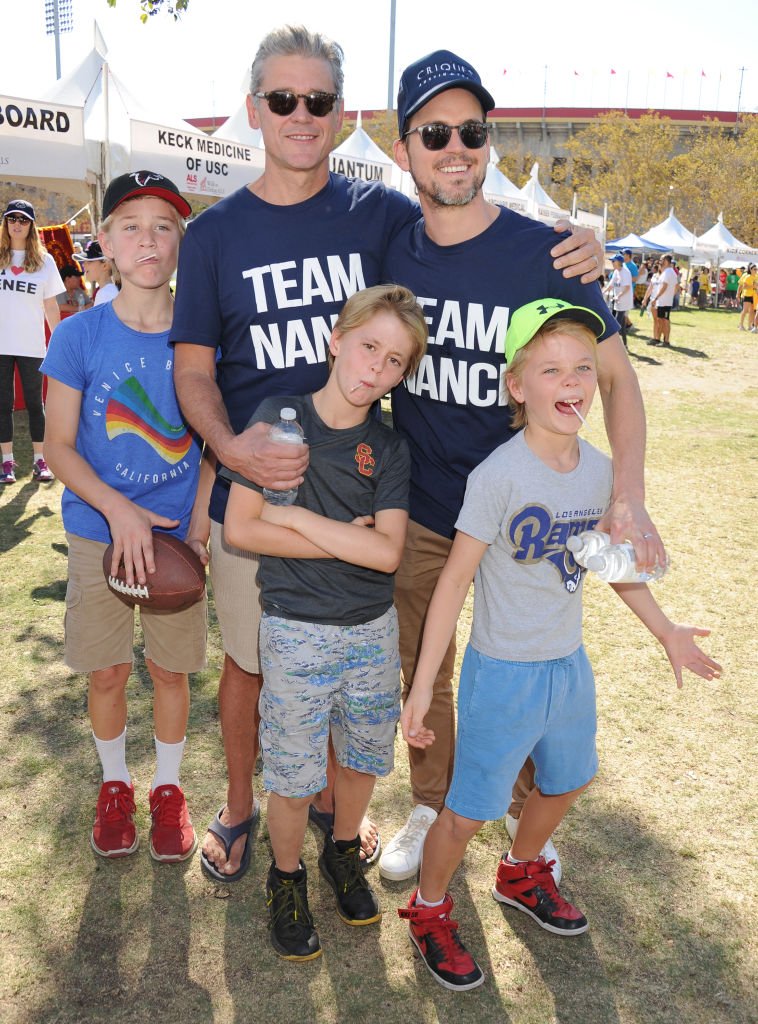 Simon Halls, Matt Bomer, Kits Halls, Henry Halls, and Walker Halls attend Nanci Ryder's "Team Nanci" 15th Annual LA County Walk To Defeat ALS at Exposition Park on October 15, 2017, in Los Angeles | Photo: Getty Images
Bomer wants to give his children the structure they need to thrive in the world and let their personalities shine through. But, he's proud of his boys and enjoys spending time with his family.
However, he is not ready to have any of them on the stage soon as he wants them to have a pleasant and normal childhood despite the fame of their fathers.
When talking about his marriage, Bomer revealed that his grandparents are his inspiration for a long-lasting marriage. To fit romance into his marriage, he takes cues from his grandparents.
His grandparents always had one piece of advice for him: to take things "one day at a time" to ensure a stronger relationship. At the time he revealed this, his grandparents had celebrated their 68th wedding anniversary.
Their marriage set a good model for him to follow. He always looks to them to see how they express their love for each other every day, and he tries to follow their path.
Please fill in your e-mail so we can share with you our top stories!