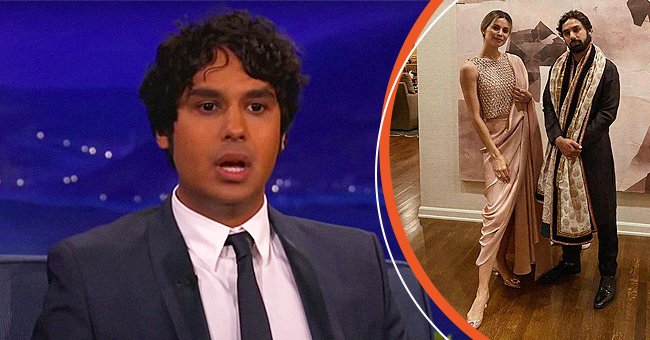 youtube.com/Team Coco | instagram.com/nehakapur
Kunal Nayyar and and His Wife Neha Kapur's Love Story — The Actor Thought She Was Out of His League
"Big Bang Theory" star Kunal Nayyar and his gorgeous ex-Miss India wife Neha Kapur enjoyed a fantastic wedding ceremony over ten years ago that lasted six days and had 1000 guests.
Many TV viewers are familiar with Kunal Nayyar's unlucky-in-love and awkward character Raj Koothrappali on the hit sitcom, "The Big Bang Theory," which he starred in from 2007 to 2019.
However, many "Big Bang Theory" fans might not know that Nayyar is married. He and his wife, Neha Kapur, have a love story that could rival the stories on TV.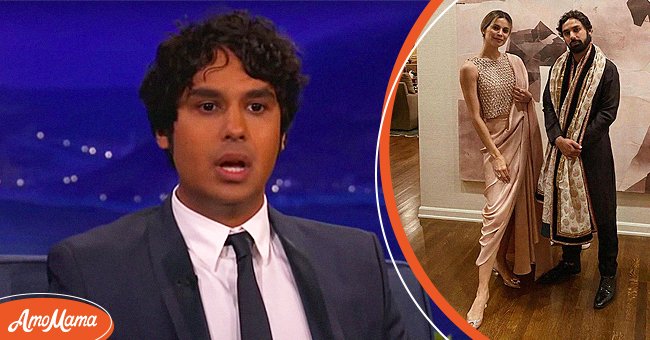 Kunal Nayyar pictured during an Interview on "Conan" [Left] Neha Kapur and Nayyar pictured on a photo for Instagram, 2021. | Photo: YouTube/Team Coco & Instagram/nehakapur
In his book of personal essays, "Yes. This Is My Accent," Nayyar
"how this nerdy guy came to marry a beautiful former Miss India," and it started with his cousin insisting he had to meet the former beauty queen.
The couple met at a bar. They hit it off and connected over their childhoods in New Delhi. Nayyar thought she was beautiful but perhaps too beautiful for him as he told Glamour magazine:
"My first thought was, "This is the most beautiful woman I've ever seen." My second thought was, "She's way out of my league." "
Nayyar's second thought was current because Kapur admitted she was not impressed with Nayyar's LA fashions, including his cutoff gloves, hipster glasses, a scarf, and a trucker hat. She also did not know about his show or his fame.
However, his ill-chosen fashions did not stop Kapur from starting a relationship with the actor. And three weeks after they first met, Kapur visited him in LA, and everything felt right; she knew she was ready to marry him.
As for Nayyar, he knew Kapur was the one for him after she visited his family and organically fitted into their dynamic. Then three years after their first met, Kapur joined Nayyar's family as his wife.
The couple enjoyed a six-day wedding celebration in New Dehli, with 1000 guests. Nayyar was excited to marry the love of his life and told People Magazine at that time:
"She unlocked something in me that I had never felt before."
The weeklong celebration included an exchange of vows, henna tattoos, and a garland ritual. Nayyar and Kapur adorned each other with handmade garlands for the ritual when they first saw each other at the ceremony.
The actor and model celebrated their tenth anniversary in December 2021. Kapur and Nayyar took to Instagram to wish each other for the special day.
Kapur posted selfies with her man. The first was of the two pulling silly faces, and the second showed the couple posed in front of a mirror. In the caption, she put their wedding date, December 22, 2021, and wished him a happy ten years.
Nayyar shared a video of Kapur dancing in a gorgeous dress and wrote that they might be unconventional, but they promised to live their lives according to themselves and not someone else.
Fans of the lovely couple can keep up to date with them through their Instagram accounts, where Kapur and Nayyar share looks into their lives and careers.
Please fill in your e-mail so we can share with you our top stories!