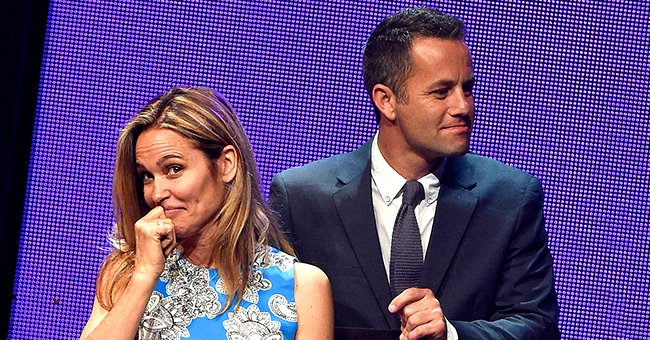 Getty Images
Kirk Cameron & 30-Year Wife Often 'Forget' Who Is Adopted among Their 6 Kids: 'It's Just Your Family'
Kirk Cameron, the actor who starred as Michael Aaron Seaver in the 1980 American Sitcom "Growing Pains," is a proud father of six kids. Even though some kids are adopted, he sometimes forgets which kids are.
Born on October 12, 1970, in California, Kirk Cameron rose to fame as a teenage actor after his friend introduced him to acting and helped him get an agent.
He started appearing in commercials and made a few television appearances with his first role in "Two Marriages" in 1983. Two years later, he earned his career-defining big break as Mike Seaver on "Growing Pains."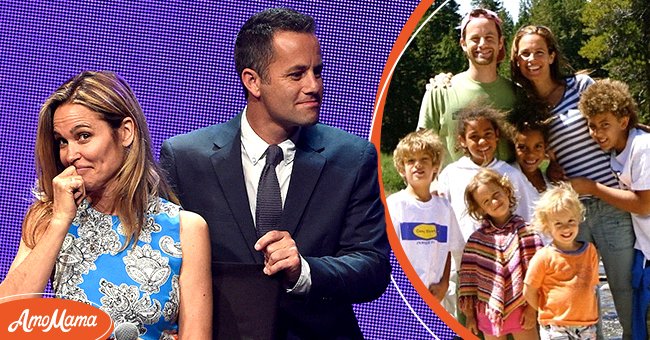 Kirk and Chelsea Cameron speak onstage during the 3rd Annual KLOVE Fan Awards on May 31, 2015, in Nashville [left], Kirk and Chelsea Cameron with their six children [right] | Photo: Getty Images, Instagram.com/ahnacameronbower
Kirk Cameron had aspirations of becoming a brain surgeon but did not tow that path. He has since appeared as a guest star on many other TV shows.
He starred in "Full House" with his sister Candace Cameron and has appeared in movies such as "Like Father Like Son," "Listen to Me," "Fireproof," and in 2003, he released an evangelical-themed film, "Unstoppable."
KIRK & CHELSEA'S 30-YEAR MARRIAGE
Kirk and his wife Chelsea Cameron, née Noble, first met on a television sitcom studio set. They had both starred on different show episodes but met while Kirk visited his sister on set.
The couple also starred in "Growing Pains" and fell in love while their characters were dating on the show. Four years after their first meeting, they got married.
Despite being an actor who has to play different roles, Kirk said he had committed not to kiss any other woman aside from his wife as he wants to honor marriage even on set.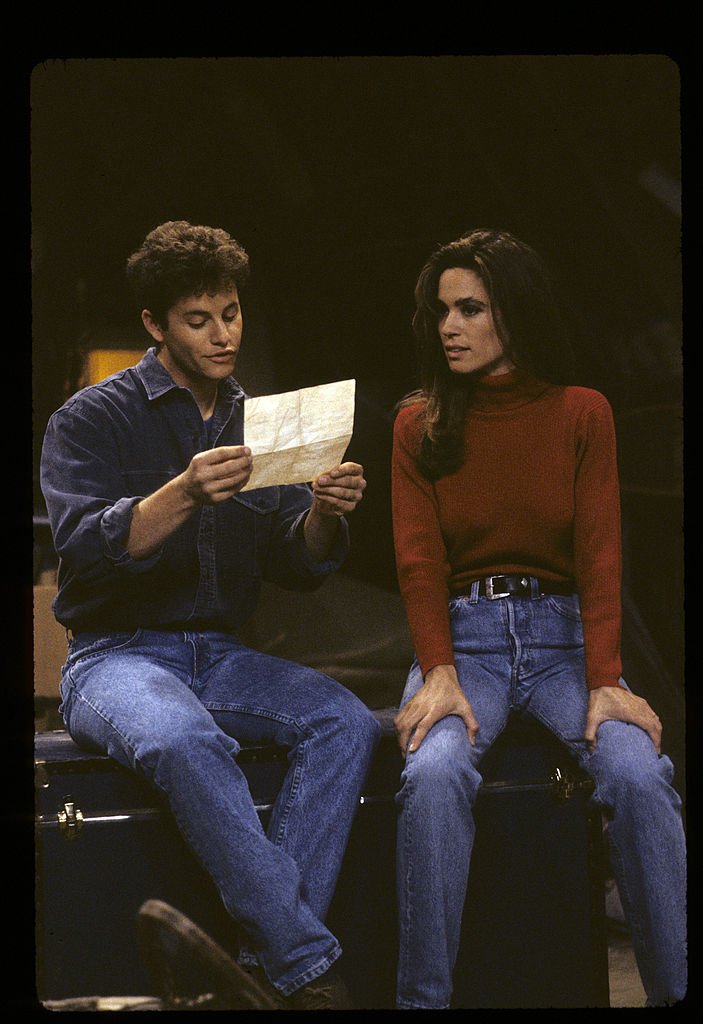 Kirk Cameron and Chelsea Noble on the set of "Growing Pains" on November 16, 1991 | Photo: Getty Images
While on the set of "Fireproof," where he was required to kiss the female lead, the filmmakers had to shoot the scene in silhouette after dressing his wife like the movie's female lead. At the time, he said,
"We've been married for 17 years … and we have six children. So marriage is a very special and sacred thing to us."
For Kirk, the secret behind their marriage is knowing that wives must honor and respect their husbands and follow their lead, and husbands must love their wives.
REASON BEHIND THEIR BURNING PASSION FOR ADOPTION
Kirk and Chelsea decided to adopt their four children before their two biological children. Chelsea revealed that she and her brother were adopted, so she had always had a passion for adoption.
They decided to adopt before having their biological children because they wanted their adopted children to feel they were the first choice.
However, they didn't know they would adopt four children in a row. They said the children "came quickly" and were about a year apart. All six of their children are a year apart.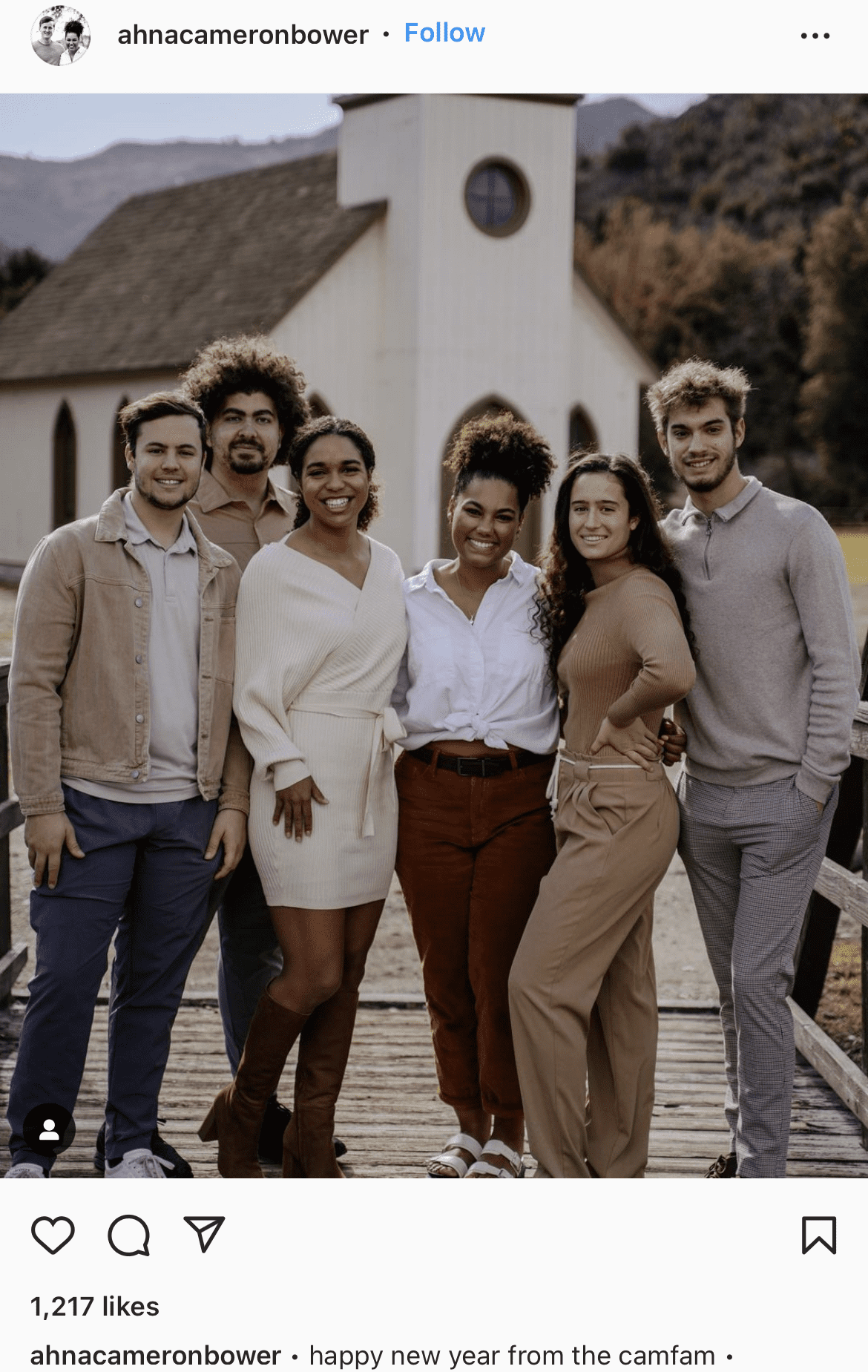 A photo of Kirk and Chelsea Cameron's six children | Photo: Instagram.com/ahnacameronbower
Kirk, who married Chelsea in 1991, said a lot of the driving force for them adopting kids comes from their faith. He also believes they carry a lot of influence in their children's lives.
When talking about protecting the unborn, Kirk shared that the issue of life is very personal for him because his wife, being an adopted child, was one doctor's appointment away from not existing.
Also, if his wife had not been born, their two natural-born children would not exist. Kirk said that his wife and their six children are here due to loving, compassionate, and courageous people who march for life.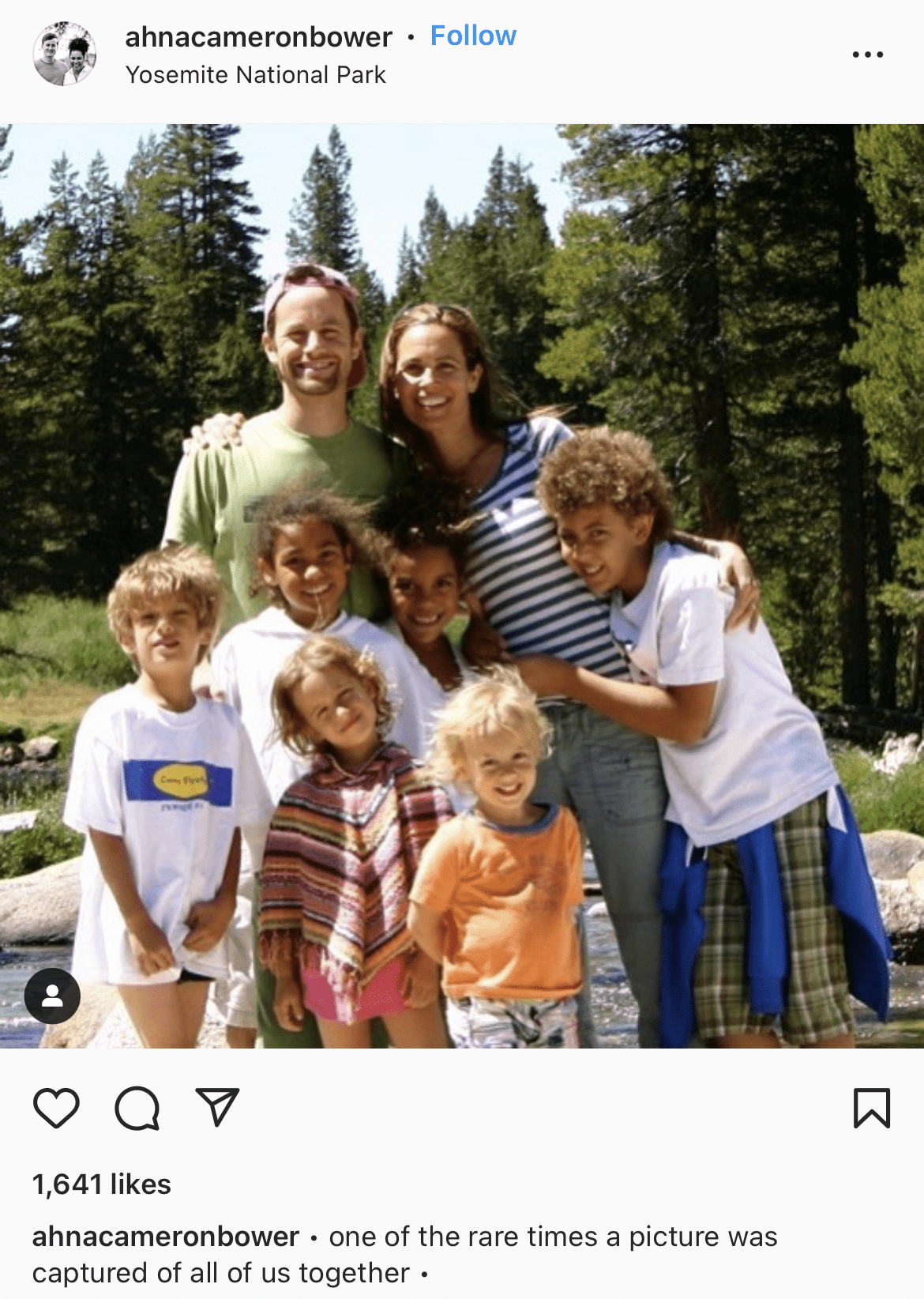 Kirk and Chelsea Cameron with their six children at Yosemite National Park | Photo: Instagram.com/ahnacameronbower
LOVING ALL THEIR CHILDREN EQUALLY
Chelsea said people often ask how her love differed between her biological and adopted children. Chelsea believes that there is a special bond when you have a child in your arms. She said,
"I think there's a special bond that does come straight from God, doesn't necessarily come from your body. We always said, you sort of forget who's adopted and who's not adopted. It's just your family."
Kirk chipped in to say they have a multiracial and diverse family with different gifts and talents, making their family a beautiful mosaic.
He said a family is many people coming together, and theirs is just amazing. When he thinks of everything adults could do in the world, they lose if they don't care for their family and raise their kids.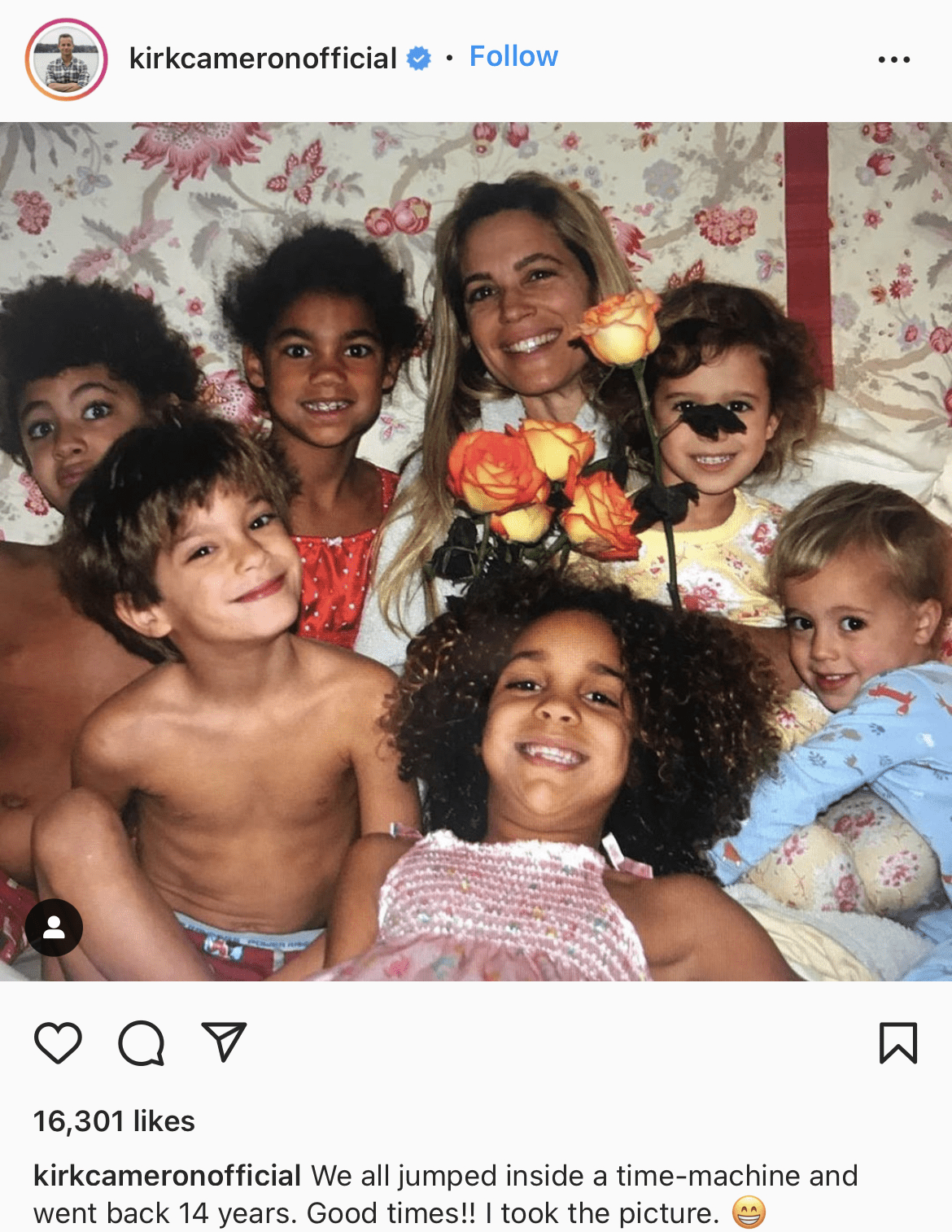 Chelsea Cameron with their six children | Photo: Instagram.com/kirkcameronofficial
HOW THEY WANTED TO PROTECT THEIR KIDS
Kirk was a child star as he started in showbiz at a young age, but luckily, he stayed on the right path when other stars fell in a downward spiral.
The couple wouldn't want to raise their children in the spotlight because, based on track records, they don't think that growing up in the entertainment industry is the healthiest place for kids.
However, Kirk said his kids love being silly and goofy, but their daughter Anna is so talented, and as a child, they knew she had it in her to be a singer or an actress, and they're so proud.
For Kirk, protecting his kids is a priority as the real battle is a battle for the heart. He believes that he must recognize that his children are bound to make mistakes even as he tries to shield them.
After speaking to a neurosurgeon, psychologist, pastor, family counselor, and technology folks, he wants his children to apply a filter to their hearts so they can always do what's right.
By honoring God, being good models, and letting their children make mistakes, their children get to see that they need the power of God to help them. They also have to stay connected and believe that God will use all of that for good.
Also, in this technology-driven world, God-fearing parents can find confidence and guidance as parenting is becoming more challenging.
His film "Kirk Cameron: CONNECT" offers valid help for parenting kids in a social media world. The documentary showcases real-life families who share their journey of how technology impacts their lives and relationships.
He knows that God has fully equipped everyone for the sacred calling as a parent, and parents have resources to prepare their children as they learn their purpose and identity.
Parents could also help their children responsibly use technology to understand family, friends, God, and the world around them while setting boundaries to protect their family.
Please fill in your e-mail so we can share with you our top stories!