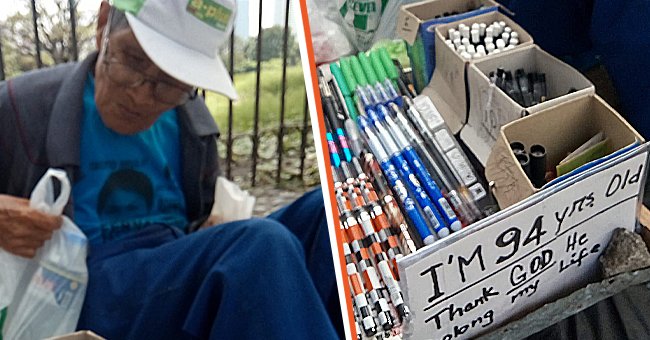 facebook.com/dudot.argente
94-Year-Old Man Sells Pens for a Living Instead of Begging for Help
An old man took it upon himself to earn his living, choosing hard work over sitting idle and panhandling. Fortunately, his humility was noticed by a kind stranger, and what happened next was nothing short of a miracle.
In the world of technological advancements, a single click can do wonders in mere seconds. Thanks to powerful tools like social media, sharing information and circulating news has become swift, easy, and much more convenient than before.
Often, we come across heartwarming viral posts showcasing real-life heroes and everyday scenarios. The story we're sharing today has a similar context, and we're sure once you're done reading it, you'd feel compelled to relate it to your loved ones.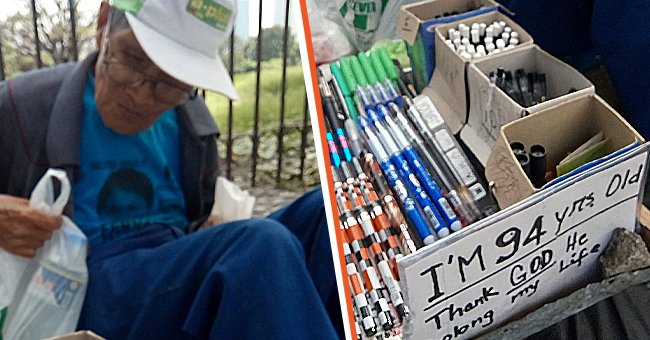 The old Filipino man [Left]. The writing instruments he sold for a living [Right]. | Photo: facebook.com/dudot.argente
In January 2019, a man named Dudot Argente took to Facebook to share the photo of an unidentified older man he saw near the Intramuros entrance while coming from the side of the Manila City Hall in Manila, Philippines.
The old fellow wasn't sitting in the area to beg for food or money. Much to Argente's astonishment, the elderly man sat next to a vast display of assorted writing instruments, including pens and markers.
Argente also noticed a card next to the displayed items, which read: "I'm 94 years old. Thank God he prolong my life (sic)." The Facebook user was deeply touched and felt propelled to buy something from the older person.
After discovering that the writing tools were pretty affordable, Argente decided to help the man in whatever way possible. In his Facebook post published on January 28, 2019, Argente urged people to buy from the older man and support his livelihood.
The fact that the old Filipino man and Ratan were celebrated on social media shows how important it is to practice integrity, diligence, and kindness in our lives.
The Facebook user captioned his post: "Guys !!! If you can pass here (near entering intramuros from city hall), buy a ballpen from him 😊. You already have a ballpen, you even helped, and you can see his smile 😉. The pens are cheap (sic) !!"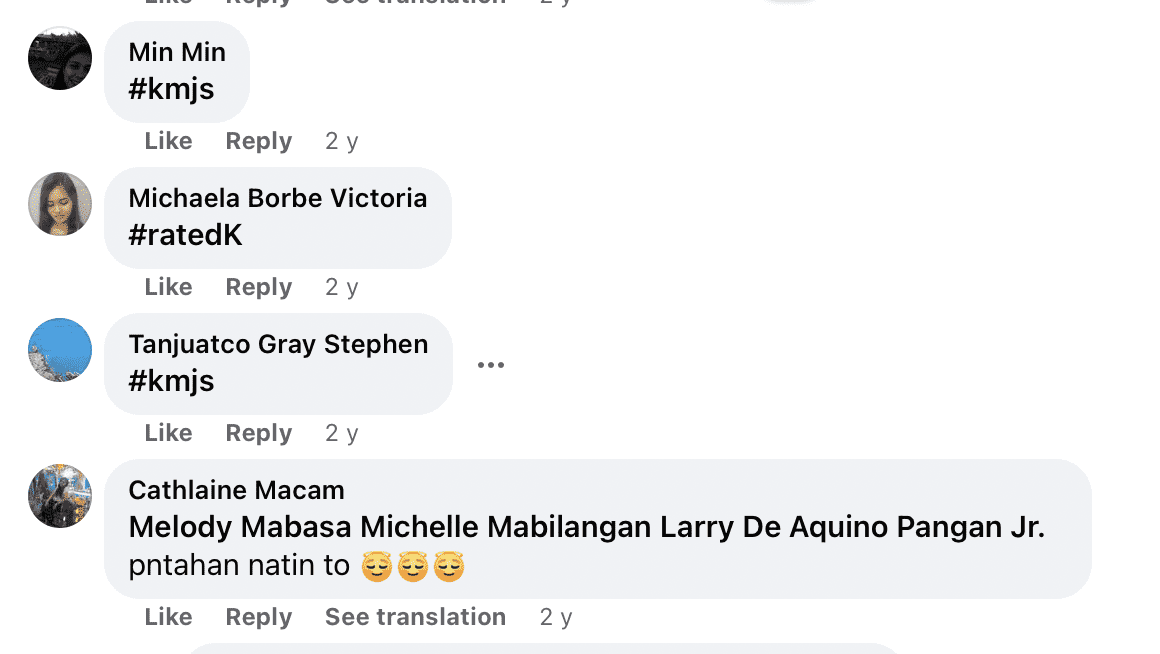 Facebook users left hashtags in the comments section to help the old man get featured. | Photo: facebook.com/dudot.argente
Argente's Facebook post went viral, garnering 27,000 reactions, over 6,000 comments, and even 26,000 shares. Several users appreciated how the older man respectfully earned his daily bread instead of begging. One user wrote:
"He's not using his age to beg for money or for someone to buy his goods but instead, to let anyone know that he's thanking God for prolonging his life."
Other people used different hashtags like "KMJS" and "Rated K" to ensure the kind old man's story was featured in Filipino magazines and tv programs. Thanks to Argente's keen eye, the elderly man gained a spotlight for the right reasons.
The world is full of people who prefer perseverance and diligence over doing nothing or relying on others. Like the old Filipino man, an older woman from Pune, India, became known for her hard work when a passerby noticed her.
An entrepreneur Shikha Rathi took to Instagram, sharing the picture of a fragile older woman, Ratan. Rathi met Ratan while she was out with her friend at MG Road, Pune. Ratan carried a cardboard box containing pens, which she sold for a living.
Without a second thought, Rathi and her friend purchased pens from Ratan and also noticed the message written on the cardboard box's lid: "I do not want to beg. Please buy Rs.10/- blue color pens. Thank you. Bless You."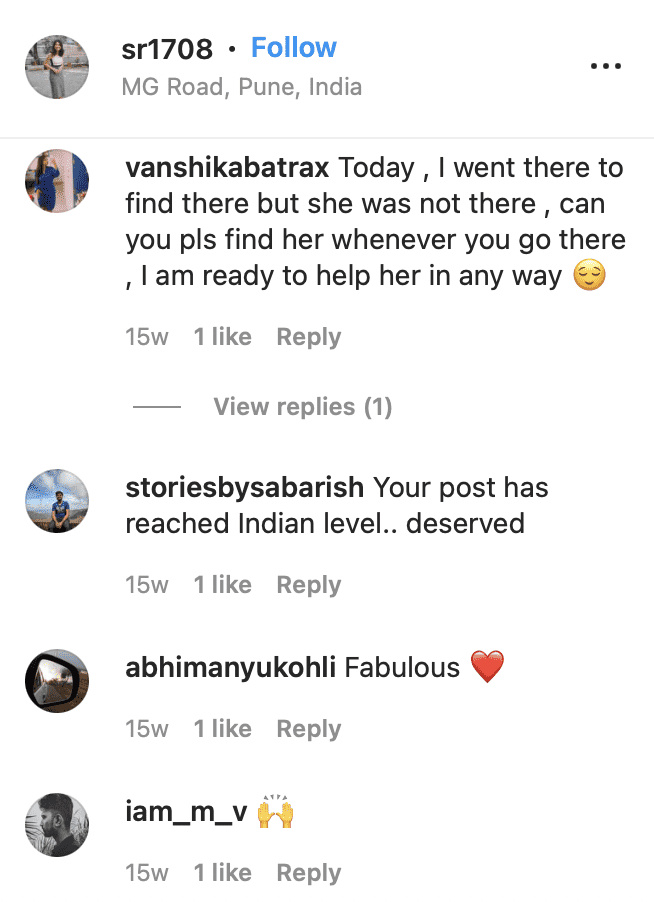 Netizens leave encouraging comments on Rathi's post showcasing Ratan's integrity and hard work. | Photo: instagram.com/sr1708/
SYMBOLIZING INTEGRITY AND HARD WORK
In her Instagram post shared on October 5, 2021, Rathi mentioned she had "met a real-life hero and champion - Ratan!" The entrepreneur revealed that Ratan didn't push her or her friend to purchase the pens, and her gratitude and kindness touched their hearts.
The caption also read: "Her integrity along with her sweet smile, kind heart, and her joyful attitude made me purchase more pens from her! Just seeing her smile and gratitude has filled my heart. And she deserves to be celebrated and shared, so hence the post!!"
Rathi also encouraged people to buy pens from Ratan and interact with her whenever they happened to be in the area. Her Instagram post was well-received, amassing over 1,000 likes and several comments.
The fact that the old Filipino man and Ratan were celebrated on social media shows how important it is to practice integrity, diligence, and kindness in our lives. What would you do if you encountered someone like Ratan or the older man?
Here's another story that showcases something similar, and it's about a single father who had to sell pens on the street in scorching heat to feed his daughter. You can find the complete story here.
Please fill in your e-mail so we can share with you our top stories!