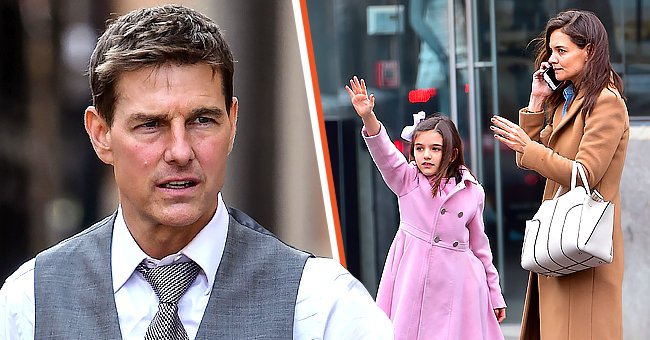 Tom Cruise | Katie Holmes and her daughter, Suri | Source: Getty Images
Tom Cruise's Ex-wife Left Him to 'Protect' Their Daughter - He Has Not Seen Daughter for Years, Report Says
Tom Cruise and Katie Holmes were a famous Hollywood couple in the mid-2000s. But six years into their marriage, Katie filed for divorce while Tom was on a film set.
Tom Cruise had a very public dating history from early on in his acting career. Between a short dalliance with Cher in 1985 and more severe relationships that led to marriage on more than one occasion.
Tom was no stranger to relationships under constant scrutiny from fans and media reporters alike. His first marriage was to actress Mimi Rogers in 1987. The couple was together for three years before their divorce.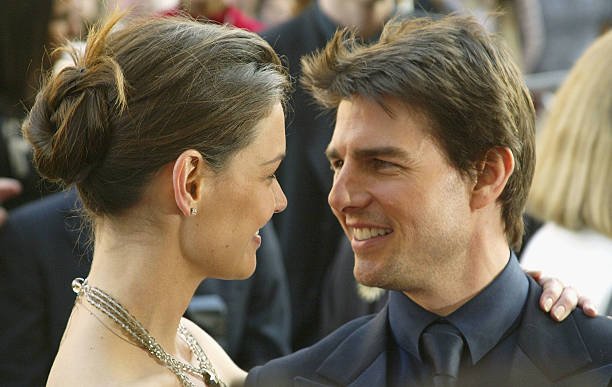 Actors Tom Cruise and Katie Holmes arrive at the David di Donatello Italian film awards ceremony on April 29, 2005 in Rome, Italy | Source: Getty Images
Following his divorce from Mimi, he married Nicole Kidman, and they were together for 11 years. Soon after the end of the marriage, Tom began dating another actress, Penélope Cruz, in 2001. But they didn't get married and broke up three years later.
Tom and Katie's relationship had an unusually public beginning. The couple met late in 2005, and Tom asked Katie out on a date. A few weeks into their relationship, the couple was spotted hand-in-hand while in Rome, Italy.
Tom declared his love for Katie on the Oprah Winfrey Show by shouting "I'm in love!" and jumping on Oprah's couch. The couple was affectionately referred to as "TomKat" by their fans and became one of the most talked-about Hollywood couples of the mid-2000s.
FROM CATHOLIC TO SCIENTOLOGIST
Tom was a well-known Scientologist by the time he began dating Katie. He revealed the secretive religion to Katie early on in the relationship, who was excited to learn about her new boyfriend's religion.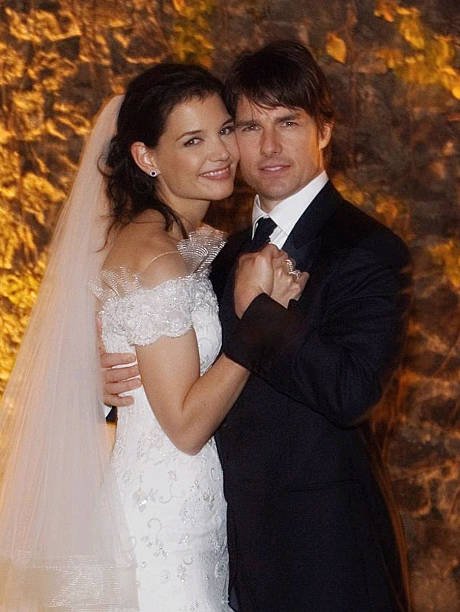 Tom Cruise (right) and Katie Holmes were wed just after sunset on November 18, 2006 at Odescalchi Castle overlooking Lake Braccino outside of Rome, Italy | Source: Getty Images
While at the London premiere of "Batman Begins" in June 2005, Katie told reporters that she would take Scientology classes, despite being raised Catholic. Katie's friends from her hometown in Toledo, Ohio, were not so sure about the sudden change in faith.
Regardless of the doubts, Katie dove headfirst into the Church of Scientology. She even began taking interviews alongside 29-year-old Jessica Rodriguez, her Scientology chaperone. Jessica traveled with Katie and kept an eye on Katie's answers during the interviews.
TOM AND KATIE'S ENGAGEMENT
Tom proposed to Katie at the Eiffel Tower in Paris early into their relationship. The couple announced their engagement at a press conference just hours after Katie said yes to the proposal. Tom said:
"It's definitely love and France. I've never felt like this before. She's an extraordinary woman and I love her very much. My family is doing well and I'm just very happy."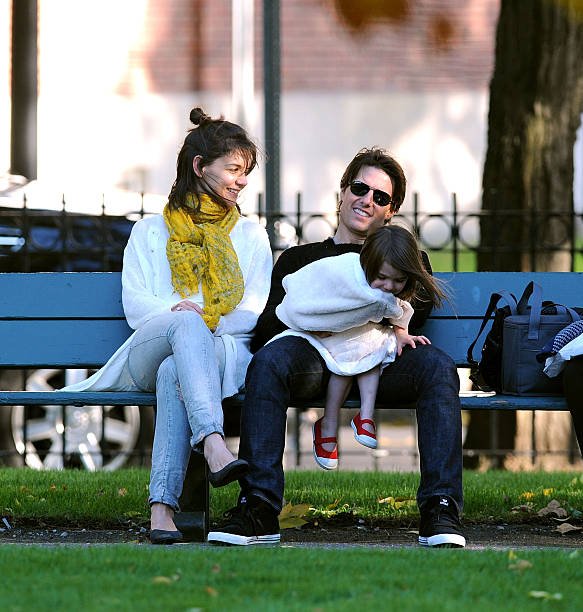 Katie Holmes, Suri Cruise and Tom Cruise visit Charles River Basin on October 10, 2009 in Cambridge, Massachusetts | Source: Getty Images
THE COUPLE WELCOMED THEIR BABY GIRL
While engaged, Tom and Katie welcomed their baby, Suri Cruise, in April 2006. Suri was Katie's first child. But Tom shared twins Conor and Bella Cruise with his ex-wife, Nicole Kidman.
The couple kept details about her birth secret. But despite this, the announcement of her birth created a frenzy of adoring fans outside their home.
"TOMKAT'S" STAR-STUDDED WEDDING IN ITALY
Soon after Suri's birth, Katie and Tom decided to marry in Rome, Italy. The city where they had first been spotted hand-in-hand just over a year earlier. Katie wore an off-the-shoulder Georgio Armani wedding gown. The wedding was a star-studded event with celebrities like Will, Jada Smith, and Jenniffer Lopez.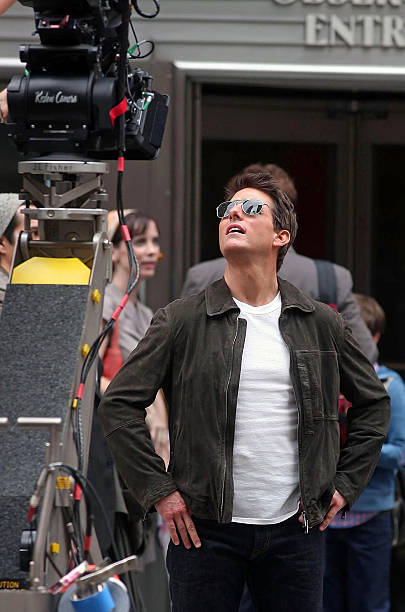 Tom Cruise is seen filming a scene for "Oblivion" on June 12, 2012 in New York City | Source: Getty Images
HOW EVERYTHING STARTED GOING WRONG
Six years into the marriage, rumors began circulating that "Tomkat" was not a genuine union. Allegations were rife about Katie choosing acting roles based on what the Church of Scientology would approve.
Sources reported that Katie was no longer happy with the life she had with Tom, "She no longer had the life she wanted, in terms of her career, her way of life, everything." Reports also surfaced that Katie was no longer comfortable in the world of Scientology.
A source still affiliated with the Church of Scientology said, "Katie has not been nearly as involved with Scientology in recent months." A second source further explained, "Going forward, Scientology will likely not be playing a major role in her life."
However, religion was not the only reason for her discontent. Katie was a rising 26-year-old actress when she began her relationship with Tom. But by the time she filed for divorce, her career had slowed down drastically.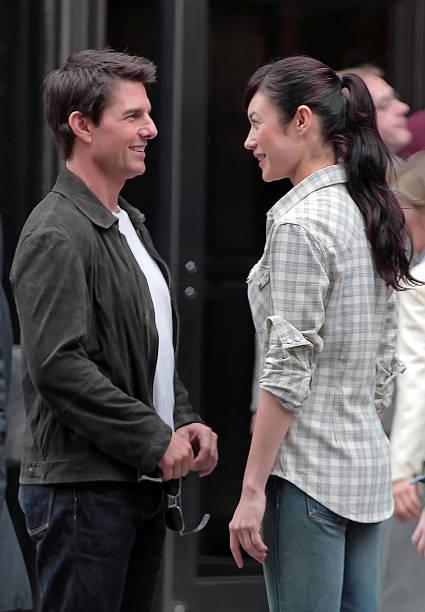 Tom Cruise and Olga Kurylenko are seen on the movie set of "Oblivion" on June 12, 2012 in New York City | Source: Getty Images
Everything changed for the couple in June 2011. Tom was filming the sci-fi thriller "Oblivion" in Iceland when he received news of Katie filing for divorce. Just 11 days after the shocking revelation, Tom and Katie announced that they had settled.
Before Katie filed for divorce while in New York City, she had to obtain a disposable phone to call her attorney. This allowed her to prepare for the divorce without Tom or any of his staff finding out about her plans.
The divorce settlement gave Katie primary custody of Suri, while Tom had visitation rights. This meant that Katie could settle in New York City with Suri, leaving Tom to travel to visit her. Through her attorney, Katie released a statement asking for privacy.
THE ENSUING POST-DIVORCE DRAMA
Reports on an ensuing custody battle surrounded the couple as soon as the divorce was announced. According to the International Business Times, a close friend to Katie reported that she was terrified of Tom gaining access to their daughter Suri and luring her back into Scientology.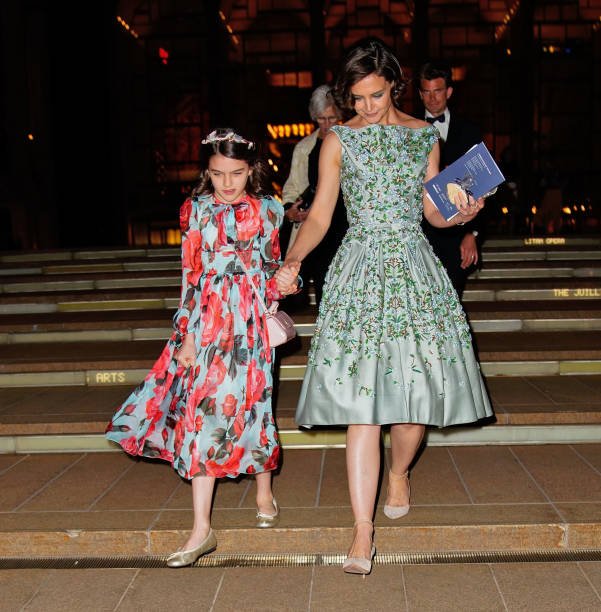 Katie Holmes and Suri Cruise enjoy a night at American Ballet Theater at Lincoln Center on May 21, 2018 in New York City. | Source: Getty Images
Tom denied these allegations, claiming that he would never need to protect Suri from the religion. Despite Tom not being seen with Suri for years, he often spoke with her over the phone. "You have to work at it," he said. "I've gotten very good at it. I tell wonderful stories."
The custody battle did not change Katie's primary custody to Suri. Katie continued to raise her in New York City and kept her from the Church of Scientology. Tom still has not seen Suri for years.
Please fill in your e-mail so we can share with you our top stories!