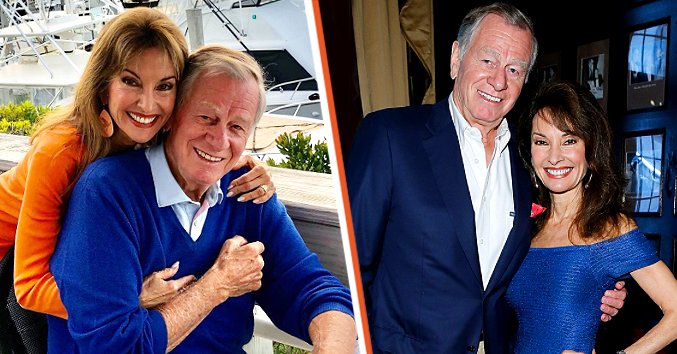 Susan Lucci and Helmut Huber | Source: Instagram.com/therealsusanlucci | Getty Images
Susan Lucci's Husband of 52 Years Called Her Then-Fiancé 'This Boy' at Her Engagement Party
Susan Lucci was engaged when she met her late husband, Helmut Huber. Huber attended Lucci's engagement party and referred to her fiancè as "this boy." Still, an unlikely relationship began leading to an extraordinary tale of love and support.
Susan Lucci is an Emmy Awards winning actress who appeared in ABC's "All My Children." Her role as Erica Cane, the conniving vixen, who dabbled in and out of marriages, brought her fame.
Off-screen, she was married only once to Helmut Huber and was with the love of her life for fifty-six years until his death in 2022. The couple had kids and built an admirable life from a love story with a soap-operatic twist. Here is everything to know about the power couple.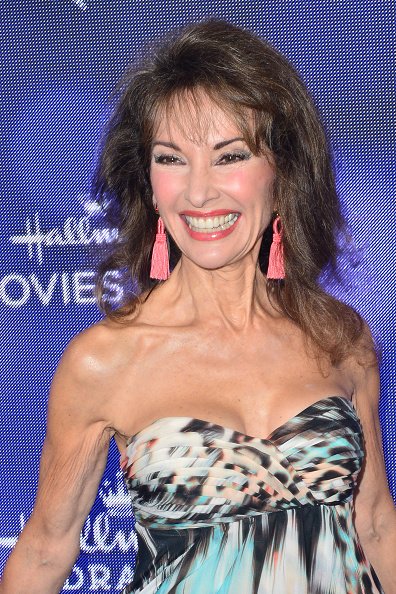 Susan Lucci at Private Residence in Beverly Hills, California on July 26, 2019 | Source: Getty Images
SUSAN LUCCI'S LIFE BEFORE HELMUT HUBER
Susan Lucci grew up in a seemingly healthy family with supportive parents who resided in Garden City. She became familiar with acting while watching her favorite TV shows, and by the time she graduated from high school, Lucci had already appeared in many plays at Garden City High School.
Her love for performing fueled her pursuit to become a star, so she enrolled in Marymount College in Tarrytown as a drama major. Lucci's career almost never happened following an accident. She was riding with her then-fiancè in his car when they rammed into another vehicle.
Her face smashed into the windshield, and despite the horrific incident, the actress revealed that she felt no pain except for the blood that dripped down her face.
Lucci recalled that she was rushed to the emergency ward, where the attendants wrote her off after seeing the gravity of the accident—her face was severely wounded.
They commented about her beauty at the hospital, using past tense that hinted she might live with a scarred face forever. One of the nurses insinuated that she might not get married, citing her engagement ring.
Thankfully, Lucci got help from a seasoned surgeon, and the actress confessed that she "completely recovered." Coincidentally, the "All My Children" producers made Erica Kane wear a black mask, resulting from a disfigurement from an auto-crash.
SUSAN LUCCI AND HELMUT HUBER'S FIRST MEETING
Lucci met her late husband at age 18 while working as a waitress in the Garden City Hotel. This was immediately after her first year in college, before her career as a famous TV star.
Huber, an Austrian, was a chef and worked as the head of the hotel's food and beverage service. Once Lucci saw him, she nudged her colleague, inquiring about Huber.
The then-aspiring actress realized that he was her boss and nine years older. Despite her curiosity, she never dreamed of a romance between them.
On the other side of the camp, the chef was smitten the first time he set eyes on Lucci. Decades later, he confessed that it was a "wow" moment for him, but he was hesitant because of the age difference.
Before the pair became close friends, Lucci had already accepted her lover's proposal, but destiny happened. Lucci's parents hosted their daughter's engagement party in the same hotel and invited Huber to join the dinner.
Lucci, sitting next to her fiancè, noticed the guest and observed how flattering he appeared while thinking it was not the right thing to do. Huber focused on the future groom and whispered to Lucci's mom that her daughter needed a man and not a boy. He also said:
"This thing between Susie and this boy is never going to last."
Lucci's mom agreed to Huber's secret assessment, unknown to her that he would be her son-in-law. The discussion was between the two as the chef worked his way into the heart of his junior waitress.
The pair started a friendship, and it was not until Lucci broke off her engagement that it metamorphosed into a romance. Immediately, Huber shared his desire to marry, but the actress needed more time to think.
Three months into the relationship, Lucci realized Huber was the best man for her. She concluded after he sacrificed his socks to shield her from the cold. By 1969, the lovers took their wedding vows, beginning a journey forever.
The couple spent together about fifty-two years of their lives, and they both had sweet things to say about their marriage. While speaking to Yahoo, the "All My Children" alum said:
"I feel so lucky too that Helmut is so secure, and I always look to him because he's very smart. I'm not even gonna say supportive; it's so beyond that. It's involved, it's hands-on, really there for me."
Huber corroborated their love tale with a statement that assured his wife of many years that loving her was a "wonderful feeling." The actress has admitted that her husband was the best thing to happen to her more than once.
During an interview with Tamron Hall, the actress explained that her husband's sense of humor and helpfulness caused her to choose him.
They were together for fifty-two years, and Lucci stated that they remained in love with each other. While speaking to another outlet, she shared a story about their first year in marriage and how Huber saved her life.
The couple had visited Tignes Le Lac in France and were skiing when Lucci fell off the lift, with nothing to grab to secure herself. Immediately, Hubert schussed below and stopped the accident. While being thankful to her husband, she playfully remarked:
"I got a good one. A lot of husbands would've let me go."
THE SECRET TO LUCCI'S LONG MARRIAGE
The years they spent together possess beautiful memories. They shared quality family moments with their two kids, daughter Liza, and son, Andreas, in their 14-room Georgian colonial home in Garden City.
The couple became parents in 1975, after the birth of their daughter. Two years later, Andreas was born. While the couple developed a binding relationship with their kids, they also helped each other by working as a team.
In 1982, Huber retired as a chef and executive from the hotel to focus on his wife. At that moment, he started managing her career from acting to business.
He overseeded her other businesses, including her hair product brand "the Susan Lucci Collection," which is involved with the QVC cable-television shopping channel.
The power couple proved that teamwork and readiness to provide each other with as much humor while loving unconditionally was the pillars of their strong marriage throughout the years.
Sadly, Helmut Huber, died Monday, March 28, 2022. Helmut died peacefully in Long Island, New York.
Please fill in your e-mail so we can share with you our top stories!