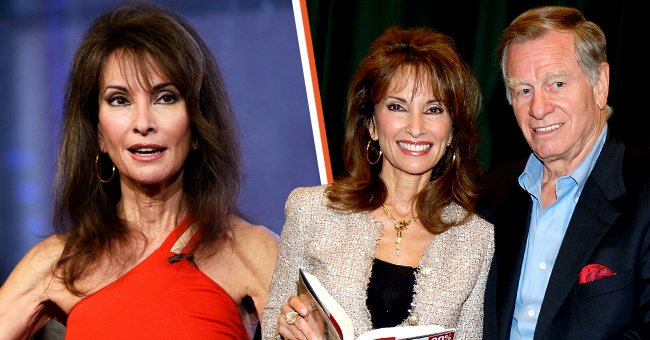 Getty Images
Susan Lucci's Husband of 52 Years Was Invited to Her Engagement to the Other Man by Her Parents
Susan Lucci fell for her husband, Helmut Huber, while engaged to someone else. Huber was the one who informed Susan's mother that the relationship between her and her fiancé wouldn't work.
Susan Lucci met Helmut Huber when she was only 18 in the summer of 1965, and he was nine years her senior. She worked in New York's Garden City Hotel when she met Huber, the executive chef.
The future actress worked as a waitress, and she was a college freshman at Marymount. Speaking to Yahoo Lifestyle, Susan revealed that she was drawn to Huber and asked a friend who he was before finding out he was her boss.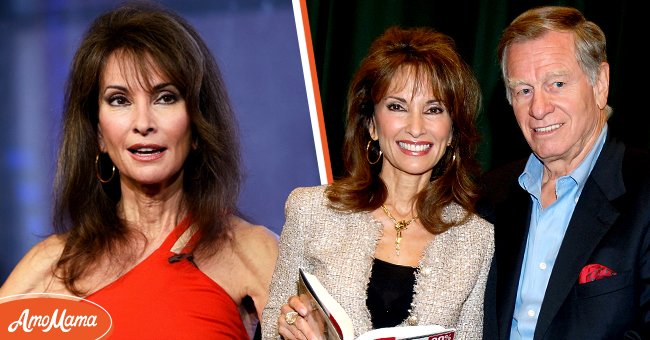 Susan Lucci visits "Extra" at Universal Studios Hollywood on June 2, 2016, in Universal City, California, and her with Helmut Huber at the signing of her new book "All My Life" on April 12, 2011, in Glendale, California | Photos: Noel Vasquez & Beck Starr/FilmMagic/Getty Images
FATE STEPPING IN
Ironically, the Austria-born chef was also taken by Susan, but the aspiring actress didn't consider any romantic link to him partly due to the age difference. She ended up getting engaged to someone else.
In 1968, Susan's parents held her engagement party at the same Long Island hotel. They came across Huber in the hallway, and Susan's mother invited him to the event.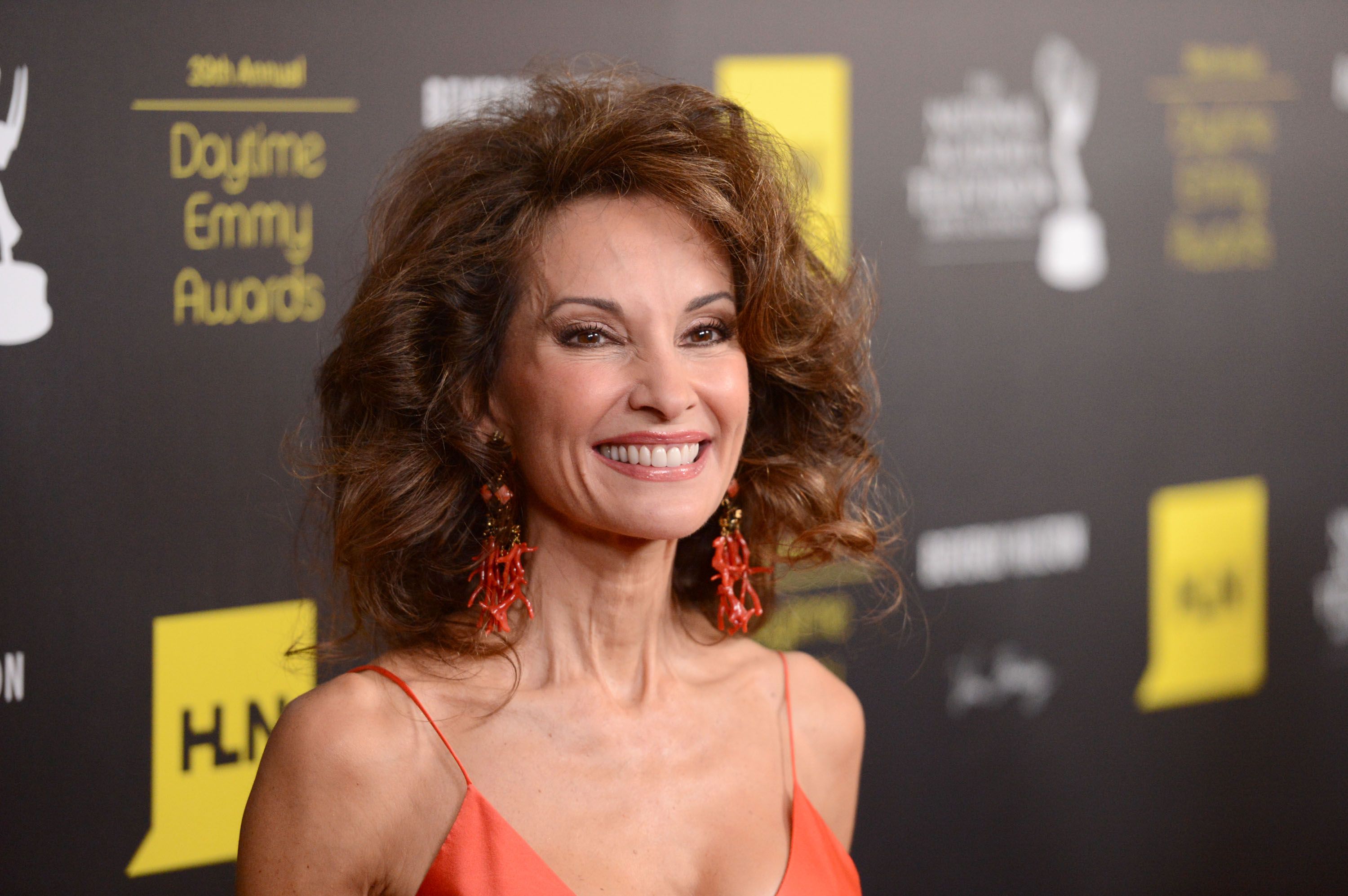 Susan Lucci at the 39th Annual Daytime Emmy Awards on June 23, 2012, in Beverly Hills, California | Photo: Jason Merritt/WireImage/Getty Images
FEELINGS FLY
When Susan saw Huber at her party, she felt herself warming up to him. While sitting across from the executive chef and next to her fiancé, the future star couldn't help thinking how attractive Huber was.
She felt something was wrong with that picture but didn't know what to do. Susan later found out that Huber leaned over to her mother and shared a prediction about Susan's engagement that came true, saying:
"'This thing between Susie and this boy is never going to last.'"
BREAKING THINGS OFF
Huber told the future actress's mother that she needed a man and not a boy, and the parent agreed but didn't tell her daughter. True to his prediction, Susan ended up breaking things off with her Colorado fiancé a few months later.
During the first few encounters the aspiring actress spent with Huber, he told her he wanted to marry her. However, Susan needed more time to decide what she wanted.
THE ENGAGEMENT & WEDDING
Three months into their relationship, Susan was sitting on the sun porch of her parent's home with Huber when he realized she was cold. He took off his socks and put them on his girlfriend.
Huber, once again, proposed, and this time she agreed. The couple ended up walking down the aisle within a year of their relationship on September 13, 1969.
THE 50TH ANNIVERSARY
The "All My Children" actress and her husband have been together for 52 years this year! On June 24, 2019, they attended the Broadway Sings' yearly benefit for Pride when Closer Weekly interviewed them.
At the time, the couple was celebrating a huge milestone – their 50th anniversary. The Austrian shared that they hadn't decided how to celebrate their special day.
His wife said they would probably ring in the milestone in her husband's native country. Susan explained that they'd been to Austria many times and there were more places in the country that she wanted to see.
UNIQUE THINGS THEY SHARE
She also shared with the publication that her husband always made her laugh. The star acknowledged that he didn't look like the funny type because he was imposing, but the combination worked fantastically!
Huber, who gave up his hotel and restaurant executive career in 1982 to manage his wife's career, said he was moved the first time he saw Susan. He also noted how he still lit up when she walked into a room.
THE COUPLE'S KIDS
The "Devious Maids" star and her husband had two children together. The couple had a daughter, Liza, and a son Andreas, with the former following in her mother's footsteps by becoming an actress.
LIZA'S SON
Between their children, Susan and Huber had five grandchildren in 2019. One of their grandchildren is Liza's son, Brendan, who has cerebral palsy.
Speaking to People in 2020, Liza confessed how she "froze" when she found out about her child's condition. She admitted that she cried and felt sad about her son's diagnosis.
However, she was grateful that he could walk while others with the same condition couldn't. The interview was the first time Liza opened up candidly about Brendan's situation.
She [Liza Huber] almost passed out and had to be rushed to the emergency room, to give birth nine weeks early.
She acknowledged that hiding it would harm her son, and she didn't want him to feel bad about who he was. She wanted Brendan to celebrate the way he overcame his challenges.
SUSAN SUPPORTS LIZA
Susan supported her daughter's decision to speak up. The "All My Life: A Memoir" author said she was proud of Liza and felt it was good for Brendan that his mother was speaking about him publicly with pride.
She also felt this was a great way to open up about cerebral palsy. Besides Brendan, Liza is also a mother to Royce, Hayden, and Mason, whom she shares with her husband and tech executive Alex Hesterberg.
BRENDAN'S DIAGNOSIS
Although Liza wasn't sure what caused her son's cerebral palsy, the neurological condition was often caused by a brain injury during birth or in utero. The actress recalled how she felt something was wrong while pregnant with Benjamin.
On August 16, 2008, while 31 weeks pregnant, she said she felt "the most excruciating pain I've ever had." She almost passed out and rushed to the emergency room to give birth nine weeks early.
ANDREAS' WEDDING
With regards to Susan's son, Andreas, he is also married. On August 21, 2017, he tied the knot with the love of his life, Courtney Velasco, at Newport's Rosecliff, a historic mansion.
His mother took to social media to share a family picture of the celebration at the time. She described the event as perfect, and Soaps in Depth shared several stunning images from the occasion.
Please fill in your e-mail so we can share with you our top stories!