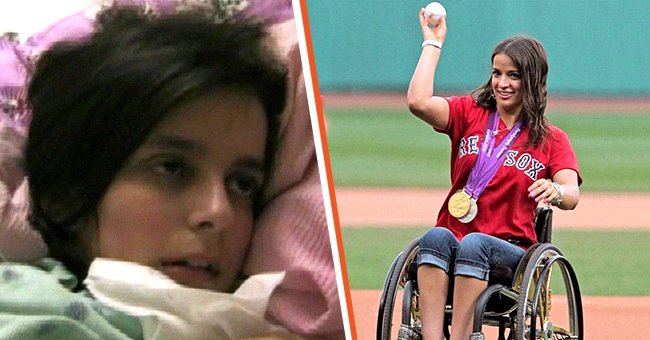 facebook.com/radiomaria | instagram.com/arlenv1
Girl 'Locked' in Her Own Body for 4 Years Becomes an Olympic Champion Years Later
One young girl with beautiful dreams' life was abruptly halted. However, despite how dreary her future appeared, she pushed on to become a borderline superwoman.
Imagine being stuck in your body, unable to move and communicate with anyone around you -- suffering and wanting to scream for help but not being able to.
This is precisely what Victoria Arlen experienced for years on end -- a situation that would have driven many to the edge of insanity.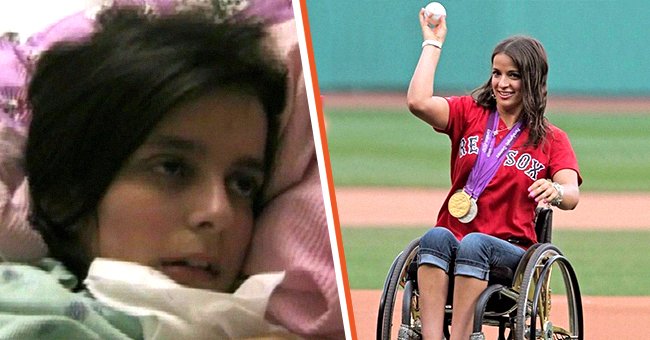 Victoria Arlen in the hospital [left]; Victoria Arlen in a wheelchair, throwing a ball at a baseball game while wearing her Paralympic swimming medals [right]. │Source: facebook.com/radiomaria instagram.com/arlenv1
But, her humor, gratitude, and faith helped her through. Arlen wasn't about to let this stop her from achieving her childhood dream, recollecting:
"When I was five years old, I told my mom I was going to be an Olympian and win a gold medal. She was like, 'Okay, if you work hard, then you know we're going to support you.'"
Her mother, Jacqueline Arlen, kept her promise, standing by her daughter's side and not giving up on her no matter what the doctors said. However, the journey towards this goal appeared more than impossible.
At 11 years old in 2006, the young girl contracted a fatal combination of two diseases -- transverse myelitis and acute disseminated encephalomyelitis (ADEM). As a result, she slowly began to lose all bodily functions, recalling:
"At the age of 11, I watched helplessly as my legs quite literally gave out from under me."
Eventually, she fell into unresponsive wakefulness syndrome, unable to move or speak, but she could still hear -- something her family and doctors were unaware of.
For four years, Arlen remained a prisoner of, or what she referred to as "locked inside" her body. She expressed:
"I tried to scream for help and talk to people and move and get out of bed, and no one was responding to me."
However, in 2010, despite medical professionals' predictions and in a literal blink of an eye, it all changed. Arlen could suddenly move her eyes as her mother noticed that her daughter was still aware.
From there, she began to improve, learning how to eat, move and speak all over again. In 2012, without using her legs, she took part in the London Paralympic Games for Team USA as a swimmer.
She won a gold medal in the 100-meter freestyle and three silver medals. She also set a new world record while achieving all of this.
These accomplishments in and of themselves would be remarkable for anyone to attain, but she wasn't done. Arlen eventually learned how to walk. She also became a semi-finalist in "Dancing With the Stars," an author, and much more.
Beyond her belief in the power of her mind, this champion swimmer also attributes her success to her parents.
Now, with the support of her family and her own empowering beliefs, this powerful woman continues to take the world by storm. As she affirmed in 2020: "I'm just getting started"
While it is always advisable to listen to medical professionals, now and then, someone such as Arlen manages to defy their prognoses.
She is not the only one, with champion conjoined twins living until their 5th birthday despite what doctors said. Riley and Heather Delaney found out they were expecting in 2016.
They soon discovered that the twins were conjoined, bringing about considerable risks, such as the high possibility of death in a separation procedure.
Miraculously, the birth and surgery were successful. Erin and Abby have still had to face challenges along the way, such as developmental therapy sessions.
However, their will helps them remain strong as they push through whatever life hands them -- another testament to the power of the human spirit.
Please fill in your e-mail so we can share with you our top stories!
The information in this article is not intended or implied to be a substitute for professional medical advice, diagnosis or treatment. All content, including text, and images contained on news.AmoMama.com, or available through news.AmoMama.com is for general information purposes only. news.AmoMama.com does not take responsibility for any action taken as a result of reading this article. Before undertaking any course of treatment please consult with your healthcare provider.