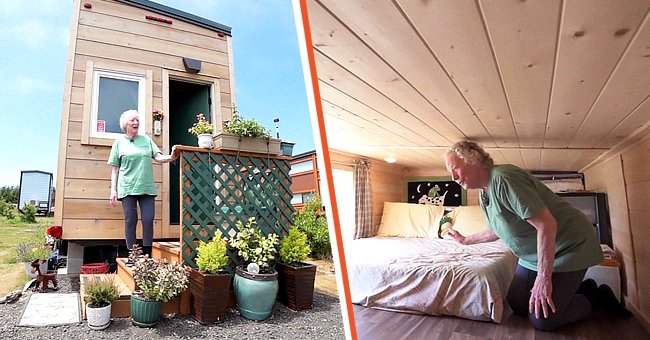 youtube.com/TinyHomeTours
77-Year-Old Woman Sells off Half Her Belongings, Now Lives in a Tiny House
An elderly lady took the expression "less is more" a little too seriously and sold over half of her possessions to move into a tiny home by the coast with her dog.
Long gone are the days when people conformed to societal norms and lived by a rulebook. Now, it's all about being comfortable in one's skin and finding happiness in the little things.
While some people adhere to traditional standards, others like a modern lifestyle. Some love a naturalistic approach and opt for vintage or boho living. In short, the world today presents us with endless choices and the freedom to be ourselves.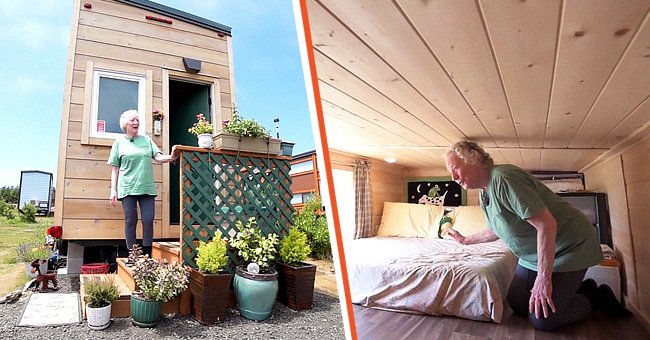 Penny stands outside her tiny coastal home [Left]. She sits inside her loft area, reserved for her dog [Right]. | Source: youtube.com/TinyHomeTours
You might have seen youngsters embracing minimalistic living, but imagine an older woman doing the same. Penny, 77, did something similar when she moved from Alaska to Waldport, Oregon.
But instead of choosing an enormous home in the coastal town, she opted for a small house that took ten minutes to clean from top to bottom. Penny, who lived in an apartment in Alaska, was pleased to live tiny.
"Hi, I'm Penny, and this is my tiny house 'Silver girl.' I've been here since December, and living in a tiny home is so much different from living in a real house, and I love it because I got rid of over half of everything I owned to come here," revealed Penny.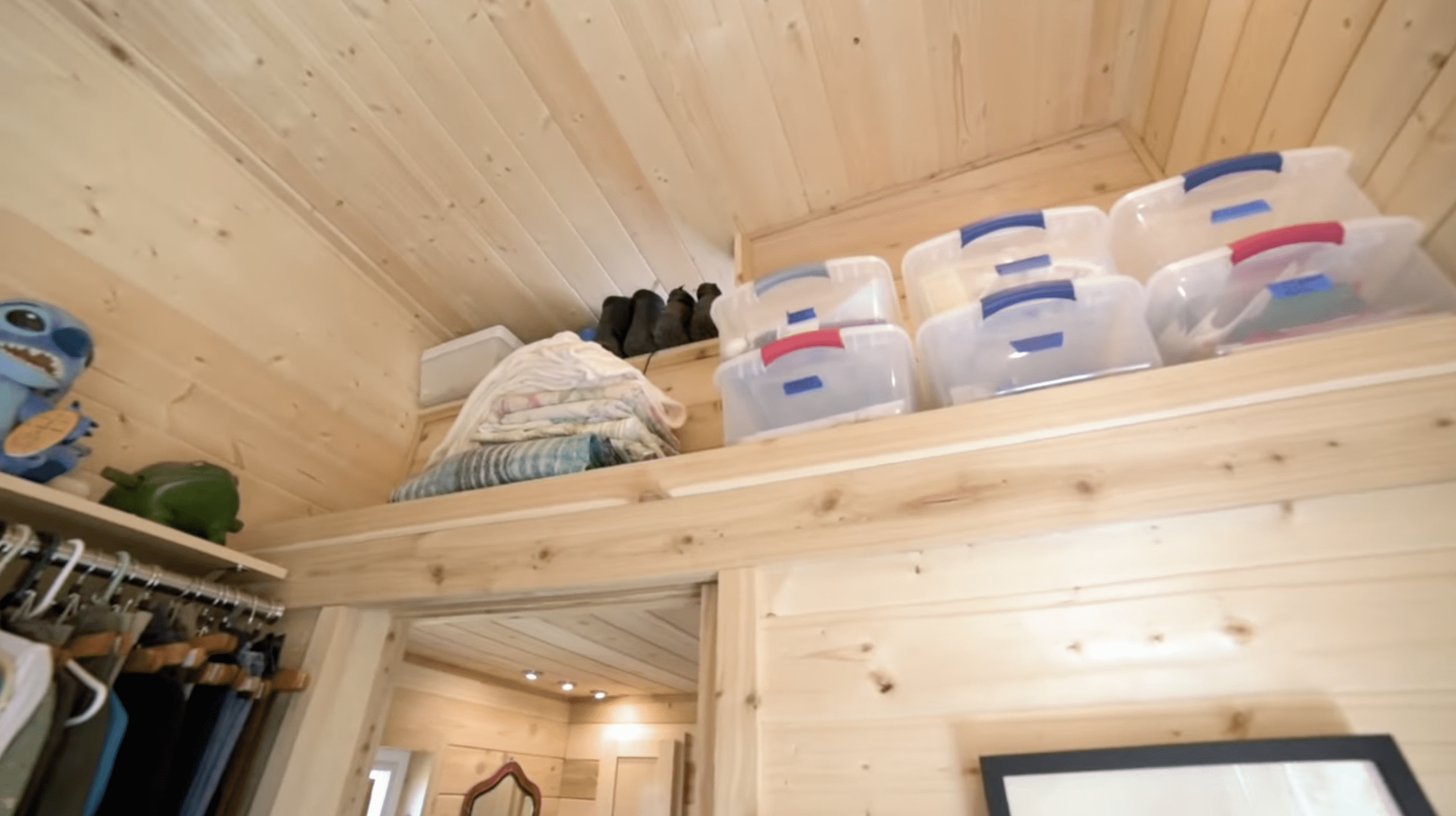 The high ceilings come with extra storage to hold miscellaneous items. | Source: YouTube.com/TinyHomeTours
The older woman sold half of her belongings and willingly embraced a simplistic lifestyle. Penny's home was constructed as a small wooden unit. It contained vintage furniture pieces, like a couch that had been with her for more than 25 years.
The older woman shared that her disability kept her from using her loft effectively.
Her small living room had a comfortable recliner and a television. Penny refrained from watching tv and referred to herself as an "NPR person." While her home appeared tiny from the outside, it was spacious on the inside and came with extra storage.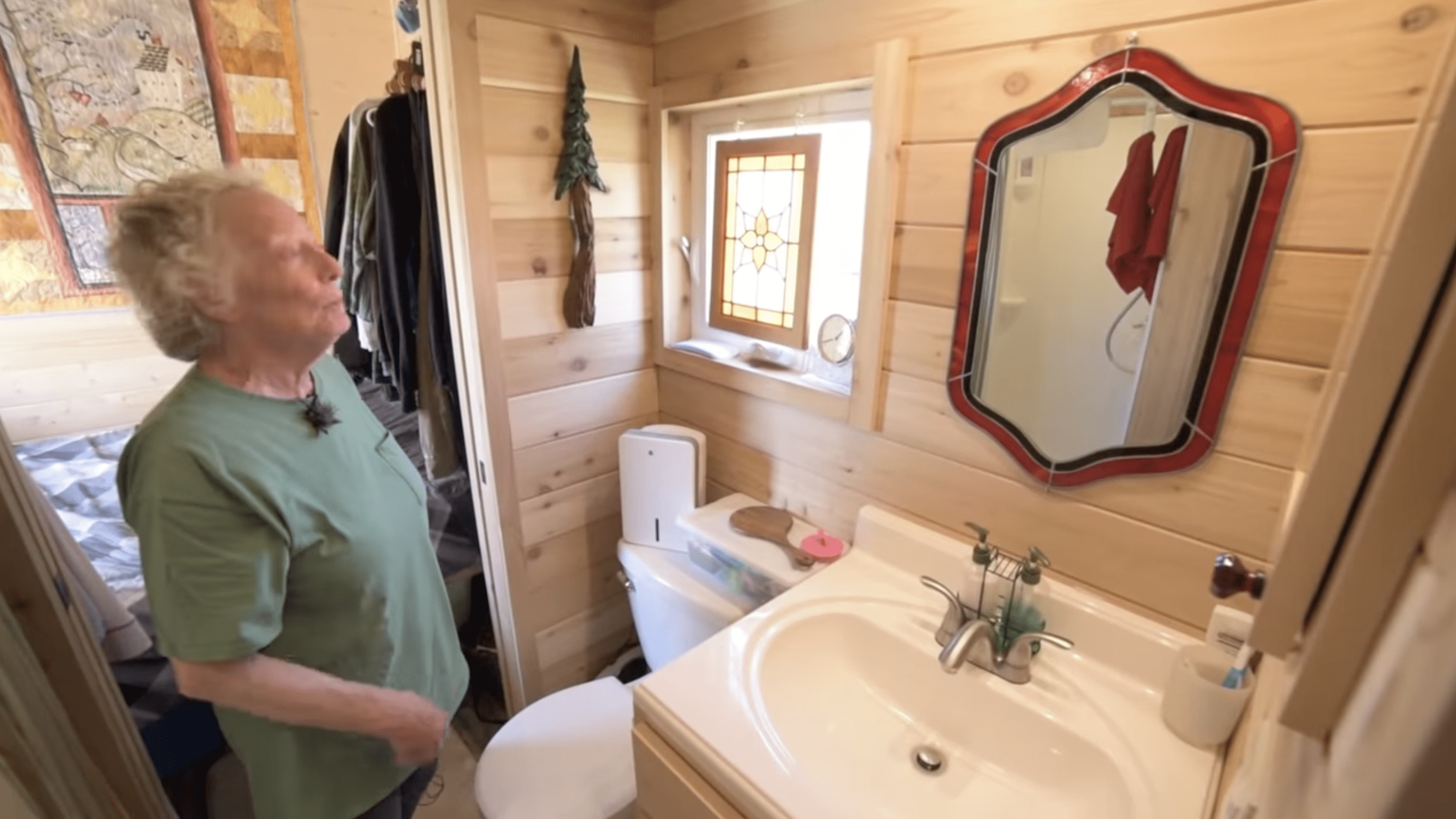 Penny shows her bathroom area. | Source: YouTube.com/TinyHomeTours
The inside of the tiny home was made from all-natural pine, except for the bathroom, which comprised cedarwood. The high ceilings made the house look bigger than its original size, and the living space contained cut-out bookshelves.
Penny's little haven was called "Silver Girl." Her kitchen area was vast and came with a propane stove and a vent to help with smoke and smell. The huge washbasin and extra counter space enabled Penny to enjoy her cooking time.
There was a compartment to hold a medium-sized fridge with a large refrigerator area. Penny's small kitchen also came with multiple electric outlets.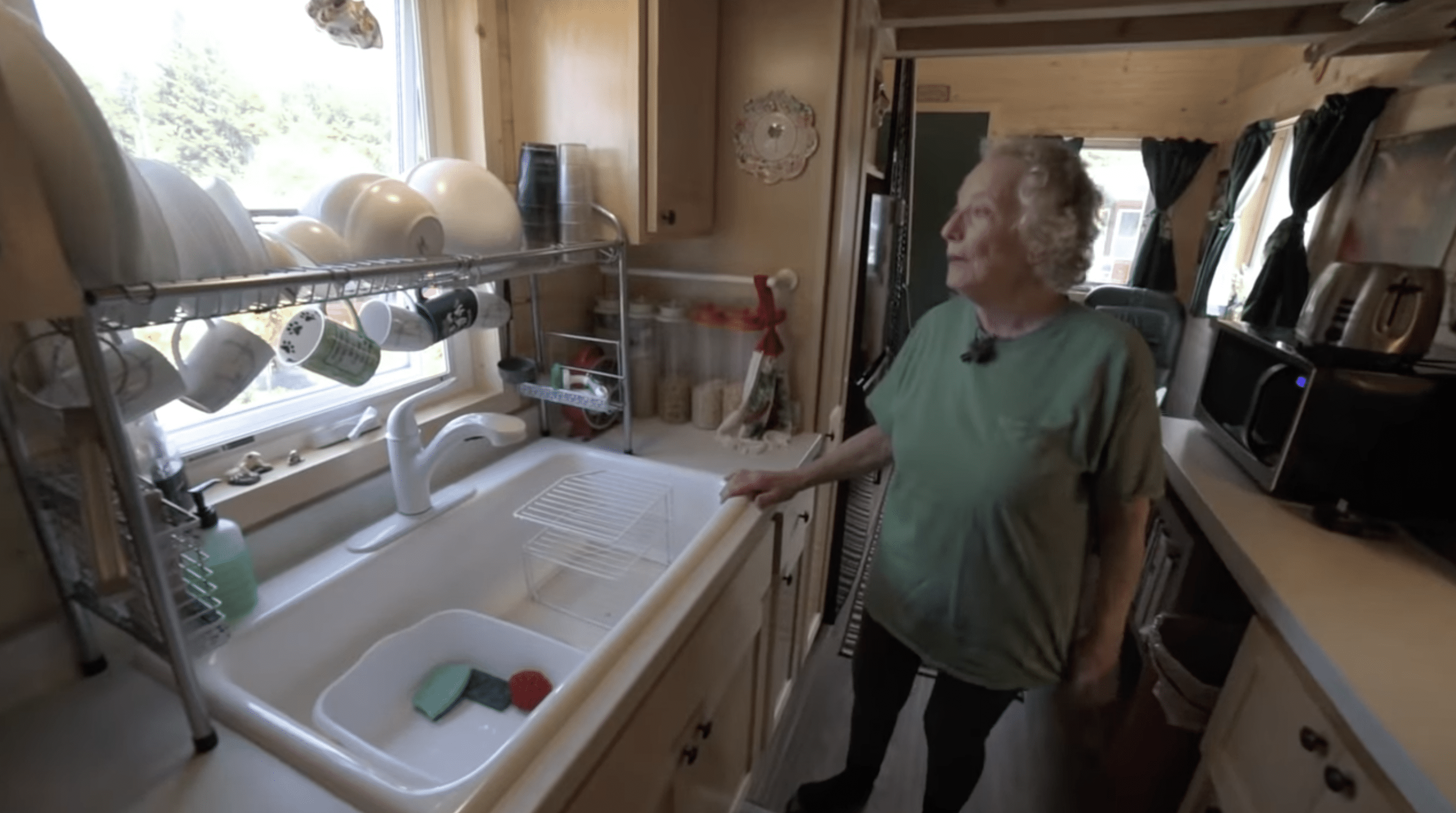 Penny shows her kitchen space. | Source: YouTube.com/TinyHomeTours
Despite using electronic appliances like a fridge, microwave oven, and a crock-pot, Penny's electricity bill was only $20, with heat included. The tiny house came with sliding doors that separated different sections, including the kitchen, bathroom, and bedroom.
The bathroom had less floor space but came with a shower and bathtub, toilet, faucet, and a window that opened to the outside. It ran through a septic tank and was almost like using your regular home washroom.
Penny's bedroom was high enough to hold stuff underneath for storage purposes. It had a large escape window to help during house emergencies, like fire. The room also came with an extra closet for coats.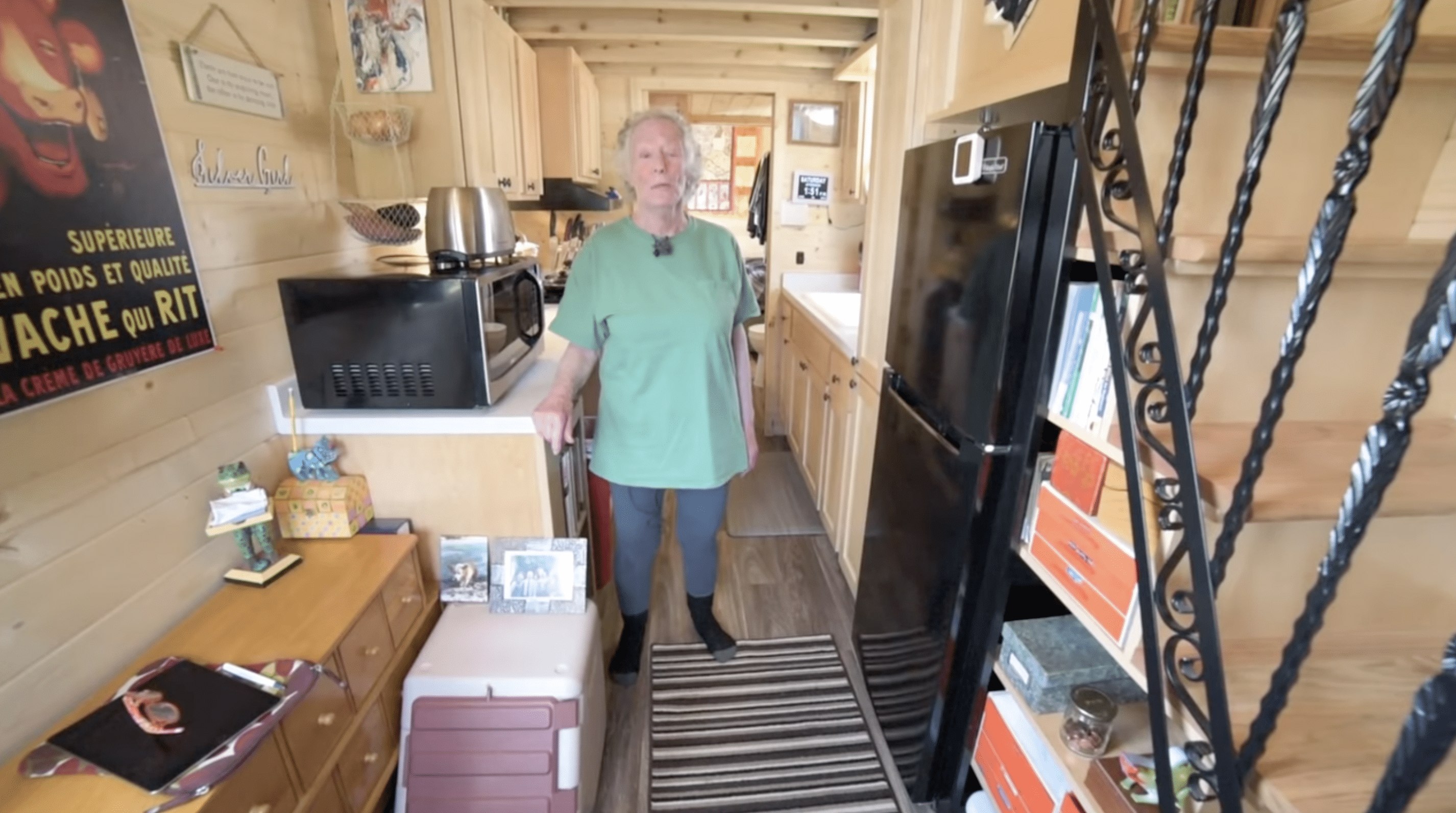 Penny stands in her tiny setup's living area. | Source: YouTube.com/TinyHomeTours
Penny used the additional space by the ceilings to store boxes and other miscellaneous items. One of the fascinating features of the tiny home was the insulated loft, which contained a treadmill for Penny's dog and a full-size bed.
The loft was cozy enough for her dog to exercise and rest whenever the weather was cold or it rained outside. Penny's comfy home also had another flattering feature - the iron railing. The tiny space had been designed with strict attention to detail.
While Penny had an incredible time living in a small space with her dog and sparing her time for things that mattered, she shared that she planned to sell her home.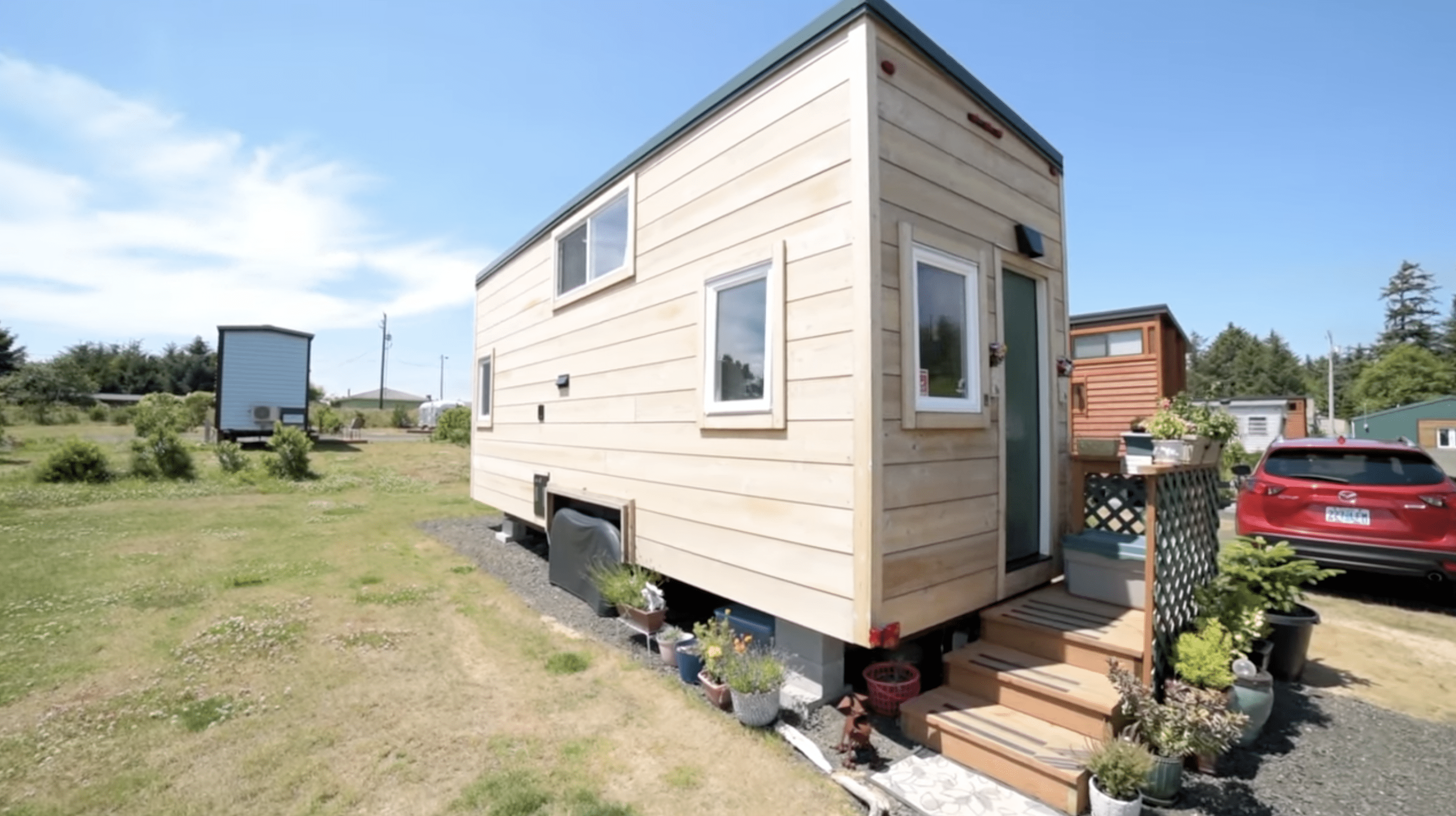 The front view of Penny's tiny home. | Source: YouTube.com/TinyHomeTours
The older woman shared that her disability kept her from using her loft effectively. She stated that having a loft would be brilliant for people in their 20s, but for someone in their 80s, physical ailments could get in the way of living in similar settings.
Regardless, Penny's adorable little setup is an inspiration for those who want to embrace minimalistic living but don't know where to start.
Penny's preference for simple, nature-inspired living speaks volumes about her. It makes one ponder the things that matter and those leading to more clutter. However, affording a fancy living doesn't necessarily make someone less positive.
The same was true for a millionaire, Terry McGrath, who invited a couple to live in his four-million-dollar home. The couple had been homeless for nearly ten years when McGrath read about them and immediately stepped up to help. Read the complete story here.
If given a choice, will you opt for a minimal lifestyle like Perry, or share your wealth with someone in need, like tycoon Terry McGrath?
Please fill in your e-mail so we can share with you our top stories!