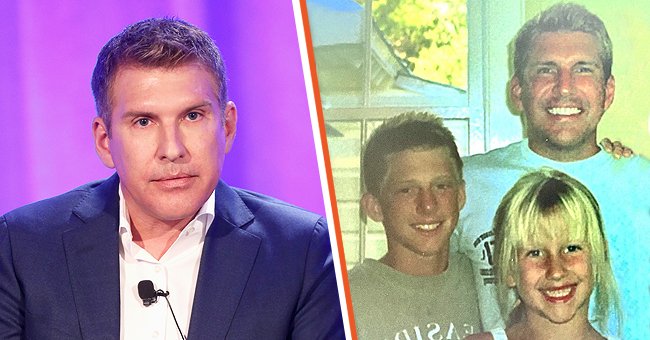 Getty Images | instagram.com/kyle.chrisley
Millionaire Todd Chrisley Sued Ex-wife for $1M Child Support After He Expected Her to Live a 'Show-Room' Life
Fans of "Chrisley Knows Best" are often treated to the perfection of the family's patriarch, including his enviable bond with his family. However, Todd Chrisley was once entangled in a bitter lawsuit with his first wife, and their marriage was far from perfect.
While the Kardashians are all about relationships and lavish lifestyles, the Chrisleys are known for obedience to the family's patriarch, Todd Chrisley. But before the seemingly flawless Todd many got to know on "Chrisley Knows Best," was one with a secret marriage not many know about.
The reality TV star was married to his high school sweetheart, Teresa Terry. Initially, the marriage felt like paradise, but it was short-lived.
The couple divorced and engaged in a court battle, leaving their two kids to become victims of a broken home. Their relationship was a memory Todd intended to keep away from the public version of his life until 2016, when Terry revealed her side of the story.
TERESA TERRY AND TODD CHRISLEY'S ADMIRABLE BEGINNING
Terry and Todd had a sweet connection. They would often eat together as a family and enjoy movie time. She also explained that he was not enthused about a big crowd, but he was conversant with fashion.
Despite coming from a middle-class background, Todd chose to dress differently from his peers at school. He always wanted to shop at Neiman Marcus. He also shared his dreams with Terry.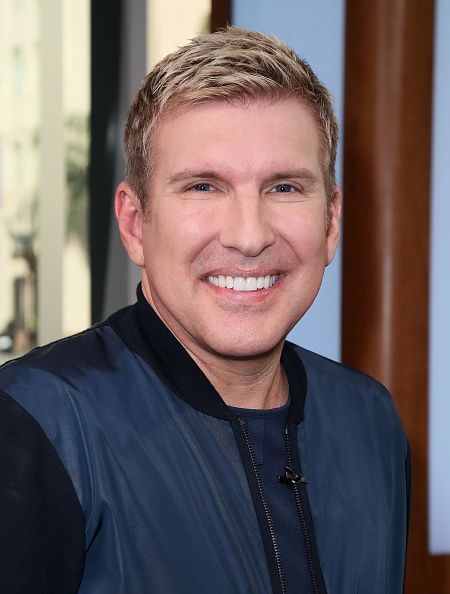 Todd Chrisley during the Hollywood Today Live at W Hollywood on February 24, 2017. | Photo: Getty Images
She once mentioned that he was fascinated with TV and talked about becoming a model and interior designer. The pair carried on, and when Todd clocked 21, his 19-year-old girlfriend, Terry, became pregnant.
It was not exciting news for the aspiring TV star, yet he showed great support and did what he considered right. The young adult proposed, and they married in their community's church. According to Terry:
"Most likely, we wouldn't have married if I hadn't been pregnant, but we did, and it was a big deal. There were six attendants on both sides, and even though the town where we lived wasn't big, the church was full."
Fortunately, Todd proved to be a caring husband. Terry's first pregnancy was challenging with compulsory bed rest, and her husband was available with support.
TERESA TERRY AND TODD CHRISLEY'S COOKIE CRUMBLES
A year after their first daughter, Lindsie, was born, their son, Kyle, joined the family. As the marriage progressed, Terry and Todd began to clash often, arguing over who was right or wrong.
Terry claimed that her ex-husband was obsessed with controlling his environment, which upset her. For example, he wanted the home to be arranged at all times, and things kept in the right places, including toys.
According to Todd's first wife, it did not matter that they had two young kids in the home. That was not all. He extended the monopoly of control to Terry by ensuring that she fixed her hair and was dressed to the nines for any outing with him.
At some point, she grew tired of the perfection and how Todd charged at her, that it was impossible to stay mute. As a result, the couple separated multiple times before finally ending their turbulent marriage in 1994.
Terry alleged that Todd assumed control over their kids and that she could not see Lindsie, who was with her paternal grandparents at the time.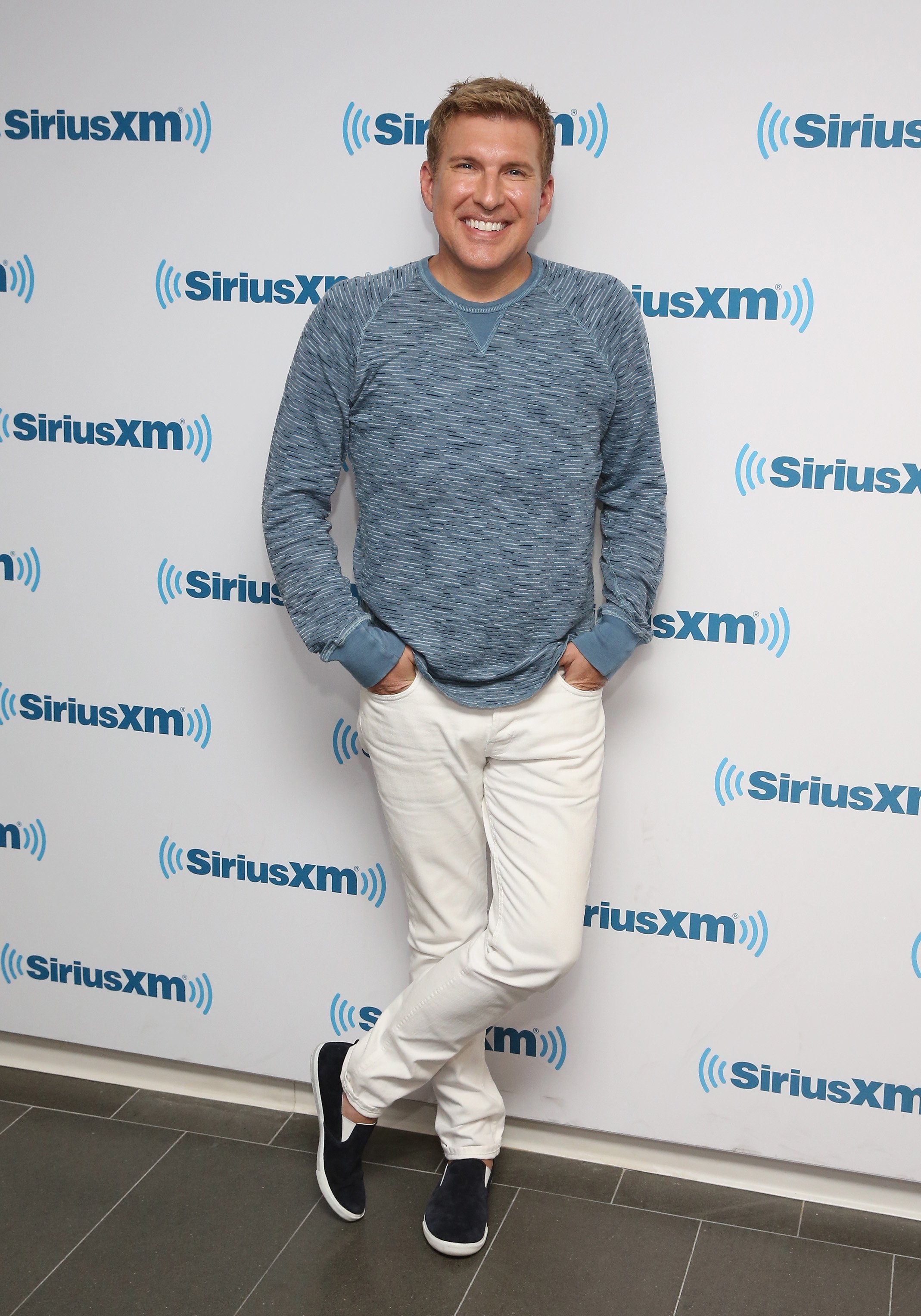 Todd Chrisley in New York visiting SiriusXM Studios. | Photo: Getty Images
She sued the reality TV star for unlawful abduction and domestic violence. Eventually, the former couple gained shared custody of their kids, and Terry dropped the lawsuit.
THE FORMER COUPLE'S LEGAL BATTLES/ CUSTODY ARRANGEMENTS
As expected from a couple who went through an unstable marriage, the pair engaged in a series of legal battles. Even after their divorce was finalized in 1996, they clawed at each other with legal charges.
Todd denied Terry's domestic violence assertions, maintaining that he was never physically abusive. They proceeded to fight for full custody of their kids, but the court decided the best arrangement was for the kids to have their parents in their lives.
However, Terry claimed her ex-husband manipulated the custody verdict. Following their divorce, Todd's real estate business made him a millionaire, meaning he was more financially capable of catering for the kids.
Terry had moved to South Carolina to make co-parenting easier for her ex-husband, but in 2000, he moved to Atlanta and pursued a lawsuit that lasted two years.
Eventually, the Superior Court of Fulton County, Georgia, granted the parents shared custody; however, their kids would school in Atlanta and have Todd's home as their primary residence.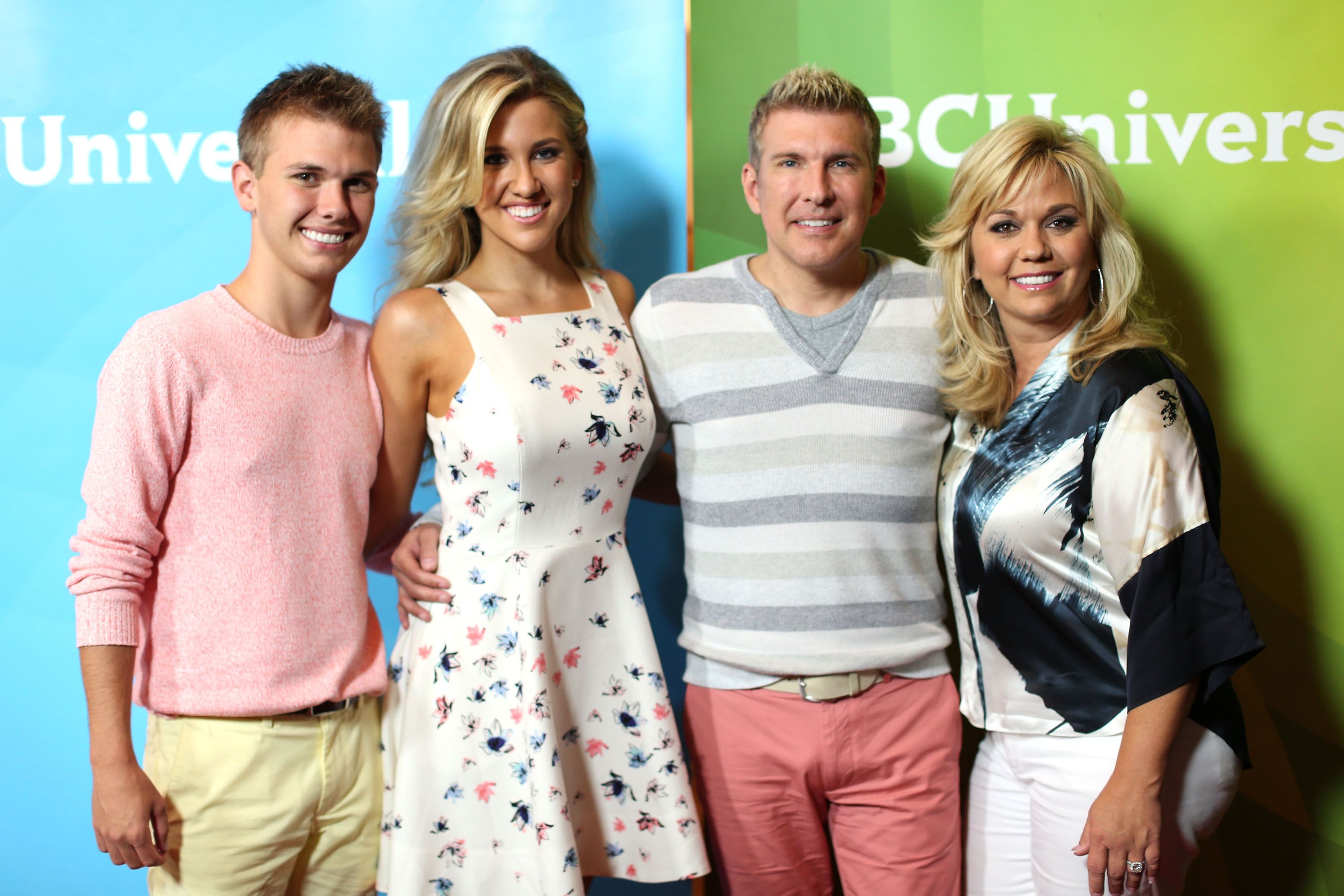 Chase Chrisley, Savannah Chrisley, Todd Chrisley and Julie Chrisley at NBC Universal's 2014 Summer TCA Tour on July 14, 2014. | Photo: Getty Images
Terry's time with her kids was scheduled for public holidays, three weekends out of four, and vacations only on even years, while Todd had them during odd years.
This did not make it any easier, as Terry stated that the real estate magnate had a way of manipulating the arrangement: Whenever the kids misbehaved, their dad withheld their visits with their mother.
Terry added that Todd's actions were vindictive and motivated by resentment. She explained that he moved to California with the kids for three months.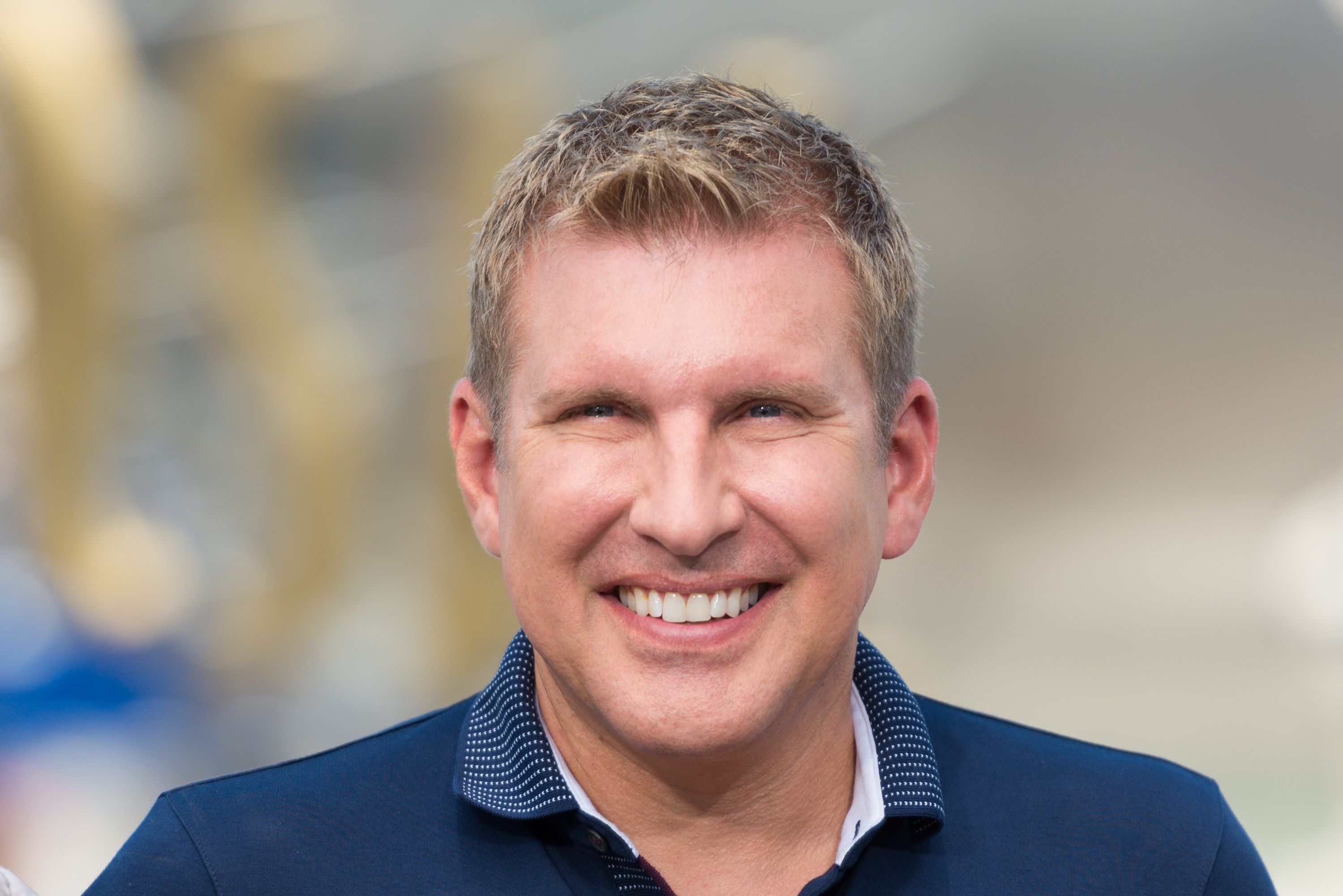 Todd Chrisley visits "Extra" at Universal Studios Hollywood on July 18, 2017 | Getty Images
He later slammed her with a lawsuit, demanding one million dollars for child support. Although the case was thrown out of court, it successfully stressed and upset the defendant.
Terry labeled her first husband as a controlling, vindictive and jealous person who wanted to get his pound of flesh after she had moved on.
The mother of two married her second husband before severing ties with Todd. So it worsened their relationship, and Todd recorded her in her home without her consent, labeling her a "cheating wife."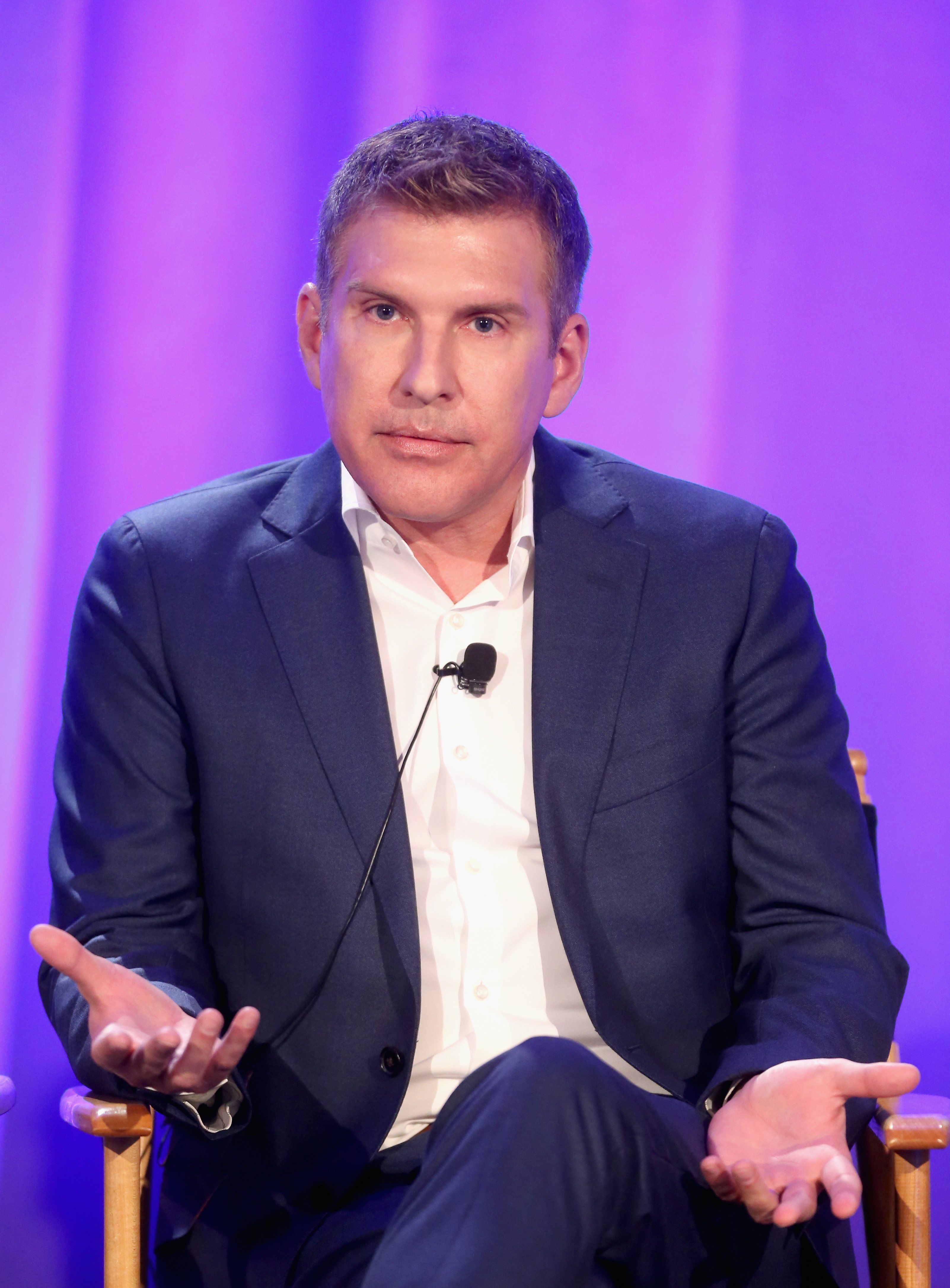 Todd Chrisley, reality star and real estate mogul | Photo: Getty Images
Undoubtedly, the former couple's accusations, denials, and lawsuits affected their relationship with their children, as well as their lifestyle.
TODD CHRISLEY'S FAMILY RELATIONSHIP NOW
Apart from Lindsie and Kyle, Todd Chrisley shares three kids with his second wife, Julie Chrisley, a regular face on "Chrisley Knows Best."
Julie and Todd have a sweet relationship onscreen, but it only began after the pair experienced failed marriages. The former married her high school sweetheart, Kenny. During her marriage, she had an affair with Todd, who was already divorced from his first wife.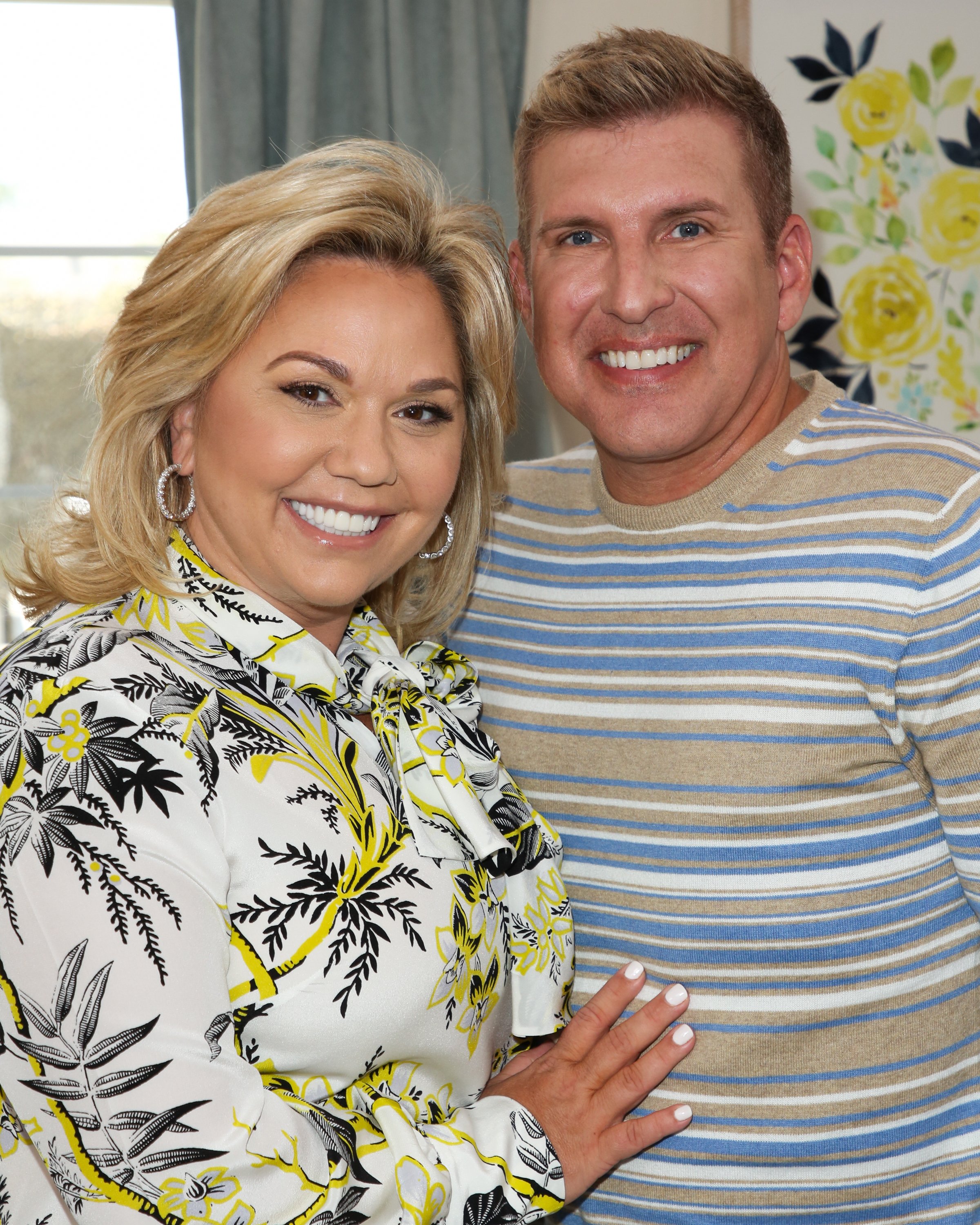 Julie Chrisley and Todd Chrisley visit Hallmark's "Home & Family" on June 18, 2018. | Photo: Getty Images.
The couple's marriage has lasted for more than a decade and has stood the test of time. Todd was supportive of his wife throughout her breast cancer diagnosis, and Julie stood by her beloved man during their legal battle with the state of Georgia.
As for the couple's kids, they have a fantastic relationship with their parents. However, that is not the case with Lindsie, Todd's first child. They have been at loggerheads for more than five years, and Todd accused his daughter of being a catalyst in the family's woes.
Although Lindsie claimed she always felt out of place and was glad when her stepmother adopted her, she has remained estranged from the family, with no hopes of reconciling.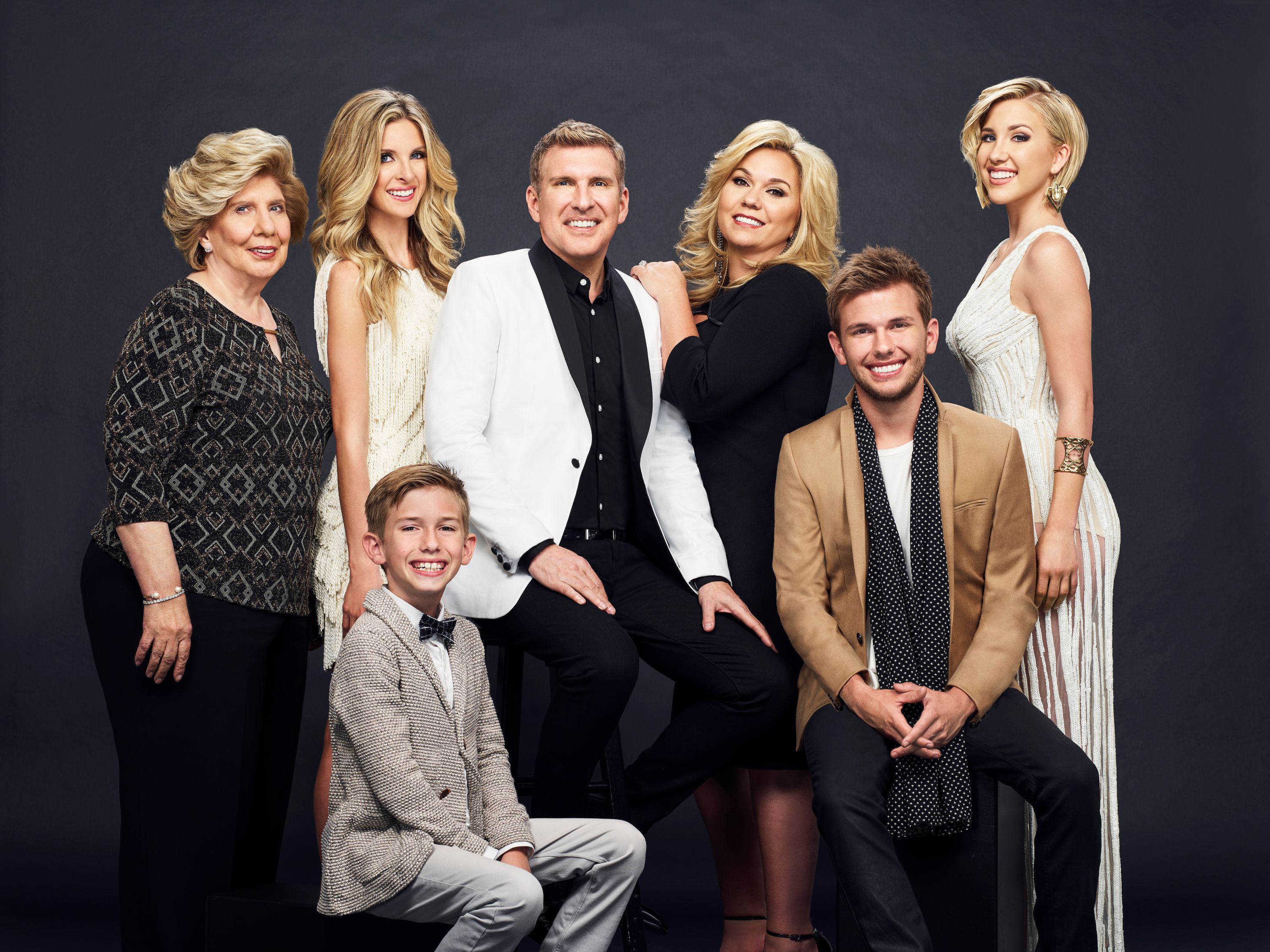 Faye Chrisley, Lindsie Chrisley Campbell, Grayson, Todd, Julie, Chase, and Savannah Chrisley on March 17, 2016 | Photo: Getty Images
According to her: "There will never be a reconciliation...I think that the most that anyone could ask for at this point is for everyone to go on with their lives as they see fit and to just leave the other side alone. But at this point, there will be no chance for reconciliation."
Terry's daughter added that she missed her family but would prefer to remain away from drama, as she is the regular target and the outcast.
Please fill in your e-mail so we can share with you our top stories!