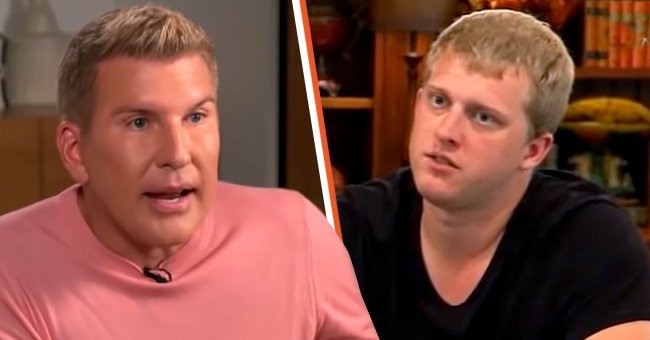 youtube.com/Entertainment Tonight | youtube.com/Good Morning America
Chloe Chrisley Calls Todd Chrisley 'Dad' but Her Real Father Once Accused Him of Using Her
Chloe Chrisley's father once accused her grandfather, Todd Chrisley, of using her to increase the ratings of his reality show, "Chrisley Knows Best."
Kyle Chrisley is the father of Chloe Chrisley, and the son of "Chrisley Knows Best" patriarch Todd Chrisley. He once called out his father for using his young daughter for views.
Chloe's mother is Angela Johnson. However, her grandparents have had custody of her for most of her life. Kyle and Johnson were never in a long-term relationship.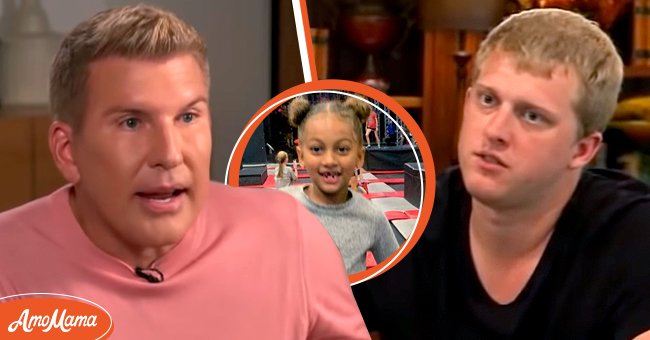 Todd Chrisley during an interview with Entertainment Tonight [Left] Chloe Chrisley [Middle] Kyle Chrisley on "Good Morning America. [Right]. | Photo: youtube.com/Entertainment Tonight instagram.com/kyle.chrisley youtube.com/Good Morning America
When Chloe was born, Kyle was not in a good place as he was deep in an addiction to alcohol and drugs. Likewise, Johnson was going through her issues, and so neither could look after their daughter.
Chrisley and Julia took custody of their granddaughter and raised her in their home with their three children. Unfortunately, the arrangement caused tension and a feud between Kyle and his father.
The feud between Kyle and Chrisley started in 2014 after Kyle was removed from the show because of his mental health issues and not taking his medication.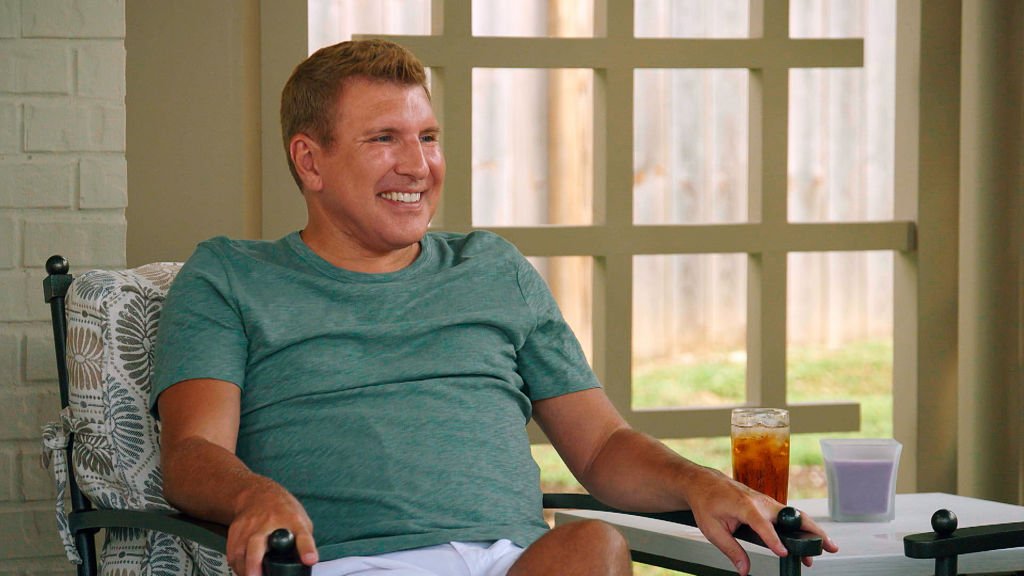 Todd Chrisley during season 8 of "Chrisley Knows Best." | Photo: Getty Images
Kyle and his daughter, then two-year-old, Chloe disappeared from the comedy but drama-filled reality show based on the Chrisley family, including Chrisley's wife, Julia, and their three children, Chase, Grayson, and Savannah.
After Kyle's removal from the show, Kyle and his then-girlfriend, Alexus, went to The Daily Mail to share their side of the story. During which Kyle made some pretty serious allegations against his father.
For starters, Kyle accused his father of only putting Chloe on the show because she was mixed race, and he realized it would increase his views. Kyle told the outlet:
"My dad showed no interest in Chloe at all until the show and until it was pointed out that having a mixed race child and getting her and all that would be good for his demographic."
Furthermore, Kyle stated that his father did not want to see or have anything to do with his daughter Chloe before the show started.
At the time of the interview, Kyle shared that he was fighting to have her removed from the show because he felt the show had "ruined" him, and he did not want the same for his daughter.
Kyle did not hold anything back during his interview with The Daily Mail and went as far as to describe his father as "bankrupt, toxic and a snake who has shut him out of his own child's life."
Shortly after Kyle's interview with The Daily Mail, his father shared his reaction to Kyle's statements with E! Online. He told the outlet the situation was unfortunate, and Kyle's stories were not true.
He explained that he was told about the article via his publicist, who tried to explain the severity of Kyle's situation to the editor. The editor did not heed their warning and instead replied:
"Well, we're going to run the story anyways. Kyle has a right to say what he wants to say and besides, it will be great for your ratings."
Chrisley was upset by what Kyle said, but the part that hurt him the most was the idea that Kyle's daughter was only on the show to improve ratings.
The reality star said it was not true, and it was "probably the most hurtful thing in the article." However, he said that he would not focus on his son's statements because he loved him.
Chloe and her grandparents are incredibly close. Chrisley once admitted that Chloe was his favorite person on Instagram due to his son Chase sharing who his favorite person was.
The young girl seems to be equally fond of her loving grandparents. In an interview with Tennessean in 2018, Chrisley shared that Chloe called him both "Papa" and "Dad."
While their granddaughter called Julia "Mimi" and "Mom." However, Chrisley and his wife were not worried about what Chloe called them as they explained:
"Through our child psychologist, they told us not to correct that… Let her find her own natural rhythm, let her relate to us on the terms that she chooses to relate to us on."
It seems through the years, Chrisley and Julia have only shown love and kindness to both Chloe and their children. Fortunately, their efforts to be kind paid off.
After the publicized feud with his parents, Kyle admitted in a social media post that he had not always been the best father to Chloe because of his struggles with addiction.
He shared that he had apologized to his father for his past behavior, and his father forgave him and welcomed him with open arms. Kyle added that he was grateful for his father's love.
Now the family looks like they have genuinely patched things up. Kyle has posted a lot about his daughter online, although it seems his parents still have custody over her.
Likewise, Kyle has popped up in his family's Instagram feeds and started appearing again on their hit TV show. However, that does not mean the family is not still dealing with hard times.
Chloe is mixed race as her mother is black and her father is white. So she looks a little different from the Chrisleys, who are caucasian. Unfortunately, others feel it necessary to make rude comments about it.
Recently Savannah and Chrisley opened up about the racist comments people made about Chloe. Savannah shared online that fans had said Chloe did not belong in their family.
While on "Today," Savannah said, "If it's something stupid about me, I don't care. I don't have time for that. But if you attack Chloe, I'm gonna call you out."
Chrisley has shared that he has had conversations about race with Chloe. Chloe has shared her opinion on the matter and stated, "I love how God made me."
Although Chloe's fame has come with a few challenging moments, more fans have shown their love and support for her and her comedic moments with her family members on the show.
Kyle is now married to Ashleigh Nelson. He recently shared a sweet tribute for Chloe with adorable photos of her on her 9th birthday in November 2021.
Please fill in your e-mail so we can share with you our top stories!