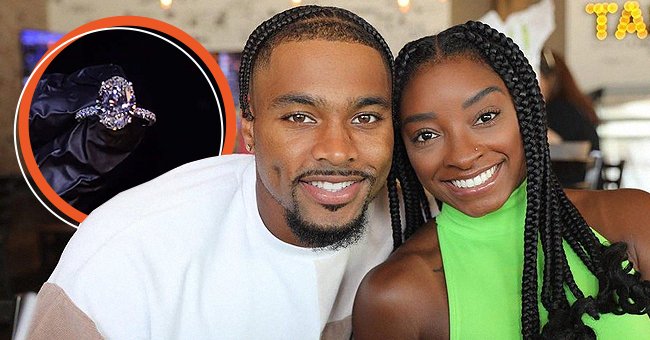 instagram.com/simonebiles
Simone Biles Made the First Move On Fiance Jonathan Owens in a Dating App - He Had No Clue Who She Was
Many celebrated 2022 Valentine's Day with family, partners, and loved ones, and Simone Biles and her man were no exceptions. The lovebirds also marked a new milestone in their relationship following their engagement.
In March 2020, American Artistic Gymnast Simone Biles called it quits with her ex-boyfriend, Stacey Ervin. However, not long after, she found love in the arms of Jonathan Owens, and the duo is engaged.
The athlete has been vocal about their relationship and often shows her man off on social media. In one of her Instagram posts, Biles could be seen in the embrace of her much taller fiance.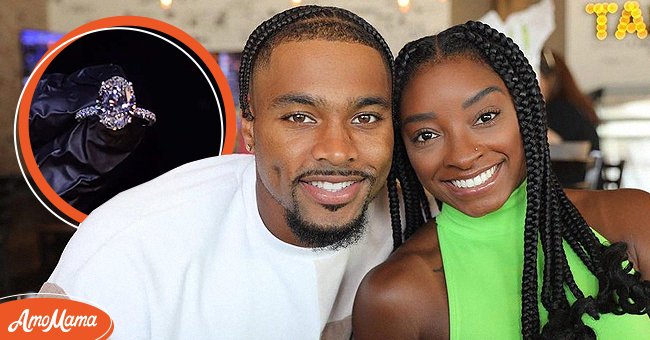 Image of Simone Biles's engagement ring [left]. Gymnast Simone Biles and her fiance Jonathan Owens [right] | instagram.com/simonebiles Photo:
The upload sparked several comments from netizens, with one user calling the gymnast a "lucky woman." Two other respondents revealed that the lovebirds were "hot."
Biles and Owens have a lot in common. However, their love for sports stands out. Currently, the latter is a football safety for the NFL team, Houston Texans, which he officially joined in 2020. Let's take a glimpse at some interesting facts about the athletes' beautiful relationship.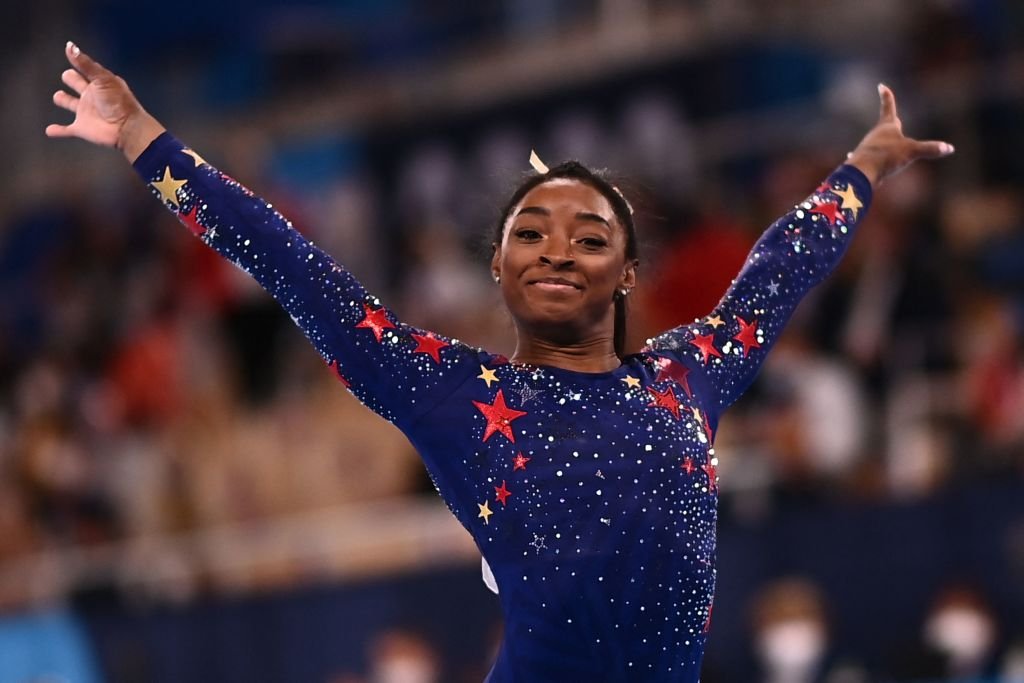 Simone Biles in the artistic gymnastics balance beam event during the Tokyo 2020 Olympic Games, on July 2021. | Source: Getty Images
Over time, Biles and Owens have built a loving relationship centered on lifting each other. However, many know nothing of the pair's love story, especially how they met. Last year, the Olympic gold medalist opened up about how she and the football player met.
Biles revealed that she and Owens met via a dating app called Raya. According to the star, when she saw her boyfriend's picture, she thought he was very cute. Biles also noticed that he lived in the Houston area, so she sent him a message, and the pair began chatting.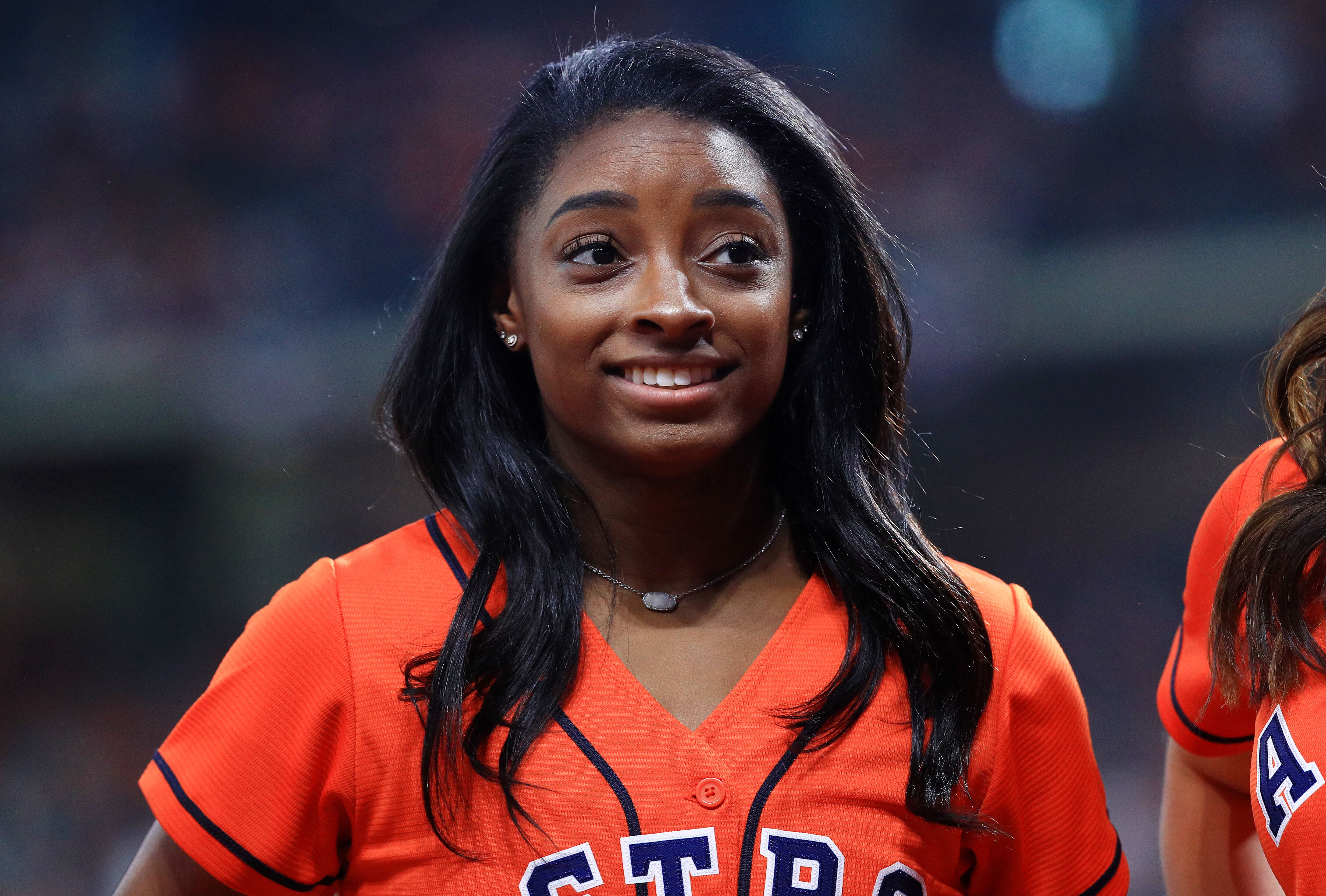 Simone Biles at Game 2 of the 2019 World Series between the Houston Astros and the Washington Nationals on October 23, 2019. | Source: Getty Images
After talking for about a week or two, they finally met physically and hung out. At the time, Owens was unaware of Biles's sports history and social status. The football player said,
"I didn't know who she was. I just hadn't heard of her, and when I told her that, that was one of the things she liked."
Owens was oblivious until he noticed that Biles had a large Instagram followership. He attributed his ignorance to not watching gymnastics.
But when Owens knew how famous his girlfriend was, he sang her praises and showed her off, even to his stunned friends. The football safety player once explained:
"That's how I would tell people, and they're like, 'Simone Biles?! You for real, the gymnast?!' and I'm like, 'Man, she's good like that?!' Like I didn't [know]."
THEY KEPT IN TOUCH LONG BEFORE THEIR SOCIAL MEDIA DEBUT
In August 2020, Biles went public with her and Owens's relationship with an Instagram post. She shared two pictures of herself and the football player looking loved up and smiling heartily.
Biles donned an all-black ensemble, while her man wore a white long-sleeved top paired with black pants. She added the caption: "It's just us." Although the relationship became official in August 2020, the lovebirds sparked dating rumors before then.
In 2019, Biles started liking Owens's Instagram posts, and in July 2020, she took to her Instagram page to wish Owens a happy birthday. To accompany the heartwarming message, she shared a snapshot of the Houston Texans star giving her a piggyback ride.
PANDEMIC HELPED THEM TO GET CLOSER
In January 2021, Owens confessed that the enforced shutdown of sports caused by the coronavirus pandemic helped his relationship with Biles. They spent time getting to know one another. He told Texas Monthly:
"It was one of the few times in her life where everything was just shut off, and she couldn't do anything. So we used it to get to know each other - really get to know each other. It created our bond and made it stronger."
Apart from the pandemic, Biles also credited her sister, Adria, for helping to make her and Owens's relationship better.
She revealed that when Adria learned of their relationship, she invited the football star to a family vacation. He honored the invitation, and eventually, it became a weekly ritual.
When coming for the weekly family dinners, Owens would bring his bulldog. It was only a matter of time before his dog and Biles's two bulldogs became best friends.
Although 2020 was not the best year, it was the determining year in Biles and Owens's relationship, and the latter remains thankful.
HE PROPOSED TO HER WITH A MASSIVE RING
Simone Biles is engaged! The talented gymnast got engaged on Valentine's Day 2022 and shared the news with her fans. She made the announcement with a slideshow of photos on her Instagram page.
Owens proposed on one knee in a gazebo in Houston, Texas in the photos. Biles looked elegant in a black mini dress and black heels, while her beau was clad in a gray suit. She seemed very excited, as she wore a massive smile. Alongside the lovely photos, Biles added the caption:
"THE EASIEST, YES. I can't wait to spend forever & ever with you, you're everything I dreamed of and more! Let's get married FIANCÉ 💍🥺🤎 @jowens_3."
Owens commented on the post: "Ready for forever with you❤." In his post celebrating the engagement, Owens shared the beautiful photos, accompanied with a caption that read:
"Woke up this morning with a fiancée💍❤."
Owens also appreciated his friend for helping with the engagement arrangement, adding that Biles "had no clue what was coming." The NFL player proposed with an oval-cut diamond ring, which features a diamond-encrusted band.
A video of the stunning piece was shared on the Zofrostandco Instagram page. In the caption, the handler noted that Owens handpicked the center stone. Finally, he congratulated the couple on their new milestone.
Fans, friends, celebrities, and family cannot be more excited for the couple. They are looking forward to the big day, as they are optimistic that Biles and Owens's relationship will continue to be a happy one and last for a lifetime.
Please fill in your e-mail so we can share with you our top stories!