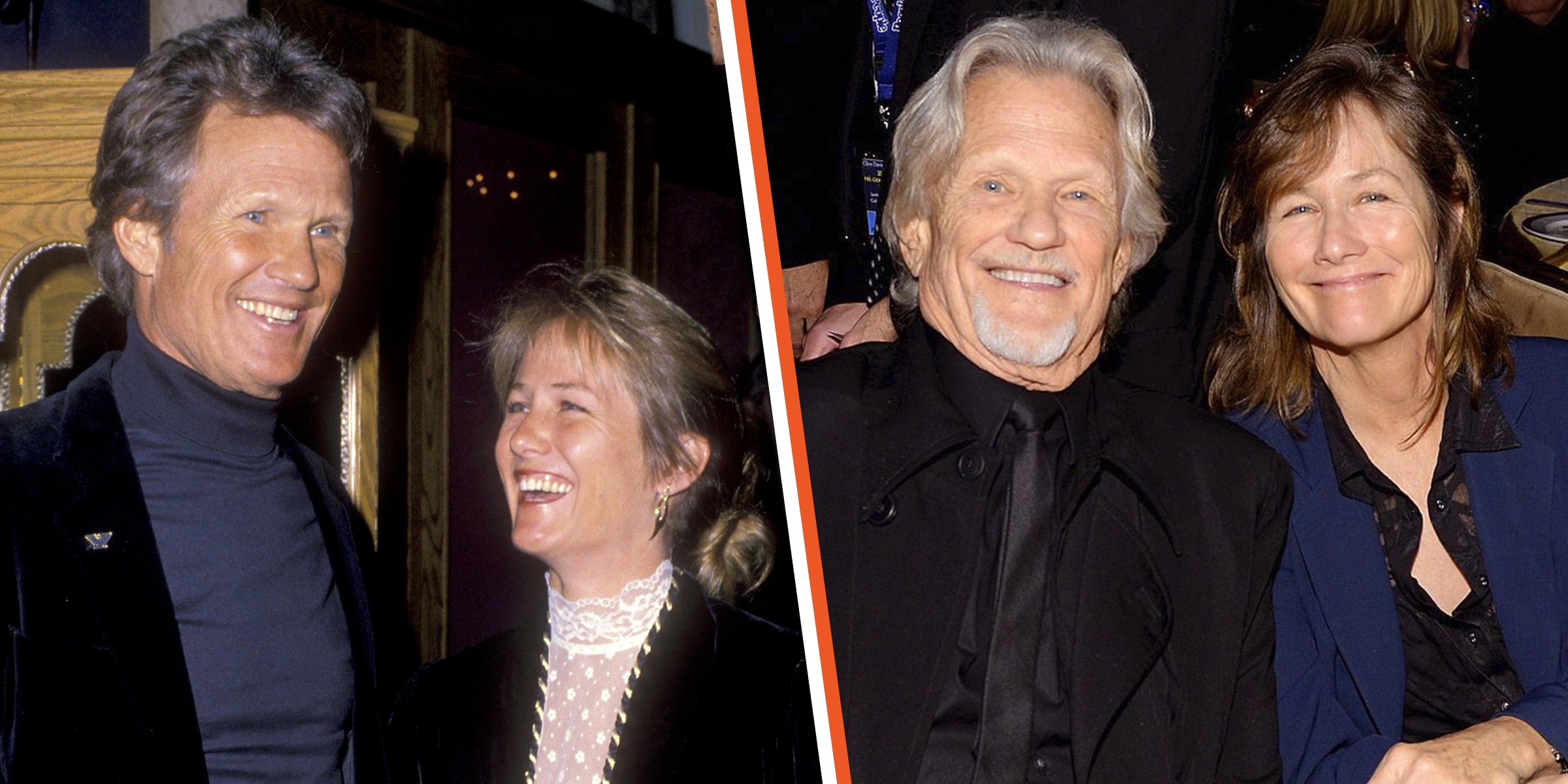 Getty Images
Kris Kristofferson Said Wife of 38 Years Is His 'Real Blessing' and Made His Life 'Perfect' with Their 5 Kids
Kris Kristofferson is an award-winning musician and actor. He released his first album in 1970, which was a commercial failure. But various artists released cover versions of his songs which proved much more successful. While his music career grew, he also kicked off his acting career.
Kris was born in Brownsville, Texas, on June 22, 1936. His family moved around often and settled in San Mateo, California when junior high. He won a Rhodes Scholarship to study at Oxford in the UK after completing his undergraduate at Ponoma College. He still dreamt of making music, but his journey to fame would be extended.
He featured in the 1976 remake of "A Star is Born," which proved to be a box office smash. The soundtrack featured some of his music, which reached the top of the charts and sold millions of copies. He even won a Golden Globe for his role in the film.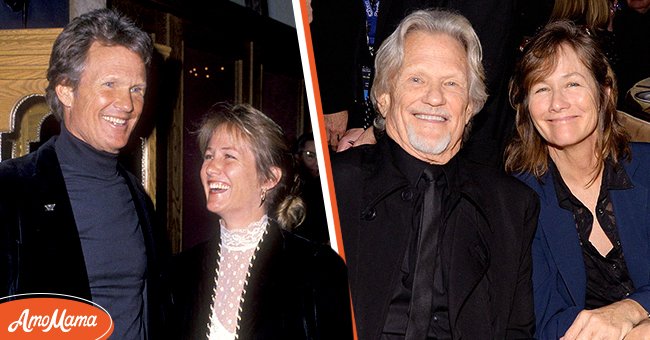 Kris Kristofferson and his wife of 38 years Lisa Meyers | Source: Getty Images
Kris's first wife was his high school sweetheart, Fran Beer. They reconnected years later during the Christmas holidays. He had recently returned from Oxford University but had to perform his military obligation, which had been deferred for his studies in the UK.
INSIDE HIS FIRST TWO MARRIAGES
At 24 years old, he decided to marry Frances and be in the army. He led a disciplined life and was deeply in love with his wife. Their families had been friends throughout their upbringing because their fathers were pilots. The couple had known each other since they were children before reconnecting years later.
However, their marriage came to an end nine years later: Giving reasons for the end of the marriage, he said:
"We thought we could solve each other's problems, we, uh, got married, she got pregnant, [the] novel I'd finished got rejected, and I was suddenly stuck, totally, with the bread-winner role. "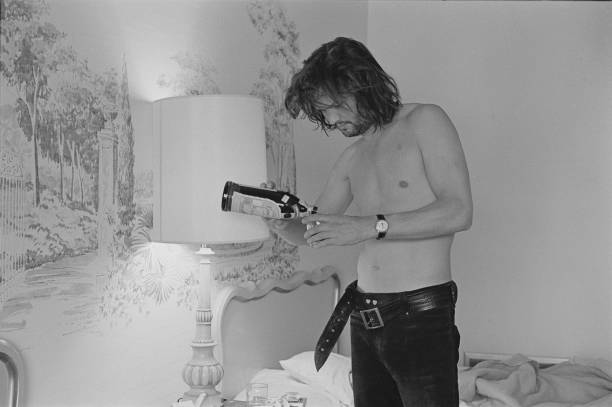 Kris Kristofferson pouring Kahlua into a glass in his hotel room in Nasvhille Tennessee in the 1970s | Source: Getty Images
hit songs such as "For the Good Times" and "Help Me Make It Through." These songs also portray the gravity of the loss he experienced when he divorced Frances. But love was on the horizon for Kris.
His second marriage was with singer Rita Coolidge in 1973. He realized he wanted to take his family on tour with him and hoped Rita would be as excited about touring as he was. He hoped that being on the road would help sustain his marriage longer than his first.
Unfortunately, Rita did not enjoy being on the road as much as he did. Casey did not work for long when traveling with his wife and daughter. Kris said that touring was a part of the problems in their marriage. He continued touring even though his marriage was struggling.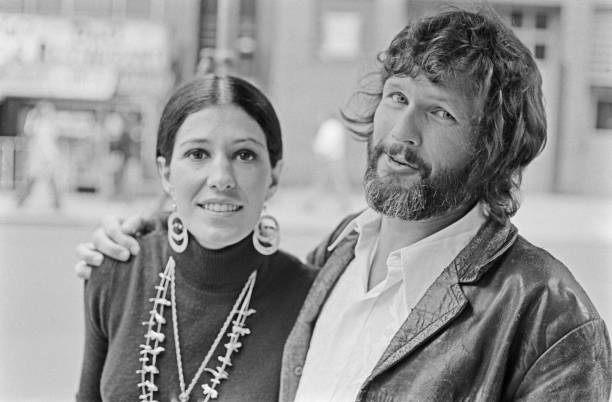 Singer Rita Coolidge with her then husband Kristofferson November 6th 1974 | Source: Getty Images
As Kris's marriage spiraled out of control, he used alcohol and drugs more frequently. He said that most of his drinking was from being in denial and feeling a lot of guilt for the selfish nature of his lifestyle. During this turbulent time, he enlisted and joined the air force.
While traveling through military towns, he drank excessively and remained unproductive. He said:
"I touched a bottom; I hadn't written a song in years when I was smashed it seemed clear, I would never write one, nor a novel, nor much of anything, so I drank more."
He took these frustrations out on his wife, who found it very difficult to cope in the marriage. He unexpectedly decided to leave the air force and travel to Nashville. His mother, shocked at his decision and his new job in Nashville – a janitor at a recording studio – disowned him.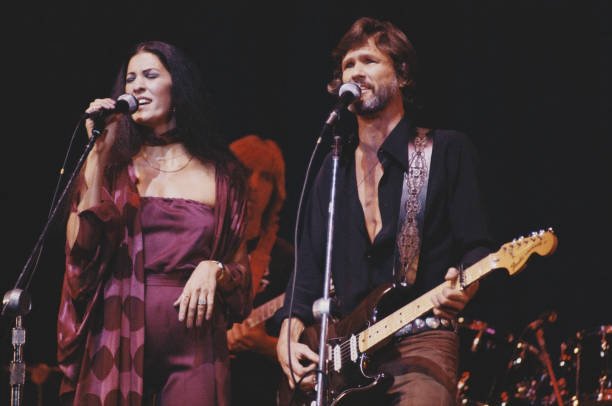 Singer Rita Coolidge with her then husband Kris Kristofferson performing on stage | Source: Getty Images
She packed his wife and child's belongings and took them with her to California. She told him never to contact her or their other relatives. Surprisingly, Kirs felt liberated at the idea of people no longer having any expectations of him.
At that time in his life, his drinking was ultimately out of control. "I had a half-gallon of Jose Cuervo in my trailer, and they never let it empty. They just kept coming back in and filling it up, same half-gallon bottle," Kris said. He was also consuming drugs at the time.
He didn't know exactly how much he was drinking, but doctors told him he would die if he didn't stop. His liver had grown to the size of a football. Thinking of his children, he immediately stopped drinking. He quit cold turkey, a long-overdue decision.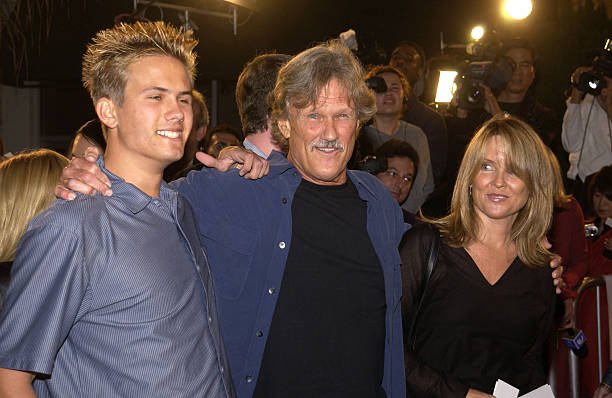 Kris Kristofferson with son and daughter during "The Transporter" Premiere at Mann Village Theater in Westwood, California | Source: Getty Images
THE BEAUTIFUL BLESSING IN HIS LIFE
While trying to move on from his dark part with alcohol, Kris met his current wife, Lisa Meyers. Lisa was an attorney, 20 years younger than Kris. She graduated from Pepperdine University and met Kris at a gymnasium in 1982.
Kris had divorced his second wife, Rita, when he met Lisa. He was deeply involved in his young daughter's life and looked to meet someone new. But after he noticed Lisa, he was immediately attracted to her. He pretended to borrow some equipment from her, and that's when they began speaking.
Just after they had met, Lisa suggested they go for a run. Kris told her how busy he was raising his daughter and did not have time for anything else. After his explanation, Lisa paused and just said, "Listen, I just want to go for a run!"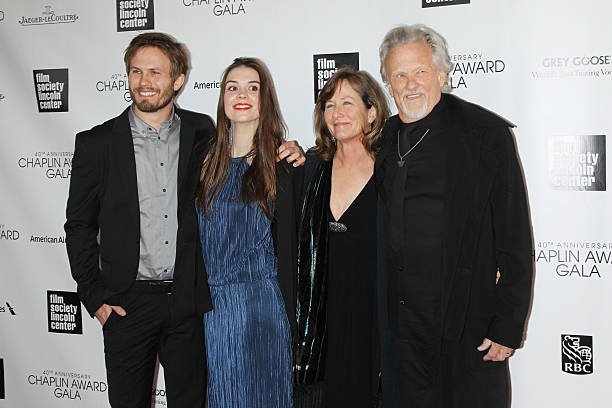 (L-R) Jesse Kristofferson, Kimberly Alexander, Lisa Kristofferson and Kris Kristofferson at the 40th Anniversary Chaplin Award Gala at Avery Fisher Hall at Lincoln Center for the Performing Arts in 2013 | Source: Getty Images
Lisa added, "I spent the better part of two or three years trying to [tame him]. And then, at the end of that time, I remember sitting there thinking, OK, he's nice looking, but I can't find one other thing I like about this man. Not one."
She remained with Kris, and they had five children together: Jesse Kristofferson, Jody Kristofferson, Johnny Robert Kristofferson, Kelly Marie Kristofferson, and Blake Cameron Kristofferson Lisa has also been a loving stepmom to all of Kris's children.
ENJOYING A WELL-DESERVED RETIREMENT
Kris said another beautiful thing about his marriage was that the children he had with Lisa helped him get back in touch with all his older children. They are all a close family with one another. Kris had two children with his first wife, Tracy, and Kris Jr. With Rita, his second marriage, he had one daughter, Casey.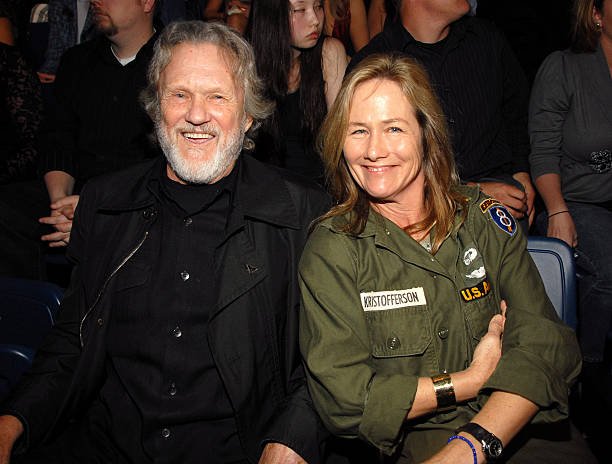 Kris Kristofferson and his wife Lisa Meyers at the 2007 CMT awards | Source: Getty Images
Speaking on his past, Kris said, "Looking back, I really have to say I'm not sure I would change anything. Because something, especially over at least the last 15 years, has finally made my life perfect. My family, in particular, is the best thing in my life."
Now that he has retired from music and acting, Kris and Lisa live in Hawaii. They are raising their five children and are very involved in the community. The couple is also involved in the local schools, donating computers and contributing to fundraisers.
Please fill in your e-mail so we can share with you our top stories!