Kris Kristofferson Fathers 8 Kids with 3 Different Spouses — Inside His Big Family
Kris Kristofferson is famous for more than one reason. Apart from being a member of the Country Music Hall of Fame and winning a Golden Globe, he's a father-of-eight.
Kris' career has been influential in country music for decades, but his personal life never ceased to impress. He married his first wife and high school sweetheart Frances Beer in 1960, but they parted ways in 1969. 
In 1973, he and Rita Coolidge tied the knot, but they split after seven years together. She once revealed people were "fascinated" by their relationship, but his alcohol problems and infidelity were impossible to bear.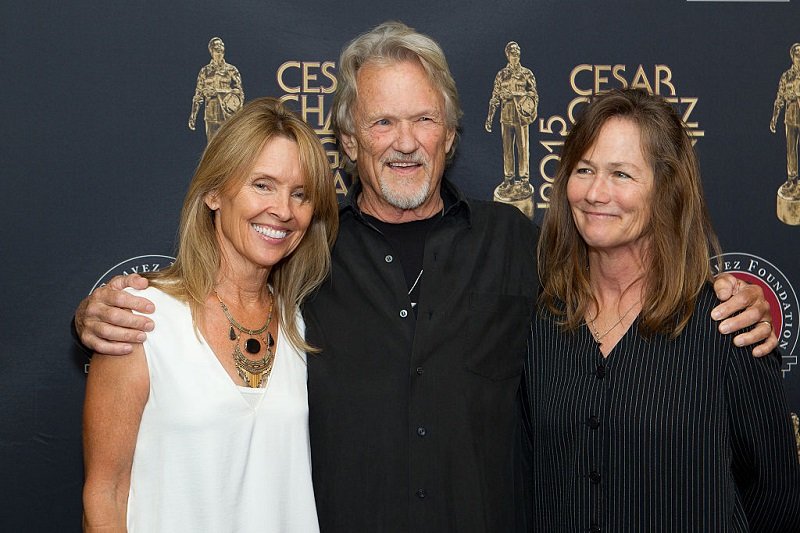 Now, Lisa Meyers is married to Kris, and they've been together for almost 40 years. Since he's had three wives, people have wondered how many children Kris Kristofferson has.
The country music legend is the proud father of eight kids: two with his first wife, one with his second, and five with his third. Read on to learn more details about Kris' kids.
Happy 85th, Kris Kristofferson!

Michael Cimino's HEAVEN'S GATE (1980). pic.twitter.com/6KTIZ2l4gp

— The Daily (@CriterionDaily) June 22, 2021
WITH FRAN BEER
In January 1962, Kristofferson's first child, Tracy, was born. She studied at Stanford University and followed in her dad's footsteps after graduating, taking gigs as an actress and producer. 
She was primarily involved in showbiz in the 80s and 90s with appearances in "Trouble in Mind," "Night of the Cyclone," and "A Place to Grow." In recent years, though, she's lived a low-key life.
Kris Kristofferson Jr. is the singer's only son with Beer. Born in 1968, Kris Jr. has spent most of his life away from the spotlight, so few details are known about him.
WITH RITA COOLIDGE
Unlike her older half-siblings, Casey Kristofferson has been actively pursuing a career as a musician. Born in 1974, she inherited some of Kris and Rita Coolidge's musical skills. 
Casey once revealed she was not "naturally gifted" with her dad's songwriting ability or her mother's voice, but she has "a good ear." She took a ten-year hiatus from music to raise her three daughters before resuming her career.
She did it with the help of singer-songwriter Hunter Bagley and Dobro player Charles Willis, and they formed Yellow Feather. She mostly signs backup and writes songs, but she's doing what she loves.
Happy 85th birthday to my old stompin' buddy #KrisKristofferson Rita, you, me, Cleve, Waylon and Willie and Mickey Gilley's. Good times. pic.twitter.com/wFfuj18XjK

— Ariaa Jaeger (@AriaaJaeger) June 22, 2021
WITH LISA MEYERS
Kris Kristofferson's current wife is the mother of five of his children. Their oldest is Jesse, born in October 1983, months after his parents' wedding. He's worked as an actor in "Days of Our Lives" and "Bloodline" but has not worked in showbiz since 2013. 
Out of Kris Kristofferson's kids, Kelly Marie is arguably the most famous.
Breaker! Breaker! Happy 85th to the Rubber Duck himself. Athlete. Army Vet. Rhodes Scholar. Singer. Songwriter. Actor. American Icon Kris Kristofferson. #KrisKristofferson #convoy pic.twitter.com/n2bVISNN6w

— Ace Atkins (@aceatkins) June 22, 2021
Unlike his famous dad and some of his siblings, Jody Kristofferson didn't pursue a career in music or acting. Instead, Jody, born in May 1985, was an NXT and WWE wrestler known as Garrett Dylan. He debuted in the WWE in August 2010 and retired in 2017. 
Jody once made headlines for defending Bill DeMott, who stepped down as WWE head coach amid allegations that he abused and harassed talent. Jody said DeMott was an old-school trainer and didn't deserve what he got.
Happy 85th birthday to Kris Kristofferson, owner of one of the longest coolness streaks going, including the time he volunteered to introduce my wife's band at Farm Aid so the early-in-the-day crowd would pay attention. pic.twitter.com/S1eAjCRqP8

— J. Elvis Weinstein (@JElvisWeinstein) June 22, 2021
Johnny Kristofferson, born in 1988, didn't want to be on everyone's radar. So, instead of becoming an actor or musician, he studied law at Pepperdine University, and he is reportedly an attorney in California.
Out of Kris Kristofferson's kids, Kelly Marie is arguably the most famous. Born in 1990, she is an actress with credits in "Traded" and "Never Stop," and she is expected to appear in "Little Lamb."
Kelly, who's been married to Aydin Hamami for three years, is also a singer. She and her dad performed "The Wonder" together during a show in Florida. 
The youngest in Kris Kristofferson's family is Blake, as he joined the brood in 1994. He prefers to live his life away from the cameras, so nothing much is known about him. One thing is clear, though: Kris has a big and talented family!