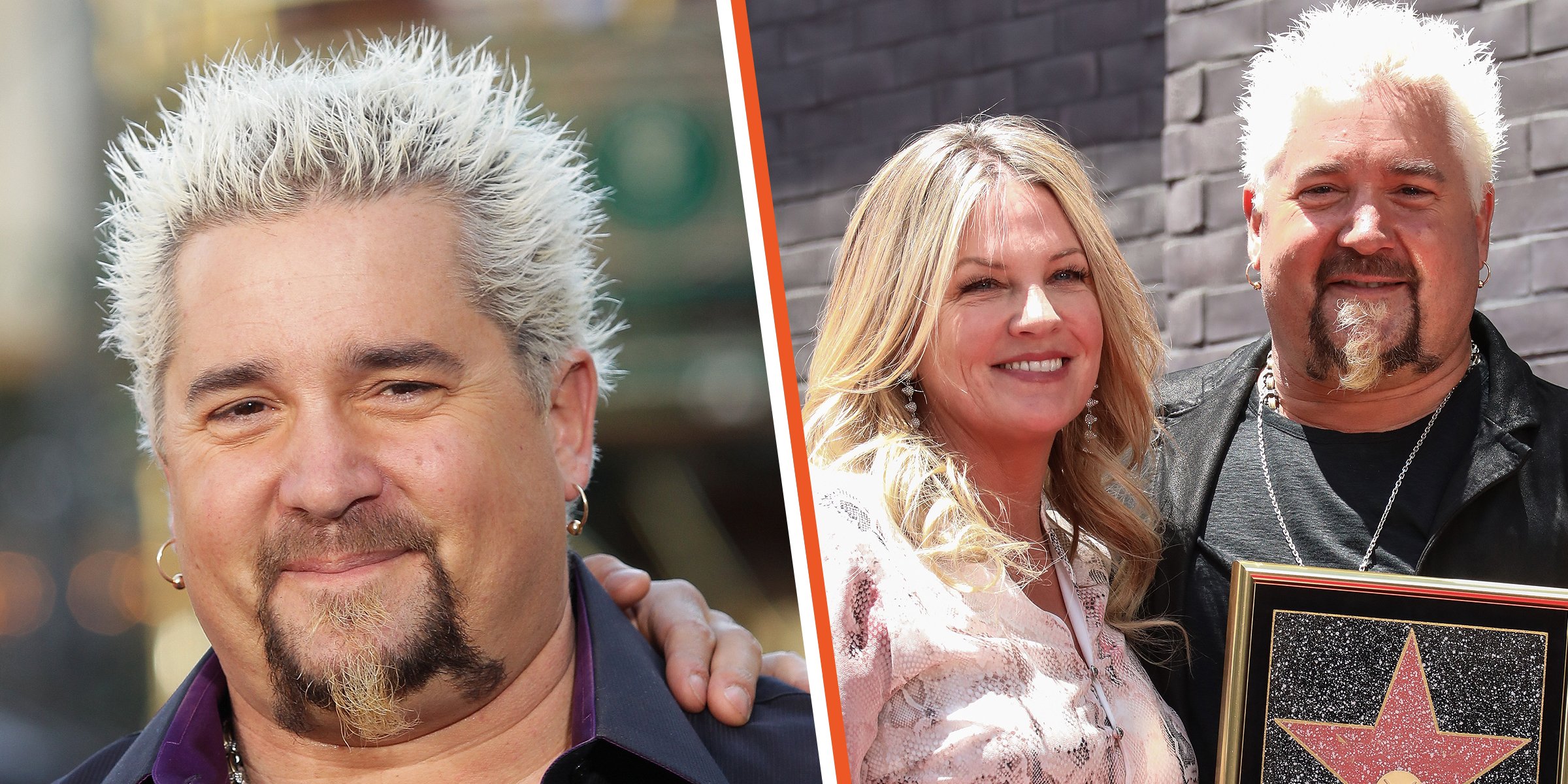 Getty images
Guy Fieri's Blue-Eyed Wife gave Him a 'Mean Mug' When They Met Yet He Already Knew She Is the One
Guy Fieri has been married to his blue-eyed wife, Lori, for many years. Initially, it was unlikely that these two would end up together after Lori's mean mug at their first meeting. But Guy was smitten instantly and, since then, has never let go of his love for her.
American restaurateur Guy Fieri, a self-conferred mayor of Flavortown, is a notorious TV host on the Food Network. His talent for delighting fans in different cooking series has earned him an Emmy Award.
Guy's devotion as a chef who owns three restaurants in different locations is not the only noticeable thing about him. Fans can spot him in a crowd owing to the TV personality's signature hairstyle: his spiky blonde hair.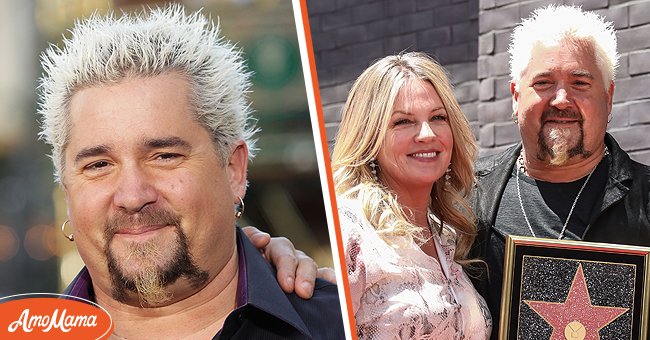 Guy Fieri at an event [left], Celebrity chef Guy Fieri and his wife, Lori Fieri at the Hollywood walk of fame [right] |Source: Getty Images
Apart from his thriving career, distinct look, and an overwhelming team of fans, the restaurateur is blessed with a beautiful family, including his wife of many years, Lori Fiery — the only First Lady of Flavortown!
The pair have been through successes and tragedies, but they have remained united. Lori provides solid support to her husband, with whom she shares two adorable boys. Here are untold truths about the power couple.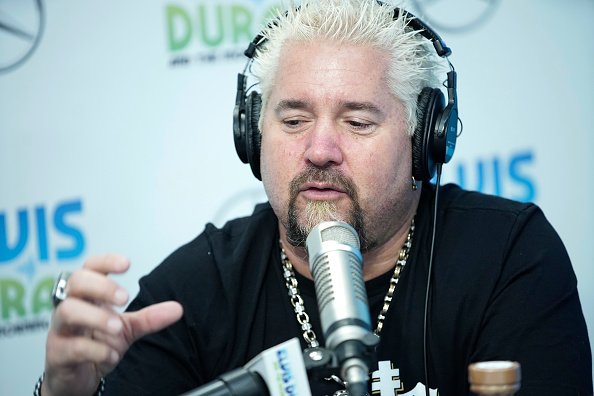 Guy Fieri at Z100 Studio on February 26, 2020 in New York City. | Photo: Getty Images
HOW GUY AND LORI FIERI MET
Guy first set eyes on Lori in 1992 during his time at a restaurant in Long Beach, CA. He ran the restaurant, and her friend who had been fired visited the place.
The former worker was not supposed to be around the property, so when Guy noticed, he advised her to come back in a few weeks. While conversing with his ex-staff, he saw a blonde, blue-eyed girl behind her (Lori), giving him a mean eye.
Lori confidently told Guy that they were not leaving, which, surprisingly, he agreed to. This agreement gave birth to a new friendship among the trio.
However, Guy was particular about his friendliness with the blonde lady. Finally, decades later, he confessed that he knew she was different.
At first sight, the restaurateur had fallen in love and tried to win her over through one of his outstanding dishes. Thankfully, it worked. The pair clicked, and the rest has been fairytale romance out of a storybook. While recalling how he wooed his wife, he said:
"I don't remember what I made, but I do remember it was quite an epic time...We both love food, so being able to cook, that was one of the things that impressed her."
THE INTRICACIES OF THEIR MARRIAGE
Guy has always been headstrong about doing numerous projects, including having restaurants on Carnival's cruise ships. This has showcased his skills and dedication to making people mouth-watering meals.
Irrespective of the risks, or audacious tasks involved, the restaurateur is certain of the support from his leading woman. On one occasion, his wife frowned at one of his restaurant cruise ships projects; she was concerned like everyone around him because he wanted to take over the cruise ship's kitchen.
Still, Lori stood out from the crowd by cheering him on, and eventually, it was a success. Guy has credited his wife for being understanding and willing to adapt.
While speaking to "The Today Show," he playfully admitted that they have been married for 47,000 years and have learned to compromise, which makes them a great team.
Lori is also confident about her marriage with the TV host, and like her husband, she knows how to spill impressive jokes about their lives.
After twenty-four years of marriage, Guy's heartthrob raved on how they met. Then in the same interview, she compared his younger look to now, and even though she managed to stick to him, Lori complained about his signature hair. In her words:
"When I first met him, he had no goatee. He had dark hair. He wore a suit to work every day. Now I look at him, and I'm like, 'Where's that man I married with the whole clean look?'"
BECOMING PARENTS AND AN ADDED CHILD AFTER A FAMILY TRAGEDY
Guy and Lori married three years after their first meeting, and the following year, they entered a new phase as parents after welcoming baby Hunter.
The couple paused on childbirth for almost a decade, and baby number two, Ryder, was born in 2005. As the boys grew up, they developed different personalities.
Like his dad, Hunter loves different foods and hopes to run the empire while contributing to it by owning restaurants. Ryder is also passionate about his dad's successes and has appeared in a host of his dad's shows, including "Guy's Big Bite," "Guy's Family Cruise," and "Guy's Family Road Trip." However, unlike his brother, he is a picky eater.
Becoming a parent for Guy piqued a new interest in him that involved cooking with kids. He runs the Guy Fieri Cooking With Kids Foundation, where he mentors kids to cook.
While speaking about the initiative, he explained that he loves to help kids know how to cook and that it has been the peak of his career.
Guy added that he asked the Californian government for a Cook With Kids holiday. They granted it, making it easier for kids to learn from restaurateurs, chefs, schools, and businesses.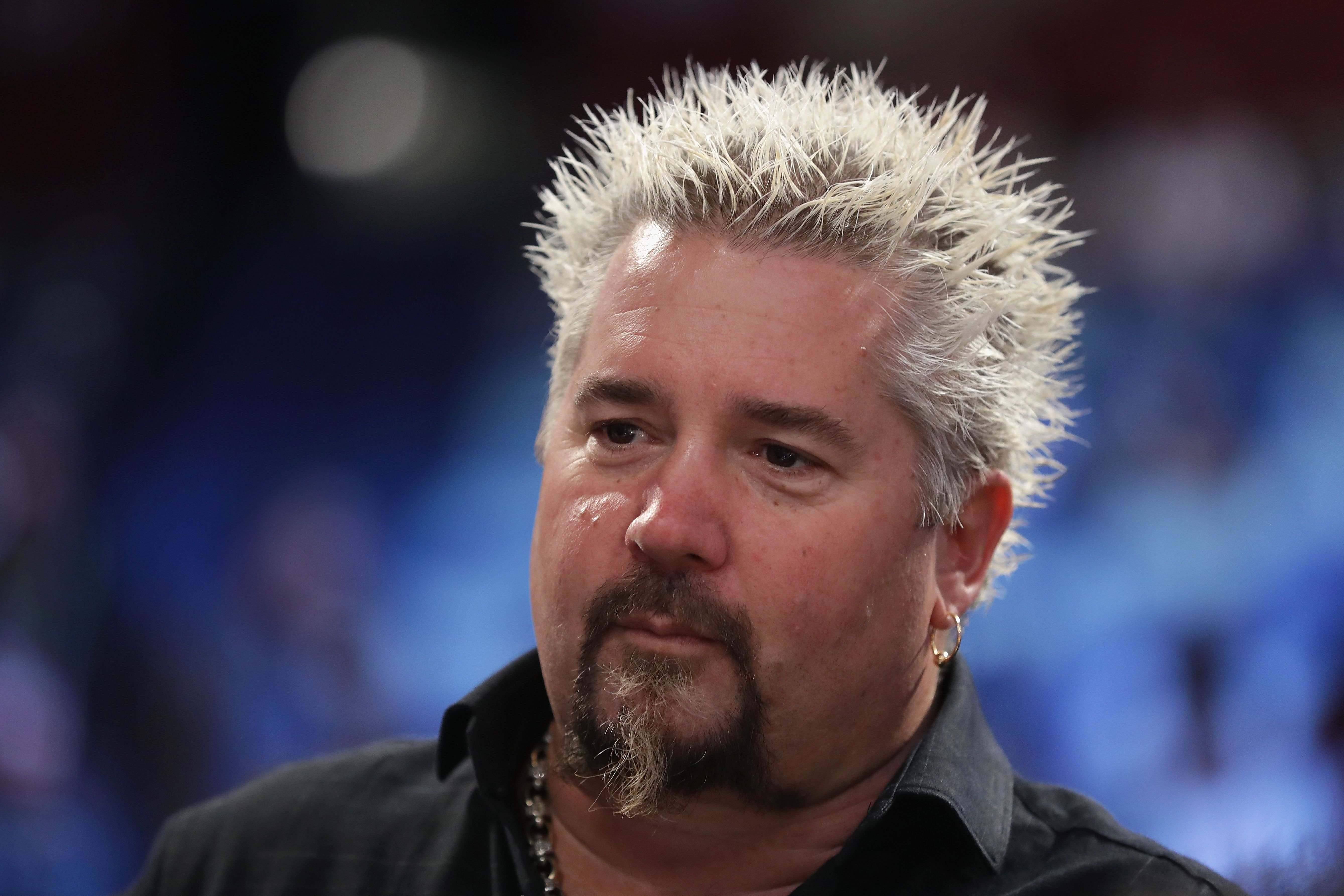 Guy Fieri attends the 2017 Taco Bell Skills Challenge at Smoothie King Center on February 18, 2017 in New Orleans, Louisiana. | Source: Getty Images
The TV host's love for kids also extends to his relatives. He shares a solid bond with his nephew, Jules, born in 1999 to his sister, Morgan, and a former lover, Dian Pape.
Sadly, Morgan died in 2011 from metastatic melanoma at age 39. She had battled cancer since age 4. Before her death, Morgan admitted to being gay, and she lived with a female partner.
When the tragedy hit the Fieri family in 2011, they looked out for Jules and struggled to get full custody. The battle was between Pape, the boy's dad, and Jules's grandparents.
The older adults argued that Pape had no means to cater for the boy, as he lived in a truck with no income. However, the court ruled in Pape's favor, granting him full custody.
Somehow, Jules has remained with his mother's family because, during the ruling, he was on vacation with Guy in a remote place with no phone service.
This hindered Pape from connecting with his son. He claimed he avoided confrontation on purpose; that was why he did not drive to their location.
The TV host has maintained quietness on this subject, but photos online show that both nephew and uncle know how to enjoy a swell time.
GUY AND LORI'S LIFE AFTER THE TRAGEDY/CUSTODY BATTLE
As expected, Lori has provided support for her husband, who appreciates it. Through the ups and downs–custody issues, constant traveling, working round the clock, and parenting, Guy never underestimates the contributions of his beloved partner. In 2019, he said:
"I couldn't imagine how this could be going on without my wife's support and understanding because it's a lot."
When Guy is not working, he is relaxing with his family in their Northern California mansion that has been their home for more than a decade.
The couple had to renovate the property when they first purchased it. They redesigned it to their taste and have been attached to the property. Guy explained that the attachment runs deep. In his words,
"It is important to me that the kids grow up in the house we had when they were born."
The Award-winning host's philosophy of life is inspiring, as it is not born out of selfishness. The restaurateur loves to eat healthily and display his knowledge of food and culinary art.
However, he is also a doting father, loving husband, a great uncle, and a real-life angel to many through his charity works, including "Cooking With Kids Foundation," "Make-a-Wish Foundation," and the "Best Buddies International."
Please fill in your e-mail so we can share with you our top stories!