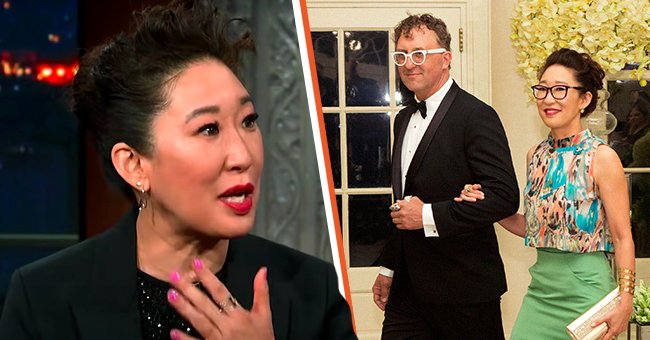 youtube.com/The Late Show with Stephen Colbert Getty Images
Sandra Oh's Partner Is a Doting Father Yet the Actress Decided She Will Remain Childless
"Killing Eve" star Sandra Oh is standing by her decision not to have children of her own even though her boyfriend, Russian Photographer Lev Rukhin is the father to an adorable girl.
American and Canadian Actress Sandra Oh was born and raised in Ottawa, Canada, and is the middle child in a family of three children. She was born into a family of high achievers.
Her father Junsu worked as an economist, while her mother Jeon Young-nam worked as a biochemist. In addition, Oh's sister is a lawyer, while her brother is a geneticist.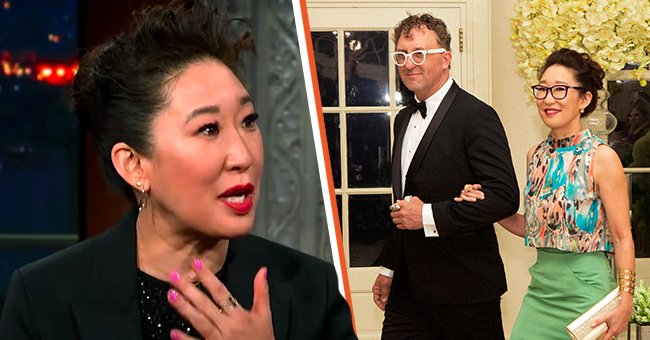 Sandra Oh at "The late show with Stephen" [left] Sandra Oh and her husband Lev Rukhin attend the State Dinner to honor Prime Minister Trudeau and Mrs. Sophie Trudeau of Canada at the White House March 10, 2016 in Washington, DC. Hosted by President and First Lady Obama. [right]. | Source: Getty Images
Her love for acting began at the age of 10 when she acted the role of the Wizard of Woe in her class musical. During high school at Robert Borden High, she founded an environmental club and led a campaign against the use of styrofoam cups.
She also served as student council president, which earned her a journalism scholarship to Carleton University. Still, Oh, to the dismay of her parents, turned it down to enroll at National Theater School of Canada, paying for the fees herself.
Afterward, her sister had spotted an ad looking for a young Asian actress to play the lead role in "The Diary of Evelyn Lau," a CBC biopic. Oh subsequently traveled seven hours by bus from Montreal to Toronto for her audition. She was chosen out of 1,000 other women for the role and went on to win a Gemini Award for her performance.
The young actress followed that up with an equally impressive performance in the feature film "Double Happiness," which earned her a Genie Award for Best Performance by an Actress in a Leading Role.
In 1995, Oh traveled to Los Angeles to further her acting career, but a meeting with an agent who said she was not leading lady material broke her enthusiasm.
The young actress was determined to succeed and not long after landed the role of an assistant on HBO's "Arliss." She followed that up with "The Princess Diaries" in 2001 and "Under the Tuscan Sun" in 2003.
In 2004 Oh played Thomas Haden Church's spurned love interest in "Sideways," Her big break came soon after with the role of cardiothoracic surgeon Dr. Cristina Yang in the series "Grey's Anatomy."
In 2006, the series earned her a Golden Globe for Best Supporting Actress. She appeared for ten seasons before saying goodbye to her co-stars. Afterward, she decided she would only appear in movies that resonated with her.
The opportunity to appear as the titular character in "Killing Eve" came, and the actress grabbed it with enthusiasm. Her role as MI5 operative Eve Polastri has earned her two Emmy nominations, a Screen Actors Guild Award, and a Golden Globe.
After years of experience working in Hollywood and with her ever-increasing age, Sandra Oh was picked to take on the role of motherhood on Netflix's "The Chair."
Oh explained she was entering the "mother stages" of her career. Even though many actresses her age would be dismayed at the prospect of playing a mother or wife, she believes there is a lot of richness in those characters and relationships.
The actress played Cristina Yang on "Grey's Anatomy," Her character was determined not to have a child but eventually got pregnant. While debating whether to get an abortion or not, she soon found herself rushed to the OR with an ectopic pregnancy.
However, she survived before getting pregnant again and going through an abortion. Offscreen, Oh revealed her biggest achievement outside of movies is being an aunt to her nieces and nephews. She said:
"I am very close with my nieces and my nephews. I know it's because I have had the ability to be the aunt that travels to them."
Oh further disclosed that she has tried to cultivate a closeness during their life because of her role as an aunt. The actress revealed that being an aunt is a role she relishes for those who do not have kids from their bodies like herself but have children in their lives.
In January 2003, Oh married writer, director, and filmmaker Alexander Payne, who had directed her in the movie "Sideways." However, their marriage was short-lived, and after two years of marriage, the pair decided to separate in March 2005.
Oh filed for divorce at the Los Angeles Superior Court, and according to her filing, the actress was seeking spousal support. In his response, Payne was seeking to deny those payments.
Excerpts from her divorce papers turned up on blogs, but the actress declined to comment on any of them. Although their marriage officially ended on December 22, 2015, it took another two years to settle their finances and finalize the divorce.
In 2016, Oh was seen with Russian born photographer Lev Rukhin arm-in-arm at the White House State Dinner for Canada's Prime Minister Justin Trudeau and First Lady Sophie Gregorie Trudeau in Washington, D.C.
Then in December 2018, they were spotted together while she was in Italy filming the second season of "Killing Eve." Even though the actress kept her personal life private, she made no attempts to hide her new boyfriend as the pair held hands walking the streets of Rome.
Rukhin is famously known for his "drive-by shootings," where he uses both his car and motorcycle as a mobile photography studio. He drives around taking pictures of eclectic people on the street.
The actress was also recently seen clasped in Rukhin's hands as he rushed barefooted to greet her when she returned from filming the last episode of "Killing Eve" in 2021.
Rukhin, the proud dad of a 12-year-old daughter, took a bouquet that the actress was holding to carry them into the house. He was also seen helping her with the loads and gifts she got from the cast and crew on her final day of filming "Killing Eve."
Please fill in your e-mail so we can share with you our top stories!