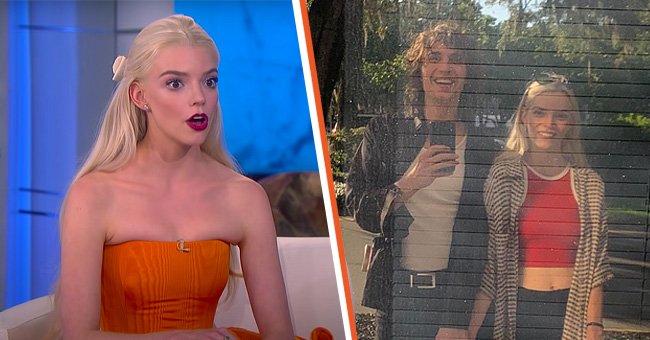 instagram.com/malcolmmcrae | youtube.com/TheEllenShow
Does Anya Taylor-Joy Have a Husband? She Once Teased Fans Wearing What Appeared to Be an Engagement Ring
According to sources, "The Queen's Gambit" actress Anya Taylor-Joy and her lastest-known boyfriend moved in together and are inseparable. However, rumors once circled that Taylor-Joy was engaged to someone else.
Anya Taylor-Joy is an impressive actress with many credits to her name, including portraying Gina Gray in "Peaky Blinders," the title character in "Emma," and chess champion Beth Harmon in "The Queen's Gambit."
With her stardom comes a curiosity from fans to know more about her personal life, especially her love life. Recently, various outlets reported Taylor-Joy is currently dating musician Malcolm McRae.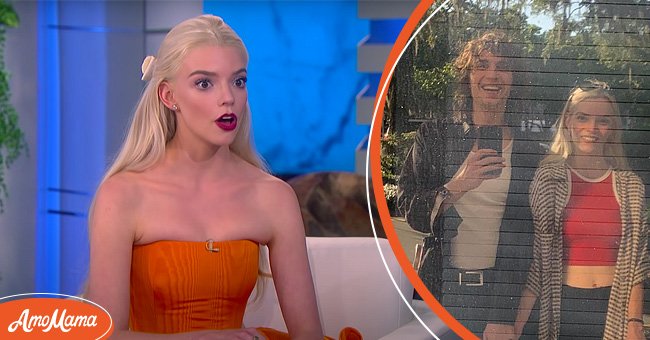 Anya Taylor-Joy pictured on "The Ellen Show" [Left]. Taylor-Joy and her boyfriend Malcom McRae pictured on Instagram in 2021 [Right]. | Source: Instagram/malcolmmcrae & YouTube/TheEllenShow
McRae, originally from Alabama, is in a band called more, with his bandmate, Kane Ritchotte, from "Portugal The Man." The band is signed to Warner records and has been together for over three years.
Paparazzi first linked the couple together in May 2021 after photographers saw Taylor-Joy and McRae kissing in New York City, ahead of Taylor-Joy's appearance on "Saturday Night Live."
Later in July 2021, The Daily Mail reported Taylor-Joy and McRae had moved in together. A source shared that the pair were "inseparable" and spent most of their time together.
According to the source, while Taylor-Joy dealt with her hectic filming schedule for "The Queen's Gambit," McRae supported her by "practically living with her" in her Los Angeles home.
McRae has also shared a few photos of "The Witch" star on his Instagram account. He posted a picture of the two in front of a glass window and wrote he was "supremely happy." He said he was "besotted" with his girlfriend in another post.
Before dating the musician, Taylor-joy was romantically involved with two other creative men, Irish model Eion Macken and photographer Ben Seed, who calls himself Pip.
Photographers spotted Taylor-Joy with Seed in March 2002. The two were on a walk, getting some fresh air during the COVID-19 lockdown in London. At the time, a close friend told The Daily Mail that Taylor-Joy and Seed made a lovely couple.
Before Seed, Taylor-Joy allegedly dated Macken after working together in 2016 on the short film "Crossmaglen." Later in 2017, the couple sparked engagement rumors as Taylor-Joy wore a ring on her ring finger at the 61st BFI London Film Festival Awards.
However, neither Taylor-Joy nor Macken confirmed the engagement rumors. By May 2018, the "Split" actress stopped wearing the ring. Taylor-Joy was later seen with Seed in London.
Taylor-Joy and Macken sparked rumors again in 2021 and alleged rekindled their romance in 2020 while filming "Here Are the Young Men," which Taylor-Joy starred and Macken directed.
"Express" alleged in January 2021 that the "Merlin" actor and "Glass" actress were engaged again as Taylor-Joy was seen wearing a ring on her left ring finger, signifying a possible engagement.
The outlet stated photographers spotted Taylor-Joy and Macken kissing and drinking wine together. However, neither of the actors have shed any light on their rumored engagement. Taylor-Joy recently confirmed her relationship with McRae as she posted a photo of them kissing for Valentine's day 2022.
Please fill in your e-mail so we can share with you our top stories!