facebook.com/ChrisleyOnUSA
Todd Chrisley Knew Julie Is 'the One' - They Renewed Vows in 10$ Hawaiian T-Shirts and Dusty Faces
Todd Chrisley and Julie Chrisley have been married for 25 years. In 2016, they renewed their vows, and Julie revealed it was one of her biggest regrets. Find out why.
Since his family show "Chrisley Knows Best" aired in 2014, Television Personality Todd Chrisley has given the world a full view of his family life. Fans know that the real estate mogul is a doting father and loving husband from the show.
He has been married to Julie Chrisley for more than two decades. Over the years, the couple has been candid about their relationship, including how they met.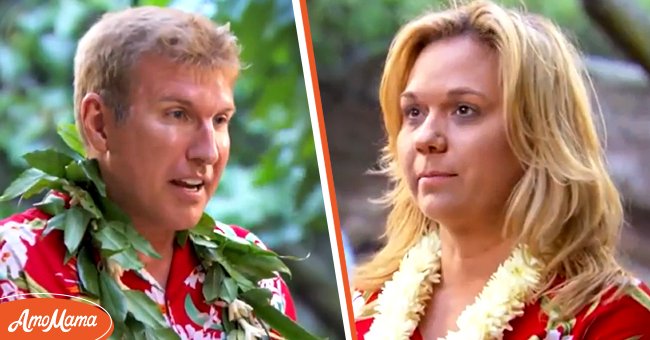 Picture of Todd Chrisley and his wife Julie renewing their marriage vows | Source: facebook.com/ChrisleyOnUSA
Todd and Julie met in a mutual friend's house. During an interview, the former revealed that he knew she was the one for him the moment he saw Julie. Todd explained:
"And the moment she walked into the room, it's the only time before and since that anything had ever taken my breath, other than when I walked past a mirror."
Not long after their first meeting, the pair went on their first date at a Mexican restaurant, and the rest is history. Here are more details about Todd and Julie's love story, including the secret behind their long-lasting relationship.
WHO SAID "I LOVE YOU" FIRST?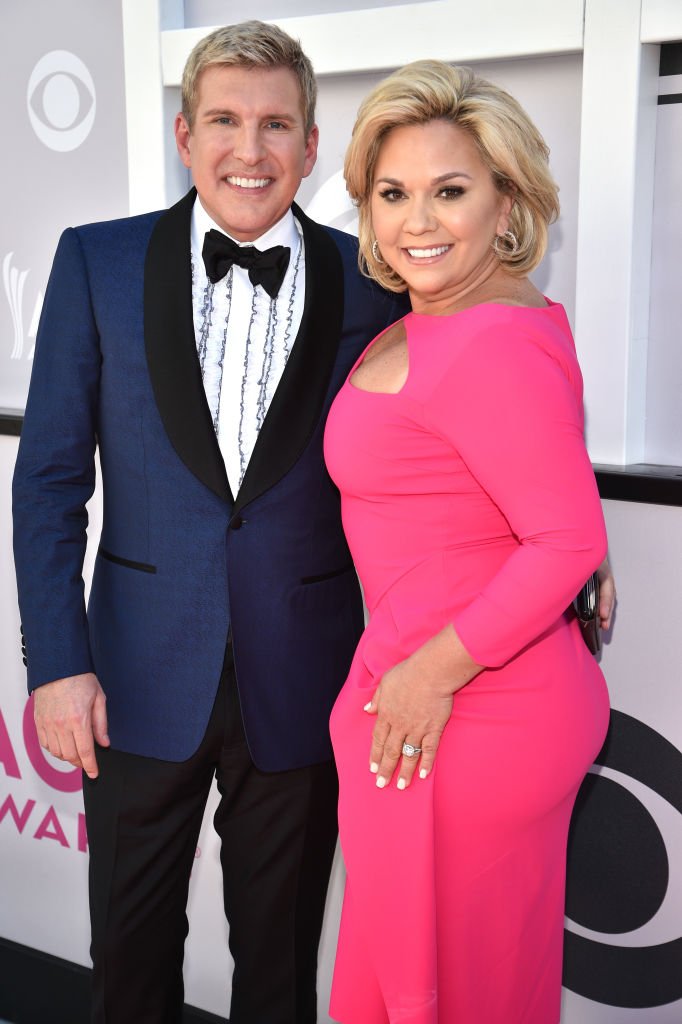 Todd Chrisley and Julie Chrisley attend the 52nd Academy Of Country Music Awards on April 2, 2017, in Las Vegas, Nevada | Source: Getty Images.
Todd and Julie are one fun celebrity couple. Most times, their interview sessions about their marriage leave the public in stitches.
Last month, the couple were on Us Weekly, where they played the Not-So-Newly-Married game. It was a fantastic time, as Julie and Todd recalled many unforgettable memories, including who said "I love you" first.
It is important to note that the duo has been married for 25 years, so it might be challenging to remember. However, Todd disagreed with Julie, insisting that she said the three words first.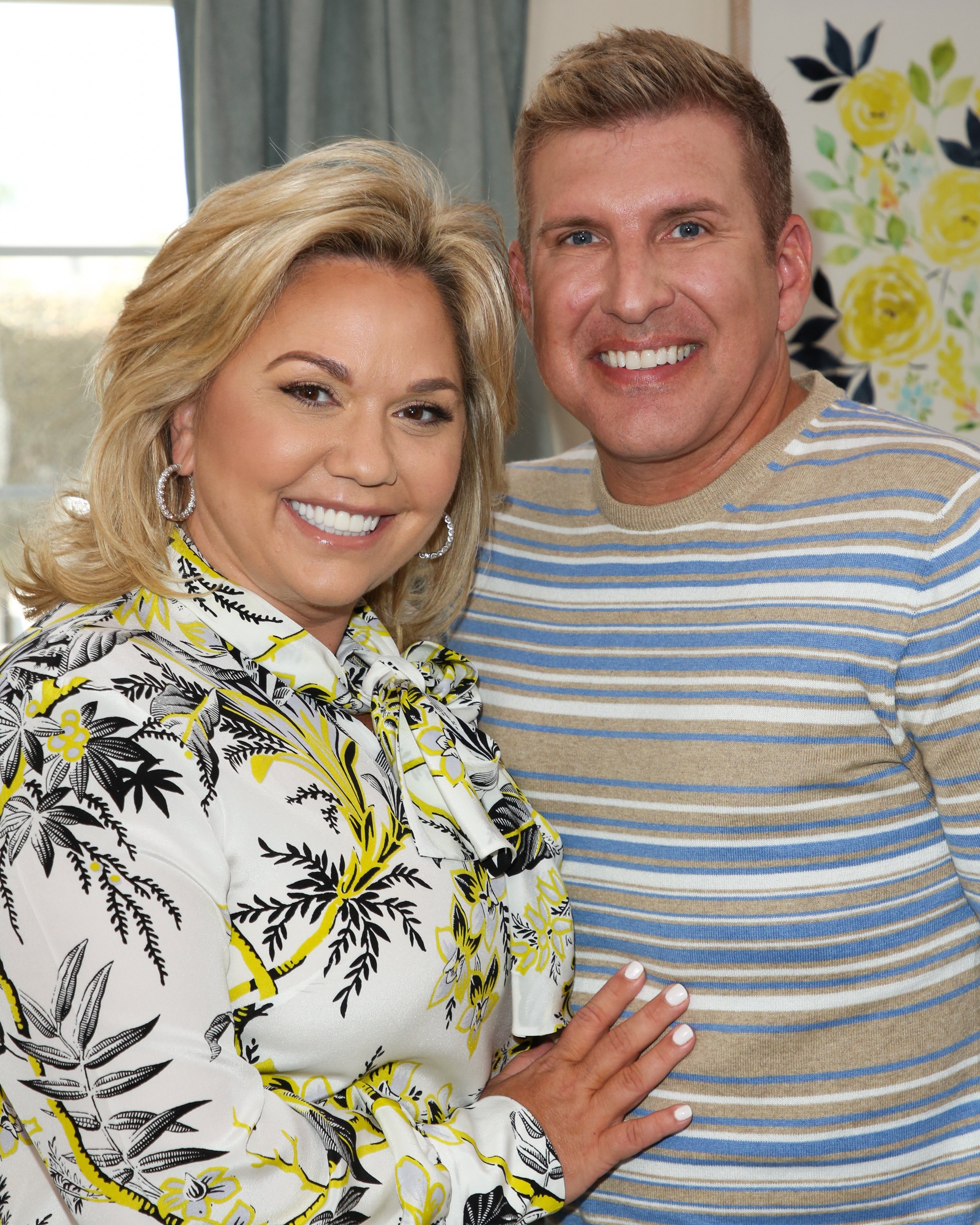 Reality TV Personalities Julie Chrisley and Todd Chrisley visit Hallmark's "Home & Family" at Universal Studios Hollywood on June 18, 2018 in Universal City, California | Source: Getty Images
According to the real estate mogul, his wife said the words in his mother's kitchen. Todd further noted that he made Julie say "I love you" first because he did not want to look cheap. Surprisingly, Julie agreed with all of her husband's claims. She quipped:
"Well my memory's not as good as his. I'm not gonna question it."
INSIDE THE COUPLE'S MARRIAGE AND VOW RENEWAL
Todd and Julie tied the knot in May 1996, one month before welcoming their oldest son, Chase. To date, not much is known about the couple's wedding, but in 2016, 20 years after they married, the pair renewed their vows in Hawaii.
The occasion took place in front of all the couple's children, and it was shared on the Facebook page of "Chrisley Knows Best."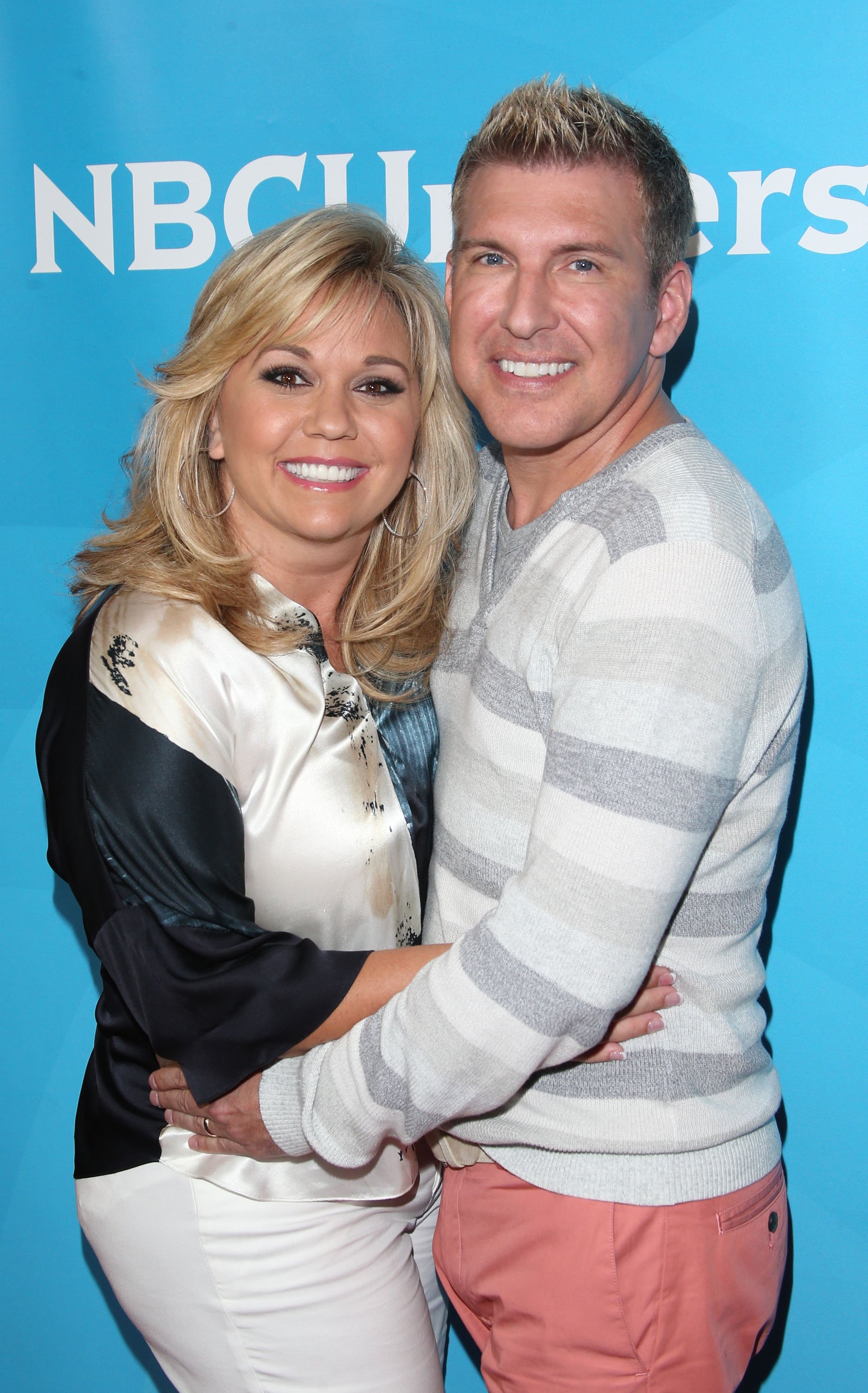 Julie Chrisley and Todd Chrisley arrive at the 2014 Television Critics Association Summer Press Tour - NBCUniversal - Day 2 held at The Beverly Hilton Hotel on July 14, 2014 in Beverly Hills, California | Source: Getty Images
They reminded themselves of their love for each other, and overall, it was a beautiful sight. A few years later, Julie confessed that the vow renewal was one of her biggest regrets.
She explained a few hours before the occasion, they had ridden ATVs down a mountain for hours, and their faces were covered in dust.
In addition, she and Todd were clad in 10-dollar Hawaiian T-shirts. So when she walked into the venue and saw beautiful flowers, it was a huge surprise.
Julie had expected a more romantic setting on the beach with the entire family dressed fabulously. In response to his wife's words, Todd said:
"I thought I did something nice."
Nevertheless, Julie found the moment touching and burst into tears. Sadly, due to the dust on her face, Todd revealed that it looked like bad mascara on her.
The couple celebrated more after the vow renewal by doing some "freaky stuff." Todd said they watched "Power" in bed, and he also watched "Ghost Lay It Down." Then, they ate dinner, spent time with their kids, and exchanged gifts.
THE SECRET TO A HAPPY MARRIAGE
Most long-time couples have secrets behind their long-lasting relationships, and Todd and Julie are not exceptions. During an interview with Entertainment Online, the real estate mogul mentioned that the secret to any relationship is commitment.
According to Todd, both parties have to be ready to "roll up their sleeves and get their hands dirty." He also talked about loyalty, faithfulness, honesty, open communication, and lots of sex.
Undoubtedly, Todd and Julie have worked hard to build love and keep their marriage working. The love they share can be seen during interviews and on social media, where they serenade each other with kind words.
For example, When Todd celebrated his birthday last year, Julie took to her Instagram page to praise her husband. Alongside a photo of the couple posing together, she added the caption:
"Happy birthday @toddchrisley I am so blessed to be able to celebrate you today! You are the hardest working person I know[...]. Thank you for all you do for us. Love you. Always and forever."
Todd returned the favor when Julie celebrated her 49th birthday in January. He admitted to being blessed for having her in his life. He further wrote:
"Thank you God, we are not deserving of this wonderful woman you have given us but she makes us better each day and hopefully one day we will come close to her greatness. To the moon and back babe[...]."
WHO ARE TODD AND JULIE'S KIDS?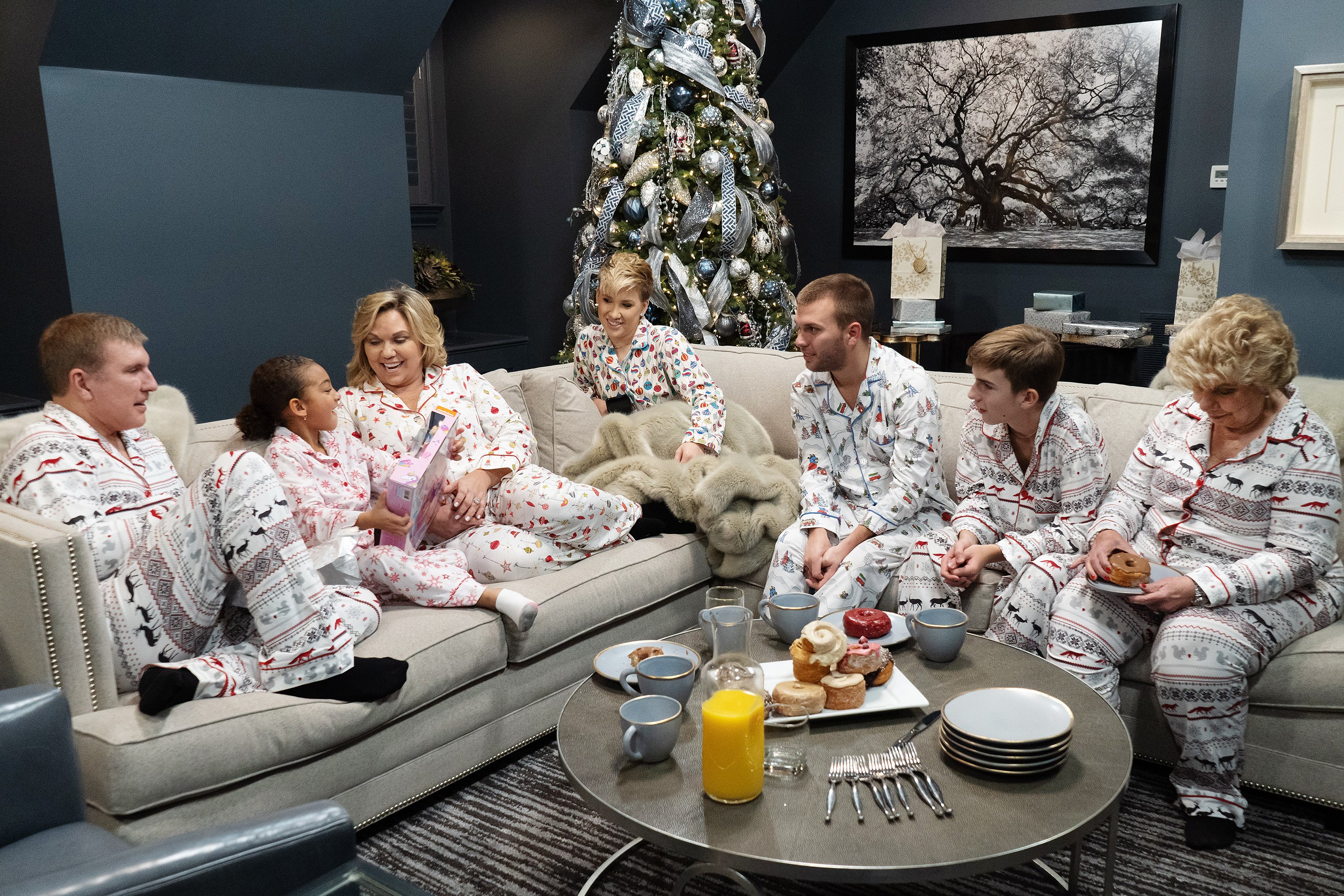 Todd Chrisley, Chloe Chrisley, Julie Chrisley, Savannah Chrisley, Chase Chrisley, Grayson Chrisley, Faye Chrisley during an episode of "Chrisley Knows Best" | Source: Getty Images
Todd and Julie are doting parents to three children: Chase, Savannah, and Grayson. The oldest, Chase, was born on June 1, 1996. Like his dad, he has graduated from college and would love to delve into real estate.
The couple's second child, Savannah, was born on August 11, 1997. She is a model and an entrepreneur. In 2016, Savannah won the Miss Tennessee Teen USA title.
She also owns SASSY, a cosmetic company, Faith Over Fear clothing line, and Rampage x Savannah Chrisley clothing line. Grayson, the youngest, was born on May 16, 2006. He is a sports lover and has also appeared on TV shows like "The Real" and "Big Star Little Star."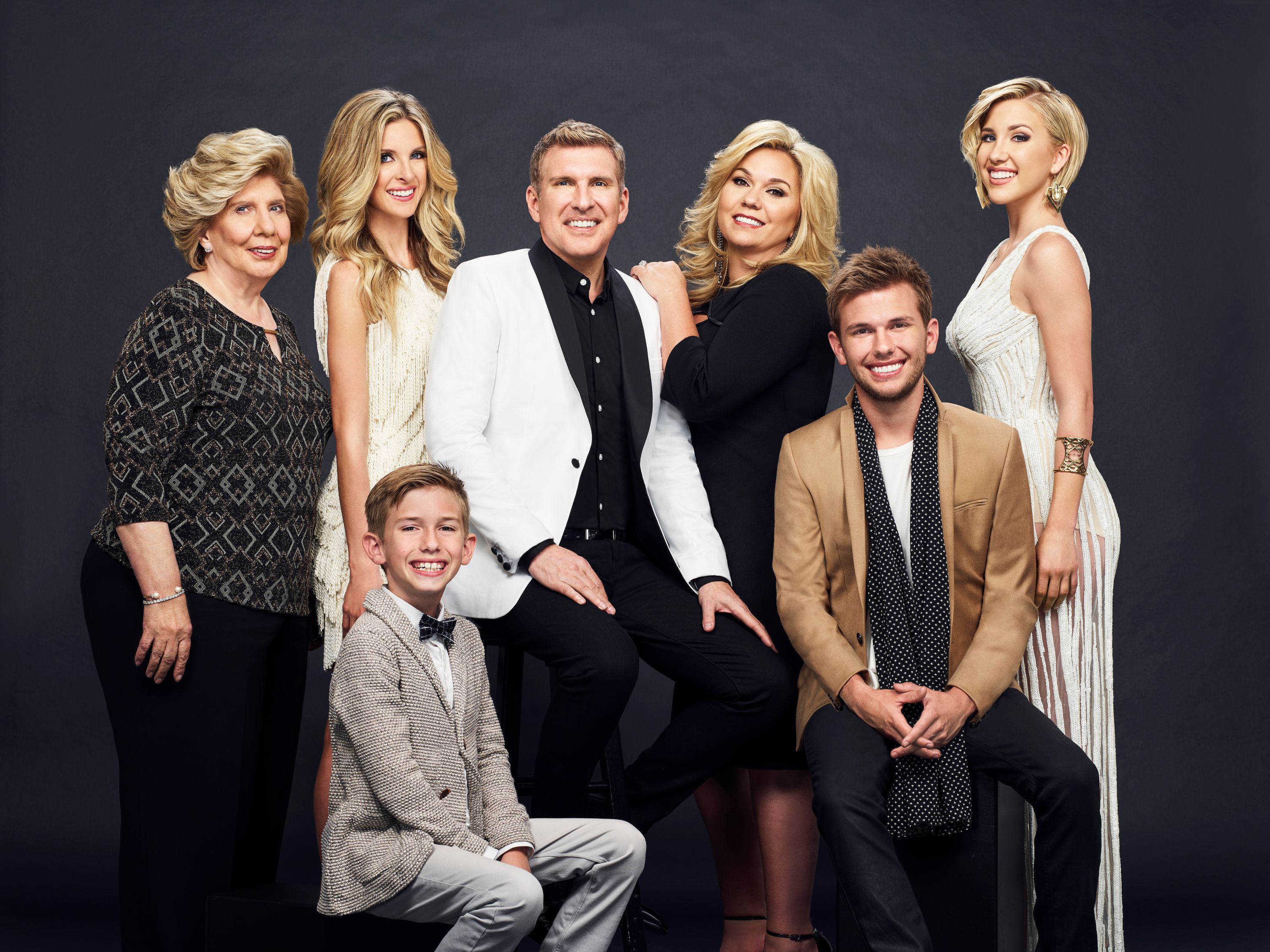 Faye Chrisley, Lindsie Chrisley Campbell, Grayson, Todd, Julie, Chase, and Savannah Chrisley on March 17, 2016 | Source: Getty Images
Apart from those three kids, Todd has two other children, Kyle and Lindsie, whom he shares with his first wife, Teresa Terry. Currently, Todd and Lindsie are estranged, but the former is still in contact with Kyle.
He and Julie share custody of Kyle's nine-year-old daughter, Chloe. The Chrisley family members remain thankful and blessed to have one another.
Please fill in your e-mail so we can share with you our top stories!