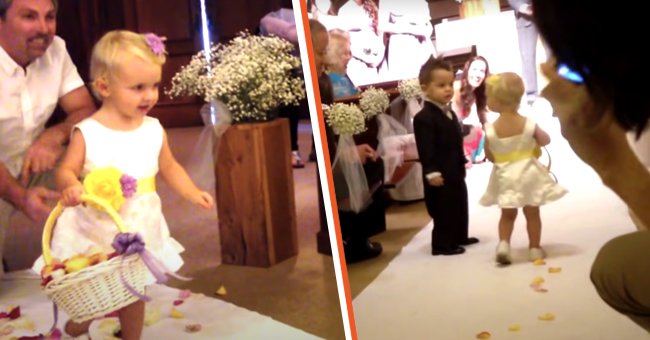 youtube.com/ajapasha7
Little Ring Bearer Makes Wedding Guests Melt When He Hurries to Help a Confused Flower Girl
Two toddlers, one a ring bearer and the other a flower girl, have been accused of stealing the hearts of guests invited for a wedding they were both attending. The boy had been a total gentleman and helped the girl when she hesitated.
Weddings are always special to those who experience them, regardless of the role they play. The groom will stand at the altar expectant, perhaps slightly nervous, while the bride will play her part alongside her father, who will give her away.
In this particular wedding, the ring bearer was a toddler named XL, and his chivalric actions towards the flower girl, Alexis, melted the hearts of all those present at the occasion.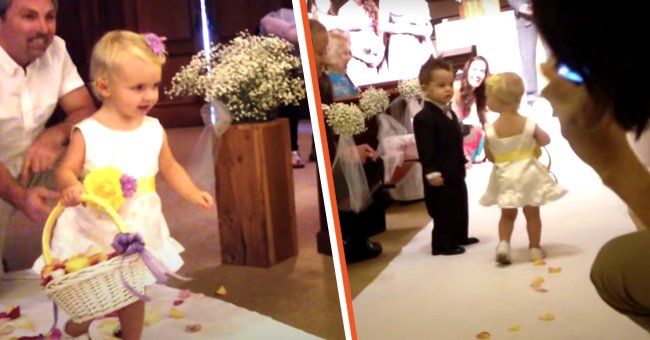 Little ring bearers, XL and Alexis at a wedding ceremony | Source: youtube.com/ajapasha7
XL seemed like a pro as he swaggered down the aisle, happy to be the one everyone was watching. He seemed to draw strong breaths as he walked, but he also made sure to smile confidently.
No one would have faulted a child for not knowing what to do under such circumstances, but XL seemed like he was born for it.
Everyone seated at the venue could not help but smile as the boy, dressed sharply in a black tux with a purple bow tie, moved towards the aisle — he even struck a pose halfway.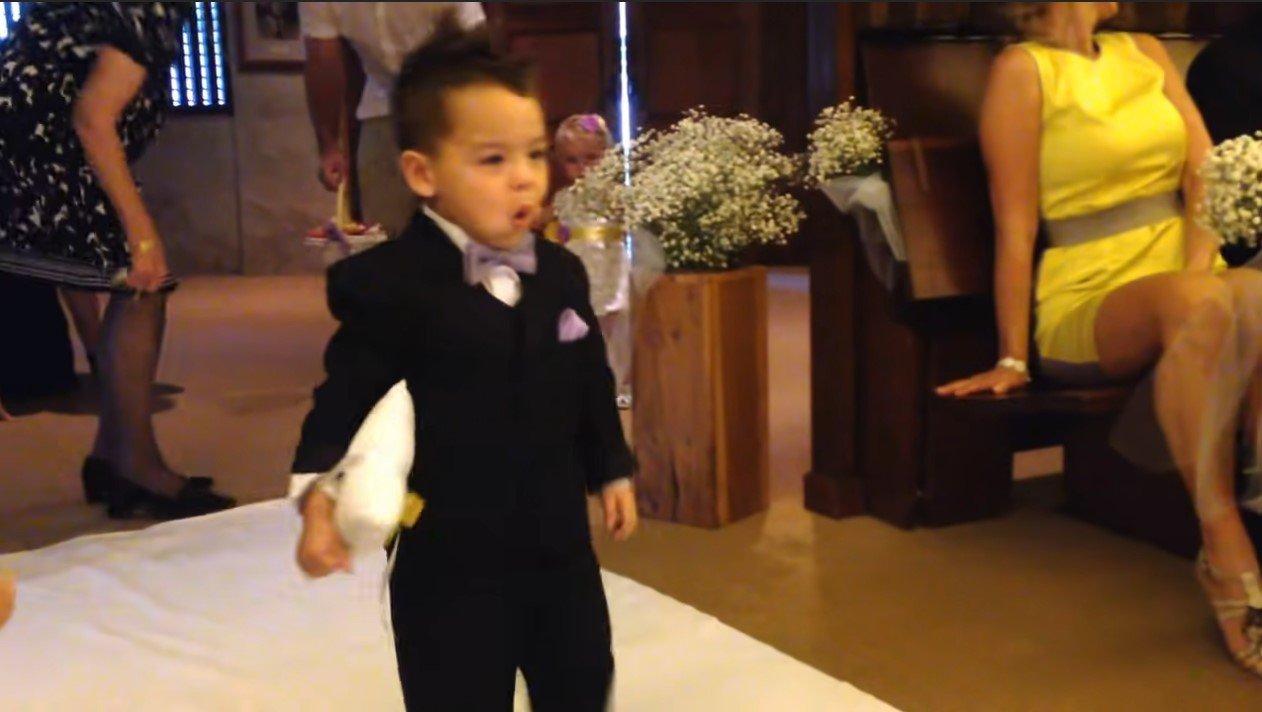 XL walking confidently down the aisle at the wedding | Source: youtube.com/ajapasha7
THE FLOWER GIRL WAS CONFUSED
While XL was not afraid to strut his stuff, Alexis had trouble. It was an entirely different vibe from the one XL had presented just moments before.
The little girl stood nervously, holding her hands to her face as though trying to hide even as she walked forward hesitantly. Indeed, it looked like she was trying to decide whether to proceed with the whole affair or run away screaming from the room.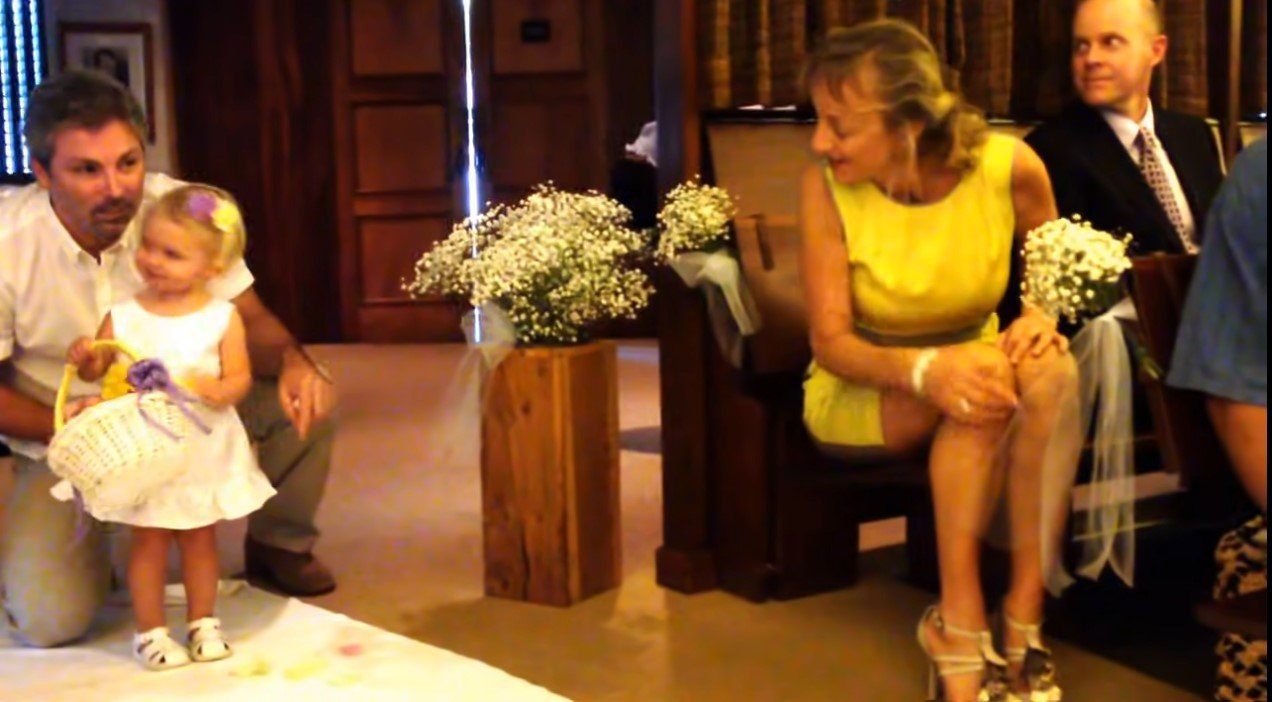 Alexis a little bit unsure about her role at the wedding | Source: youtube.com/ajapasha7
After a couple of steps, she stood and stared at everyone, taking in her environment. A few moments later, she gained confidence and started smiling.
Despite the show of confidence, the girl stood rooted to the same spot, so some adults in the crowd started trying to encourage her to move forward. From behind, her father also tried to urge her to keep going, but he had no luck as his daughter stood in awe of the spectacle before her.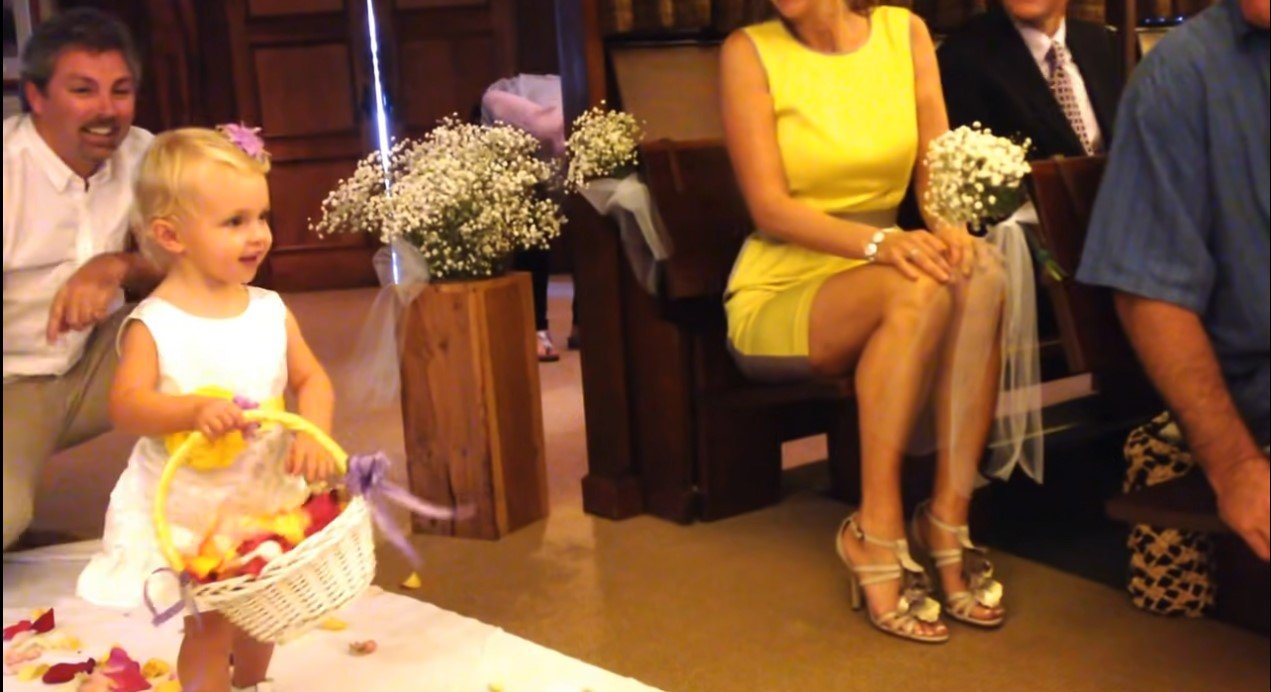 Alexis a little bit unsure about her role at the wedding | Source: youtube.com/ajapasha7
Things suddenly took a turn for the better when the confident ringbearer that had already made his round returned to help his confused colleague. He gave her a supportive push and pointed towards the aisle, telling her it was where she needed to go.
Eventually, she took the cue and kept moving in the right direction while stopping to stare and smile at everyone. In the end, XL had to follow her closely as she kept walking and spreading her flowers. It was cuteness overload.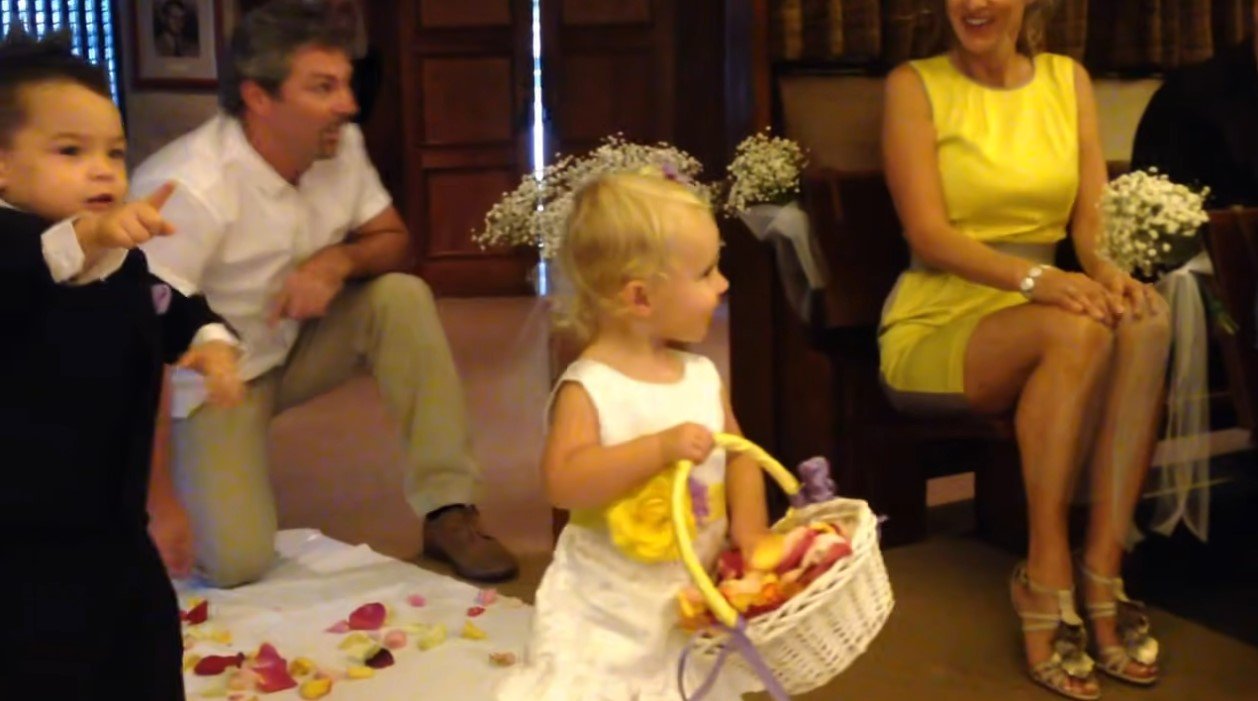 XL helps out Alexis by pointing her to her destination | Source: youtube.com/ajapasha7
The video was shared via Youtube and has garnered a decent amount of likes and comments from users who, like the wedding guests, could not get enough of the toddlers. One wrote:
"They are both adorable. What a little sweetheart he is. Little ones can add so much to your wedding."
Another one claimed that their love for kids had increased after watching the video but who could blame them? We're just as enchanted as well.
Please fill in your e-mail so we can share with you our top stories!