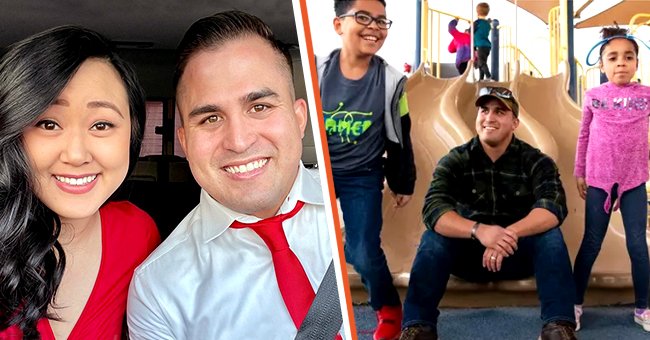 instagram.com/natashachencnn | gofundme.com
Cop Responds to Call about 5 Kids Who Lost Their Father, Unaware He'll Become Their Dad Soon
A North Las Vegas police officer was on his lunch break when a distress call came in, and something within him made him race towards the crime scene without knowing his life was about to change.
Nicholas Quintana had been trying to enjoy his lunch one afternoon in North Las Vegas when dispatch announced a homicide call. Nicholas may have chosen to ignore the ring while he finished his food, knowing other cops would respond; however, he admitted that he felt "an abrupt urge" to get on the call.
The crime scene was a home on Osaka Pearl street. A woman was taken into custody for shooting her husband while her five kids were in the house. The act shocked the responding officers even though they see terrible things every day.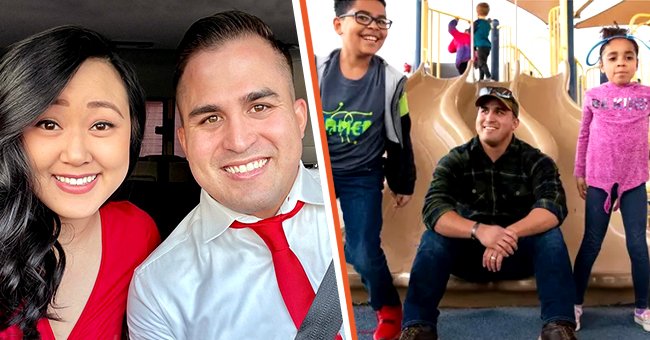 [Left] Picture of police officer, Nicholas Quintana and his wife; [Right] Picture of police officer, Nicholas Quintana with two of the kids he took in | Source:instagram.com/natashachencnn || gofundme.com
Nicholas knew what would happen to the kids next — they would be handed over to Child Haven, a sight he had witnessed personally in the past. It turns out Nicholas felt connected to the case because he had also been in their position once when another family member killed his dad.
When it was time to leave the scene, Nicholas hesitated, and suddenly he felt another urge to take all five kids in to protect them from the harsh reality of the foster system.
Nicholas went home and told his wife about his thought, but she wasn't enthusiastic about it. So, he urged her to meet them before she finally made up her mind.
They drove over to Child Haven three days later, where his wife met the kids and fell in love with them after about 20 minutes of talking.
Two days later, Nicholas and his wife left Child Haven alongside all five kids, the oldest of whom almost couldn't believe all five of them were going to a single home. "All of us?" The oldest asked. And Nicholas had reportedly said, "Every single one of you.'"
Nicholas doesn't mind that his family grew in size rapidly because he had always wanted to be a father and more kids meant more opportunities to be that.
The police officer and his wife started fostering classes after taking the kids in to get their fostering licenses, which gives them a claim to some financial help.
Before that happened, the couple had to care for the kids out of their own pockets. To help them, the North Las Vegas Police Officers Association organized a fundraiser on behalf of the Quintanas.
The police department set up a GoFundMe page to help them clothe, feed, and raise the five children without hardship.
The goal was set at a lump sum of $60,000, but by the time the story got coverage, more than $69,000 had been generated.
Hopefully, the Quintanas — all nine — are still doing well.
Please fill in your e-mail so we can share with you our top stories!