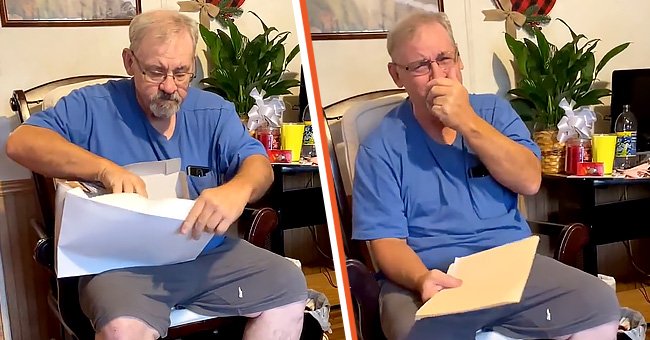 instagram.com/bviral
Daughter Pays off Grieving Father's Mortgage to Cheer Him up after the Death of His Wife
A parent's love for their kids is endless and only becomes more profound with time. Surprisingly enough, some children appreciate their parents for making sacrifices to give them the best life, and a daughter did just that for her father.
We read numerous stories where parents go out of their way to ensure their children grow up in a stable and loving environment. Many couples endure hardships to ensure their kids receive the best possible opportunities.
Youngsters might sometimes get a bad reputation for disregarding their parents' efforts, but some children have proven the critics wrong, and today's story sheds light on something similar.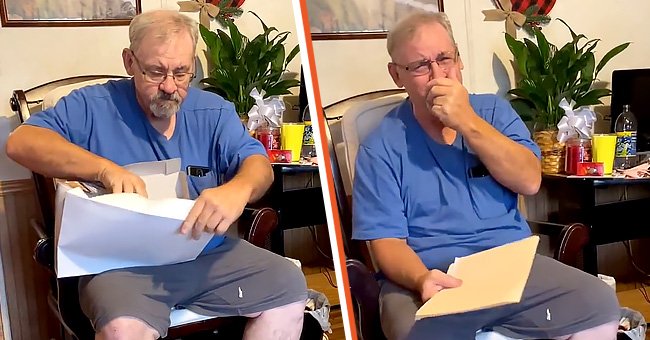 [Left] Jennifer Petit's father pictured going through the documents; [Right] He's reduced to tears after realizing what the surprise is all about. | Source: instagram.com/bviral
Jennifer Petit was a happily married woman and mother to three adorable children. But in addition to being a wife and mom, she was also a daughter and immensely loved her parents.
Everything was picture-perfect in her life when something unimaginably tragic struck her world before Christmas 2021. On December 1, Petit lost her mother. She broke the sad news on her social media on December 2. The caption read:
"Saying goodbye to my best friend I love you so much momma xo 😘 (sic)."
Petit shared a heartwrenching picture where she hugged her mom as she lay fragile and lifeless on her hospital bed. Netizens poured in their deepest condolences for the woman and sent her their love and best wishes.
Nyland told his teary-eyed father how much he appreciated his hard work and wanted him to enjoy early retirement.
After losing her mother, everything changed for Petit and her family, especially her father, who began reeling with the loss of his life partner. She watched as her dad struggled to pay off his debts and house bills and wished to ease his suffering.
EASING HER FATHER'S SORROW
With the help of her husband and siblings, Petit decided to surprise her father with a heartwarming gift for Christmas. She shared a short video clip where her father sat on the sofa and began opening a few presents.
When he proceeded to open a box wrapped in red paper, he took out some documents and felt utterly confused. Then, with a puzzled look on his face, he asked, "I don't know what this is?"
It was then that Petit responded to her father's innocent question in these words, "Your house is paid off, Dad." Upon hearing his daughter's answer, the older man started bawling and was overcome with emotions.
Petit shared the touching clip on Instagram and TikTok, and it quickly became a viral sensation. In another TikTok video, she explained why she decided to pay off her dad's mortgage. She revealed that times were hard for her parents due to COVID-19.
The TikToker said that initially, she planned to surprise her parents with the gesture, but unfortunately, her mom passed away, so she hoped the gesture would help cheer up her grieving father.
Petit mentioned that she didn't do anything for credit. She wanted to help her father with the growing expenses because all his children were married with families, and she didn't want him to feel lonely after his wife's death.
We're sure Petit's father appreciated his daughter's warm gesture. Like her, two brothers did something similar for their immigrant parents who left the Philippines and moved to the U.S. in 1996.
Kevin and Jeremy watched as their parents, Jocelyn and Ferdinand, worked tirelessly day in and day out to provide them with a better life. When Ferdinand was diagnosed with Stage 4 renal cancer, things became hard, putting him at high risk during the coronavirus pandemic.
The brothers worked hard to collect funds to pay their parents' mortgage and debts. They broke the happy news on Christmas 2020 in a note that read, "We have paid off all your other debts. You'll never have to worry about your mortgage because we've got that covered too."
Ferdinand and Jocelyn cried tears of joy and thanked their sons for the sweet gesture. What Jennifer, Kevin, and Jeremy did for their parents is genuinely incredible. Like them, an Ethiopian man, Aba Atlas, decided to do something special for his mother.
For his birthday in April 2013, Atlas posted a YouTube video, where he recounted how his mom was a selfless woman who had always worked hard to give him a better life. He expressed: "You ask me who my mother is? She's definitely the strongest person I know."
In the same video, Atlas handed an envelope to his mom. When she opened it, she couldn't believe what was inside. It turned out her son had paid off her mortgage, and she couldn't stop uttering WOW as she proceeded to hug him.
Similarly, another young YouTuber and TikToker from Gloucestershire, England, melted hearts when he gave his father a delightful surprise. Jamie Nyland shared the footage on TikTok where he walked into his dad's bedroom, threw him the house keys, and said:
"I've just paid off your mortgage. I've just rung the bank and paid off every single penny left on your mortgage."
His father, Richard, had an emotional breakdown and couldn't stop thanking him for the moving gesture. Nyland told his teary-eyed father how much he appreciated his hard work and wanted him to enjoy early retirement.
An emotional Richard called Nyland "the best son" and told him he had left the house to him in his will. The father-son duo embraced and confessed their love to each other. Nyland often shares hilarious and touching TikTok videos with his dad.
Children paying off their parents' mortgage isn't the only common theme in these stories. Instead, it's the love, respect, and pure acknowledgment that Petit, Kevin and James, Atlas, and Nyland grew up with for their parents.
We hope these stories brighten up your day and provide that much-needed dose of light and positivity amidst these times of uncertainty and chaos. Please spread the love and share these stories with your family and friends.
Please fill in your e-mail so we can share with you our top stories!