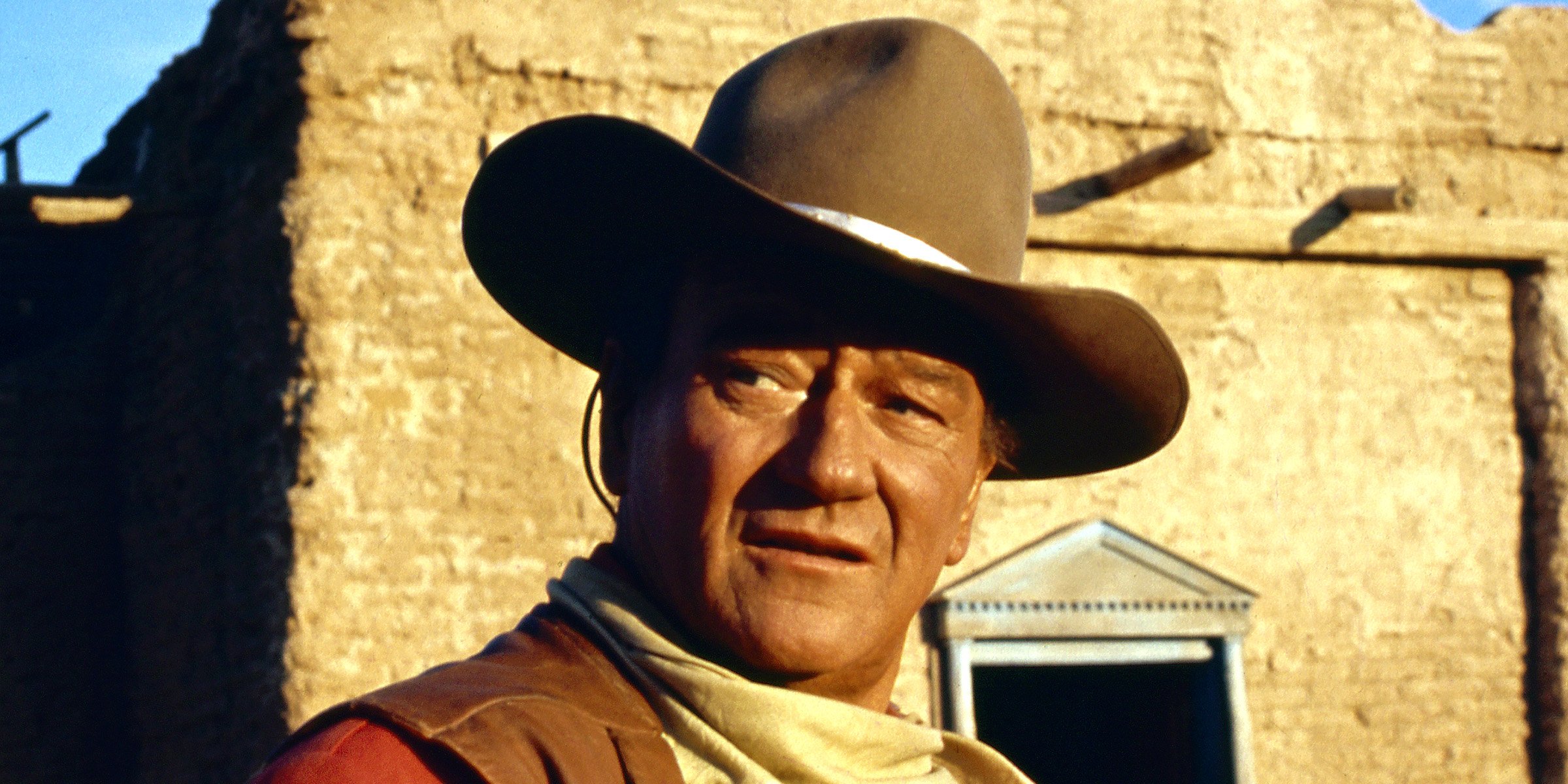 Getty Images
John Wayne Knew His 'Marriage Was Over' When He Fathered 4th Baby & His Wife Asked Priest for Help
John Wayne knew his marriage to Josephine Saenz was over when she would not stop talking about his extramarital affairs even though she promised to do so in front of a priest she had invited to try and save their marriage.
Before John Wayne became a bankable star in Hollywood, the veteran star had won a football scholarship to the University of Southern California in 1925, where he joined the Sigma Chi Fraternity.
Sadly, after about two years at the School, he suffered an injury that took him off the football field and ended his scholarship. Shortly after that, one of his fraternity brothers set him up on a blind date with a beautiful girl called Carmen Saenz.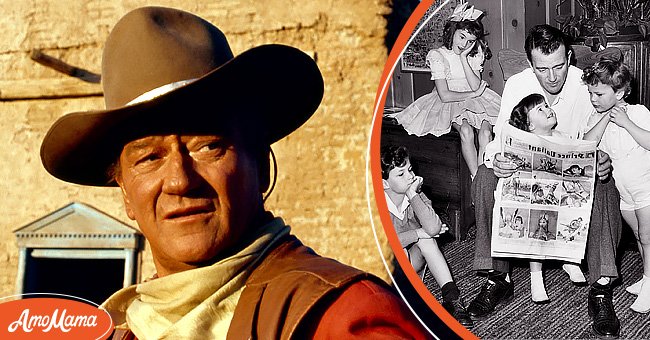 [Left] A portrait of John Wayne; [Right] John Wayne on set | Source: Getty Images
After they had gone to the Rendezvous Ballroom in Balboa and returned to the girl's home, Wayne met her sister Josephine Saenz, and he was immediately attracted to the girl.
However, the beautiful girl was skeptical about his intentions. Her parents were also not supporting their relationship because Wayne was just a football player from a broken marriage who had lost his scholarship.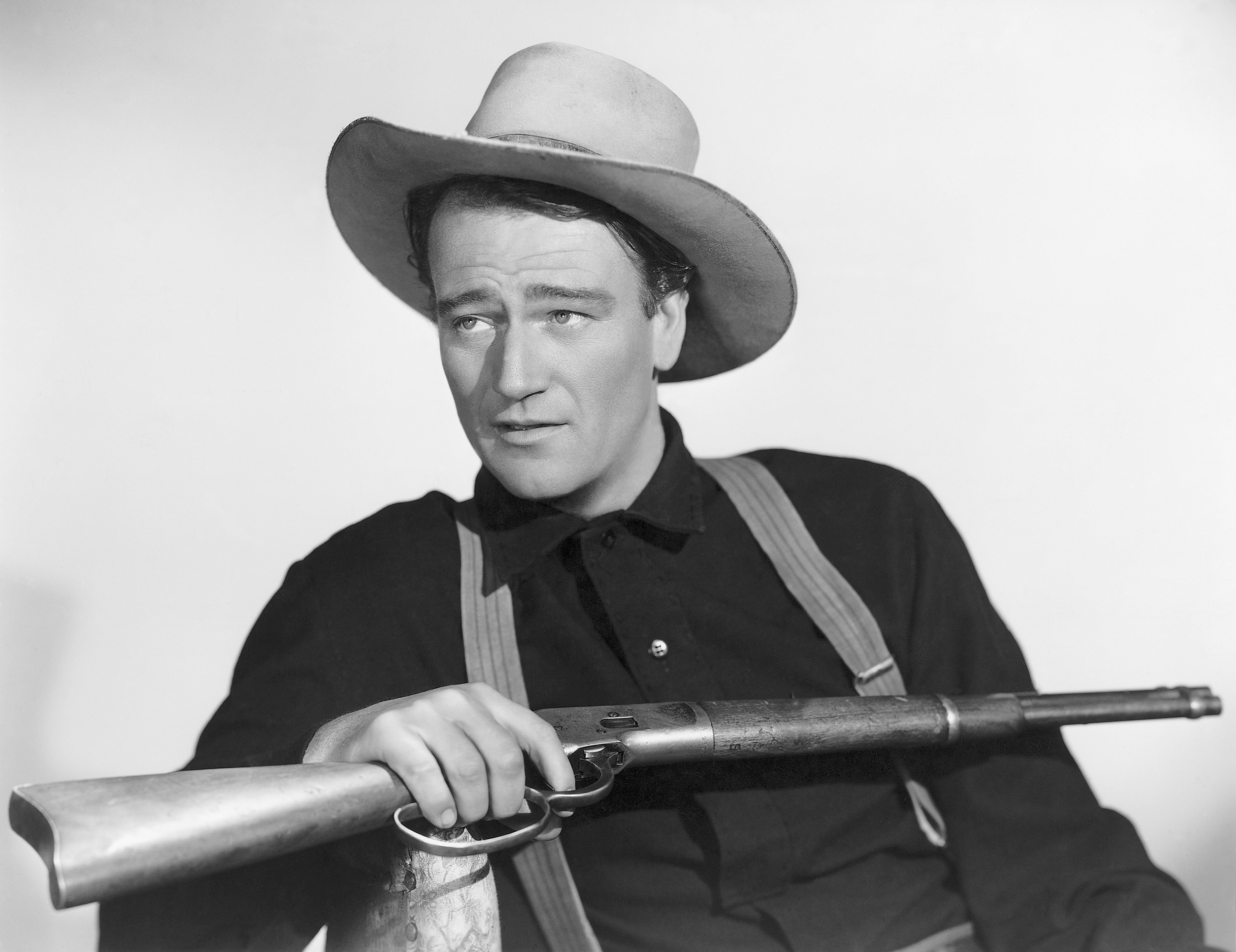 John Wayne holding a rifle in a publicity photo for the movie Shepherd of the Hills.| Source: Getty Images
Wayne's friend William Bakewell was dating Loretta Young, and he became very close to her sisters, who were all devout Catholics.
The sisters had a friend called Josephine Sáenz, who had attended Convent with them. She was very close with the Youngs and was always at their home, where she became like a family member.
It allowed Wayne to meet Sáenz, and the pair started going out together. The actor was swooned by Sáenz because she was unlike any other woman he had met.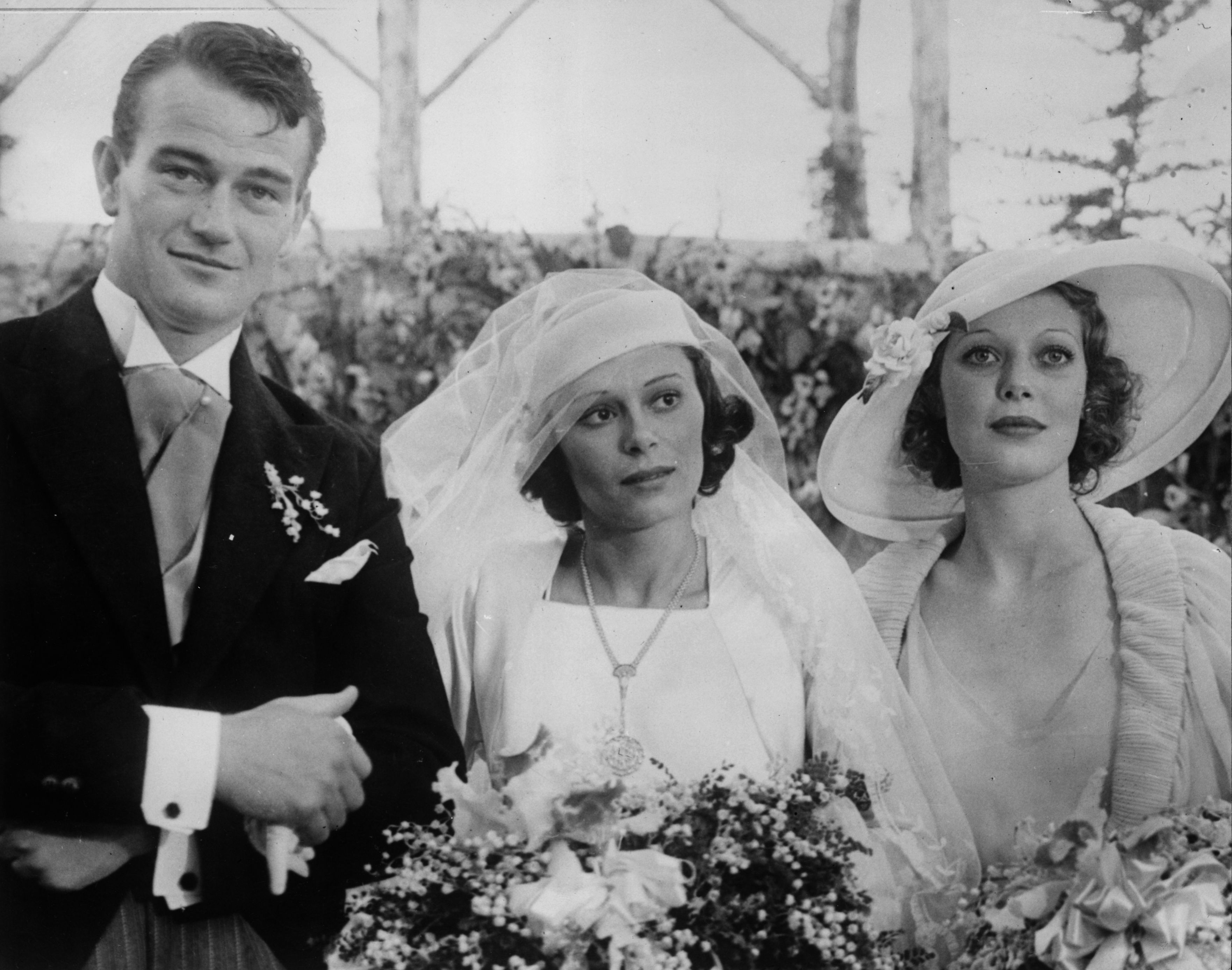 Film actor John Wayne on his wedding day with his wife Josephine Saenz and Loretta Young (1913 - 2000) | Source: Getty Images
Unlike his mother, Sáenz was classy, and she embodied intelligence, breeding, and composure. Her father, a doctor, was also very accomplished. He had been appointed as consul for Los Angeles by Haiti, Panama, Dominican Republic, and El Salvador.
Wayne fell in love with Sáenz very quickly, but the latter was skeptical about him. Also, her family was not in full support of their relationship.
The actor's reputation of being a football player from a broken marriage who had lost his scholarship and was living in Glendale did not help his cause. Wayne and Sáenz were from different social classes, and they felt the former was punching above his weight.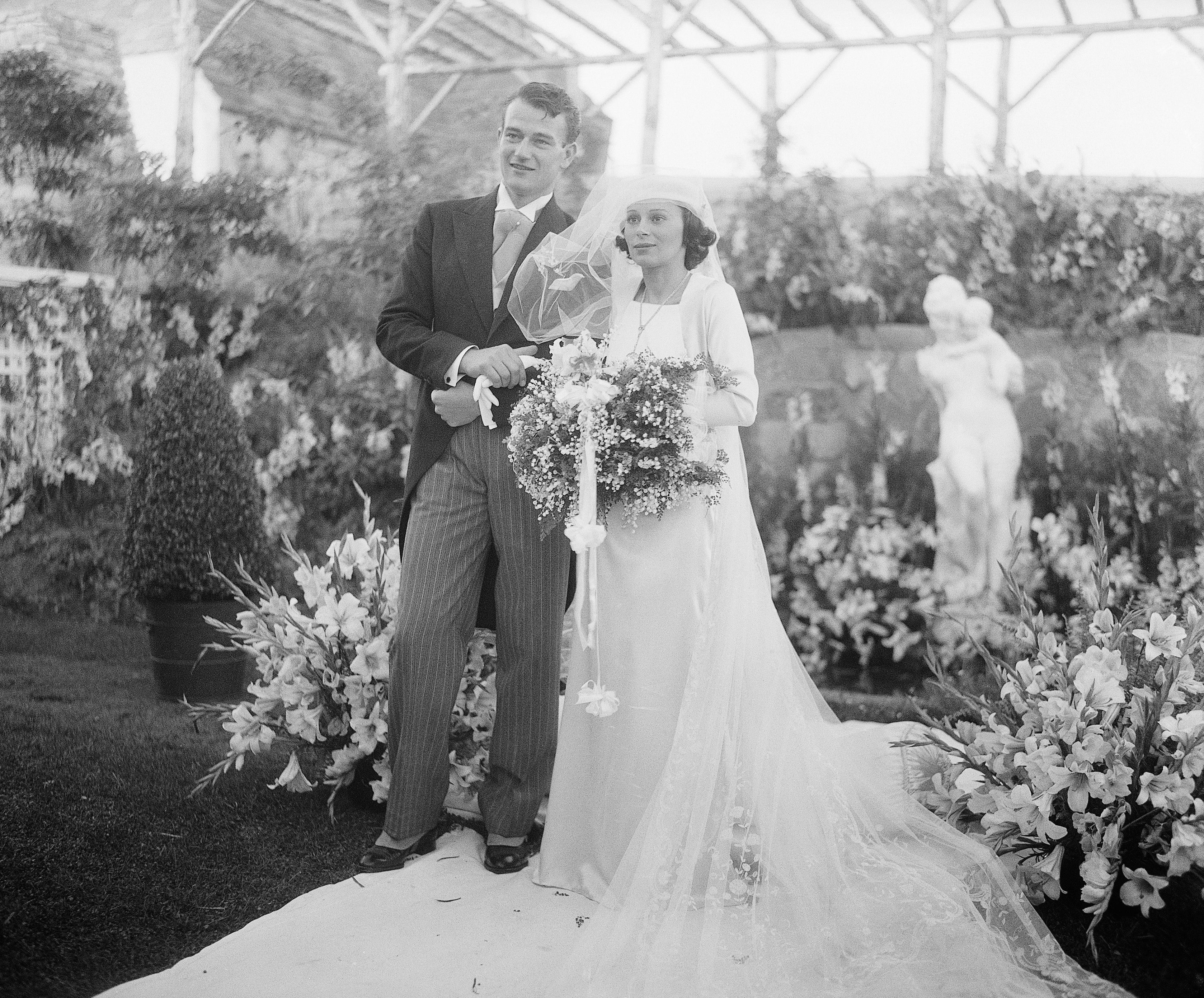 John Wayne, motion picture actor, and his bride, the former Miss Josephine Saenz, daughter of Dr. Jose Saenz, Panamanian Counsul in Los Angeles,| Source: Getty Images
Sáenz's parents, however, liked that Wayne was sincere, and their daughter, on her part, was quite impressed by the actor's looks. Sáenz and Wayne found a way to keep their relationship alive for years, although her parents would not agree to marriage until Wayne proved he could take care of their daughter.
In December 1932, Wayne and Sáenz finally announced their engagement. It was also reported by The New York Times. They exchanged marital vows on June 24, 1933, at Loretta Young's Bel Air home. The ceremony was conducted by a priest from the Church of Immaculate conception.
The couple's friends were present at the ceremony, including Henry Fonda and Grant Withers. The best men and ushers were from Wayne's Sigma Chi Fraternity brothers.
Screen actor Weds Daughter Of Latin American Consul. John Wayne, motion picture actor, and his bride, the former Miss Josephine Saenz, Panamanian Consul in Los Angeles, shown after their marriage at the Los Angeles home of Loretta Young,| Source: Getty Images
After tying the knot, the new couple moved to a three-bedroom apartment somewhere in Hancock Park, close to the bride's parents' house, so that they could be within her social circle.
As they were setting up the housekeeping in their new apartment, Wayne told his wife he would not handle tasks like fixing light bulbs or doing yard work and plumbing since he made enough money to have professionals do that.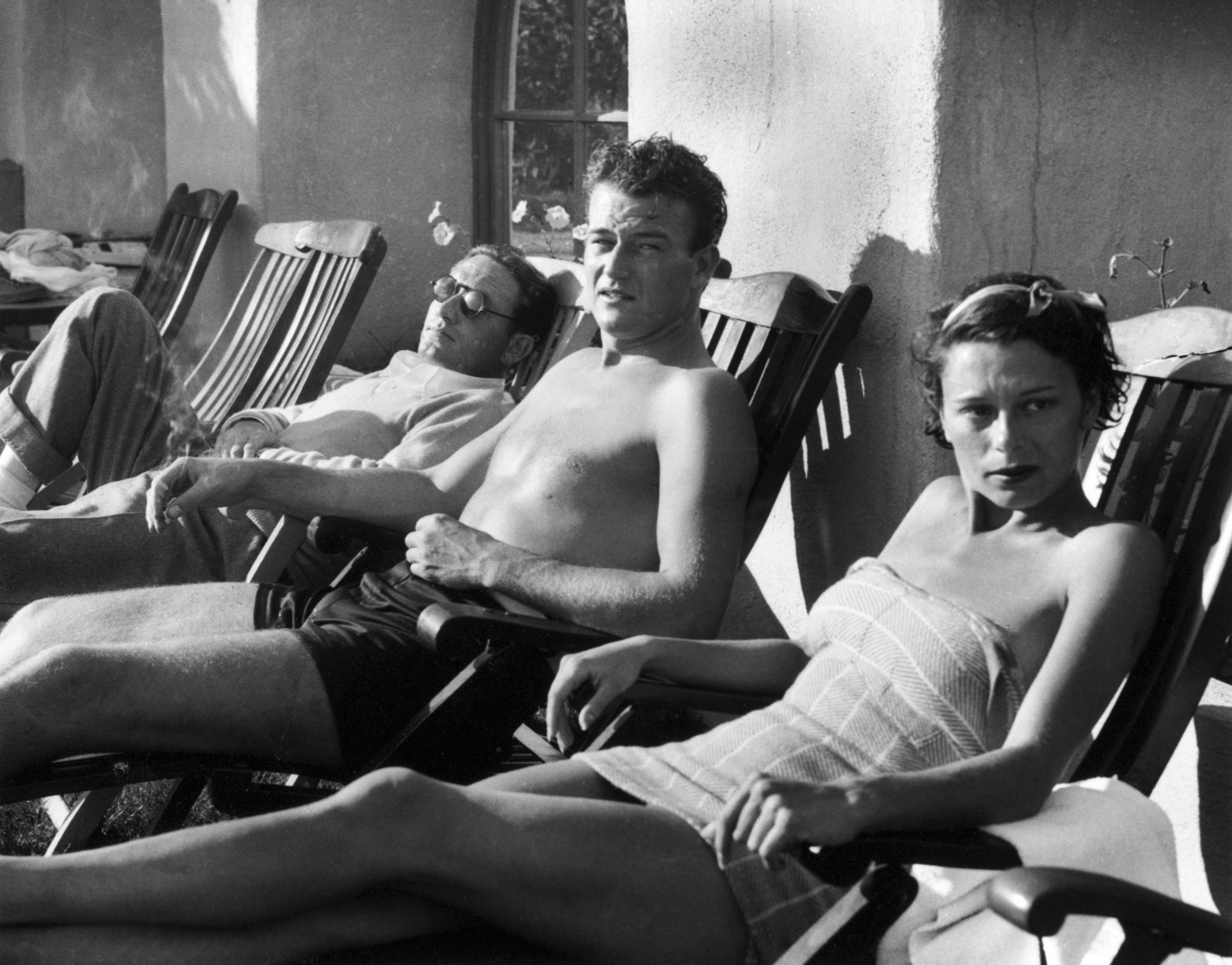 Spencer Tracy reclines in a deck chair next to John Wayne, and his wife, Josephine Wayne. The three relax at El Mirador in Palm Springs, California, on January 29, 1934.| Source: Getty Images
The actor associated doing tasks around the house like that with poverty, a life he had lived growing up, and something he had no desire to replicate.
Soon after their marriage, they became parents when they welcomed their first child, Michael, in 1934. Anthonia followed him in 1936, Patrick in 1939, and Melinda in 1940.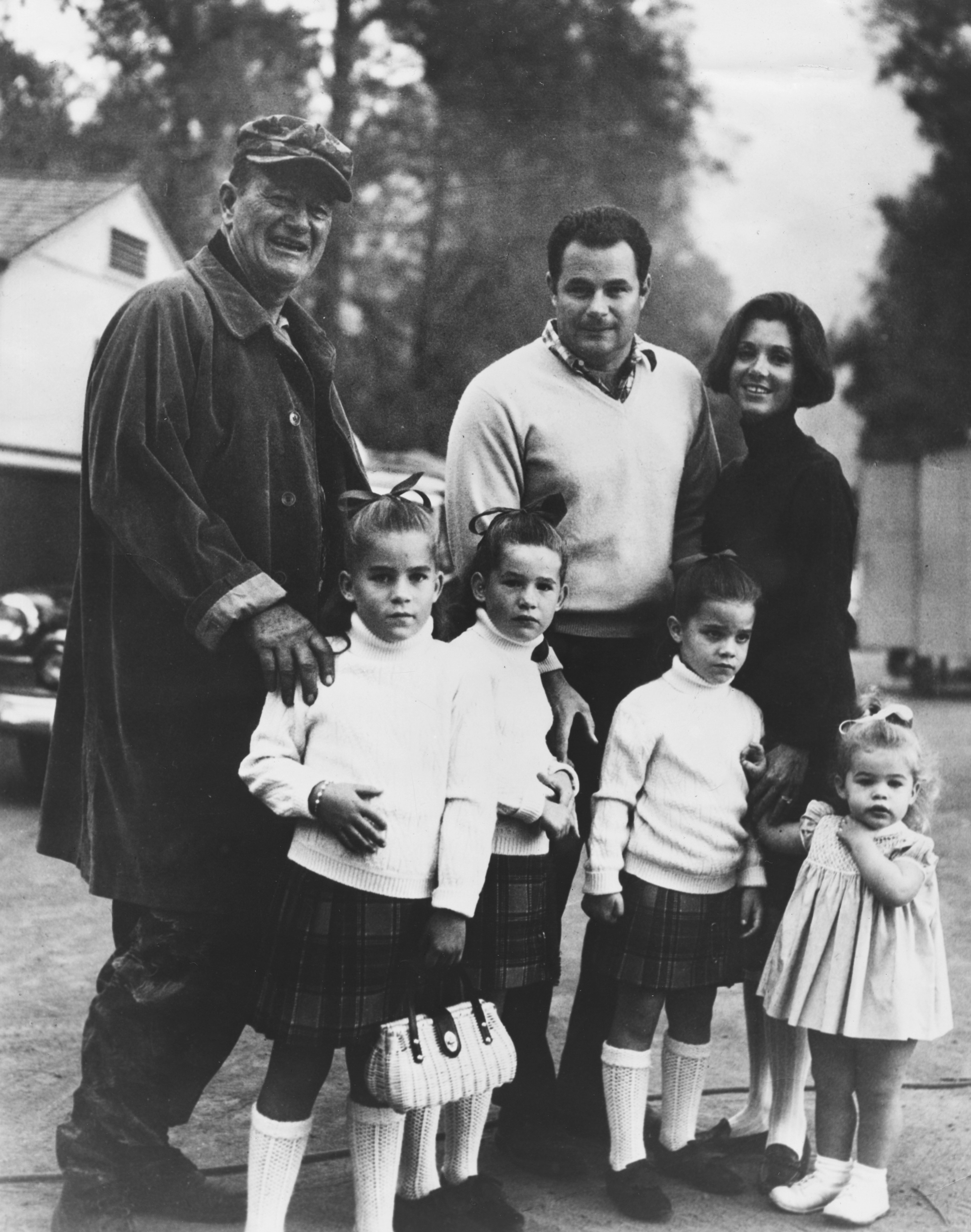 Portrait of actor John Wayne, with his son Michael, daughter-in-law Gretchen, and granddaughters Alicia, Maria, Teresa and Josephine, March 19th 1968 | Source: Getty Images
Wayne loved his wife, but the actor could not reject the temptations of Hollywood, and he occasionally cheated on Sáenz. However, he was not an unrepentant womanizer and always felt guilty about his transgressions. According to his friend, Paul Fix:
"Duke [Wayne] would occasionally stray, but he always felt so guilty about cheating on Josephine, he usually broke it off as quick as he could."
Their marriage was allegedly problematic because while Wayne was marrying someone in a higher social class, Sáenz was marrying someone below, and she ultimately did not respect her husband's profession.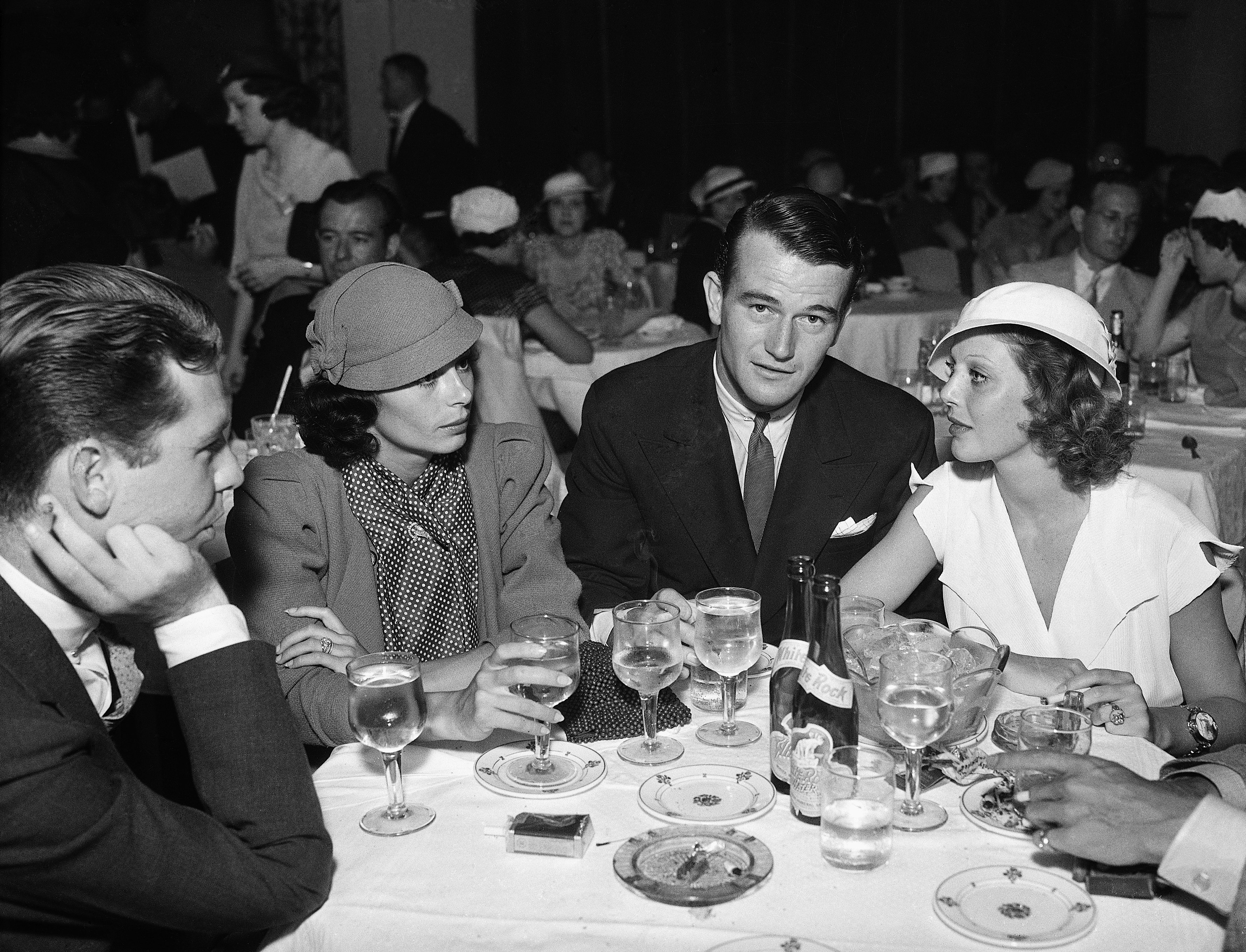 John Wayne, well-known screen actor, dines with his bride, the former Josephine Saenz, daughter of Dr. Jose S. Saenz, the Panamanian Consul in Los Angeles | Source: Getty Images
CHEATING ALLEGATIONS AND DIVORCE
Wayne started having an affair with his co-star, actress Marlene Dietrich, and during this period, he neglected Sáenz, who took up the role of the suffering wife.
Although his affairs were much-publicized, Sáenz tried to keep their marriage together, and she asked a priest, Father McCoy, to come to their home and counsel her husband about his extramarital affairs.
The movie star was appalled that his wife had turned to a priest for domestic advice. Nonetheless, he listened to Father McCoy and promised he would deter from seeing Dietrich if his wife would stop talking about his relationship with the actress.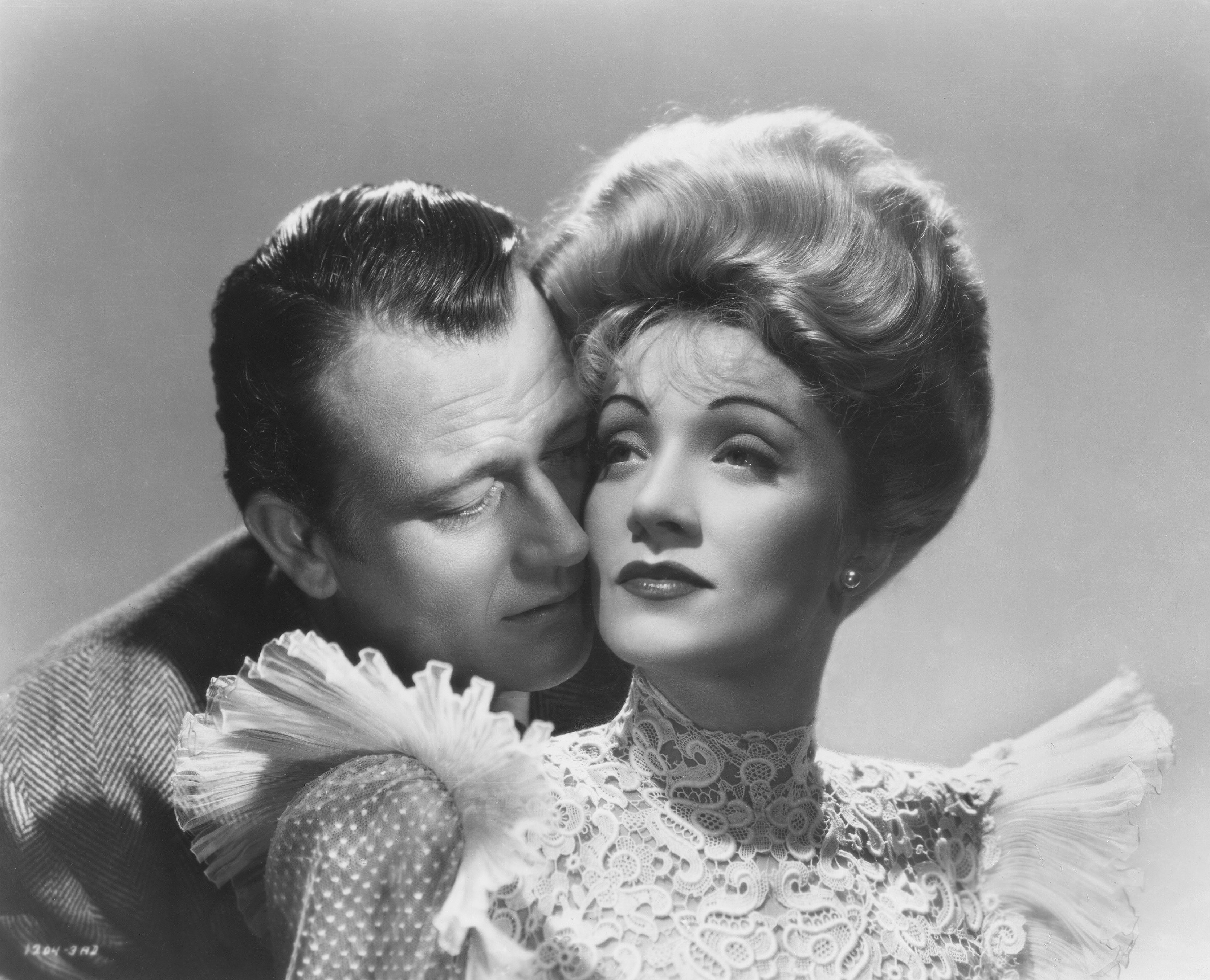 John Wayne, Marlene Dietrich on the set of "The Spoilers" directed by Ray Enright circa 1942 | Source: Getty Images
However, as soon as the priest left, Sáenz raised the issue again, and it was at this point Wayne realized their marriage was over.
The actor had been having affairs with multiple actresses for years, and most people, including Carolyn Roos Olsen, the daughter of Wayne's business manager, believed their separation was a shame. Still, they could not stay together after what Wayne did.
Olsen disclosed that everyone believed Sáenz's religion was strict, and she had restricted Wayne's access to her body after four kids because she did not want more. This, in turn, was why the actor started having affairs.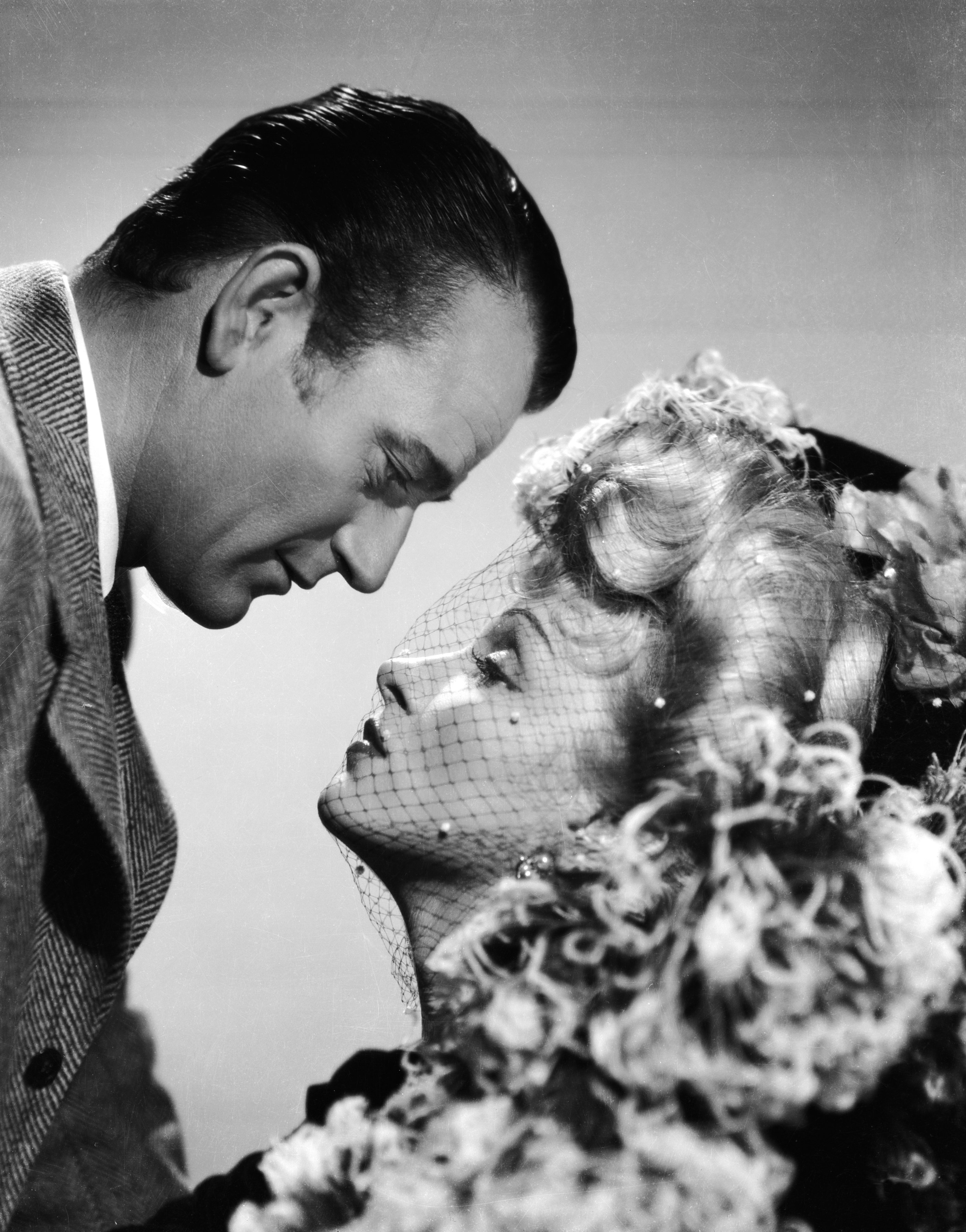 John Wayne (1907 - 1979) and Marlene Dietrich (1901 - 1992) star as gold miner Roy Glennister and saloon entertainer Cherry Malotte in 'The Spoilers' | Source: Getty Images
Wayne also tried to justify his adulterous adventures by blaming their social class and his wife's reluctance to go out with a couple of his friends.
He explained that he often had to go out on his own, which strained their marriage because he could not handle both worlds. Years after their divorce, Wayne would go to Sáenz's house every morning of December 25 to pick up their children.
Although he was bitter about how their relationship ended at first, the bitterness wore off, and he developed a respect for Sáenz's mothering skills and, in subsequent years, spoke warmly about her.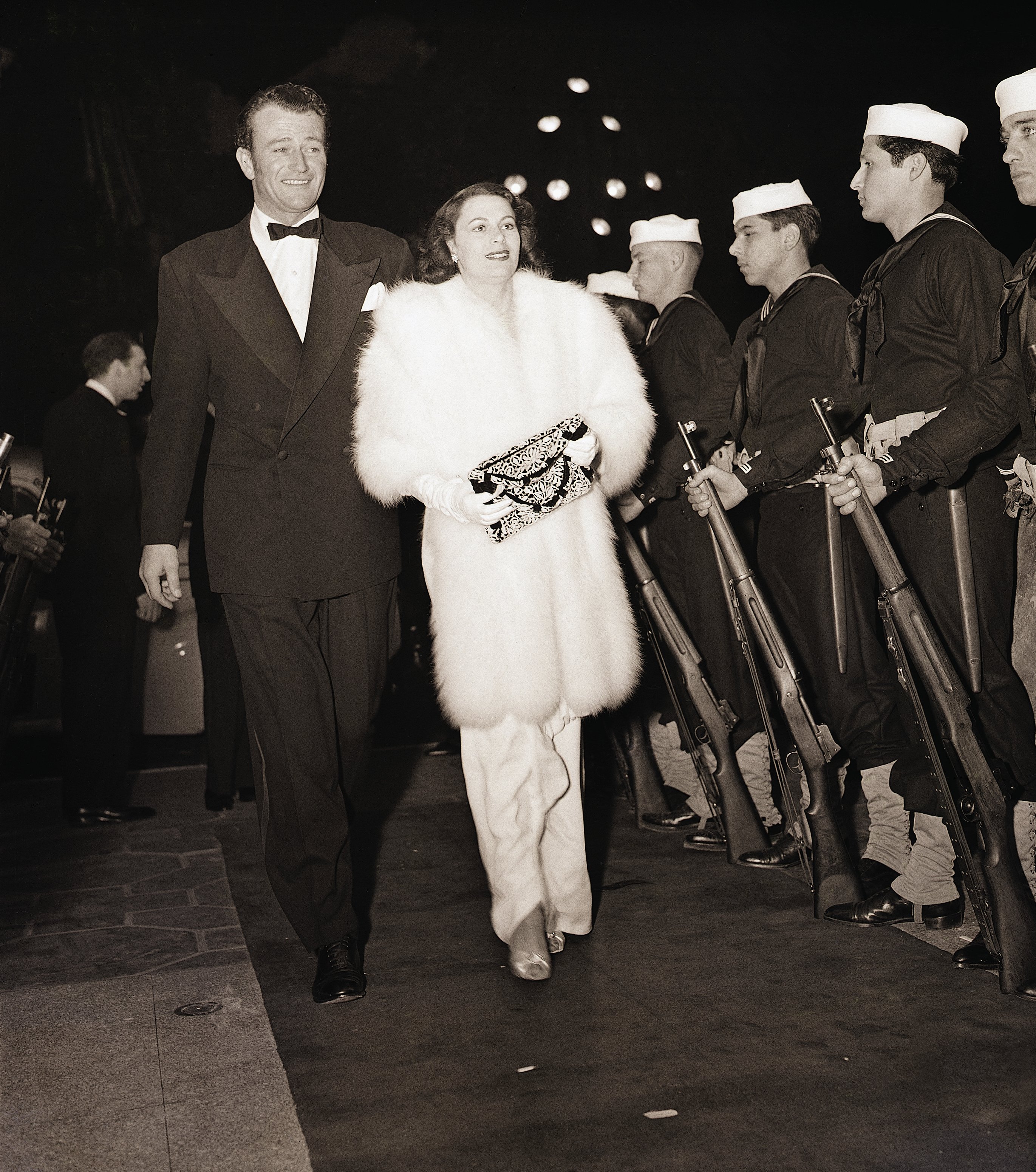 John Wayne is pictured with his wife Josephine on their arrival last night at the new Hollywood Theater for the grand premiere of Cecil B. DeMille's latest epic | Source: Getty Images
He felt guilty about the divorce for most of his life and often told their kids he was to blame for how their marriage ended. The actor also believed his first son, Michael, never forgave him for breaking up the family.
Please fill in your e-mail so we can share with you our top stories!