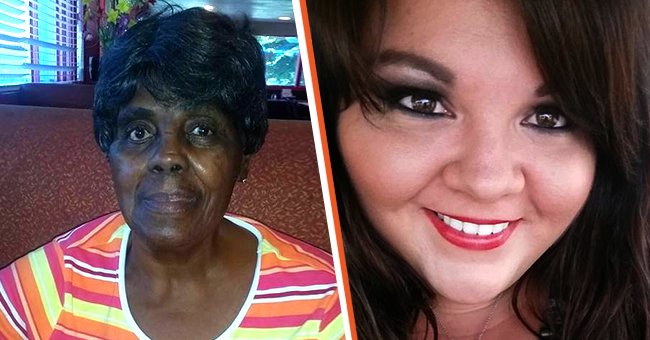 facebook.com/brooke.ochoa.5
Young Woman Notices Elderly Lady Eating Alone, Befriends Her after Hearing Her Story
A visit to a local restaurant changed two people's lives. When one woman noticed an older lady who looked lonely, she decided to strike up a conversation, unaware of what would come from the simple gesture.
Dining alone can be sad, especially for older adults who are used to the company of a loved one. When Brooke Ochoa held the restaurant door open for a stranger in 2015, it was the start of something unforgettable.
The elderly Texan lady was immensely grateful for Ochoa's kindness and thanked her before asking the waitress for a table. Ochoa overheard the conversation and felt a desire to reach out.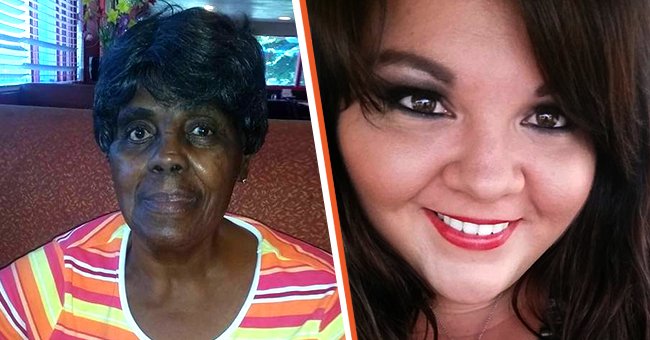 [Left] Delores enjoying her dinner with her new friend, Brooke Ochoa; [Right] Ochoa is happy to have brightened Delores' day. | Source: facebook.com/brooke.ochoa.5
Ochoa realized the older woman was eating alone and had to do something to help. She was hesitant but followed her heart and asked the woman a question that surprised her.
"I'm eating by myself too would you like to have lunch together?"
The woman was thrilled and instantly agreed to the suggestion. Ochoa discovered that the woman's name was Delores, and they made a personal connection in no time.
By the end of their evening, Ochoa knew a lot about her new friend. Delores revealed that she recently lost two important people in her life.
THE ELDERLY WOMAN WAS LONELY
Her mother passed away, and one of her aunts moved into a nursing home, so she was left alone. Grief and loneliness consumed her, and she didn't look forward to eating alone.
The new friendship meant the world to Delores, but it also impacted Ochoa and how she viewed the world.
Ochoa stated: "Her words healed my heart just as I healed her lonely one. By far the best decision I've made all year!!!"
All Delores wanted was someone who would listen and spend time with her—Ochoa made this wish come true.
She shared the story on her Facebook page and told netizens that she had a standing lunch date with Delores every Thursday.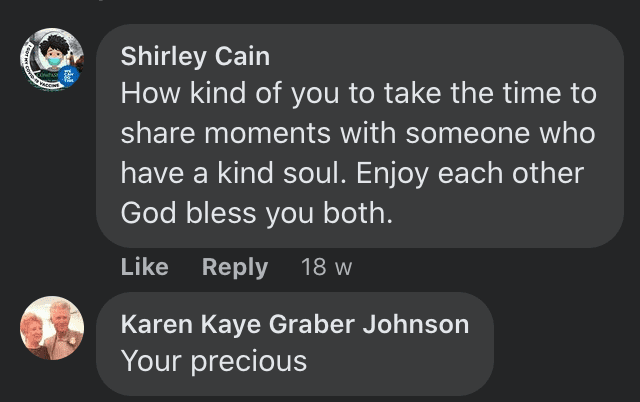 Netizens respond to Brooke Ochoa's kindness. | Source: facebook.com/brooke.ochoa.5
The post received millions of likes, and commenters praised Ochoa's actions. One user said: "What a sweet story. It brought tears to my eyes. So many of us are lonely and need a listening ear."
"I hope you got a few more lunches in with her! Sometimes we do nice things for other people, but we receive a bigger reward. Yours was the friendship with Delores."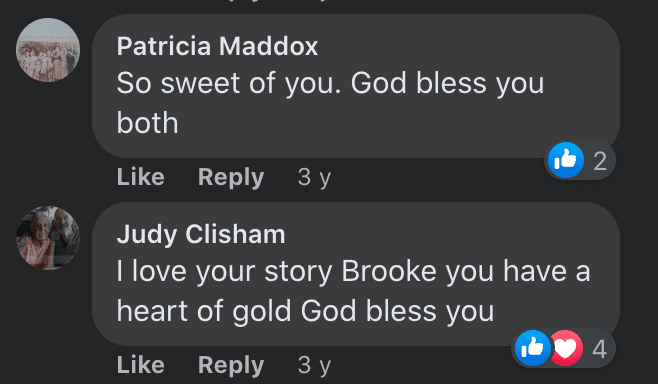 Netizens respond to Brooke Ochoa's kindness. | Source: facebook.com/brooke.ochoa.5
Ochoa shared an update on her post and revealed that Delores passed away a few months after they started their friendship. She was happy to have alleviated some of Delores' loneliness before her passing.
Ochoa wrote: "I am delighted that it still touches so many lives in such a positive way. Thank you all for your support and your kind comments!"
ANOTHER PERSON DINED ALONE
When older people lose the loved one they spent decades with, it can be heartbreaking to carry on. One man decided to bring a photo of his late wife with him to the In-N-Out Burger. It cheered him up and made him feel less alone.
When other customers asked him about the photo in 2014, he told them about his sweetheart and their 55-year marriage. He carried pictures of them with him wherever he went.
Ochoa and the elderly widower showed the difference companionship makes. Whether it's a beloved photograph or the kindness of a stranger, no one should have to dine alone.
Please fill in your e-mail so we can share with you our top stories!