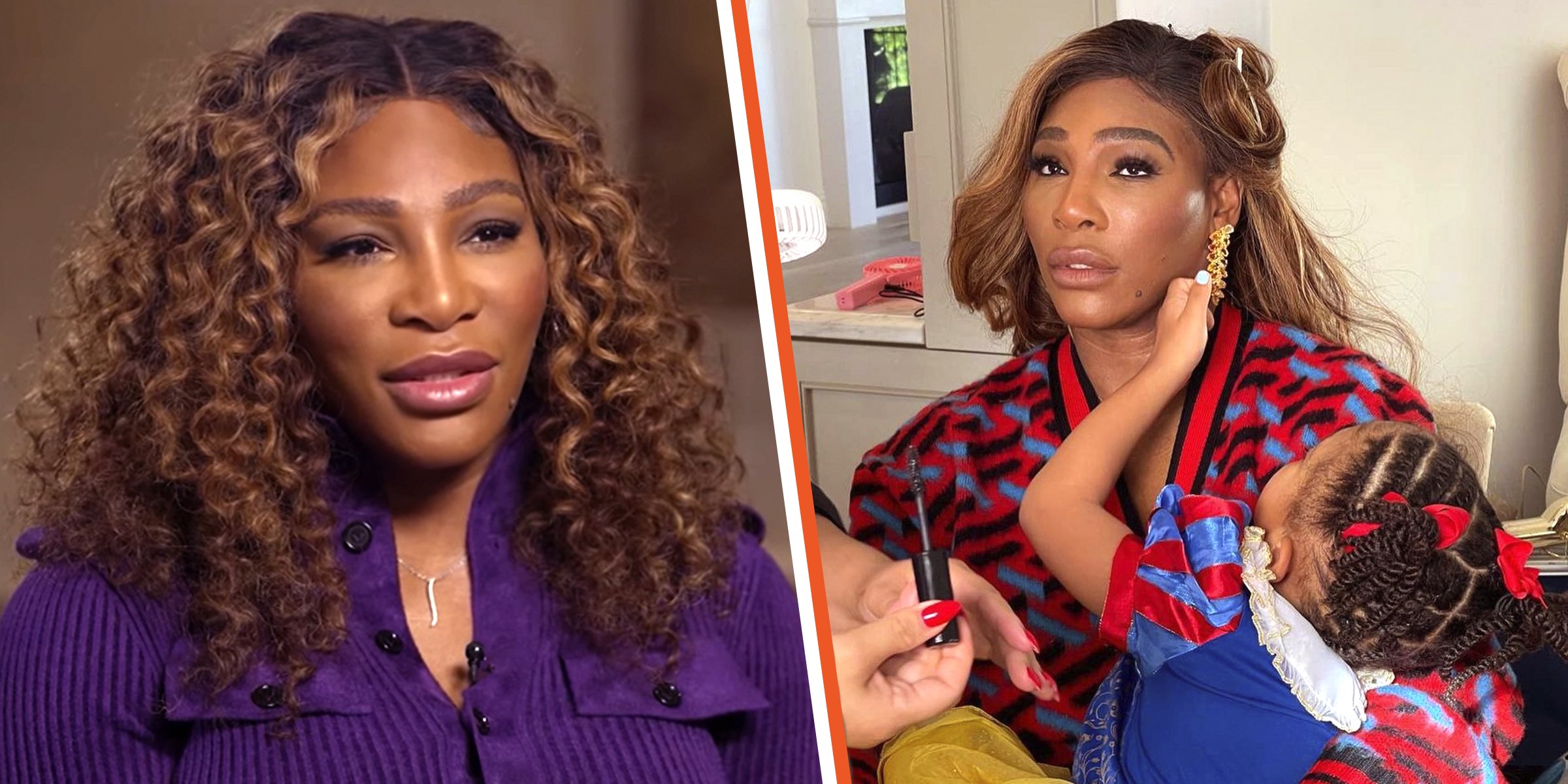 Youtube.com/Amanpour and Company, Instagram.com/serenawilliams
Serena Williams 'Never Felt a Connection' with Daughter during Pregnancy & Saved Her Own Life after Labor
Serena Williams had a fateful meeting with her husband. The couple's relationship evolved, and they announced that they would become parents soon.
The professional tennis player loved being pregnant, yet she did not feel a connection with her baby until she was born. After the labor, Serena Williams faced health issues and had to save herself.
She insisted on getting a CAT scan and asked the medical team to check her veins. Now Serena Williams is a doting mom obsessed with her daughter, Olympia.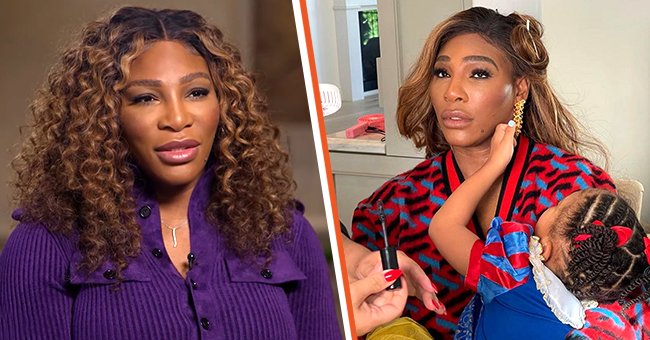 Serena Williams in an interview with Christiane Amanpour [left], Serena Williams carrying her daughter, Olympia, as her glam team dressed her up [right] | Sources: Youtube.com/Amanpour and Company, Instagram.com/serenawilliams
Williams has a beautiful family she adores, yet the tennis player had to go a long path to achieve this. She revealed her feelings during pregnancy and her harrowing experiences after giving birth.
Here are details about Williams's relationship with her husband, her pregnancy, and how she saved her own life after a difficult labor.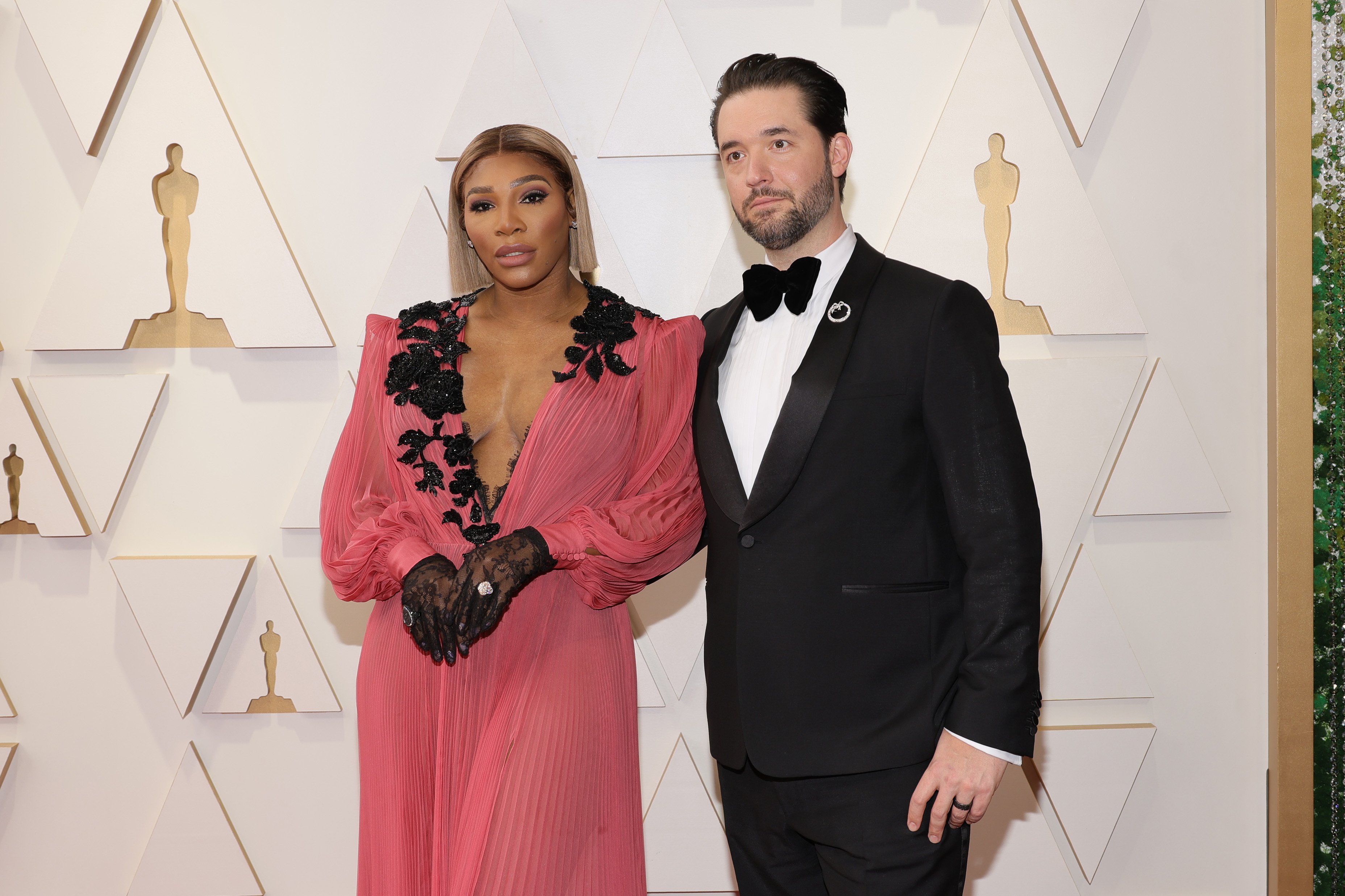 Serena Williams and Alexis Ohanian at the 94th Annual Academy Awards on March 27, 2022 | Sources: Getty Images
SERENA'S FATEFUL MEETING WITH HER HUSBAND
Williams met her husband, Alexis Ohanian, randomly at the Cavalieri hotel in Rome, one of her favorite cities. She went down for breakfast on May 12, 2015, which was unusual for her because she was always too nervous to eat breakfast during a tournament.
Breakfast was closed when she got downstairs, so she decided to sit somewhere else with her trainer and coach. The place was empty then she noticed a big tall guy who walked in.
She said he was walking kind of 'frumpy and hard' while pounding each step. He sat down next to them, and they tried to be the mean team by telling him there was a rat so he would go away. Then she said,
"No, we just don't want you sitting there. We're going to use that table."
They started talking, and then he got invited to watch her match even though he had no respect for tennis. After their Rome meeting, she asked him to visit her in Paris towards the end of May.
Ohanian thought she would blow him off, but he was prepared to have a good time and have stories to tell his childhood friends. Ohanian and Williams went to a zoo and walked around the city for six hours.
Almost 19 months after they first met, Ohanian proposed to Williams on the spot of their first meeting. He remembered the rat detail of their first meeting and had a little plastic rat on the table.
A month after their engagement, she felt different and took a pregnancy test. The result was positive, but to be sure, she took the test five more times, and they all read the same thing.
In April 2017, Williams disclosed that she was pregnant by accident when she posted a private picture of her baby bump on Snapchat.
SERENA'S PREGNANCY & LABOR
Once she discovered she was pregnant, Williams asked Ohanian to meet up with her in Melbourne immediately because she did not want to tell him the news over the phone.
When he arrived, she gave him a paper bag filled with the six tests she had taken. Williams said she had headaches and a weird metallic taste in her mouth in her first trimester.
However, she had a wonderful pregnancy and enjoyed the positive attention she got while pregnant because she had become used to getting negative attention from the press.
Williams became obsessed with wanting to have her baby in September and refused the doctors to induce her in late August. However, on August 31, she went on, and they inserted a tiny pill inside her.
When her contractions started, she said it was great, and she enjoyed the work of labor. Williams was entirely in the moment that she also loved the cramps and the feeling of her body trying to push the baby out.
The following day, her contractions became more challenging and faster, and with every contraction, her baby's heart rate would drop. When Williams was ready for an epidural, the doctor told her she would get a C-section.
Williams loved the confidence of her baby, who made it clear that there was no time for an epidural or more pushing. She was also grateful her baby did not give her a choice between more pushing or surgery.
If Williams had that choice, it would have ruined her because she was not good at making decisions. Williams was happy and relieved to let go as there was now a clear plan for bringing her baby into the world.
Williams was nervous about meeting her baby. Even though she loved being pregnant, she said,
"Throughout my pregnancy, I'd never felt a connection with her. [...] I didn't have that amazing Oh my God, this is my baby moment, ever."
This feeling she had is not something people usually talk about because women are supposed to be in love with their babies from the first second.
Williams knew she would protect her baby at any cost, but she didn't gush over her and kept waiting to feel like she knew her during pregnancy, but she never got the feeling.
However, she knew her baby would be a girl before they confirmed it, and when she finally saw her, she loved her right away.
The love she felt wasn't exactly instantaneous, but the seed was there, and it grew. Williams could not stop staring at her baby girl, Olympia.
HOW SERENA SAVED HER LIFE AFTER LABOR
Williams spent the night in the hospital with her husband and her baby. The moment was surreal as they could feel the presence of a third person.
Williams said she passed out a couple of times, and because she was at a high risk of getting blood clots, she asked the nurse for her heparin drip, and no one was listening to what she was saying because heparin, a blood thinner, could cause her C-section wound to bleed.
However, Williams knew her body and kept pressing because she felt it was necessary. At the same time, she was in excruciating pain and could not move at all.
Williams started coughing and could not breathe because she could not get enough air. When the coughing became severe, her stitches burst, and she had to get restitched.
It was the beginning of many surgeries for Williams. She thought she was dying even when her family was trying to talk to her.
The cause of her cough was an embolism, a clot in one of her arteries. The doctors discovered a hematoma, a collection of blood outside the blood vessels in her abdomen.
They also found even more clots that they had to keep from traveling to her lungs. After they restitched her C-section and woke up, Williams told the nurse that she needed a bilateral CAT scan of her lungs and her heparin drip.
The nurse told her that the medicines they gave Williams were making her talk crazy. When Williams persisted on the scan to be done with dye, the nurse called in the doctor.
The doctor listened to Williams and insisted on the scan. Williams was grateful the doctor heard her, and she said,
"I fought hard, and I ended up getting the CAT scan. Lo and behold, I had a blood clot in my lungs, and they needed to insert a filter into my veins to break up the clot before it reached my heart."
For the third surgery, Williams learned that the veins on athletes are more prominent, and the hospital could not find a filter to fit her veins. After four surgeries, Williams said she was exhausted and wanted to be with her baby.
Also, every time her husband left to get food and shower back at their house, she ended up back in the operating room, and he had to come right back.
Her husband was distraught and too terrified to leave and had to shower at the hospital. He did not try going anymore, and she had no more surgeries.
Williams was glad her OBGYN was terrific and never made her feel dismissed. She said,
"Being heard and appropriately treated was the difference between life or death for me."
After seven days and four surgeries back-to-back, Williams finally left the hospital with Olympia. She was glad she could finally connect with her baby.
Now, Williams wants to be around her daughter every day of her life and gets anxious when she's not around her. She revealed that her daughter has a great sense of humor.
Olympia, who loves to make jokes, would instead draw a chicken when asked to draw a bunny, and she loves to laugh. Williams, who thought she would be the strict parent, is the more lenient parent and said Olympia has her under her finger.
Olympia is four already and is a fashionista like her mother. Williams took to her Instagram to share a few throwback photos of when she and Olympia matched in hot pink Balmain x Barbie dresses.
Please fill in your e-mail so we can share with you our top stories!
The information in this article is not intended or implied to be a substitute for professional medical advice, diagnosis or treatment. All content, including text, and images contained on news.AmoMama.com, or available through news.AmoMama.com is for general information purposes only. news.AmoMama.com does not take responsibility for any action taken as a result of reading this article. Before undertaking any course of treatment please consult with your healthcare provider.