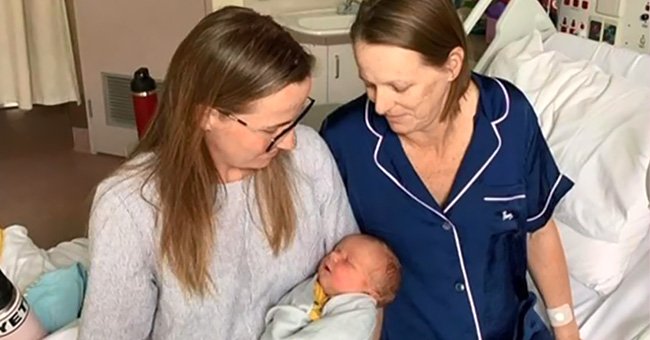 facebook.com/Sunrise
54-Year-Old Mom Gives Birth to Her Own Grandson 2 Years after Her Daughter Failed to Become a Mom
A 54-year-old woman, who was already past menopause, took her duties as a mother to another level. She willingly became a surrogate for her daughter, who could not fall pregnant because of a health condition.
Mothers are the first people children have a connection with because they usually carry the kids within themselves for nine good months and sometimes even longer. For this reason, the bond between mother and child is always powerful and has been known to manifest in different forms.
Indeed, mothers have even been known to lift cars to save their babies from danger in the past. So, it doesn't come as a surprise that Maree Arnold, a 54-year-old woman who had already hit menopause, chose to come through for her daughter.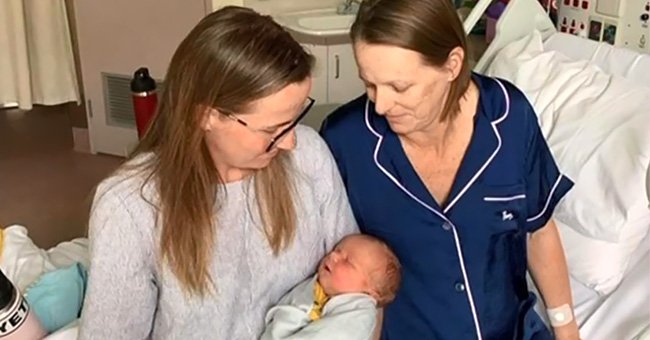 Meagan White holding her son in her arms after her mother, Maree Arnold just delivered him. | Source: facebook.com/Sunrise
HER DAUGHTER HAD NO UTERUS
Meagan White, Maree's daughter, was diagnosed with a rare disorder known as the Mayer-Rokitansky-Küster-Hauser syndrome (MRKH) at the age of 17. She said:
"When I was a teenager, I was waiting around to start my menstrual cycle and it never happened."
The MRKH syndrome meant that she had been born without a uterus and could not carry her own offspring. Fortunately for Meagan, her ovaries were not damaged by the syndrome, which meant she could still have a child via surrogate.
MEAGAN'S FIRST ATTEMPT WITH SURROGACY
Meagan did not think much about the consequences of having a uterus as a young teen, but when she grew older and found her Mr. Right in 2015, her innate desire to start a family made itself known.
Her husband, Clayde, was very supportive of her during this time. According to Meagan, he would always encourage her, stating that they were going to become parents no matter what it took.
As a result, they looked into surrogacy and found a woman willing to carry their child in Canada in January 2019.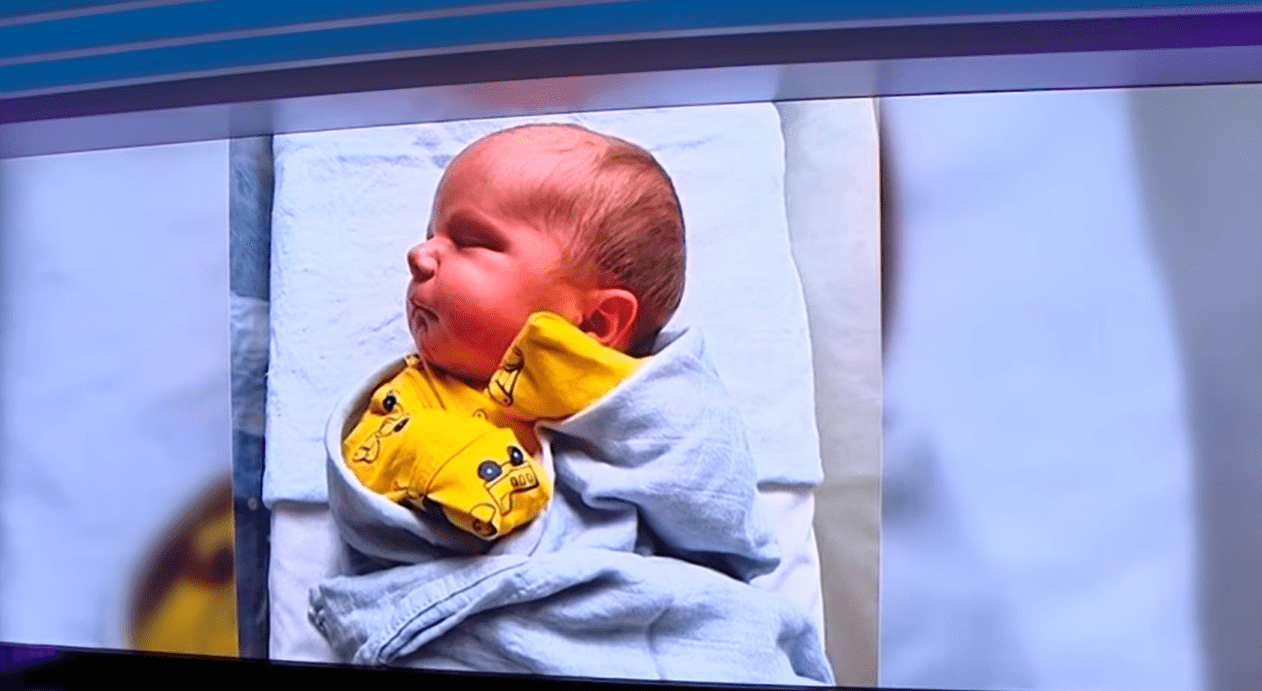 Clyde and Meagan White's son. | Source: facebook.com/Sunrise
They were in contact with a lady named Allison for nine months in the virtual space before they journeyed down to Canada in September to meet her face to face. Unfortunately, the first transfer failed, but the second one got Allison pregnant by December of the same year.
However, their joy at the success of the transfer was short-lived because, in March 2020, doctors told them their child, a girl, had not developed kidneys which meant she was not suitable to be delivered.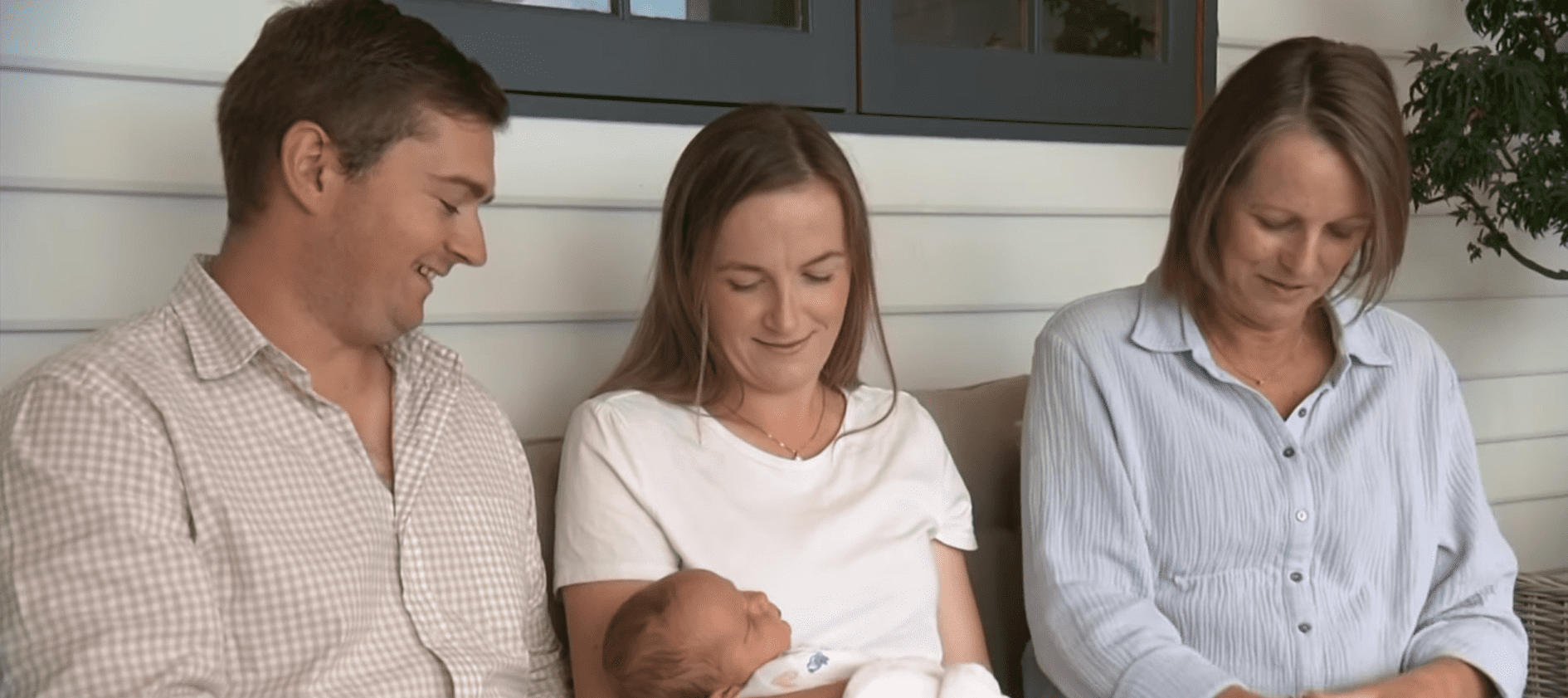 Clyde and his wife Meagan White carrying their son in her arms with her mother. Maree Arnold. | Source: facebook.com/Sunrise
MAREE THOUGHT SHE WOULD BE DEEMED TOO OLD
While her daughter fretted over what the future holds for her as a woman who can't give birth to her own child, her mother, Maree, started researching extensively, looking for ways to help her child.
At the start of the research, she solely believed she was too old to be allowed to carry a child. However, after following legal advice, psychological assessment, and medical evaluations, doctors decided it would be possible.
She had already entered menopause but was given drugs that reversed the process and thickened her uterus lining to prepare her to carry a baby.
In no time, Maree grew heavy with child, and once they passed the 20-week mark, the woman grew more confident in her ability to see it through to the end.
As the delivery date grew closer, all three parties started to make plans. It was to be a C-section, and thanks to months of planning, the birth went without a hitch, taking only two hours and ending with the delivery of Maree's grandson.
This makes Maree the oldest surrogate to date, followed closely by Antonietta Di Maggio, from Sydney, who made headlines in 2015 after giving birth to her grandson for daughter Claudia Luca at 53.
The experience made Maree and her daughter grow closer, and the grateful mom has stated that there is nobody else she would have rather done it with.
Maree and Meagan's story shows that every mother is ready to do anything to make her child's dream come true. And a willingness to help is all that is really needed to help at times.
Please fill in your e-mail so we can share with you our top stories!