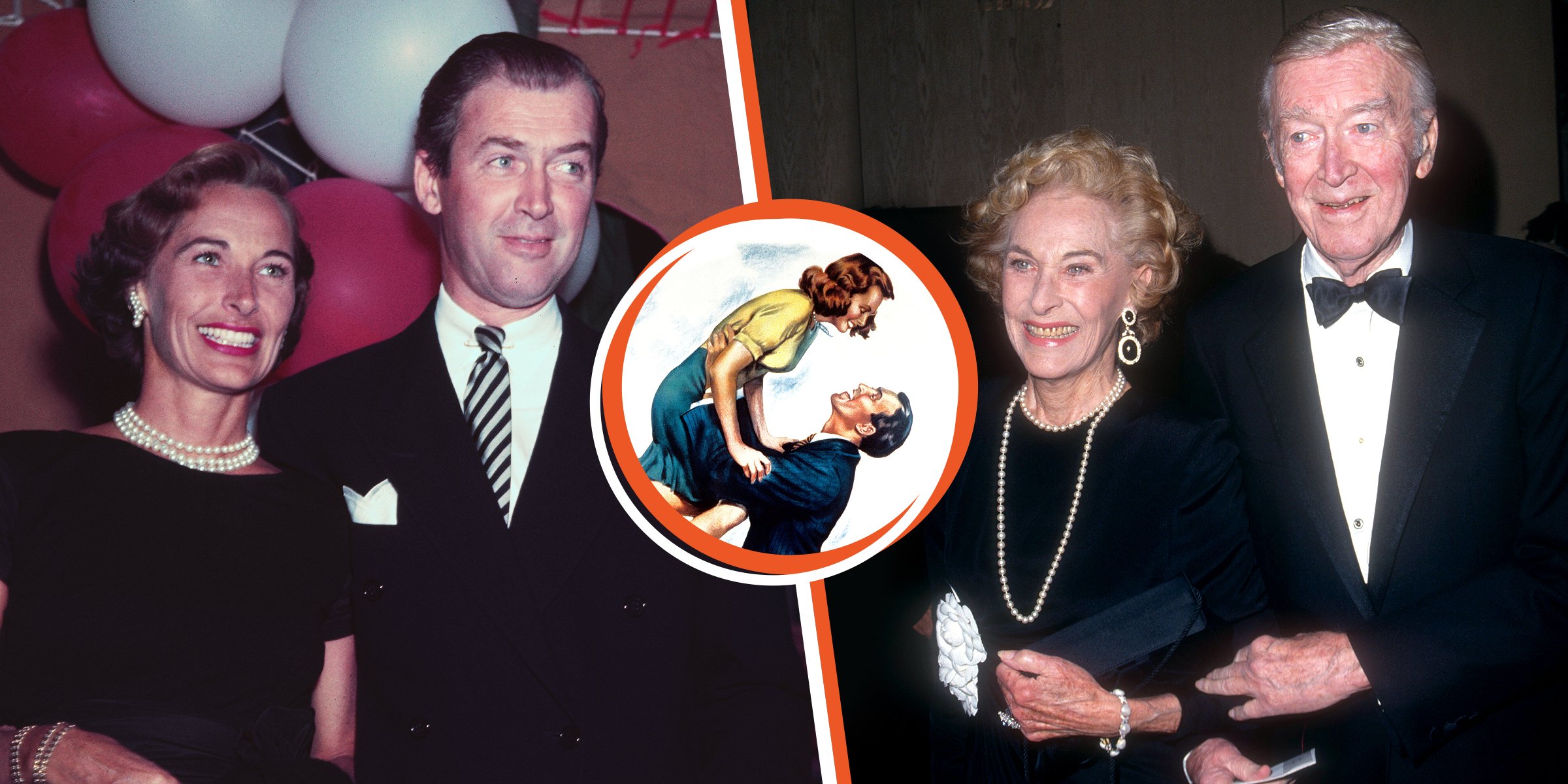 Gloria Hatrick McLean and James Stewart | Donna Reed and James Stewart, 1946 | Gloria Hatrick McLean and James Stewart, 1993 | Source: Getty Images
James Stewart Met Love of His Life at Christmas Party & Became a Recluse after Cancer Took Her from Him
James "Jimmy" Stewart was a womanizer before meeting the love of his life, Gloria.
The actor even adopted Gloria's children from a previous relationship and became a changed family man.
After Gloria died, James became a recluse, his career declined, and he eventually passed away.
James' Womanizing Years
When James "Jimmy" Maitland first relocated to Hollywood, his father encouraged him to find a woman to marry and settle down with, but he had other plans. The actor was star-struck and fell in love with leading ladies.
He dated so many women that he earned himself a reputation as a womanizer until his 40s. Some of the women he dated included Norma Shearer, Ginger Rogers, Dinah Shore, Olivia de Havilland, Loretta Young, Marlene Dietrich, and more.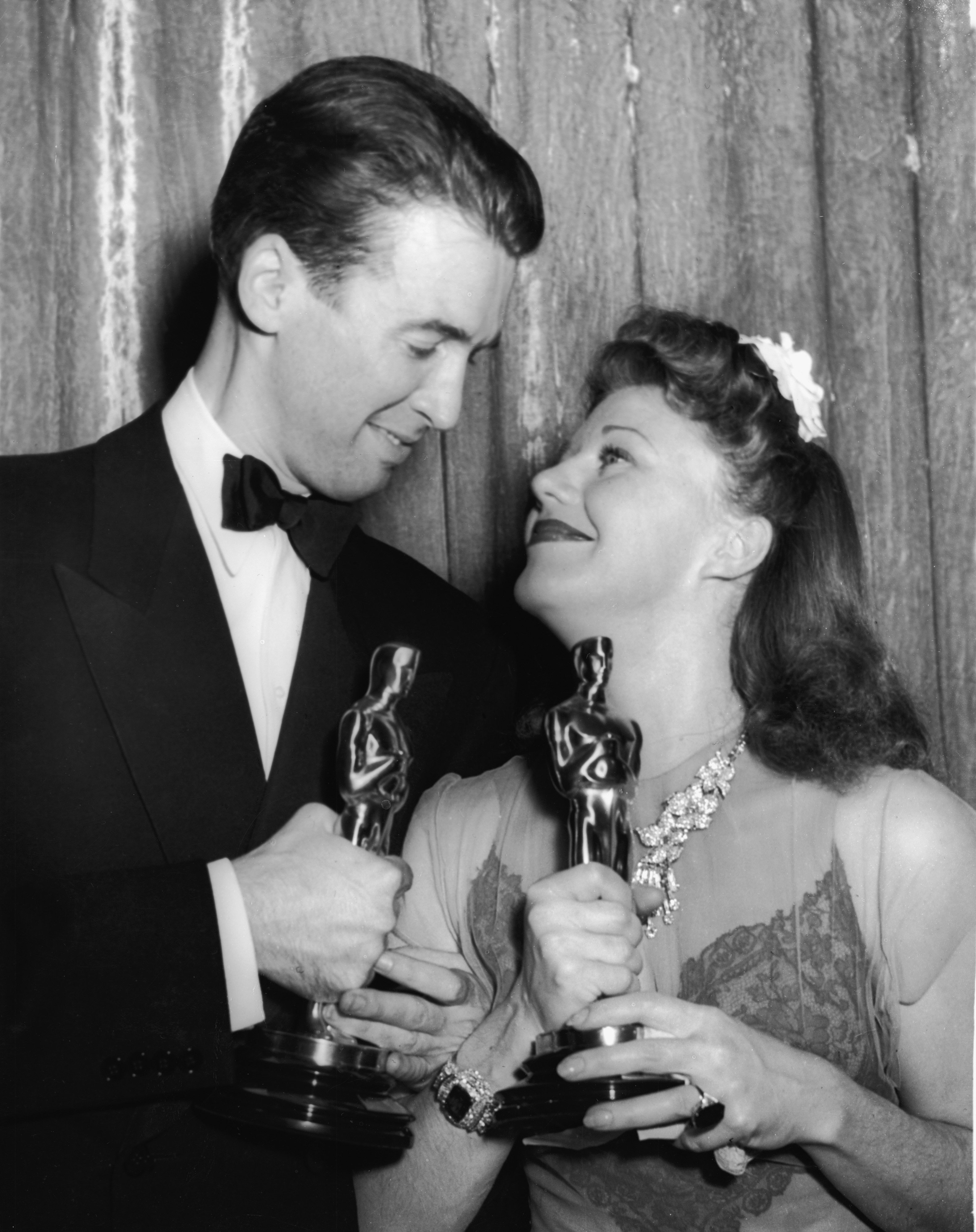 James Stewart and Ginger Rogers with Oscars at the 1940 Academy Awards banquet in Los Angeles, California, on February 27, 1941. | Source: Getty Images
James later realized that he wanted to settle down and set roots by marrying a woman he loved. He said he wished to have a family to which he could return home at night.
The woman he finally settled with was then 31, divorced, and already had children from her previous marriage. Gloria Hatrick McLean, a dark-haired woman, was a tall and willowy model with whom he fell in love.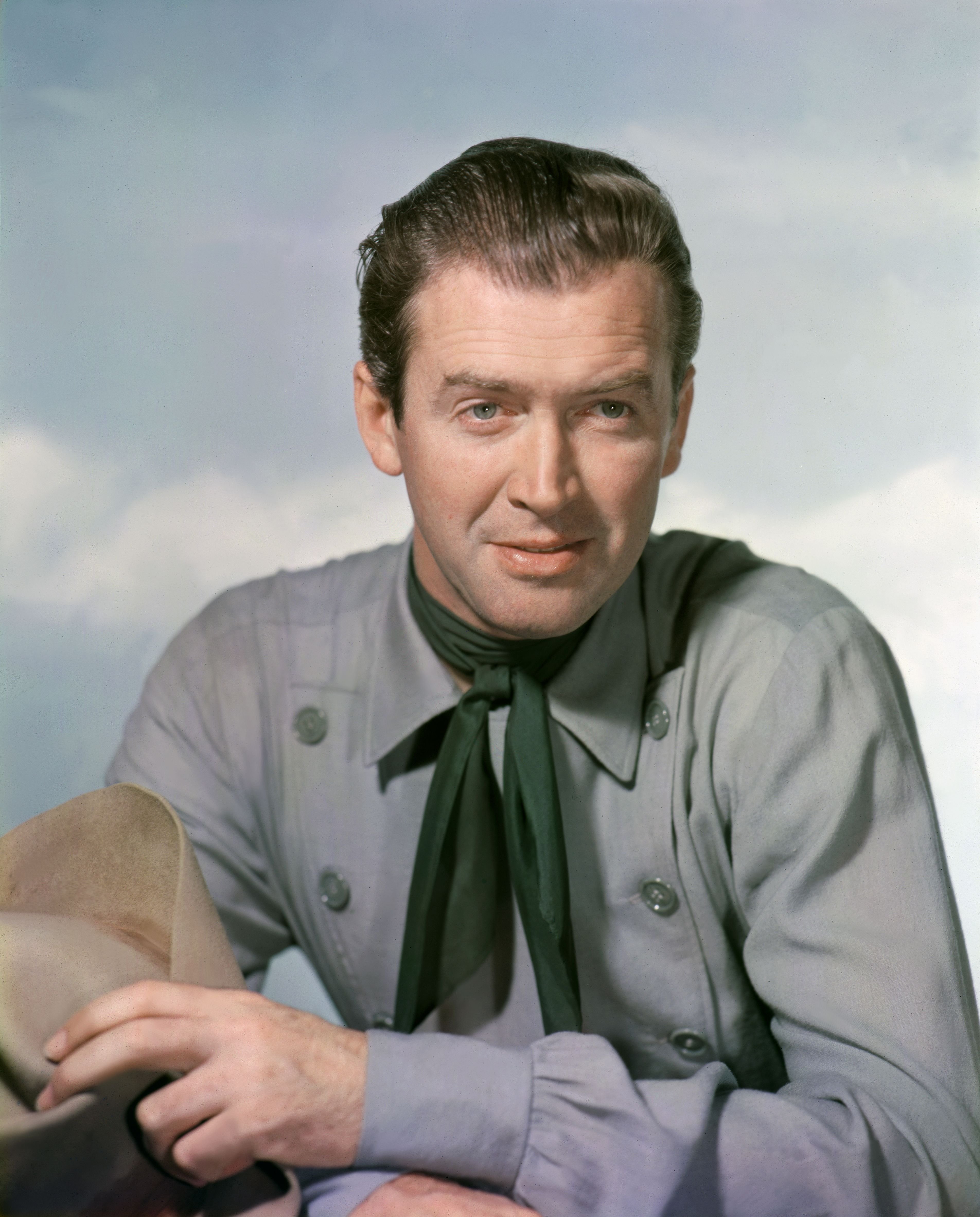 James Stewart on the set of "Broken Arrow," circa 1950. | Source: Getty Images
How James Met His Wife, Their Marriage, and Adopting Her Kids
According to Closer Weekly, in December 2020, James' daughter, Kelly Stewart Harcourt, said he met his future wife, Gloria, in 1947 at a Christmas party. The actor's daughter recalled what a "good sport" and how unpretentious Gloria was, adding:
"She had an incredible sense of humor and was really beautiful."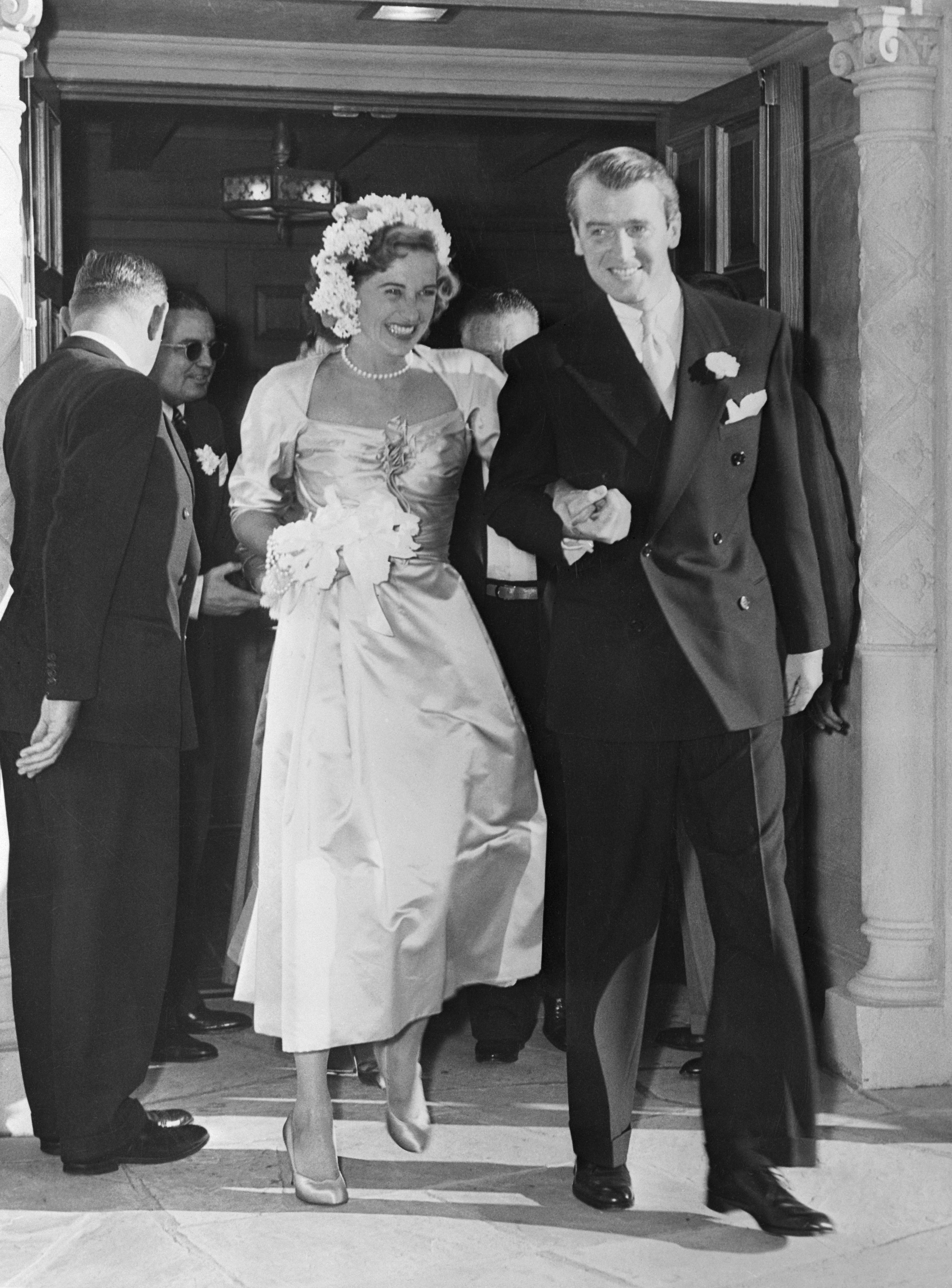 Gloria Hatrick McLean and Jimmy Stewart after getting married at the Brentwood Presbyterian Church, in Brentwood, California, on August 9, 1949. | Source: Getty Images
Although her father continued making movies, she and her three siblings, Michael Stewart, Judy Stewart-Merrill, and the late Ronald McLean, became the center of his life. In a 1985 interview, he said:
"Gloria and the children continue to bring me enormous pleasure. On the whole, it's been a [expletive] wonderful life."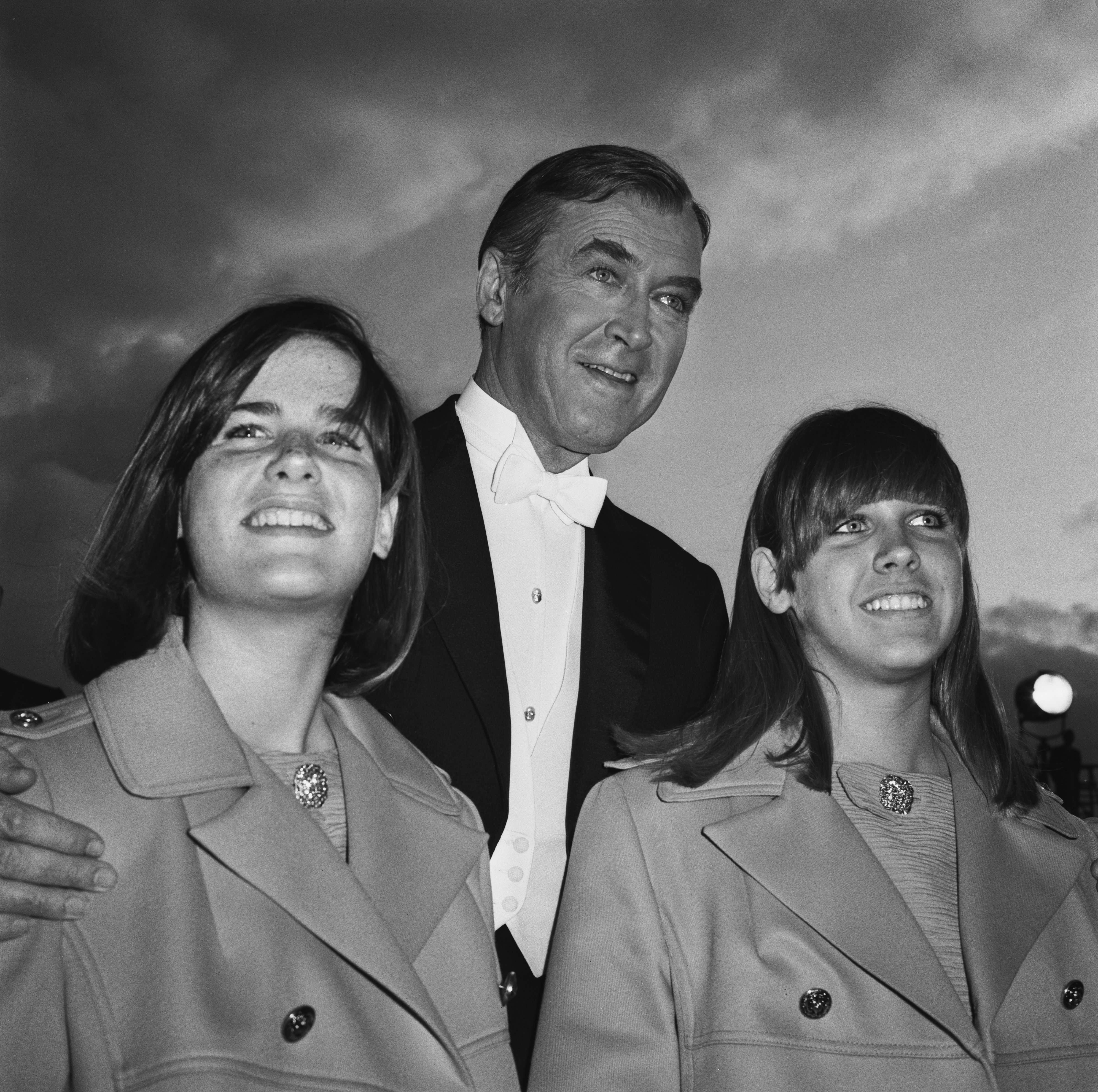 James Stewart and his twin daughters Judy and Kelly at the 39th Academy Awards in Santa Monica, Los Angeles, on April 10, 1967 | Source: Getty Images
Kelly, like many people, looked forward to viewing the yearly winter broadcasts of "It's a Wonderful Life." That was because her father had appeared in it as George Bailey, and James had often told her it was his favorite film.
The star's daughter got to re-experience Bailey's story, a character who learned how much his Bedford Falls neighbors loved him in his darkest times. Kelly's father always made his family's Christmas celebrations special.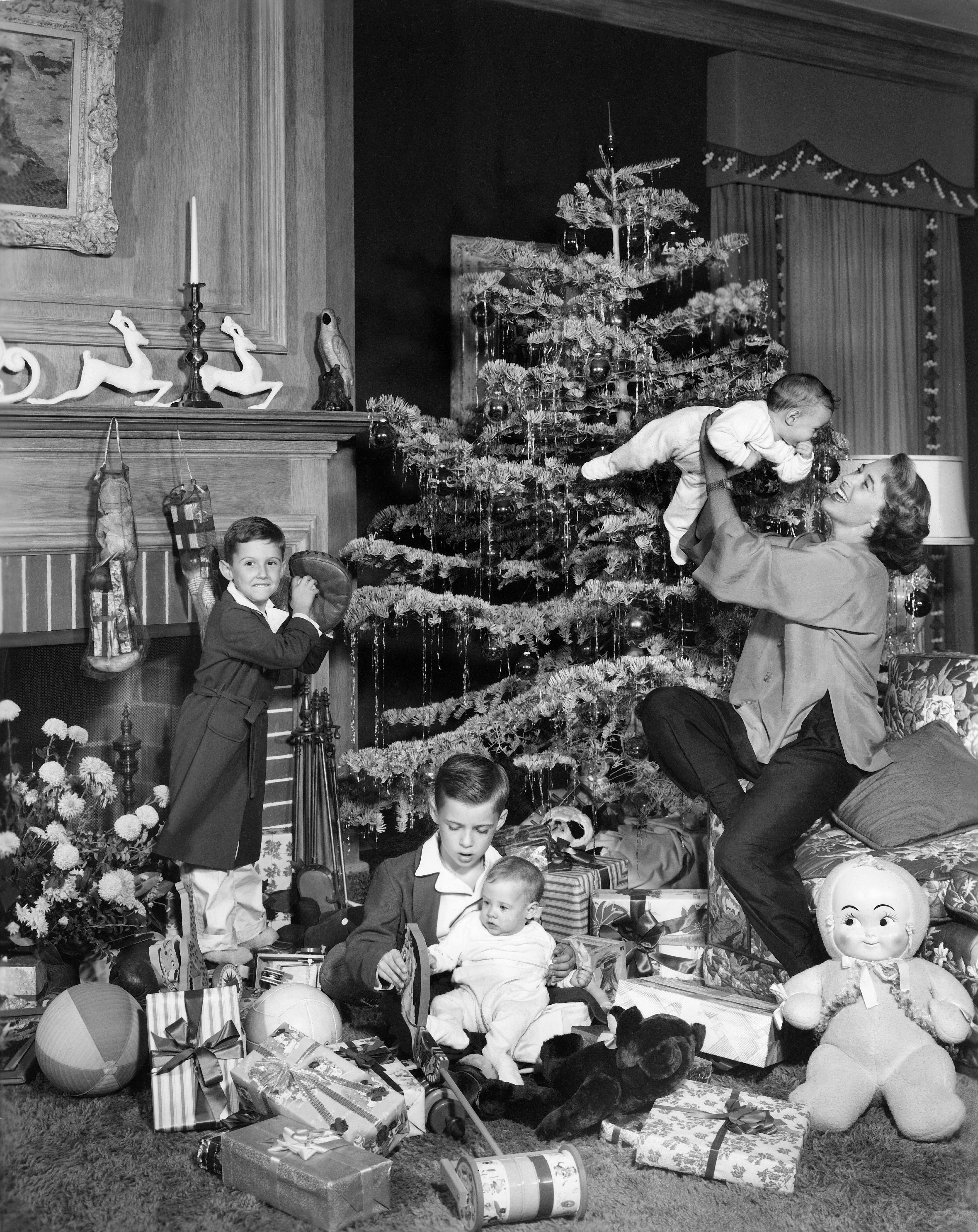 Gloria Stewart with her children Ronald, Michael, Judy, and Kelly in 1953 in Germany | Source: Getty Images
According to his daughter, James once dressed up as Santa Claus and came into his daughters' bedroom to surprise them! At the time, the family had taken a trip to Hawaii for Christmas in 1958.
Although she and her sister eventually realized it was their father in the costume, James never broke character! Kelly recalled nudging and slapping him on the back, but the late actor remained Santa Claus!
James Stewart and Gloria Hatrick McLean with their sons Ronald and Michael at Waterloo Station in London on August 28, 1950. | Source: Getty Images
Gloria was born in 1918 in Larchmont to Edgar Hatrick and his wife before becoming a mother of two small boys. Her father ran William Randolph Heart's newsreel business.
Gloria was a witty, tough-minded, classy, and beautiful woman who attended New York City's Finch College for Women. After her studies, she had a part-time modeling career and developed a career in fashion design.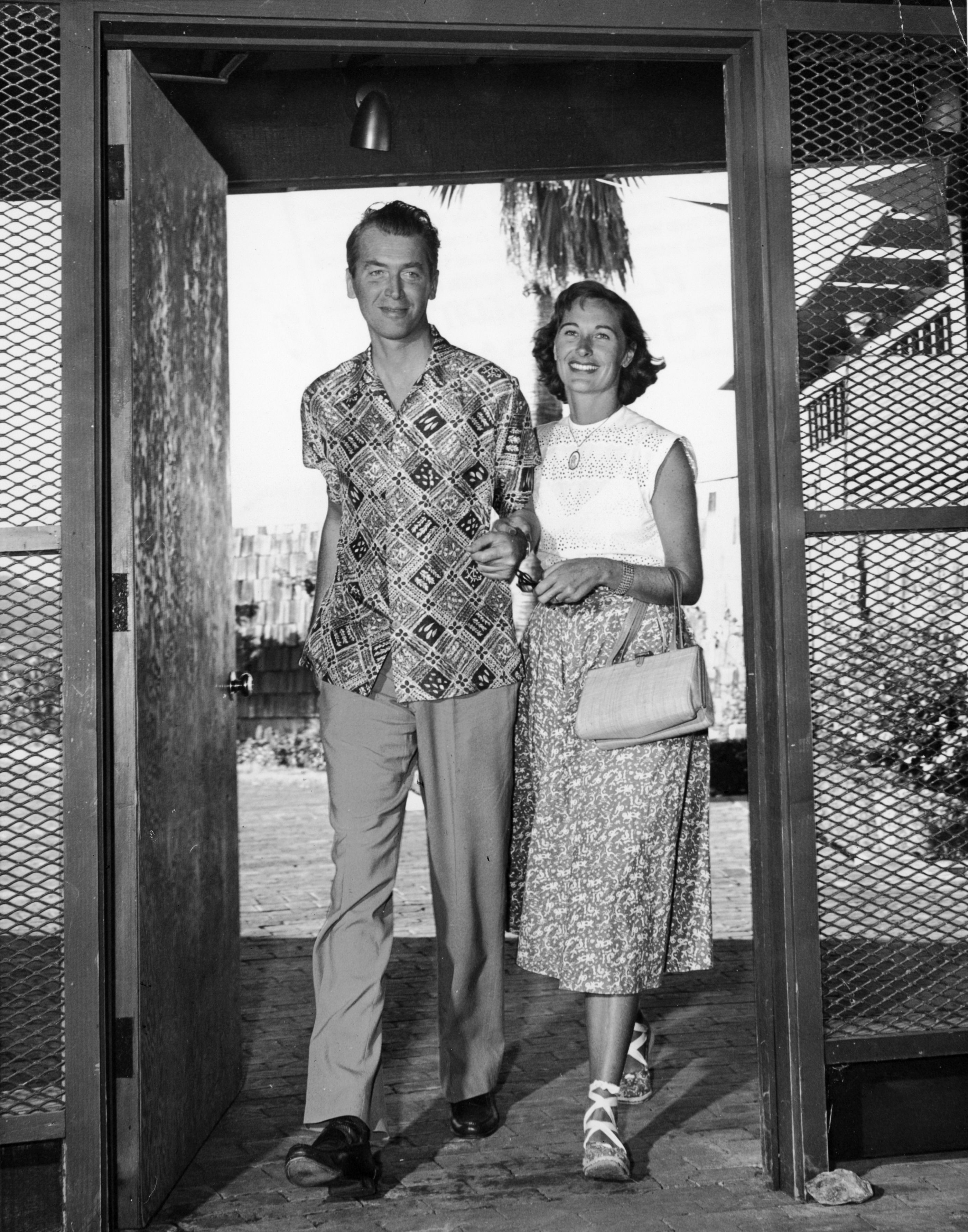 James Stewart and Gloria Hatrick McLean on their way to a water ballet at the opening of the Shadow Mountain Club Resort, Palm Desert, California, in 1955. | Source: Getty Images
Gloria eventually met Ned McLean, a socialite, the son of Evelyn Walsh McLean, and they married in 1941. With James, they courted by playing golf, with the model enjoying the game and outdoor activities because she was athletic.
The courtship focused on golf trips until Gloria informed her date that she also ate. She figured the actor wasn't keen on other activities and outings because he was stingy with money.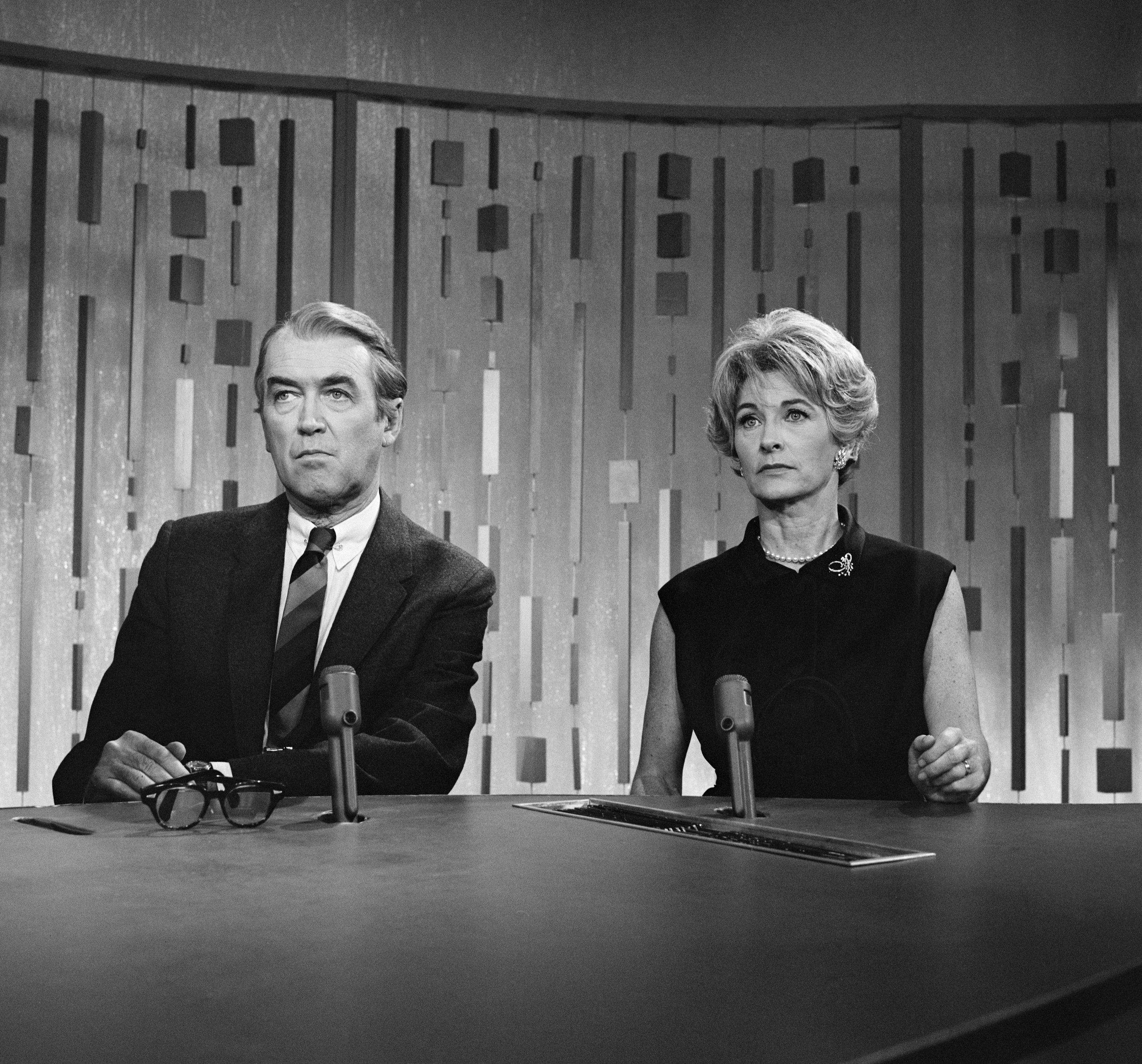 James Stewart and his wife, Gloria, on the CBS gameshow, "PASSWORD," on January 9, 1965 | Source: Getty Images
When James proposed marriage, Gloria accepted. On August 9, 1949, the couple tied the knot with a crowd of people in attendance, including the actor's best man, Billy Grady.
James had finally found his best match. The star took his wife's children as his own, and because he now had a large family, the actor bought the "Mediterranean Ugly," his Beverly Hills house, in January 1951.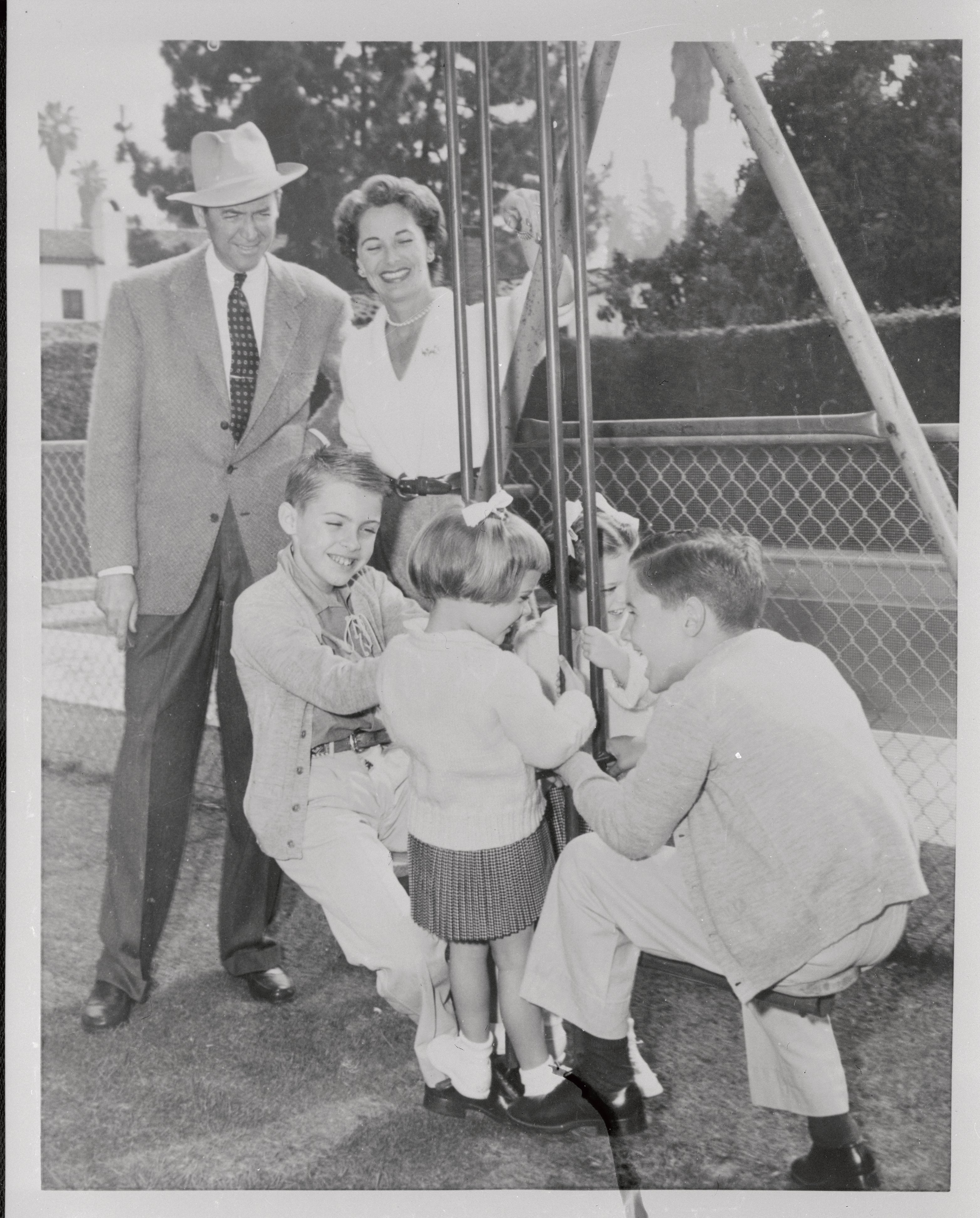 James Stewart and Gloria Hatrick McLean and their children Ronnie, Michael, Judy, and Kelly in their backyard on August 27, 1954. | Source: Getty Images
He and Gloria raised their children, Ronald and Michael, in that house. James loved the home so much that he grew old in it, and that was also where he would take his last breath.
Losing His Wife and Becoming a Recluse
On May 7, 1951, Gloria and James grew their family once more when they welcomed twins Judy and Kelly. Being a family man, the actor preferred a more low-key life during his marriage.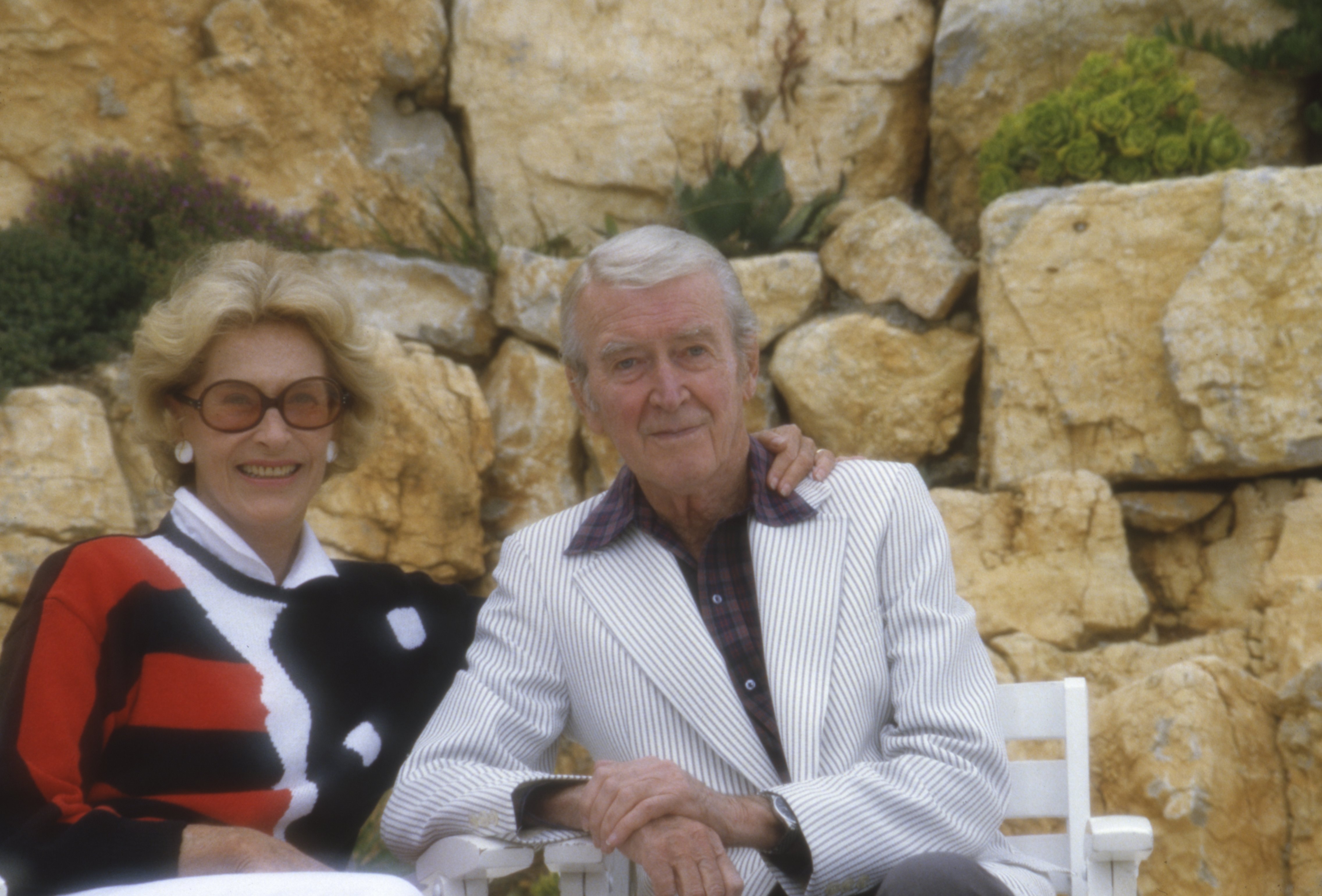 Gloria Hatrick McLean and James Stewart at the Cannes Film Festival in France on January 5, 1984. | Source: Getty Images
Then tragedy struck in the fall of 1993 when Gloria was suddenly diagnosed with lung cancer, whereas everyone had expected something to happen to James first. She'd spent fifty years smoking two packages of cigarettes daily.
Gloria eventually started having chemotherapy after yielding to her husband's requests. After a session of chemotherapy, she started getting sick and lost her hair; before asking her doctors to be honest about her mortality,
The star's wife was informed that chemotherapy would only minimally prolong her life, leading her to cut the procedure off completely. Her husband spent over two hours by her bedside the evening before her death.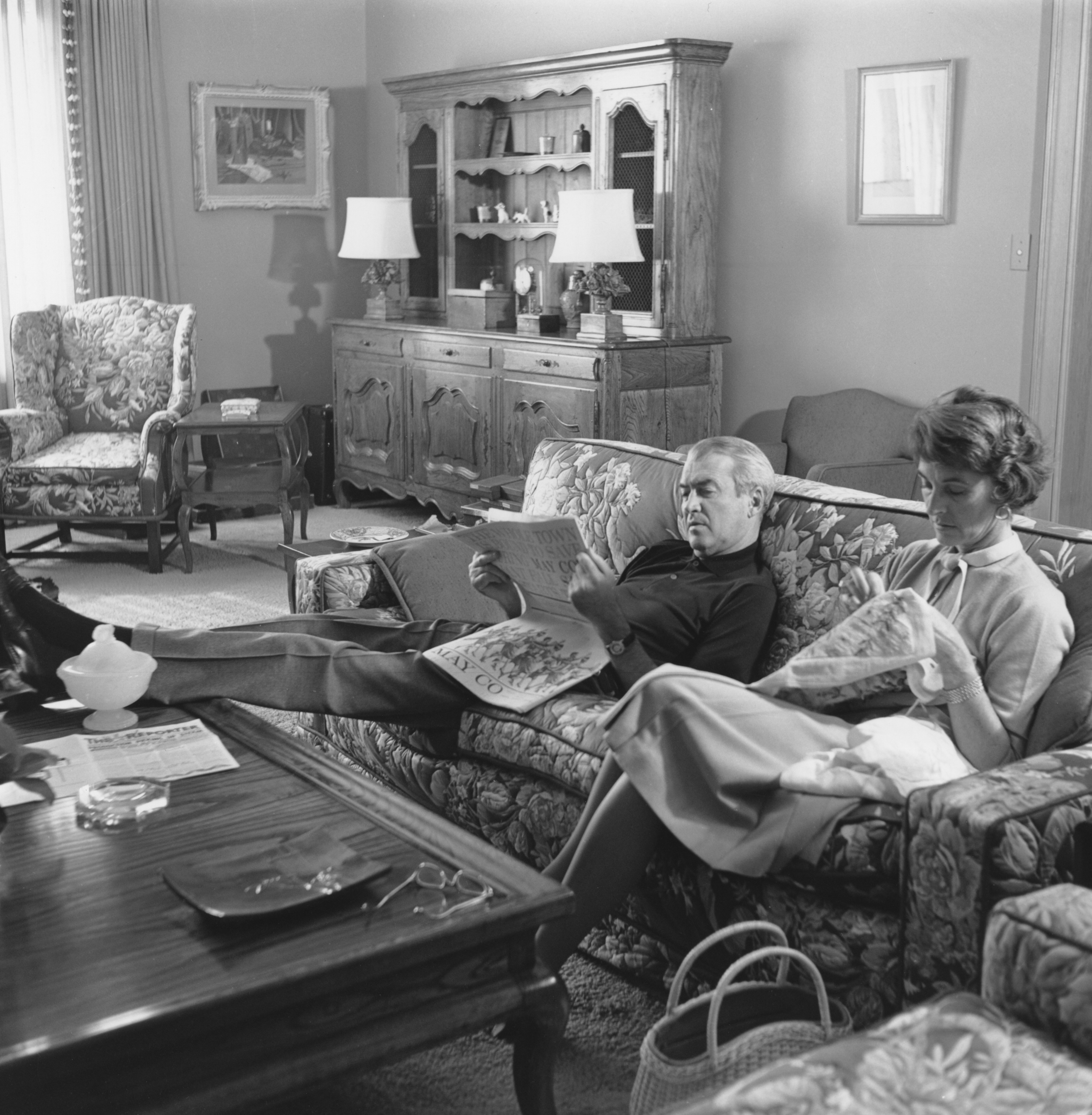 James Stewart and Gloria Hatrick McLean relaxing at home with his wife, circa 1965. | Source: Getty Images
James' family and friends said he delivered a heartbreaking monologue to his dying wife of 45 years. He spoke to her about their forty-five-year marriage and how Gloria had been indispensable in his life.
The star's wife passed away at 75 on February 16, 1994. John Strauss once described Gloria as having always been James' "rudder, anchor, and helm," and when she died, he was left "lost at sea."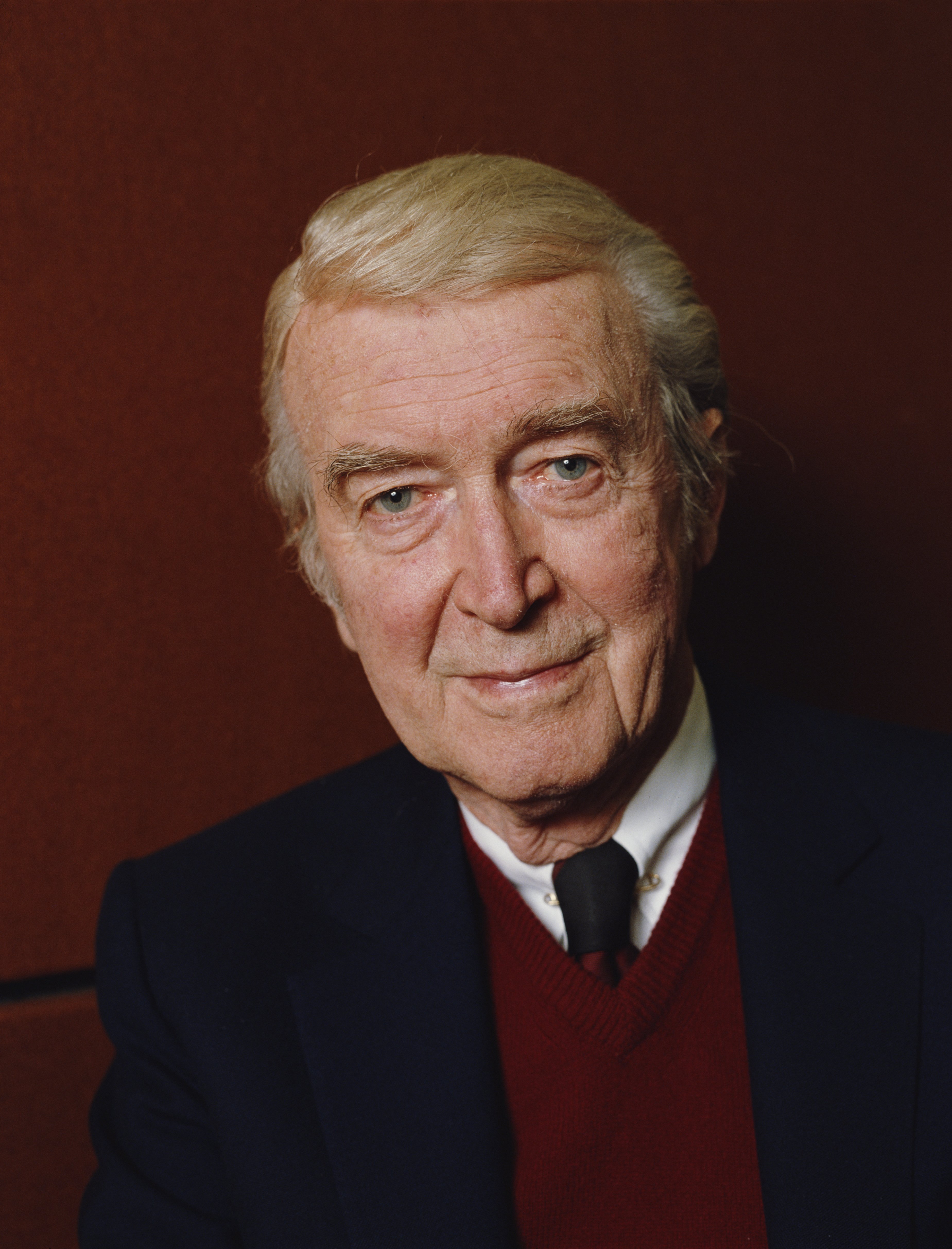 James Stewart posing for a photo, circa 1990. | Source: Getty Images
After James' wife died, he completely cut off any public activities and told those close to him that his life in the spotlight was over. A year after losing Gloria, the actor still spent most of his time in his bedroom.
He only came out when his children visited or if his housekeeper insisted he come out to eat. James cut off former colleagues, those who'd helped his acting career somehow, and those who lived with him.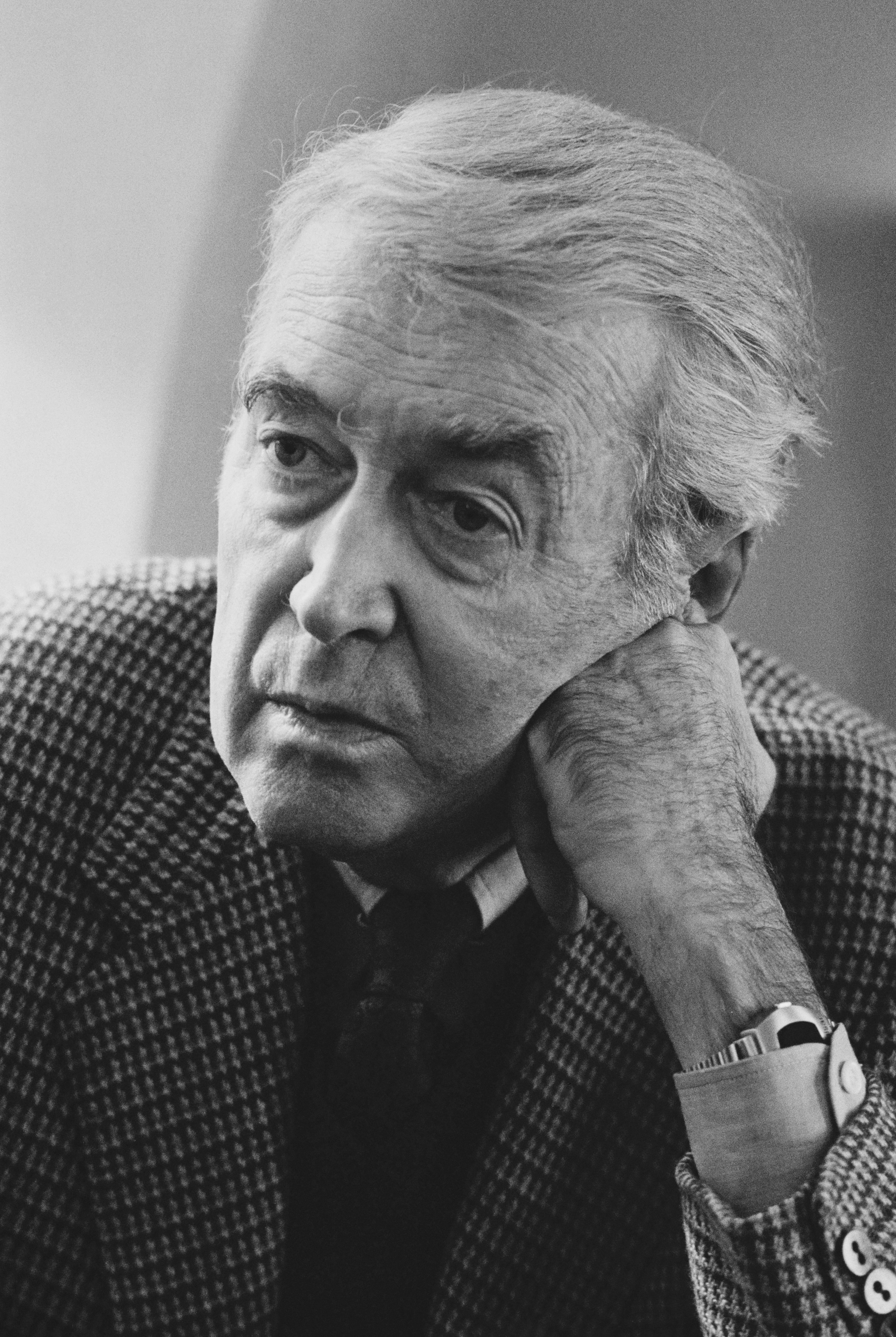 James Stewart posing for a photo on January 30, 1975. | Source: Getty Images
The star didn't receive guests, respond to letters, make appearances, or eat food sent to him as he became reclusive. In 1995, during the Christmas holiday season, James misstepped, fell, and hit his head on an ornament.
On June 25, 1997, James [Stewart] suffered a thrombosis in his right leg, causing a pulmonary embolism.
He luckily never suffered any trauma from the incident, and after a few days, he was home from the hospital. James continued to live semi-reclusive upon returning home, while those close to him noted how he'd always been reclusive.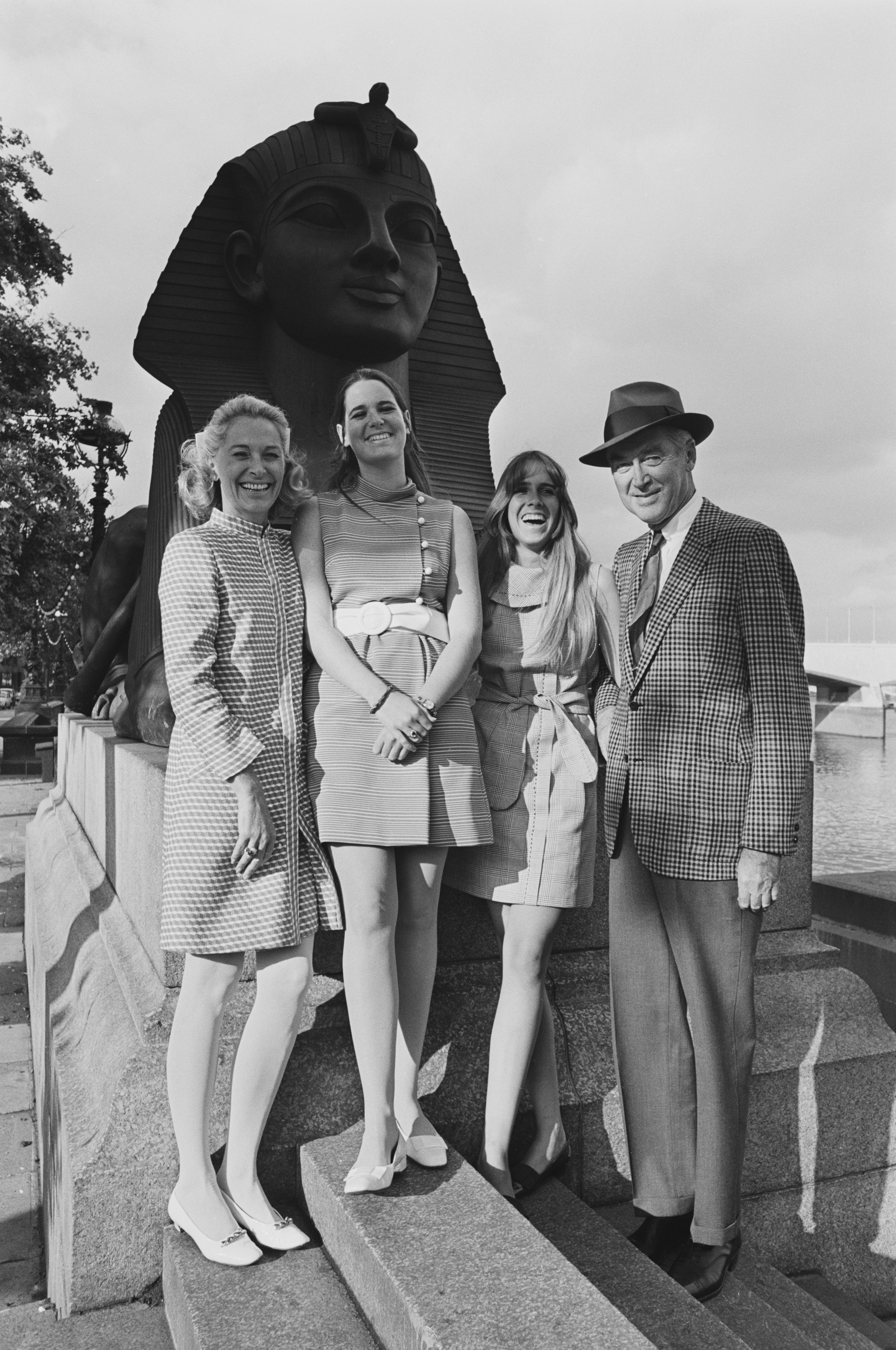 James Stewart, Gloria Hatrick McLean, and their daughters Judy and Kelly, sightseeing in London, on June 24, 1968. | Source: Getty Images
Gloria was probably the main reason he bothered interacting with people, but when she died, James felt no need to carry on the facade, and it appeared as if he'd completely lost the will to continue living.
Stewart's Health Issues, Career Declination, and Death
In the 1960s, James' work schedule was substantially reduced. The "Airport '77" star even appeared on "The Jimmy Stewart Show" in a 1971 situation comedy, but it drew unimpressive ratings.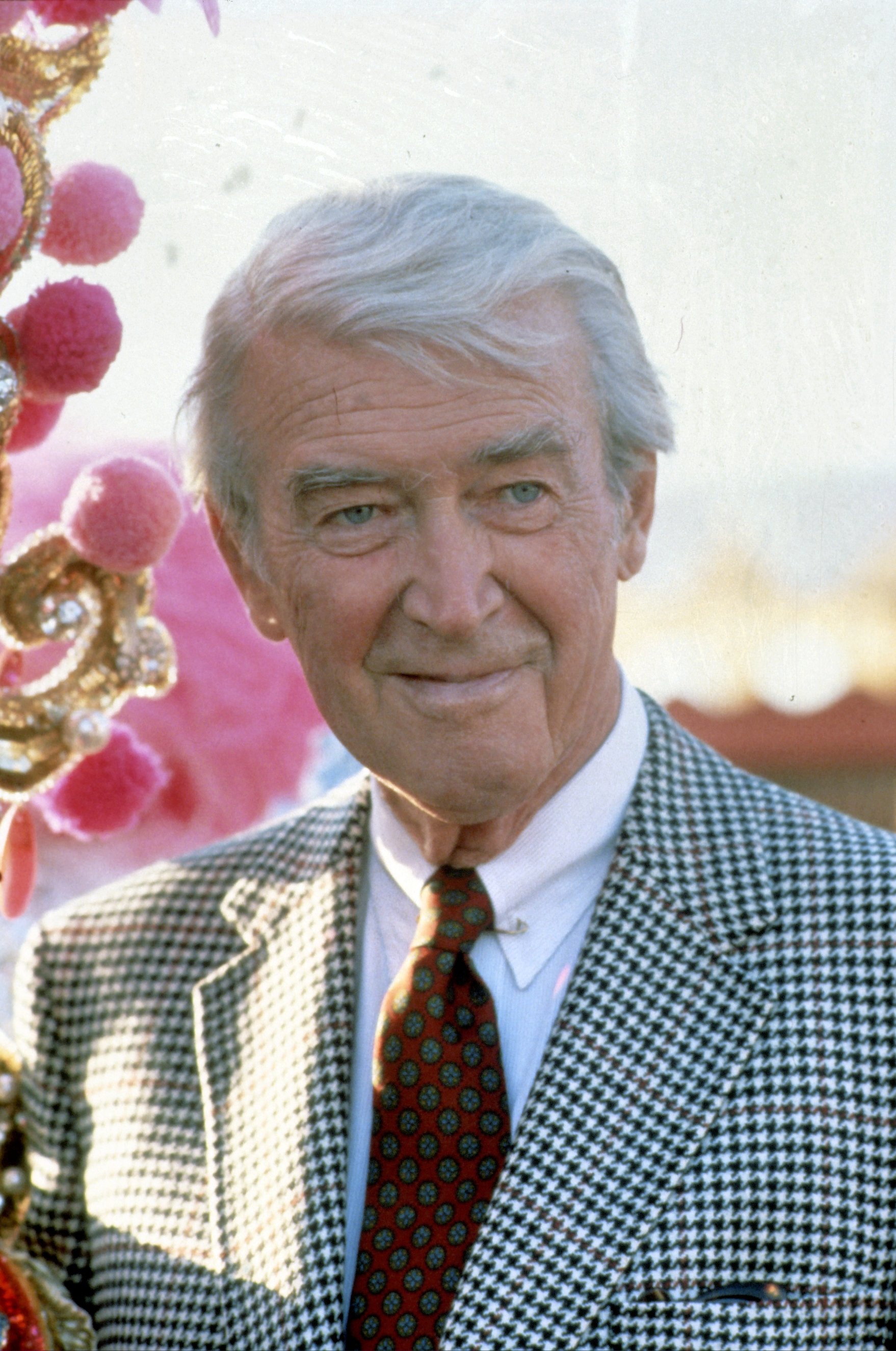 Jimmy Stewart posing for a photo in New York, circa 1980. | Source: Getty Images
In 1973, he made another go at reviving his acting career in the series "Hawkins," but it was also short-lived. The older he got, James started experiencing health issues like skin cancer, heart ailments, and needing to wear a hearing aid.
In 1989, the actor published a book of a collection of poems he'd written, selling over 300,000 copies. On June 25, 1997, James suffered a thrombosis in his right leg, causing a pulmonary embolism.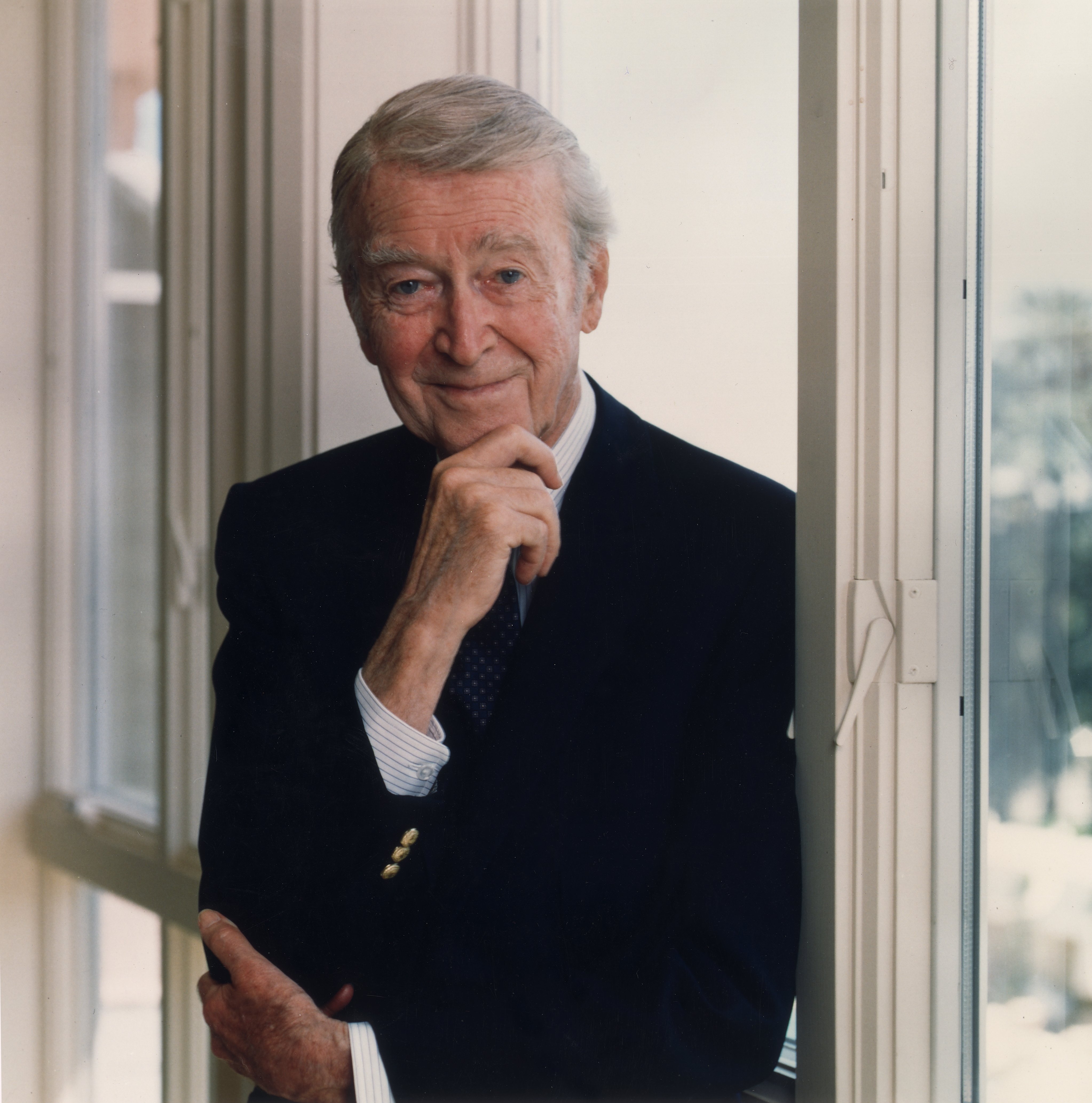 James Stewart posing for a photo, circa 1988. | Source: Getty Images
A week later, at age 89, he passed away on June 25, 1997, at his Beverly Hills, California home. He was surrounded by his children when he died, and his last words to them were:
"I'm going to be with Gloria now."
It was ruled that he'd passed from cardiac arrest because of the embolism. James hopefully found the spark back in his life when he was reunited with the love of his life in the afterlife.
Please fill in your e-mail so we can share with you our top stories!
The information in this article is not intended or implied to be a substitute for professional medical advice, diagnosis or treatment. All content, including text, and images contained on news.AmoMama.com, or available through news.AmoMama.com is for general information purposes only. news.AmoMama.com does not take responsibility for any action taken as a result of reading this article. Before undertaking any course of treatment please consult with your healthcare provider.